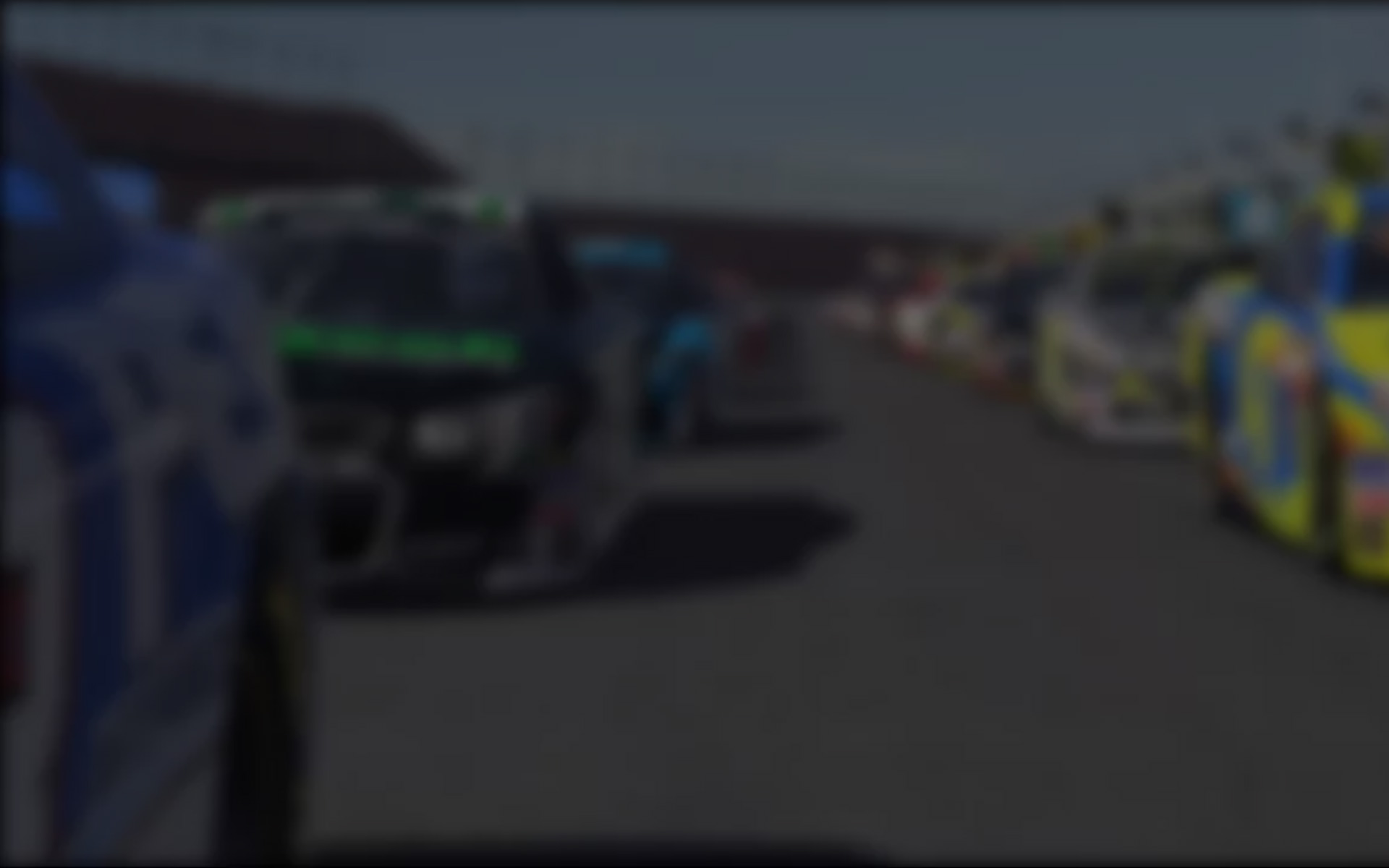 This past weekend the NASCAR iRacing Series began its West Coast tour with a stop at Las Vegas Motor Speedway that saw Thursday night's Open top split taken by Ryan Michael Luza, after passing Tyler Hudson with about 20 laps to go.
"Passing TDH was much more difficult than I expected, and it took two laps around the bottom and a wiggle from Hudson to get by," said Luza. "After that, I figured I could pull away but was still worried about (Patrick) Crabtree and his long run speed which was comparable to ours."
Fortunately for Luza, Crabtree had even more difficulty getting around Hudson as the battle for second place raged for the final 15 laps – enabling Luza to drive off to a nearly four second lead.
Asked about the battle at the end, Hudson credited it to just plain-old hard sim racing.
"The guys at One Up Motorsports have been putting together some really good cars and we had another one last night," he said.  "I was pretty loose to start the runs so when we had that late yellow we tightened it up some, never expecting to go green to the end. I drove the tires off it basically and then the splitter started pounding the track causing me to lose all front end grip.
"He ran into my RR a few times and into my back bumper . . . just hard racing." – Tyler Hudson
"Patrick tried really hard to pass me. He ran into my RR a few times and into my back bumper . . . just hard racing. I was really slow at that point in the run. I didn't block or crowd him any, just ran my normal race line and I could tell he was getting frustrated. So on the last lap he made a bonsai (sic) move in the final corner and ran me up the track. That was really his only way to get by, so I'm not mad about it. He was definitely quicker. It's unfortunate he wanted to give me some choice words afterwards when I thought it was just hard racing. If you can't race hard in the last 30 laps of a race I don't know what to say. All in all another great run for our team and we're looking forward to some more!"
The win for Luza was his first of two on the week in the series, allowing him to finish the week as the top points earner for Week 3 on the Open side. The final top split winner for the Open series was Joey Israelson who held-off Robin Williams to claim his first NASCAR iRacing Series victory.
In addition to his success in the Open series, Luza also captured a victory in a top split in the Fixed series, the first driver this season to take home wins in the top split of both. We also saw last year's champion — Matt Bussa — win in dominating fashion in Thursday Night's top split, taking the checkers over nine seconds ahead of second placed Cullen Brown with Jordan Werth finishing third.  After a caution on Lap 18, the race went green the rest of the way with very little action, apart from Bussa taking the lead back from Cullen Brown with around 30 lap to go and driving on to victory, having led 103 of 134 laps.
Other winners in the top splits on the Fixed side included Nigel de Jong and TDH, aka Tyler Hudson.
Participation in the Open series was down 6.6% from last year to 600, while the Fixed series saw a 31.4% increase from a year ago to 1146. There were 24 different winners in the Open series, and twice as many (48) different winners in the Fixed series in a week that saw 268 iRacers make at least one start in both series.  Of those, only one driver pulled-off a win in both the Fixed and Open: Ryan Michael Luza.
Congratulations to all of the winners from Week 3:
Current Overall Point Standings:
---
You may also like...
---