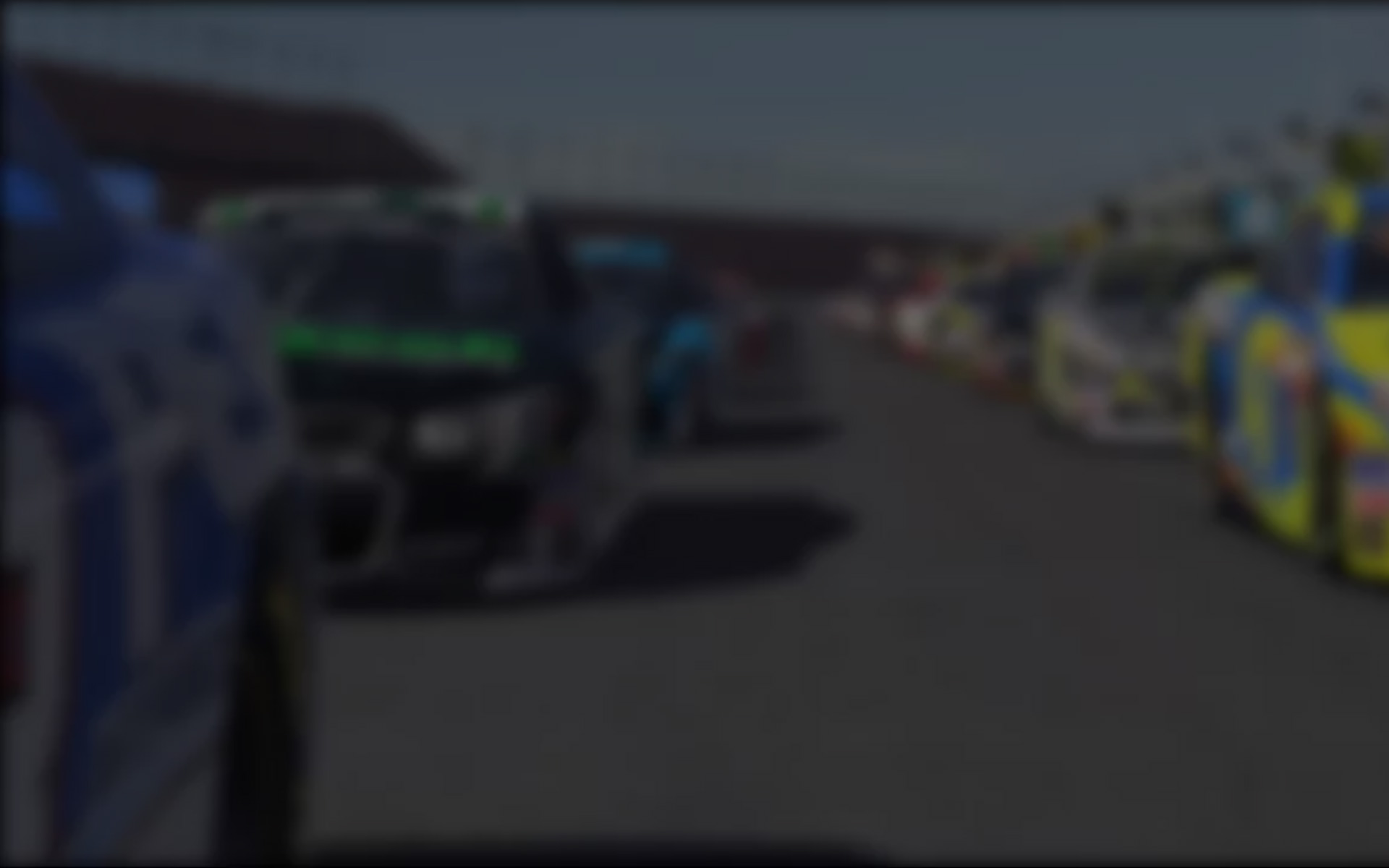 The V8 virtual circus travelled to Sonoma and the Cup configuration of Infineon Raceway for Week Two of the iRacing V8 Supercar Series. The majestic rises and falls of the Sears Point track and the leery, oversteering nature of the Aussie beast- it's almost as if they're made for each other.
For this, the early race, Michael McCabe was on pole from Mitchell McLeod. The pair of sim racers had been lightening fast in separate splits prior to this week which made it a delectable prospect for this top split. Simon Maddern and Scott McLaughlin filled the second row, the top three all in the 1 min 14s.
At the green McCabe got away from McLeod but the young Victorian kept him in check. McLaughlin hung on to the leading pair for grim death after dispensing with Maddern into the hairpin at the end of Lap One. The three ran a pragmatic race in the early laps, preferring to keep strategic distance rather than climb all over rear bumpers and risk an incident.
Maddern was in a relatively isolated fourth. He had shaken off Wayne Harris early in the piece, as Harris' mirrors were full of a marauding Victor Bubniak. Eventually Bubniak had a self-inflicted braking incident at 7A, giving Harris some space, and Samuel Doecke a clout on re-entry.
Stuart Wood had a big loose in ninth place while exiting Turn 8, and his re-entry likewise scattered McCorquodale and Doecke. McCorquodale continued but the hapless Doecke was out after some promising pace.
"Two races in a row caught by others mistakes, but I suppose that's racing… just ask Marcos Ambrose," said Doecke, accepting Wood's apology.
They're very forgiving in the City of Churches.
Harris' relief in fifth was short-lived, as soon he was fending off Darren Smith in sixth place. Back a little further was Vern Norrgard in the Bigpond Falcon, then Duncan Smith, Lewis Dodimead and Michael Schreyer rounding out the top ten.
McCabe exerted some controlled aggression in the lead with some fine powersliding through the fast esses. "I started having flashbacks of Phillip Island, because Mitch reeled me in. I thought 'not again!', kept the eyes on the road and tried to be as consistent as possible" he said later.
He needn't have worried- McLeod began squirming in second place with tyre woes.
"I managed to get right on the back of (McCabe earlier), but from then on my tyres went to chewing gum. …I must have driven a bit hard at the start and ruined them." – Mitchell McLeod
So McLeod then had to fend off McLaughlin who had ambitions for second place. The battle raged furiously for the entire race, with McLaughlin showing his nose into 7A once or twice, but McLeod was having none of it. Eventually McLaughlin had a lurid tankslapper through the Turn 8 and 9 complex in the closing laps, grunting in anguish as second place slipped away!
McCabe won by 7 seconds from McLeod and McLaughlin, turning a Mc Front Row into a McPodium.
RESULTS:
1. MICHAEL MCCABE
2. MITCHELL MCLEOD
3. SCOTT MCLAUGHLIN
4. SIMON MADDERN
5. WAYNE HARRIS
6. DARREN SMITH
7. VERN NORRGARD
8. DUNCAN SMITH
9. LEWIS DODIMEAD
10. MICHAEL SCHREYER
11. AARON MCCORQUODALE
12. JONATHAN BUTEL
Meanwhile, Split 2 was won by its polesitter, the affable Colin Boyd enjoying his first victory from Richard Lock and David Jellings. The iRacing V8 Supercar Series' numbers just keep blossoming.
---
You may also like...
---