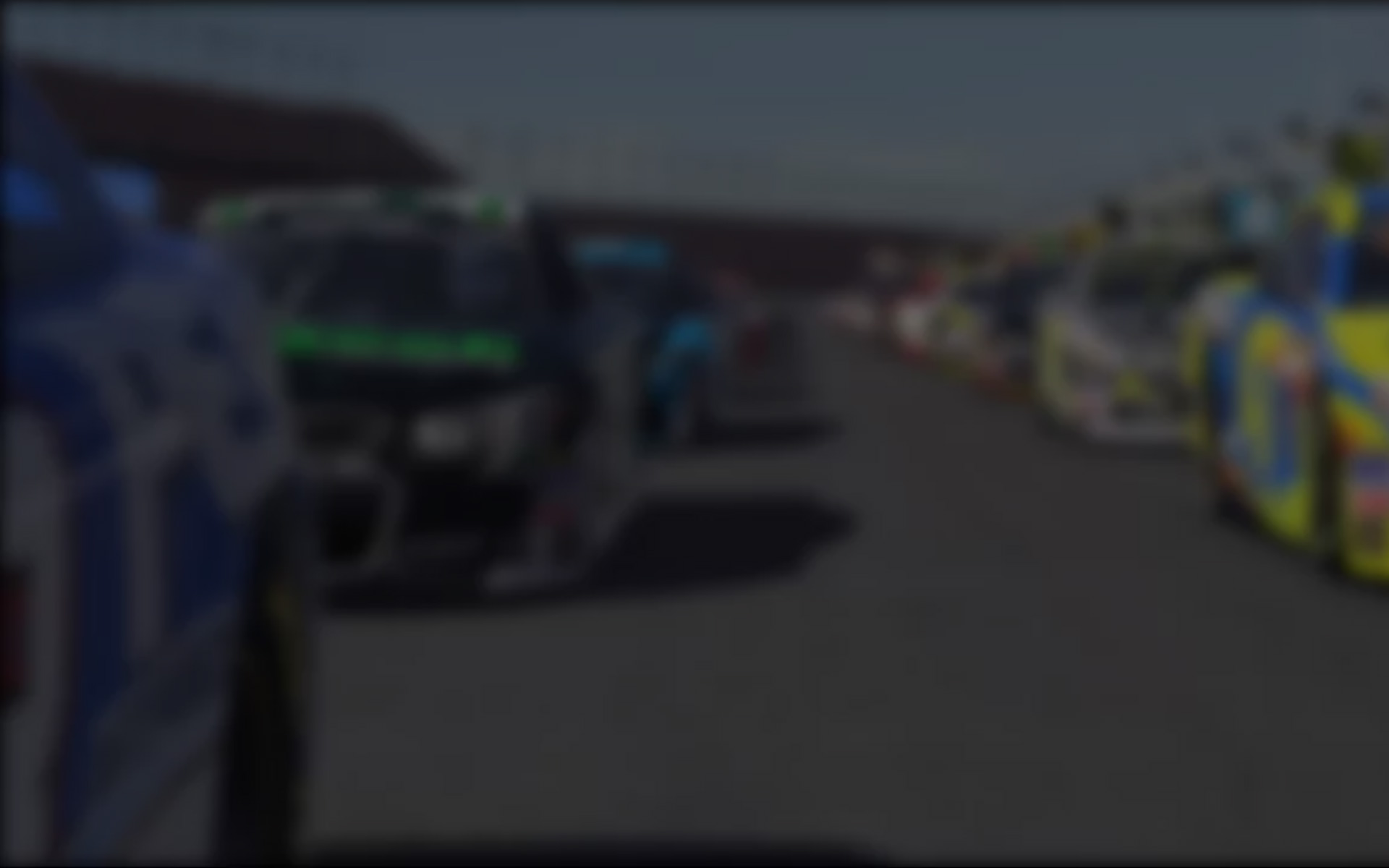 With a third of the season put away the NASCAR iRacing.com Late Model Series journeyed to South Boston Speedway. At just 4/10 miles in length and lap times in the 15 second bracket, So Bo challenged sim-racers in a variety of ways but primarily accident avoidance. In this week's feature race it took less then a lap for sim-racers to see the horrors that sim racing on a tight track can bring.
The field was led to the green flag by Kevin Burris with James Linkiewicz to his outside and, as the green flag dropped Burris cleared Linkiewicz going into Turn 1. Linkiewicz found himself stuck in the outside groove as Stacey Adams got to his inside in the first turn and, coming out of Turn 2, the two got together ruining both of their days.
Burris wouldn't see a challenge until Lap 15 when Tyler Majeski after his way up to second from his seventh place starting spot.  It would take another 15 laps and a little short track "love" while working lapped traffic for Majeski to get around Burris. The focus then shifted to the battle for second as Burris found himself falling into the clutches of Kevin J Myers.  The contest raged for the next 40 laps, the only separation coming when Adams decided to place himself between Burris and Myers before getting punted out of the way by Myers for interrupting the battle.
Unable to find a way around and refusing to apply the chrome horn to Burris, Myers would eventually come third. The remaining two spots in the top five were settled on Lap 28 when Stanley Bragg Jr got around Austin Davis for fourth, leaving Davis to settle for fifth, the first car a lap down.
The Big One only took half a lap and collected five drivers, with three other cars suffering minor damage after Adams and Linkiewicz went for the same piece of real estate on the back stretch. Adams got turned into the backstretch wall, with Linkiewicz facing his nose as the field tried to work their way around. Marek Ondrak got  the short end of the stick as Nathan Bellaire looked to gain ground in the melee, pinning him to the high side and forcing him into Linkiewicz.   The impact propelled Linkiewicz into Adams, sending Adams back into traffic and collecting Bellaire who, in turn, shot down the track Bragg.  Although Bragg got sideways, he was able to keep going in the right direction. Not so fortunate was Ryan Millington3 slammed hard into Adams and Linkiewicz, completing the carnage.
The bottom half of the top ten would be separated into those who avoided the carnage and those who where not so lucky. Kyle Willis and Aiden Young were lucky enough to dodge the Big One, with Willis taking full advantage of Young's loose race car to take home sixth. Bellaire overcame the early trouble and battled back to seventh ahead of Ondrak, while Linkiewicz went several laps down effecting repairs and finished ninth ahead of Adams.
A view at the Overall Top Ten in points after 1/3 of the season has been ran.
Ty Majeski – 704                           6. Tyler Price – 561
Bill Martin – 646                            7. Cody Thompson – 545
Stan Bragg Jr – 611                       8. Cody Kelley – 544
Tim Bills – 591                               9. Joe Schafer Jr. – 531
Kevin J Myers – 583                      10. OJ Dompier – 525
---
You may also like...
---