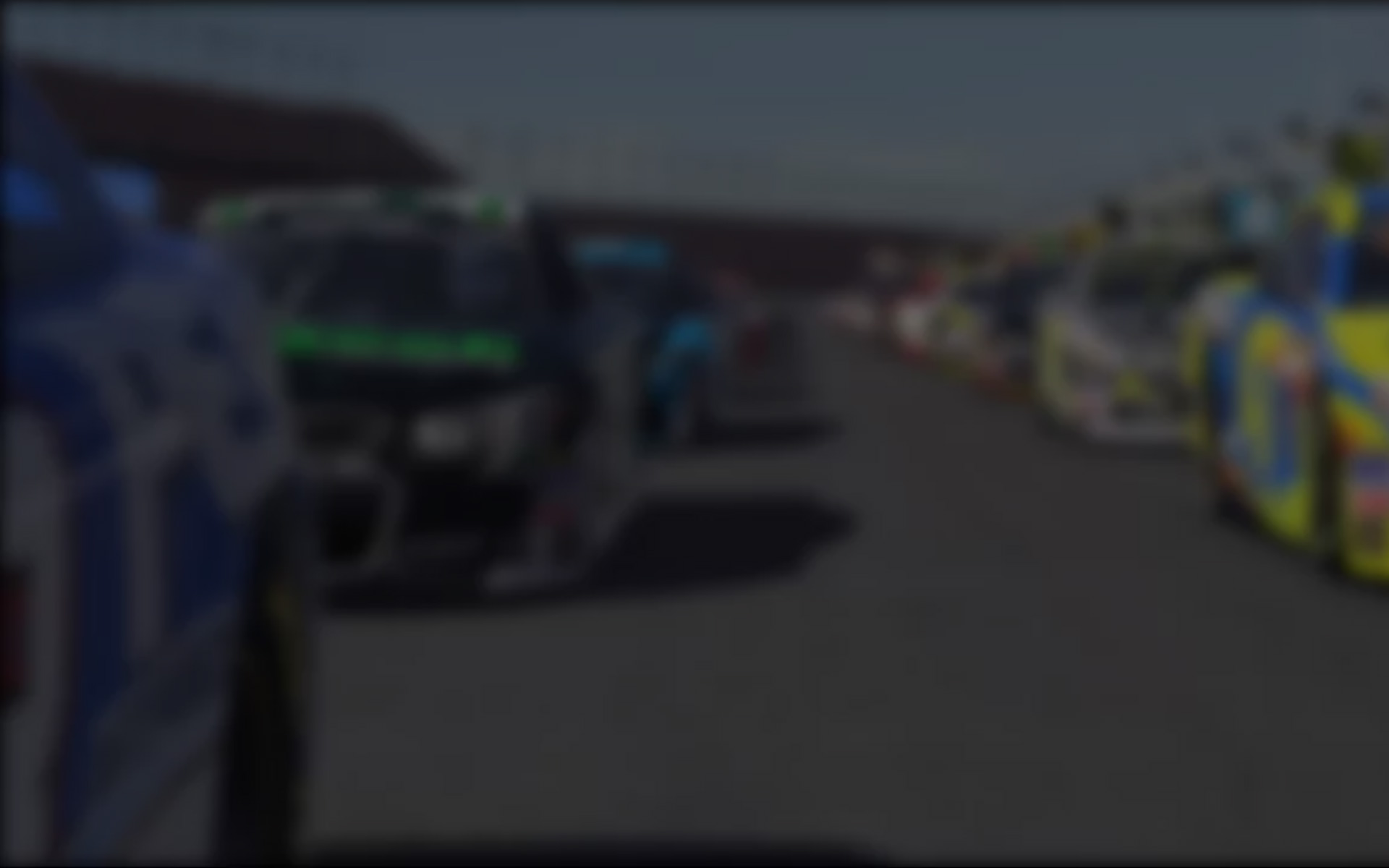 The NASCAR iRacing.com.com Late Model Tour visited Martinsville Speedway for Week 7 action.  Commonly called "The Paperclip,"  Martinsville is only .526 miles in length and is located in Henry County near Ridgeway, Virginia. The action picked-up right away in the 4344 strength of field race, one of the biggest SOFs the Late Model series has seen in a few seasons.  Perennial Late Model contender Ty Majeski would start on the pole with Landon S Sciacca positioned just to his outside.  These two sim-racers are currently battling for the Late Models championship as well, so now we would get to see them go head-to-head.
Majeski got a great start but was unable to put any distance on Sciacca who stayed within a couple tenths of the lead car.  Nathan Hammock settled into P3 ahead of Daniel Williamson and Mark Arthur, while David Lam picked-up a spot from his P7 starting position.  However, the big mover was Kevin J Myers who started in eleventh and moved up to eighth, not wanting to waste anytime getting to the front with this field of sim-racers.
Lap 3 produced the one major accident of the race as one simple slip collected three cars.  Arthur got loose exiting Turn Two and, as he was saving it, he moved to the bottom of the track.  Unfortunately, Lam was taking evasive action to avoid being moved down to the bottom and was not expecting Arthur to be there.  Lam braked hard, swapped ends and put himself into the back stretch outside wall, while Arthur gathered it back NATHAN up and kept on going.
At the same time, Chris Fletcher also got loose coming off Two.  Although he avoided Lam, he slowed down dramatically forcing a following Cody Thompson to swerve and make slight contact with Fletcher, launching both cars into spins.  Fletcher slammed head-on into the outside wall entering Turn Three but, luckily, found himself pointed straight into pit lane as his car was heavily damaged.  Thompson continued despite a brush with the wall, while Lam got to watch the whole thing unfold as he slowly made his way to pit lane.
The field was strung out now after the last incident, but a few drivers still managed to find trouble.  Battling for eight spot, Austin Jefferson and Raymond Emmons got together going into Turn Three on Lap 12.  Jefferson tried to pinch Emmons down only to go too far down, slam into the side of Emmons and lose control.  Emmons suffered right front damage and battled handling problems the rest of the race, while Jefferson slid sideways in the racing groove and quickly took a tow to the pits, where he remained.
While all that action was unfolding, Myers closed the gap on Arthur for fifth spot.  Rather than waiting for Arthur to make a mistake, Myers drive around the outside of Arthur on Lap 19.  Likewise, Thompson made an uncontested pass for eighth place when Emmons sensibly moved his ill-handling machine up high to concede the position.
At the halfway point Majeski enjoyed a two second lead over Sciacca, with another three seconds back to Hammock who, turn, had started to put space between himself and Williamson, who was busy trying to fend-off Myers.  Lap 30 saw Williamson get loose exiting Turn 2 and yield fourth position to Myers, who subsequently focused on running-down Hammock.  Lap 39 found Williamson in a familiar spot: battling that loose condition off Turn 2.  This gave Arthur a chance to get under him and take the spot away, with an opportunistic Ty Spearman following through for good measure, dropping Williamson to P7.
An eventful race finally settled down and went single file for the last 11 laps, with Myers unable to catch Hammock and Spearman unable to find an opening on Arthur.  At the front, a consistent Majeski maintained his two second margin over Sciacca to the flag with Hammock an additional four seconds behind to take the final spot on the podium.
1.    Ty Majeski                                  7.  Daniel Williamson –13.737
2.    Landon Sciacca –2.292                8.  Cody Thompson –19.061
3.    Nathan Hammock –6.234             9.  Raymond Emmons –2L
4.    Kevin J Myers –7.869                  10. David Lam –2L
5.    Mark Arthur –10.445                    11. Chris Fletcher –5L
6.    Ty Spearman –10.879                  12. Austin Jefferson –39
Next week the NASCAR iRacing.com Late Model Tour ventures to Stafford Springs Connecticut to race at Stafford Motor Speedway.  This half mile track features very different racing then we seen at Martinsville as the track layout has shorter straightaways, and much longer corners.  Passing here will be a test of patience or pure will to drive where nobody else is, as the apron through the corners can be used to complete passes.  But in doing so you bring a greater risk of getting loose or making contact with the driver in the low lane of the racing surface.
---
You may also like...
---