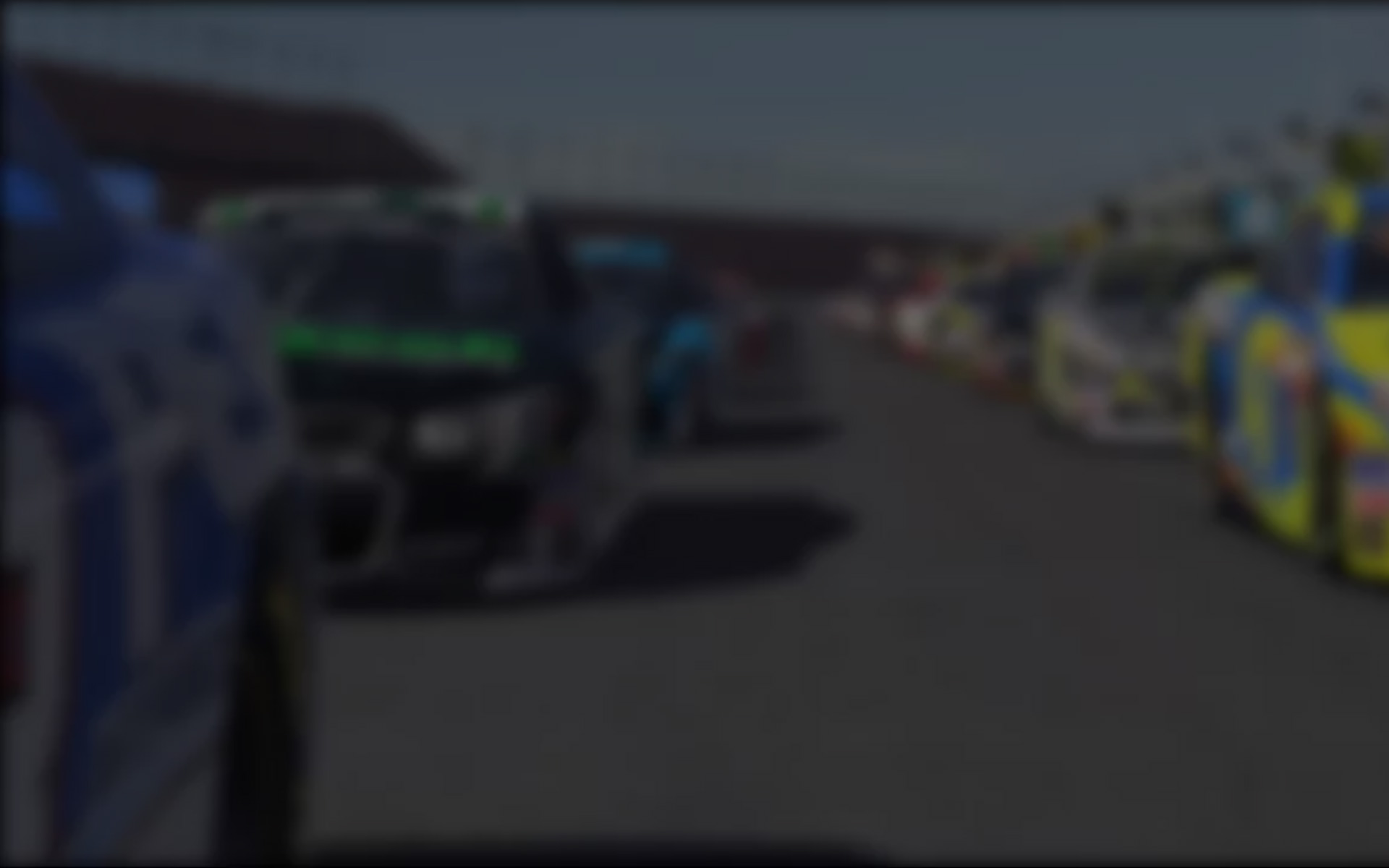 Round Two of the iRacing.com V8 Supercars Series presented by BigPond stayed in America but went to one of the most popular tracks within the iRacing service: Watkins Glen. The drivers would tackle The Glen's "Cup" layout which has eight turns along its 3.94 km (2.45 mile) length.
Madison Down made it two for two for 2, taking his second pole position of Season 2 for the main race with another amazing lap of a 1:11.386, with Richard Hamstead two and half second back to join him on the front row.  Shane van Gisbergen and Scott McLaughlin comprised an all-pro second row with Scott Fountain pulling an amazing lap in the last qualifying session to start fifth for the online race.
Hamstead got the jump on Down at the green, but overdrove Turn One allowing the pole-winner to regain the lead.  Van Gisbergen moved-up a spot – and stayed there — to put Hamstead back to third. Fountain didn't get the greatest of starts, allowing Justin Ruggier, Joshua Muggleton and Mitchell McLeod to go four wide into the first turn! Fountain sensibly backed-out of it, while Ruggier and McLeod had side- by-side contact.  Muggleton got the worst part of it (as always) when Ruggier tried to save it and went into the side of Muggleton's Falcon, ending his day.
At the start of Lap Five van Gisbergen saw an opportunity to take the lead when Down left a small gap.  Seeing van Gisbergen make the move, Down relinquished the lead as the two prepared to embark on a fuel-saving battle.  Not so fast!  Through the Esses into the Bus Stop, Hamstead went 'round outside of Down.  Although he nearly collected van Gisbergen in the process, Hamstead  pulled-off the move to snatch second place as Down fell from first to third in the space of 30 seconds.
The craziness was about to start . . .   Into Turn One, Hamstead made a move on van Gisbergen only to understeer into the rear of the lead Ford Falcon, sending Van Gisbergen into Down's path as McLaughlin went to the outside of the melee and emerged in the lead!
Going through the Esses it was three wide with three damaged cars trying to get back into line.  Along with McLaughlin, DCM Racing's Stuart Wood was the biggest gainer, moving-up from sixth to second with Ruggier right behind in third. Van Gisbergen would park it, while Hamstead soldiered-on to an eventual seventh.  For his part, Down stopped for repairs and resumed to battle team mate Muggleton for 20th.
Thus it was McLaughlin's day once again (making it two in a row) while Wood came home second after an outstanding performance. McLeod got around Ruggier for third place with Vail Riches coming home fifth despite a half spin with three laps remaining. Cal Whatmore made a very strong run to sixth ahead of Hamstead's battered DCM Falcon while Shaun Kelly and team mates Thomas Guerrini and Brad Ryan rounded-out the top ten with good runs! Craig Hunter brought his OCAU car home in 11th ahead of John Emerson with Mitchell Abrahall, Curtis Chippeway and Fountain completing the top 15.
Top Five Drivers – Championship Points – Overall
1.    Madison Down – 497
2.    Justin V Ruggier – 488
3.    Scott McLaughlin – 482
4.    Mitchell McLeod – 479
5.    Joshua Muggleton – 459
Split Two Winner: Carwyn May
Split Three Winner: Benjamin Rigby
Split Four Winner: Tom R Jones
Split Five Winner: Josh Ritchie
Race Highlights of the iRacing.com V8 Supercar Series can be found here done by John Emerson
You can watch the full race replay by visiting www.v8sonline.com.au
---
You may also like...
---