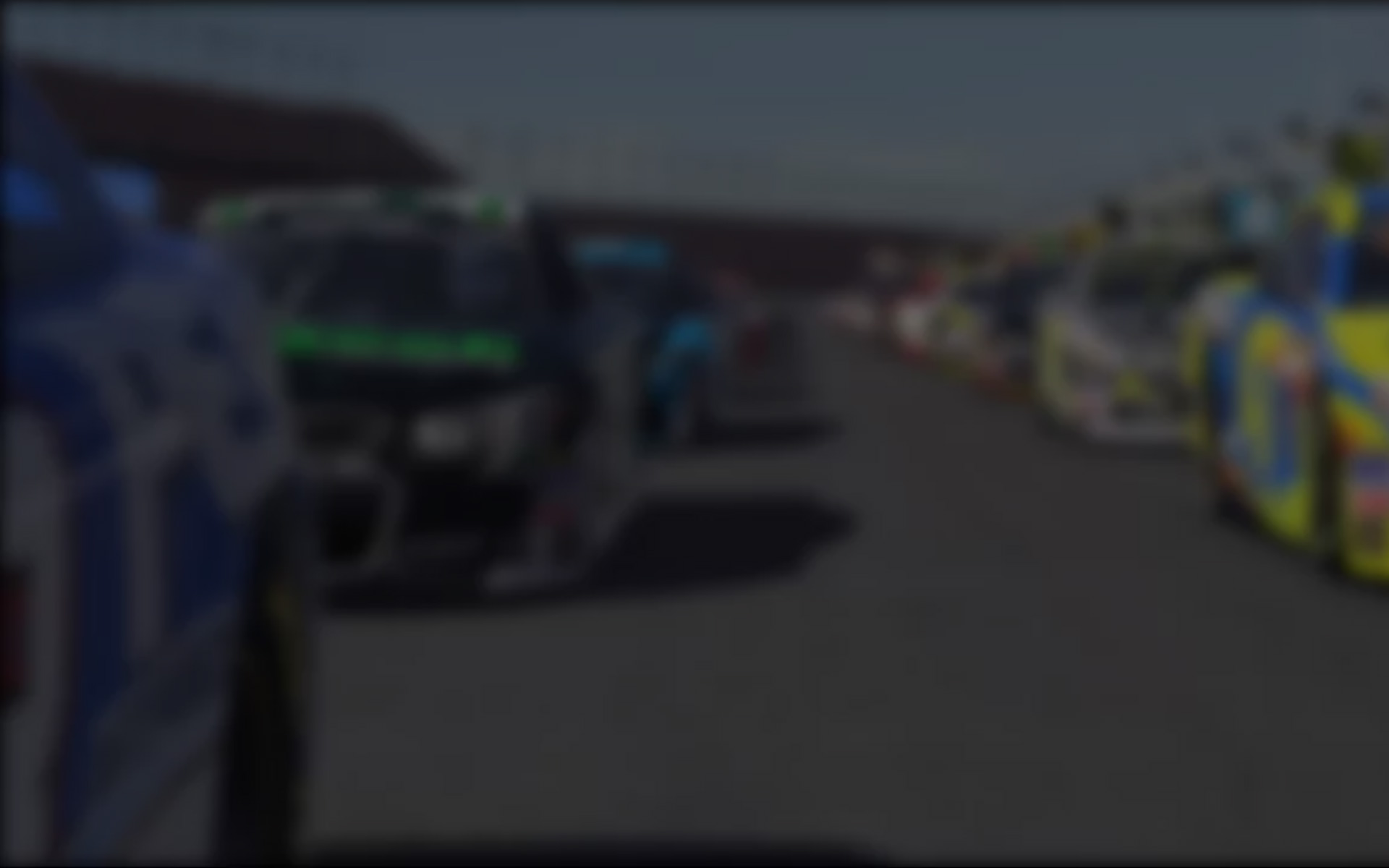 Round 2 of the iRacing.com V8 Supercar Championship presented by BigPond headed to one of the most popular tracks on the calendar, Watkins Glen Cup.  The home of the US Grand Prix from 1961-80 would be the venue for the second week on the calendar for a 35 lap contest that would present the sim racers with their first pit stop race this season.
Qualifying produced an ANZ Motorsports lock-out with Scott McLaughlin posting a 1:10.667 to fractionally out-do Justin Ruggier on a 1:10.674.  Richard Hamstead drew first blood with a victory in the early race and would start third in the main race beside Madison Down. Rens Broekman and Brad Ryan shared the third row of the grid with Shaun Kelly and Vail Riches on Row Four, with Joshua Muggleton and John Emerson rounding-out the top ten just behind.
McLaughlin led the field into Turn One for the first time but Hamstead got a terrible start and had to fend off Broekman and Ryan to retain fourth spot after losing a position to Down.  As the leaders exited the final corner to complete the first lap mayhem was unfolding in their mirrors.   Scott Fountain went up the inside of Petteri Kotovaara into the penultimate corner but, just as he was about to finish the pass, Fountain understeered a little while and forced Kotovaara off the road.  He rejoined only to find himself side-by-side with Dylan Carroll coming onto the main straight.  This time it was Kotovaara who understeered, in this case into Carroll.  To top it off, Carroll was experiencing some net code trouble and went into a slide which caused everyone to  take evasive action.  Curtis Chippeway tried to dodge the wreck but got into Benjamin Rothberg sending Rothberg into a spin. Just as it seemed everyone would get by the CST Australia car, luck ran out for Simon Black and his team mate Marty Atkins.  Black smacked the spinning Rothberg and then pit wall, pitching Black into a flip 'n roll down the main straight.  For good measure, Atkins hit Rothberg  sending him upside down as well.
After a few mercifully uneventful tours, Mitchell McLeod got onto the grass coming out of the Carousel and spun into the wall ending his day on Lap Four. Five laps later Kelly made a move on Riches into Turn One only to run just wide on the exit, enabling Riches to execute the cross over.  Undeterred, Kelly held the outside line into the Esses where he hit the rear of Riches' rear, sending Vail into the wall and out of the race.
On Lap 12 Hamstead was trying a very optimistic strategy and on the following lap the last remaining TTL car of Emerson would also pit. A couple of laps later Cal Whatmore's Ford Falcon stepped out coming through Turn 6 and, in an attempt to save it, he hit the inside wall and unfortunately retired from the race. Lap 15 saw Down would come into the pits from third place but Ruggier reacted straight away and covered Down to keep hold of second place.
McLaughlin pitted from the lead on Lap 18 and just barely held onto his advantage exiting the pits.  With fresh tyres, however, McLaughlin proceeded to drive away from the rest of the field. Broekman would come into the pits on the following lap and, upon his return to action, made short work of Hamstead move into fourth.
On lap 21 Kotovaara and Fountain renewed acquaintances when the Finn made a late dive into Turn One pushing Fountain wide in the bargain.  A dozen laps later, they traded more paint on their march down down the order.
For the second time in as many weeks — and his third straight main race at Watkins Glen — McLaughlin would take victory, making a perfect start for the season.  Ruggier came home in second ahead of Down in third with Broekman and Hamstead rounding-out the top five. A great run by both V8SFG cars saw Ryan best team mate for sixth place with Kelly in seventh, while John Emerson finished in eighth place.  Muggleton soldiered on after hitting the wall during the race to finish in ninth place ahead of Christopher Osborne.
Top Five Drivers – Championship Points – Overall
1.    Scott T McLaughlin – 550
2.    Madison Down – 513
3.    Richard Hamstead – 497
4.    Justin V Ruggier – 488
5.    Rens Broekman – 453
Split Two Winner: Matthew E Hill
Split Three Winner: Brad Bellotti
Split Four Winner: Colin Boyd
Split Five Winner: James N Scanlan
For the full race replay you can watch thev8sonline broadcast here.
Hope to see everyone on track and ready for Round 3 at Sonoma Raceway.
---
You may also like...
---