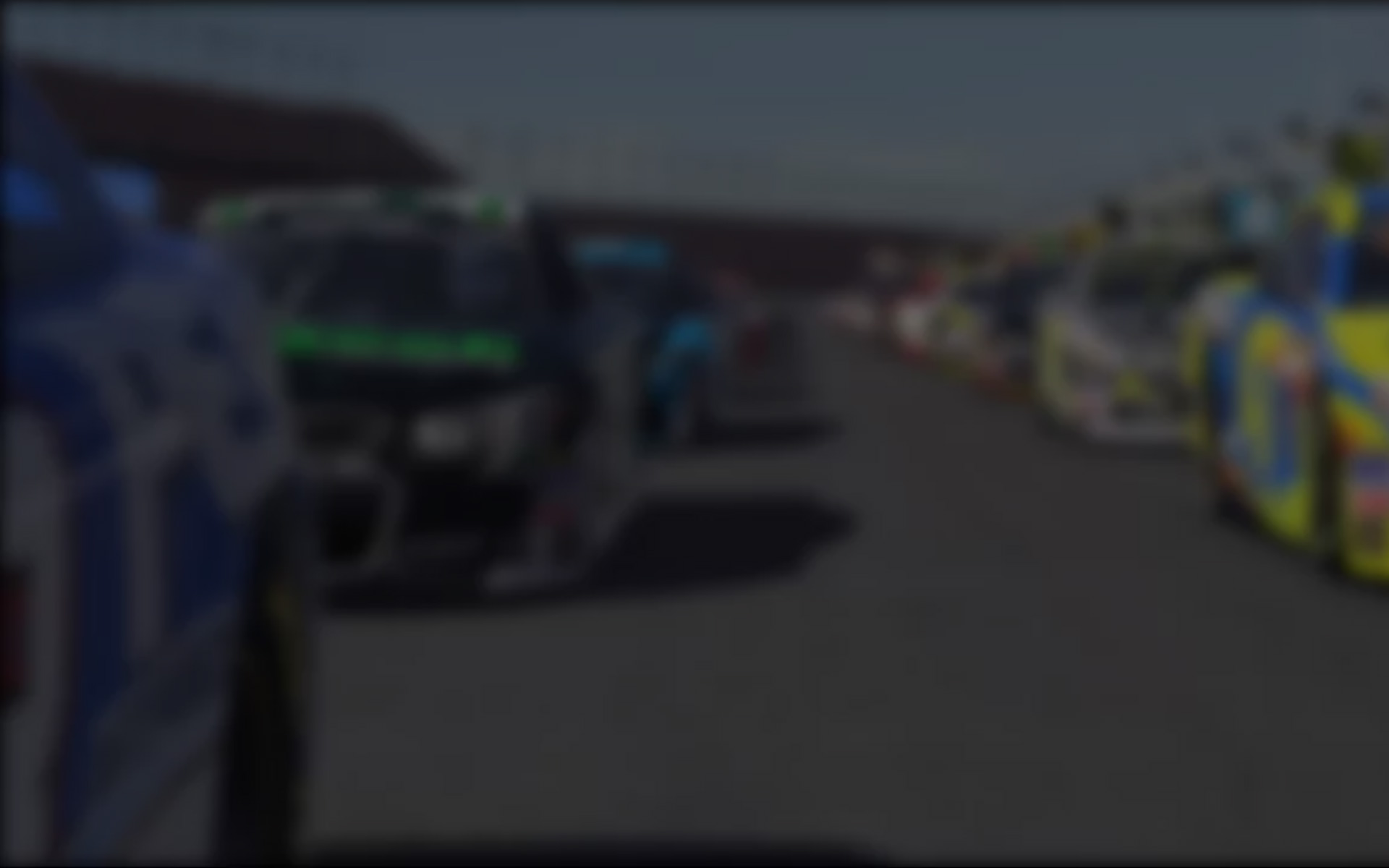 The Real Sim Racing Midnight Thunder Speedway Series hit the 1.5 mi oval at Homestead Miami Speedway in Dade County, Florida, for the season finale in the 2015 Season 2 racing campaign. The Midnight Thunder series has been around for some time now, running Friday evenings/Saturday mornings at midnight for east coast drivers, and 9:00pm for west coast drivers. Each season takes up about the same amount of time (10-12 weeks of racing) as each quarterly iRacing official season.
Headed into the final event (which was broadcast LIVE on LSRTV as Part 2 of a special double header feature, including the iSuperSpeedway.com Racing Series event from Daytona beforehand), there were only two drivers with a mathematical chance of driving away on top. Pedro Mojica, entered the championship event boasting a 26 point advantage on the top of the standings, with four wins in 11 starts, companied by six top fives and eight top 10 finishes. His only challenger would be Chad Coleman, who had a singlet win on the year, but boasted the best statistics outside of the win category of any driver with nine top fives and nine top 10s.
At the end of the evening in a rather quickly-paced event that featured only one caution flag and a cycle of green flag pit stops, it was Mojica who would celebrate in style.  Mojica won the race in impressice fashion after putting the #01 JDR Graphics, Swan Racing Toyota Tundra on pole position and increasing his margin over Coleman in the final championship point tally.  The win was Mojica's fifth on the 12 race season (r2 Phoenix, r6 Dover, r9 Las Vegas, r11 Charlotte, and r12 Homestead), capping off what was a dominant campaign.
Series director with Real Sim Racing Steve Haring presented the championship to Pedro on the championship stage, congratulating him on what he described as a dominant season and a well-deserved conclusion.
"Once we got a few things going we started clicking-off top fives, wins, and (were) just be able to be consistent week-in and week-out." – Pedro Mojica
"Midnight Thunder was a lot of fun, this season" Mojica began, describing the season as one that involved plenty of clean, competitive racing featuring "a lot of green flag racing.
"(We) started off a little bumpy, but once we got a few things going we started clicking-off top fives, wins, and (were) just be able to be consistent week in and week out" continued Pedro, describing his journey through the championship hunt.  He attributed his ability to pull away from championship runner-up to avoiding any major self-inflicted mistakes.
Mojica will be starting his new role within RSR on Monday evenings in the league's premier series — the Full Throttle Cup Series presented by Garry Mercer Trucking in Talladega — driving for Paul Cooper, alongside former rival Coleman and some other drivers from Friday on a new team. Pedro said he was "excited, and looking forward too…" this new chapter, and is thankful for the opportunity, and is being realistic about his expectations, citing the cup series competition as "intense."
All five of Mojica's career Real Sim Racing wins came during this 2015 Season 2 championship, putting him 14th on the all time wins list, tied with the likes of Joey Gattina, David Comstock, and Dan Murray, all well-known names on Monday nights.
Coleman, who goes from rival to teammate with Mojica in Season 2, knew it was going to be hard to not only beat the #01 truck, but also have to rely on some major issues from that team if he wanted to dig out of a 26 point deficit before the race. He qualified for the race in 10th compared with Mojica's second pole position of the year, and was only able to advance to sixth place in the opening half, before sliding back to eighth when the one and only caution of the race came right after the green flag pit cycle. When all was said and done, the #6 Redbull Racing Chevrolet could only muster was a fifth place finish – the highest Coleman ran all race.
Coleman congratulated Mojica on a well-fought and well deserved title for the 2015 Season 2 Championship.
"I hate Homestead, I just don't like it…" he stated.  "The setup actually ran really good, but I always struggle here."
Asked if he would return for Season 3 and try to go at the championship again, Coleman said "that's the plan."  However, he did admit that even though that is what he wants to do, he may not be able to compete in all 10 races which may keep him out of a full time ride.
Harrison Widelitz also spoke to media post race after a second place run. His Swan Racing Chevrolet ran second to Mojica for almost the entire race, with a brief battle around the 1/3 mark with Dwayne Vincent for second on track.  He tried a handful of times, including one last lap Hail Mary, which ended him up in the Turn 2 wall in his efforts to get past Mojica, but was unable to find something that worked.
"Pedro, in general, was just way too solid…congrats to him," conceded Widelitz when asked if there was anything he could have done different to spoil the party and take the win.
Widelitz will be going from a "super-sub" role on Monday nights (a nickname based on the excellent performances when substituting the Full Throttle Cup Series for regulars so far in 2015) to a full time position along with many other Midnight Thunder drivers beginning in Lincoln, Alabama. Widelitz will become the fourth driver for the Stroker Aces team, taking over Landon Huffman's ride for the remainder of 2015.
The future of Real Sim Racing, especially the lower tiers of competition, look bright for the foreseeable future. Series director Steve Haring is excited to see many drivers who were regulars in the Midnight Thunder Series graduate to the Cup level, resembling the careers of many drivers in NASCAR's top three touring series on their journeys to the top.
The Real Sim Racing Full Throttle Cup Series presented by Garry Mercer Trucking resumes its 33 race campaign this Monday, May the 4th, from the Talladega Superspeedway after a week-off.  The experienced front runners of the Cup series will now have some experienced, but rookie competition when it comes to full time rides to deal with rolling forward. All Full Throttle Cup Series events, as well as Asphalt Assault Series and Outlaw Truck Series events, which also take place on Wednesdays, will continue to be broadcast exclusively on LSRTV at 9:30pm EST/6:30pm PST.
For those who are interested in competing in the Midnight Thunder Series, or as well for following along with all their action, the 2015 Season 3 season begins in one week, on Friday, May 16th for Daytona for r1 of a 10 race season.
For more information on Real Sim Racing, visit realsimracing.com and for more information on upcoming LSRTV broadcasts, visit livesimracing.com, or facebook.com/livesimracingtv
---
You may also like...
---