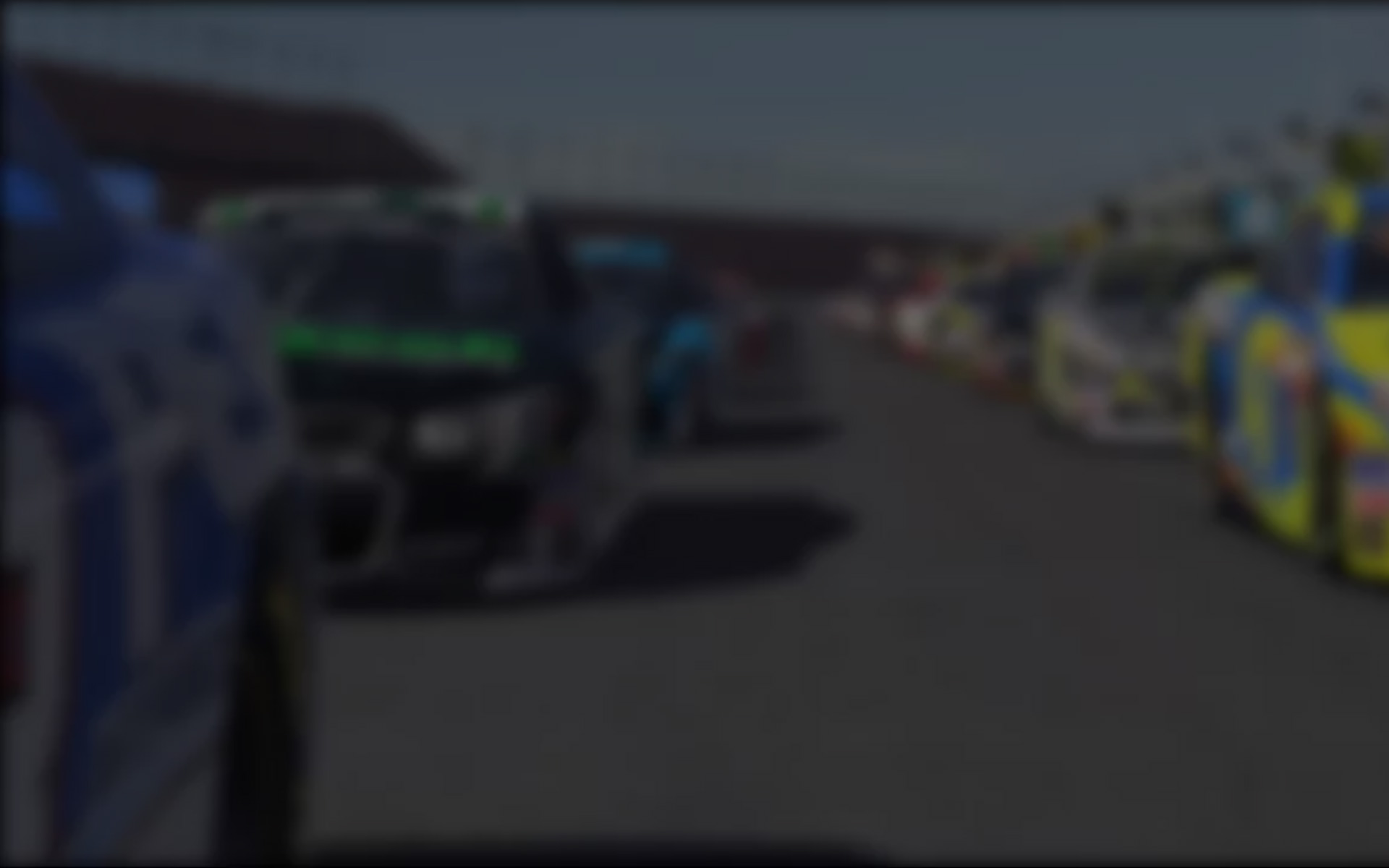 Week Ten of the Nascar iRacing.com Class B Series traveled to the center of the Nascar world, Charlotte, North Carolina. Sim Racers made the trip to run under the lights at the 1.5 mile Charlotte Motor Speedway. Phil Juhring (New Jersey) came enter the week with a huge points lead in the championship and he looked to add to it. For the week, 1202 drivers attempted at least one race while 453 drivers attempted at least one qualifying lap.
Week Ten's Strength of Field race took place at the usual time on Thursday night. This week's SoF was 4421, which paid the victor 282 points. Brett Nesbitt (Plains) started the race on the pole and led 35 laps before being involved in an incident that knocked him out of the race. Dustin Montgomery (Mid-South) would eventually come home with the win after making a late race pass on Devan Hall (Georgia). Montgomery finished the race with 14 laps led while Hall, who finished second, lead 32 laps. For his finish, Hall received 270 points. Peter Bennett (Connecticut) finished in the third position while David Cater (Carolina) finished in the fourth position. Bennett and Cater netted 259 and 248 points respectively. Paul E. Cline (Carolina) rounded out the Top Five after starting 19th and received 236 points. The 100 lap race was slowed five times for 20 laps.
At the end of the week, Montgomery was on top of the weekly points standings. Montgomery won his only race of the week and finished the week with 282 points. John Bunton (Carolina) finished the week in the second position after finishing sixth in the SoF race and received 225 points. Bennett finished the week in the third position with 212 points after attempting 15 races during the week. Tanner Stoops (Plains) and Nascar Nationwide Series driver Timmy Hill (Atlantic) rounded out the Top Five. Stoops finished second in his only race of the week and netted 210 points while Hill won six of his ten starts and finished the week with 208 points.
Juhring was able to add 26 points to his points lead after netting 203 points at Charlotte and bringing his total to 1663 points. Brad Mahar (New England) jumped up to the second spot over Brandon Buie (Atlantic) after gaining 191 points during Week 10 and bringing his season total to 1465 points. Buie dropped down to the third position after struggling during Week Ten and only netting 165 points. Buie now has 1437 points, 226 points behind Juhring. Bunton and Jeffrey Parker (Florida) held their spots in the Top Five after ten weeks. Bunton had a solid week at Charlotte and brought his points total to 1418 points while Parker managed to increase his total to 1390 points.
When it was all said and done at Charlotte, Brett Nesbitt's name was at the top of the qualifying charts. Nesbitt turned a 28.231 second lap. Andrew Shirley (Mid-South) was second on the qualifying charts with a 28.248 while Armando Vargas (California) was third with a 28.255. Zach A Hudson (Eastern Canada) was fourth on the charts with a 28.309 while Mark Mullineux (England) rounded out the Top Five in qualifying with a 28.335 second lap.
Week 11 of the season will see the NiCBS travel to Texas Motor Speedway, a 1.5 mile track very similar to Charlotte. With ten weeks in the books, it is clear that Phil Juhring is the man to beat. If any of his competitors plan on knocking him off the top, they will have to have great showing in Thursday's SoF race. Will anyone give him a run for his money? Find out next week at InRacingNews!
---
You may also like...
---