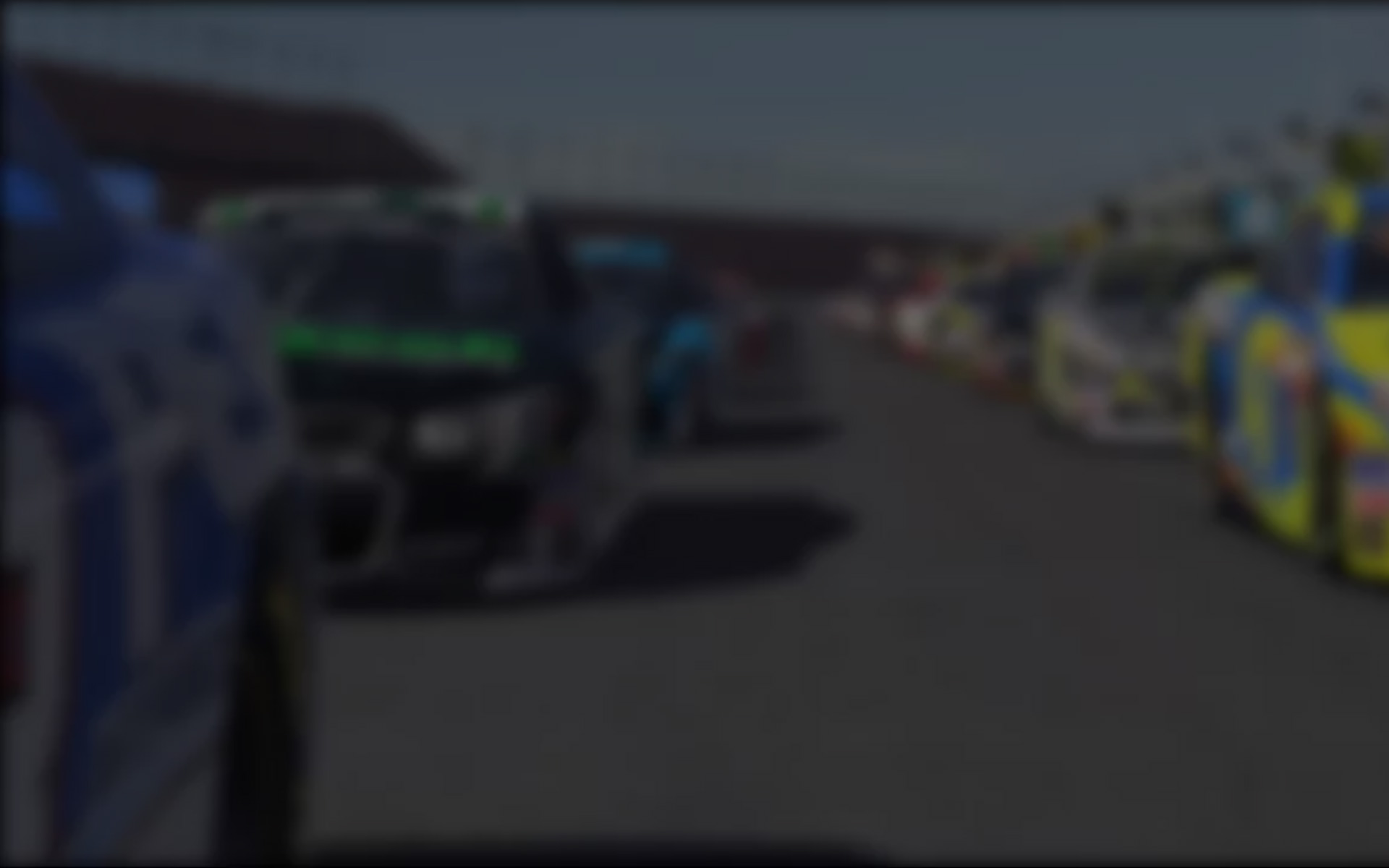 Anyone who was able to muster up the intestinal fortitude to give the new Holden Commodore VF a drive around Road Atlanta this week was in for a treat. Exiting the uphill pit road, they quickly discovered that putting the power down as you would a GT3 car was soon followed by the sound of screeching/spinning tires . . . along with a not-so ceremonial joining of a shiny new Holden with an old concrete wall.
As such, Week 2 of the iRacing.com V8 Supercars Series took a bit of patience at the start of the race. Indeed, many of the top-tiered drivers were advising that it took at least two laps to warm the tires up before one could really begin laying down fast lap times. For those who decided to play it safe, it proved to be an effective tip to minimize the risk of crashing at the start of the race. But who wins a race by playing it safe?
With the Holden's gridding up, it was Mitchell McLeod of 4 Motorsport taking pole position followed by James McKnight of SDC Motorsports. John Emerson of Team TTL and GT3 rock star, Aday Coba Lopez, completed the second row of the starting grid with Marlon McMullen of Chicken Line Racing Team rounding-out the top-five.
As the lights turned green, all 22 drivers careened towards Turn 1 and McMullen began his run to the front. His was a dare-devil move on cold tires but, after going side-by-side with McKnight and then Emerson, McMullen popped into second-position after The Esses. In the meantime, McLeod used the battle going on behind him to build upon his lead.
Further back, chaos brewed as several drivers took the scenic route through Turn 1. As the field compressed, several drivers found themselves four-wide while others were scattered about. One such driver who had a bit of bad luck was Brad Ryan of Team TTL. Losing traction on Turn 1, Ryan spun the cold tires and almost found the wall but was able to hold on to it.
Although not as bad as Week 1 where he was knocked out of contention (and the race) very early on, Ryan, who started in eleventh, would go on to battle back to finish in tenth and remain on the lead lap.
For a new-comer, Lopez had a reason to look up with his top-five qualifying time. However, as the race got under way, things took a turn for the worse. Getting into the grass in Turn 1, the Spaniard lost a heap of time and several positions. That alone would be heartbreak for any driver but for someone the caliber of Lopez, the bad situation could've been easily remedied with time.
Unfortunately, Lopez was never given the chance. Coming out of Turn 7, Lopez was on the inside as Sam Sutton got his left-side tires onto the grass. As Sutton applied the throttle, the rear end swung to the left which caused the nose of his Holden to turn right into Lopez.
Lopez shook it off and, miraculously, managed to keep it on the road but eventually succumbed to his wounds and retired from the online race shortly thereafter. It was an unfortunate event for the only international driver in the field but, given his strong qualifying time, we should expect to see more of Lopez in the future.
The race wore on and it proved to be costly for many prominent drivers. In addition to Lopez, others such as Sutton, Beau Cattell, Leigh Ellis and Ian Ford experienced a variety of mis-adventures and finished several laps down. For others, however, the race was a savory success.
"Hang on, I can do this. I can out drive Mitchell and John with ease. Let's see what they've got." — Marlon McMullen
Starting back in twentieth position, George Maris fought the battles and came out strong to finish ninth. A little ways further up, Kamikaze Racing Team's (KRT) Michael Fulcher, who started the race in twelfth, came out swinging and finished seventh. Overall, however, the man of the hour was McMullen.
Completing the opening lap in second position, McMullen felt no pressure from his rivals as he closed the gap on McLeod with haste. By Turn 7 of Lap 2, McMullen was on the former champion's back bumper.
As they both raced towards the downhill Turn 10, McMullen moved to McLeod"s inside and completed the pass for the lead. For McMullen, it was "a massive moment of relief when I realized, 'Hang on, I can do this. I can out drive Mitchell (McLeod) and John (Emerson) with ease. Let's see what they've got'."
True to his word, McMullen began reeling-off lap-after-lap of qualifying-type runs in an effort to put a gap between himself and his adversaries. The gamble paid off.  By the end of the race, McMullen took the checkered flag just under two seconds clear of McLeod having led 27 of 28 laps en route to his first win in a championship split race.
Emerson finished where he started in third as McKnight fell back two positions to finish in fourth. Rounding out the top-five for the race was Kurt Stenberg after starting in sixth.
"That win was a drive from the heart and I really wanted it more than anything." —  Marlon McMullen
For McMullen, the two-time iRacing.com V8 Supercars Americas Series Champion, this was more than just a win for the record books.
"I've decided to dedicate my win to my late grandfather who passed away from cancer just over a month and a half ago," said McMullen. "That win was a drive from the heart and I really wanted it more than anything."
McMullen has found success numerous times throughout the V8 Supercars Series but never in the main Strength of Field (SoF) race. With drives like this, however, we're sure to see more of McMullen in the future.
This Australian SoF race had a strength of 4264 and was split four times. The top five finishers from the other splits were as follows:
Split 2/SoF 2459
1-      Todd Parkes
2-      Richard Aylward
3-      Justin C. Allen
4-      Jason Scandolera
5-      Keith Wheeler
Split 3/SoF 1750
1-      David A Moore
2-      Brock Salmon
3-      Paul Gorrell
4-      Brendon King
5-      David Baxter
Split 4/SoF 1046
1-      Colin Boyd
2-      John Parkinson
3-      Peter Goodwin
4-      Shane Rayner
5-      Brad McKinnon
As the iRacing.com V8 Supercars Series continues its tour of the United States, the next stop for Week 3 brings us to the fan favorite of Watkins Glen International. Comprised of only seven turns, this high speed road course is one of the simplest courses on the iRacing service. Don't let that fool you, however, as even the slightest mistake can cost you heaps of time which is very difficult to recover. Given how close the times have been over the week, we fully expect to see some very close competition over the course of the 30 lap online race. Will McMullen keep the momentum going? Or will we see an international driver take center stage?
Be sure to follow iRacingNews as we continue our coverage of the 2014 Season 4 iRacing.com V8 Supercars Series!
---
You may also like...
---