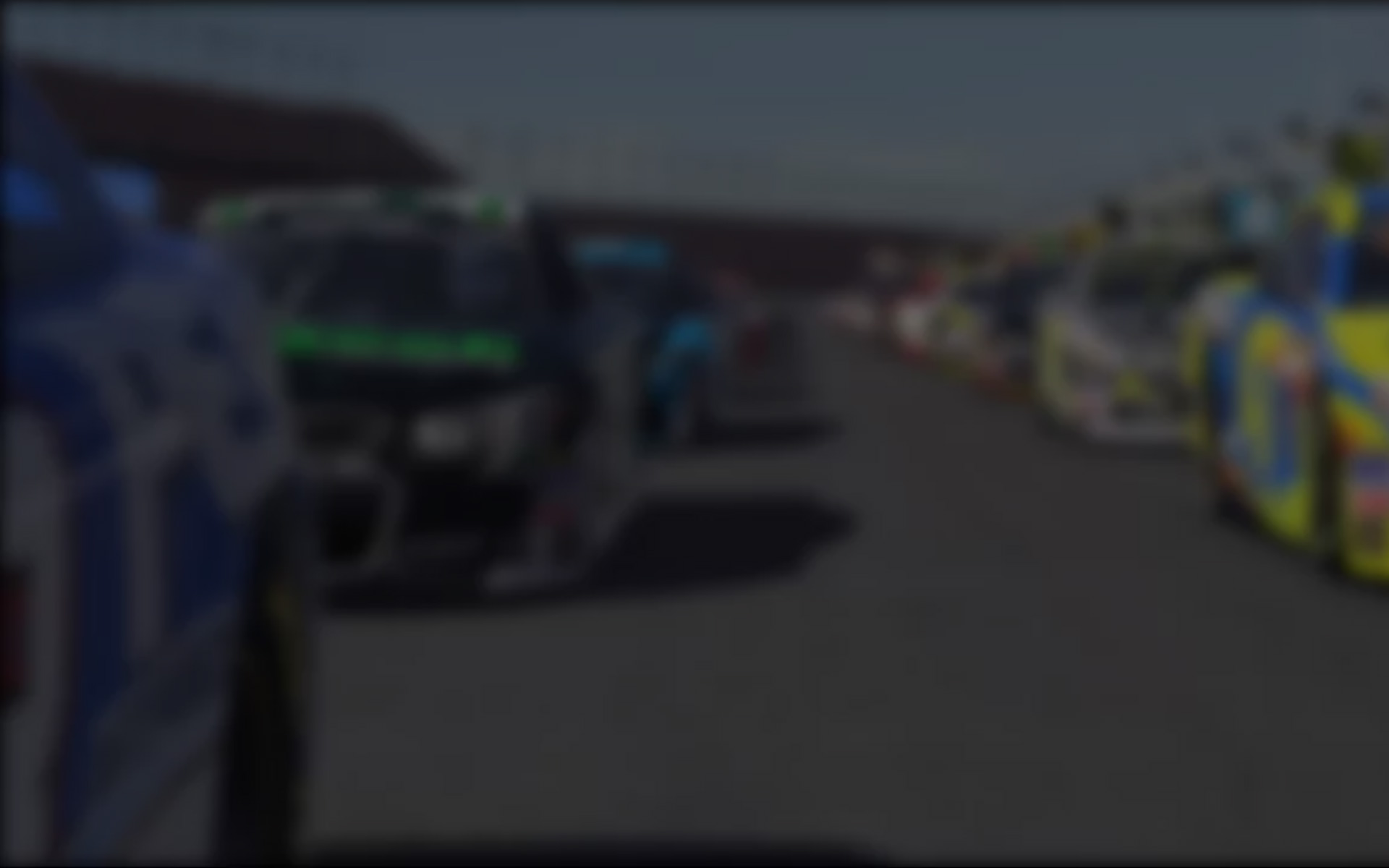 The UK&I Skip Barber League has had an exciting history with Summit Point.  The two-mile track has produced some of the best sim racing I've personally witnessed from the drivers in this league.
So it was with considerable degree of anticipation that well over two-dozen F2000s lined up on the Start/Finish straight of the West Virginia road course in preparation for the 19 lap sprint that lay before them.  Starting from pole position was Sebastian Job, who looked to retake the lead of the championship from Richard Avery who, not coincidentally, started in second place alongside Job.  Behind the front row came Paul F. Grillo in third, Simon Povey in fourth, and Dominic Brennan in fifth.  As the lights went green it was actually Clarke Williams in sixth who had the most excitement, as Povey failed to launch his F2000, forcing Williams to take to the grass in avoidance and gaining a position in the process.
Otherwise, the start was pretty tame as the top three slotted into their grid positions.  There were some early position gains from George Lambert (seventh to fourth within three laps) and Stuart Adcock (tenth to sixth within three laps as well) but no major incidents, and no movement within the top three.  Surprisingly enough the first change of position from the top three wouldn't happen until Lap Seven when Grillo took Avery's P2 at the inside of Turn One after Avery went so wide that he nearly went off the track.
Avery came back at Grillo just a couple of laps later at the very same corner, only for the pair to have a coming together which pitched Grillo into a major oversteer.  He managed to counter and save the car from spinning but the maneuver cost him valuable exit speed, enabling Avery to regain second place even as Job continued to pull further down the road.
Just behind Avery and Grillo came Lambert and Tom Ward, and they both seemed to let off the gas at the sight of the sliding Grillo ahead.  Adcock took advantage of their caution and  jumped to fourth place in the space of a few corners.
The thrills didn't stop there:  Later that lap Rich Jones and Tim Adcock went side-by-side through the final corner – or at least attempting to — with Jones running wide off the track and Adcock getting oversteer.  Just behind them, Fahim Antoniades took the normal racing line and, with his much better mid-corner and exit speed, he shot up the middle of the battling duo, taking two positions at once.
The action didn't stop there.  As the field started Lap 10 the other Adcock was continuing his charge to the front as he took third place from Grillo at Turn One.  Not long after that Ward had a major sideways moment at Turn Three which warranted a change of pants, although he managed to control the slide and only lost positions to Lambert and Brennan.
On Lap 13 Stuart Adcock finally got the opportunity to make a move on Avery for second place at Turn One, but instead came under attack from Grillo who retook his podium position.  Adcock then dipped a wheel in the grass entering Turn Three and lost even more time to Avery and Grillo.
Lap 14 was one to forget for Avery as he not only lost second to Grillo at Turn One but, with his speed was compromised on the run down to Turn Three, he lost yet another position to Adcock.
The flying Adcock continued his push to the front just one lap later with one of the less exciting moves of the day.  After getting a great exit out of the final corner and grabbing a strong slipstream from Grillo, he moved himself into second place unchallenged at Turn One.
Avery began pressuring Grillo immediately after Adcock's pass . . . and I do mean immediately.  There was slight contact between the two cars at Turn One, followed by some side-by-side racing through Turn Three and down The Chute.  Unfortunately for Grillo, more contact with Avery ensued at Turn Six, which spun him across the track, where he was drilled by Lambert at 50mph.  The resulting incident took-out Grillo, Avery, Lambert and Ward (third place through sixth place) with only four laps remaining, and promoted Rob Green to a very sudden podium position.
Understandably the race settled down a bit after such a devastating crash took out four of the front-runners, but there was still more excitement to come.  Antoniades was up to P7 as a result of "The Big One," and worked hard to close the gap to the group of cars ahead of him.  After pumping in some solid laps he was just about within range of battle for third between Green, Brennan, Mark Jarvis, and Clive Armstrong until contact with Mark O'Connell on the final lap damaged Antoniades' rear suspension, forcing him to limp home in ninth.
In the end Job finished a surprising 6.840 seconds ahead of Adcock in second with nearly ten more seconds back to Jarvis who won the battle for third ahead of Green, Brennan, and Armstrong.  Job's win moves him back into the lead of the championship by 13 points with Avery failing to score at Summit Point.  With his fifth place, Brennan advances three positions in the points, surpassing Lambert, Povey, and Williams, while Adcock also moves up three positions in P10.
---
You may also like...
---