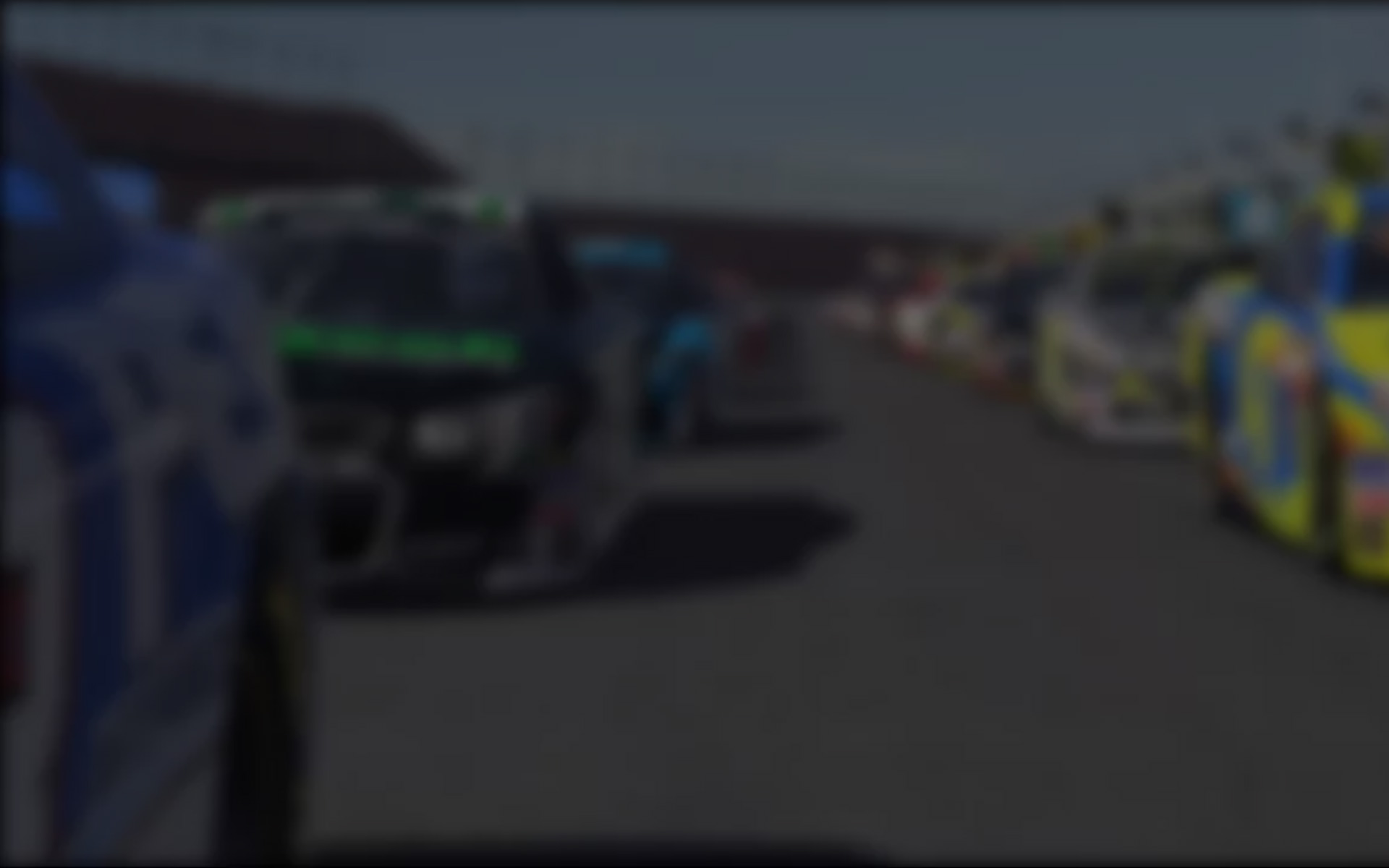 Round 2 of the iRacing.com V8 Supercar Series headed to Virginia International Raceway. While the famous oak tree is no more in real life, it lives on in iRacing. Justin Ruggier decided to sit this week out, opening up the opportunity for someone else to have a good look at getting a podium finish
Josh Muggleton took the pole position in the last session with Shaun Kelly joining him on the front row. Madison Down and Leigh Day would occupy the second row ahead of Matthew Nethercote and Troy Cox, while a TT-R lockout of Leigh Ellis and Tony Autridge started from the fourth row with James McKnight and Tobias Czerny rounding out the top 10.
When the lights went green it was Muggleton and Down getting the jump with Kelly slotting into third.  Into Turn One, Down locked his rears and, thanks to a little help from Kelly, spun around in the middle of the pack.  Luckily everyone managed to get through nicely despite the hazard posed by Down.  Not so fortunate was Leighton Fine who DNS and, later, Tony Autridge who experiencing some weird failure which pitched his Ford Falcon into the wall and retirement on Lap Four.
Five laps later, Nethercote and Marlon McMullen went side-by-side into Turn 14, ending  in tears when contact sent McMullen around.  (Nearly) everyone had filed through without further incident when McMullen decided it was clear enough to rejoin.  Alas, he didn't see Dave Oliver approaching and they collided, ending Oliver's race while McMullen did a couple more laps before pulling into the pits and retiring.
Meanwhile, as Down atoned for his first lap gaffe by making his way through the field at a rapid rate, Muggleton led from Kelly by about a second as the pit stops loomed.  Muggleton was the first to head for pit lane on Lap 10, but Kelly made a mistake at Oak Tree which all but ruined his chances of grabbing the lead in the pits.   The hard-charging Down was on the verge on taking back third spot when a big error in pit lane saw him fail to take-on fuel and go a lap down while rolling around for another go . . . which all but summed up Down's night.
Everything stayed very much the same for the remainder of the online race until Kelly fell-off the road two laps shy of the finish.  No major harm was done, however, as Muggleton took the win and the championship lead ahead of Kelly who recovered to score a very well deserved second place.
In a battle of the Leighs, Ellis managed to hold-off Day to claim the final podium position with McKnight rounding-out the top five. Czerny had a strong run to sixth spot just ahead of Nethercote, while Ian Ford and Jayson Black advanced five and six spots respectively to finish in eighth and ninth with Richard Hunter moving up 11 positions to complete the top 10.
Top Five Drivers – Championship Points – Overall
1. Josh Muggleton – 481
2. Madison Down – 460
3. Shaun Kelly – 459
4. Leigh Day – 428
5. Leigh Ellis – 403
Split Two Winner: James Hart
Split Three Winner: Nathan Bey
Split Four Winner:  Steve Horne
Broadcast done by the crew at www.v8sonline.com.au
---
You may also like...
---