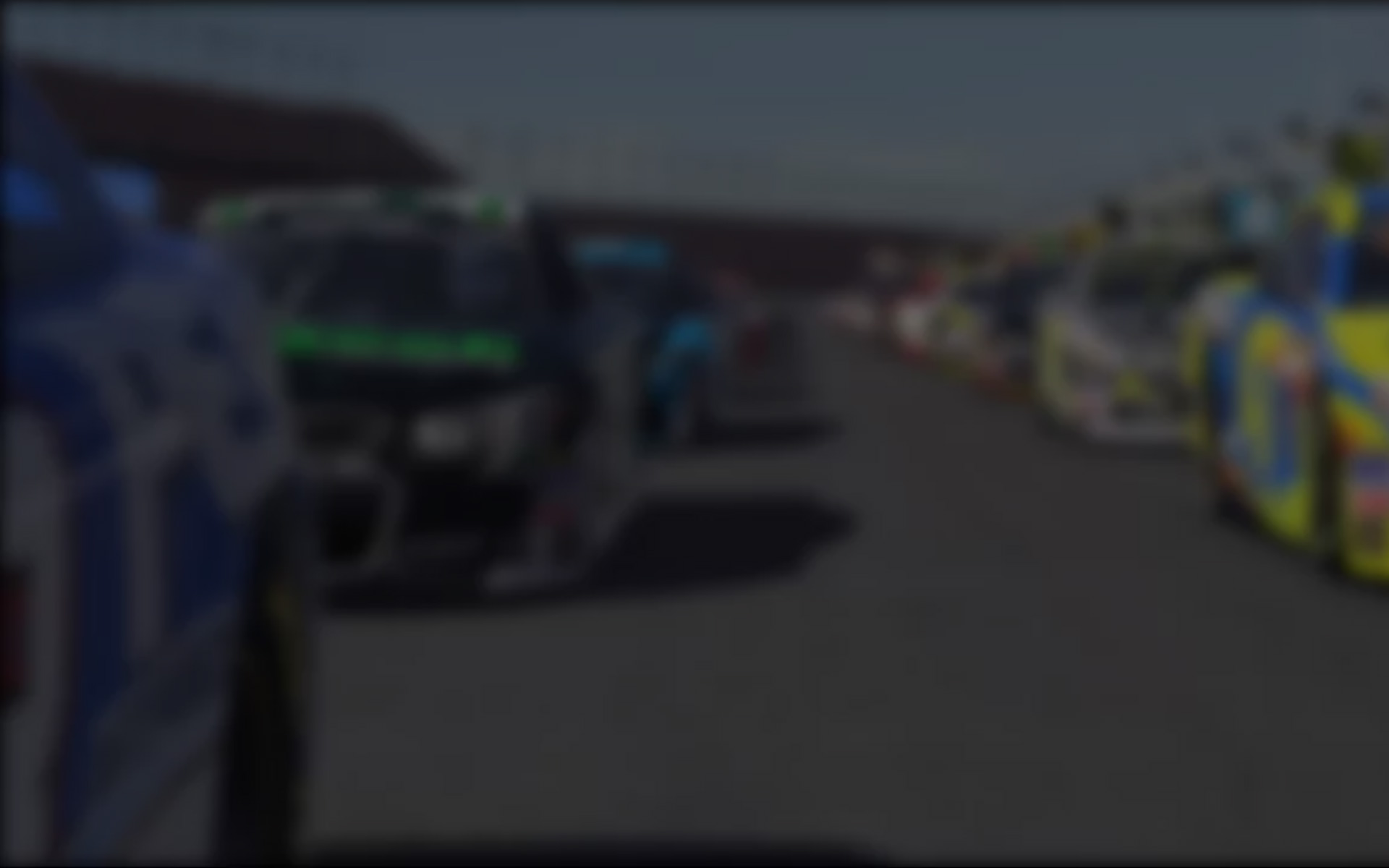 Round Five of the iRacing.com V8 Supercars Series took the teams and drivers to Circuit de Spa-Francorchamps, this challenging 25 lap race will be one of the longest of the season with lap times around the two minutes and twenty three second area.
Justin Ruggier would take pole position with a 2:22.296 while Madison Down would start from second on a 2.22.417. Joshua Muggleton and Vail Riches would start from the second row while Shaun Kelly and John Emerson would start from the third row. Michael Fabian and Matthew Hill would from the fourth row and rounding out the top ten on the fifth row of the grid would be Brad Ryan and Robert Hartley.
When the lights went green it was Down taking to the lead and for the first time getting the best start in the field. It was a very clean lap for the field but coming into the final chicane Leigh Ellis would run it wide and unfortunately make contact with Robert Hartley on the exit spinning Hartley around and it was made worse when Mitchell Abrahall had nowhere to go but into the front of the PowerBond falcon of Hartley.
On lap 2 Down would make a mistake which would allow Ruggier to get on the inside of Down and take the lead back, things got worse for Down when he ran wide and allowed Muggleton to get up the inside as well and move into second place relegating Down back into third place. At the end of lap 2 Dylan Carroll would enter pitlane and retire from the race.
On lap 6 Kelly would make a great pass around the outside of Riches for fourth place, once Kelly would by it left Riches in an awkward position on the track and this allowed Fabian and Hill to get by as well in the following few corners. On lap 7 a little bit of contact between Hill and Riches would result in Riches getting spun around.
Muggleton would be the first driver to enter pitlane, pitting at the end of lap 10 with Kelly also coming into the lane as well but things turned bad for Kelly when he made contact with the wall bending the rear of his car which cost him a great result and it forced him to battle one of the hardest cars in the game around a challenging track like Spa for 14 laps. On the following lap Ruggier would react to Muggleton's pit strategy and for Muggleton it would work out beautifully as Ruggier would rejoin the race in second place giving the lead to Muggleton. Down would pit on the same lap as Ruggier and hold third position overall.
When the pit stops where done it was Muggleton leading Ruggier with Down in third place, but one of the surprises so far would be Fabian in fourth place with Hill, Riches and Emerson all trying to close the gap to Fabian. On lap 16 an optimistic move by Riches would see contact with himself and Hill which would send Hill around and put him back into 11th and Emerson would move up into 5th place ahead of Riches.
As the laps wound down Ruggier was closing the gap but for the second time in his iRacing Career it would be Joshua Muggleton taking victory in the Monday Night V8 Supercar Series top split race, 6 tenths ahead of Justin Ruggier in second place and rounding out the podium would be Madison Down who had a pedal failure before the race and had to swap back to his Logitech G27 pedals. Michael Fabian would have an amazing run and finish in 4th position ahead of John Emerson and Vail Riches who rounded out the top 6. Corey Henger would finish in 7th place with Matthew Hill fighting back to finish in 8th place and rounding out the top 10 would be Samuel Collins in 9th and Michele Curina in 10th place having a good strong run.
Top Five Drivers – Championship Points – Overall
1.    Madison Down –1245
2.    Joshua Muggleton  – 1213
3.    Justin Ruggier  – 1180
4.    Vail Riches – 1108
5.    John Emerson – 1066
Split Two Winner: Dave Oliver
Split Three Winner: Adrian Stratford
Split Four Winner: Paul Bogusz
Broadcast done by the crew at www.v8sonline.com.au
---
You may also like...
---