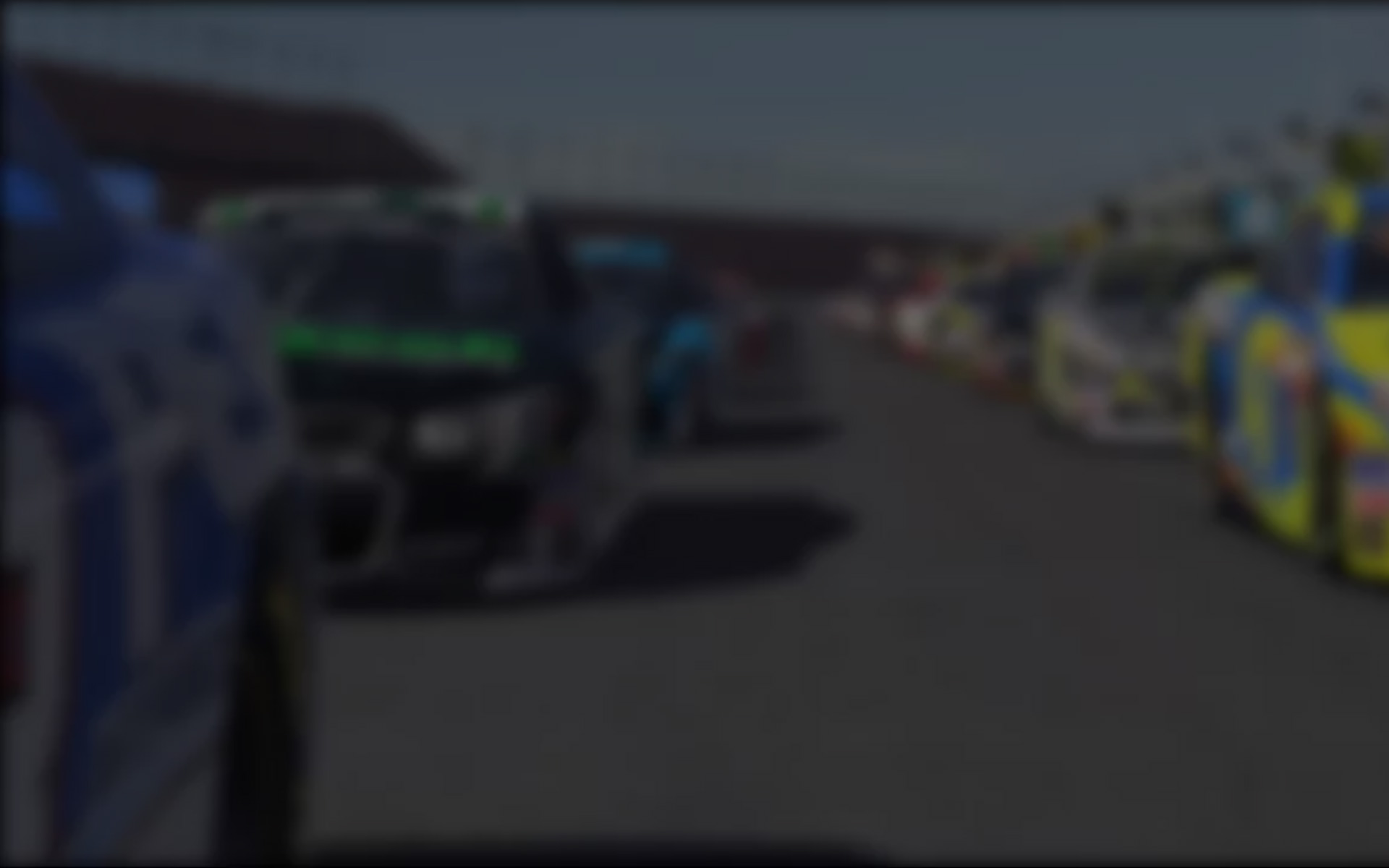 As the NASCAR iRacing.com Late Model Series reached the half way point in 2014 Season 3, Lucas Oil Raceway (formerly Indianapolis Raceway Park) would be the venue the sim-racers would try to master. The momentum style sim racing required to be fast here would put a few in the hole on speed while others where able to pick up on it and find the pace required to reach victory lane. At just .686 miles in length and with 12 degrees of banking, LOR's high line would be the fast way around, making clean passes extremely difficult. In this week's feature race of the week 14 cars would be bidding for the race win.
Tim Bills grabbed the pole position while Dario Ricov lined-up to his outside.   When the race went green Bills wasted no time clearing Ricov.  He was not alone as, by the end of the opening lap Ricov had slipped back to fourth after Isaiah Forward and Kevin J Myers got around him and set off in pursuit of Bills. Myers wasted no time in commandeering the second spot on Lap Two while Michael Raffurty supplanted Ricov for fourth as the early race give and take took hold.
While Myers looked to run down Bills, Raffurty's forward march took him past Forwatd for third on Lap Four and he set his sights on second spot. Myers didn't get close to Bills until Lap 23 when the leader ran into heavy lap traffic.  Two laps later, while lapping a slower car, Bills and Myers each chose a lane in hopes that it would be the right one.  The trio went three wide with Bills set to the high side while Myers worked on the middle grove, with ? Ondrak on the high side in front of Bills.  Bills and Ondrak both scraped the wall and slowed drastically. This allowed the middle groove with Ricov's lapped car ahead of Myers to pull clear, with Myers taking the lead and Bills dropping to second, some eight car lengths behind. As the race continued Bills regrouped and counterattacked to close back up on Myers.  On the final lap as the leaders worked their respective ways around the lapped car of Jarrett Herbison. Bills saw his final chance vanish as Herbison took the preferred groove . . . and any chance Bill had of getting past Myers with it.  Myers went on to take the checkers .569s ahead of Bills with Raffurty rounding-out the top three as the final car to finish on the lead lap, 21.540s behind.
As with any track where passes are this hard to come by, there was an abundance of incidents as sim-racers occasionally drove to — and past — the limits of the car and their talent to try to make something happen. Lap Nine saw simultaneous incidents, first when Herbison got loose on the exit of Turn Two, spun and collected Carsten Digiantomasso. As that crash unfolded, Pedro Leitao found himself chasing up the track in a failed bid to overtake Digiantomasso.   Although he managed to avoid Digiantomasso, his car snapped loose into the path of Mike D Marshall resulting in contact.
The battle for the top five came down to who was able to avoid making a mistake and avoid the incidents. Jeff Hoggard moved-up from his ninth starting spot and, by Lap 14,  found himself in fourth after narrowly avoiding a bicycling Jimmie Stevens as he climbed the front stretch wall.  Ondrak was destined to finish in fifth by keeping his car clean and mostly out of trouble, capitalizing on the mistakes of others as many an incident developed directly in front of him. Ricov was the final finisher one lap down in sixth.  After a nice qualifying effort he struggled to find the speed in the race but was able to still bring home a solid top 10 finish. Seventh-placed Stevens was be the only car two laps down, making a solid comeback after his run-in with the front stretch wall, while Herbison rebounded from his spin and contact with Digiantomasso to finish eighth.  Lewis2 came home ninth after he hit the wall and took to the grass to avoid another incident and the final spot in the top ten went to Leitao.
The overall Top Ten at the halfway mark in the season.
Ty Majeski 1033                       6. Cody Kelly 806
Bill Martin 962                         7. Joe Schafer Jr 794
Tim Bills 911                             8. James Linkiewicz 765
Stan Bragg Jr 898                   9. OJ Dumpier 740
Kevin J Myers 854                10. Bill Elmore 729
---
You may also like...
---