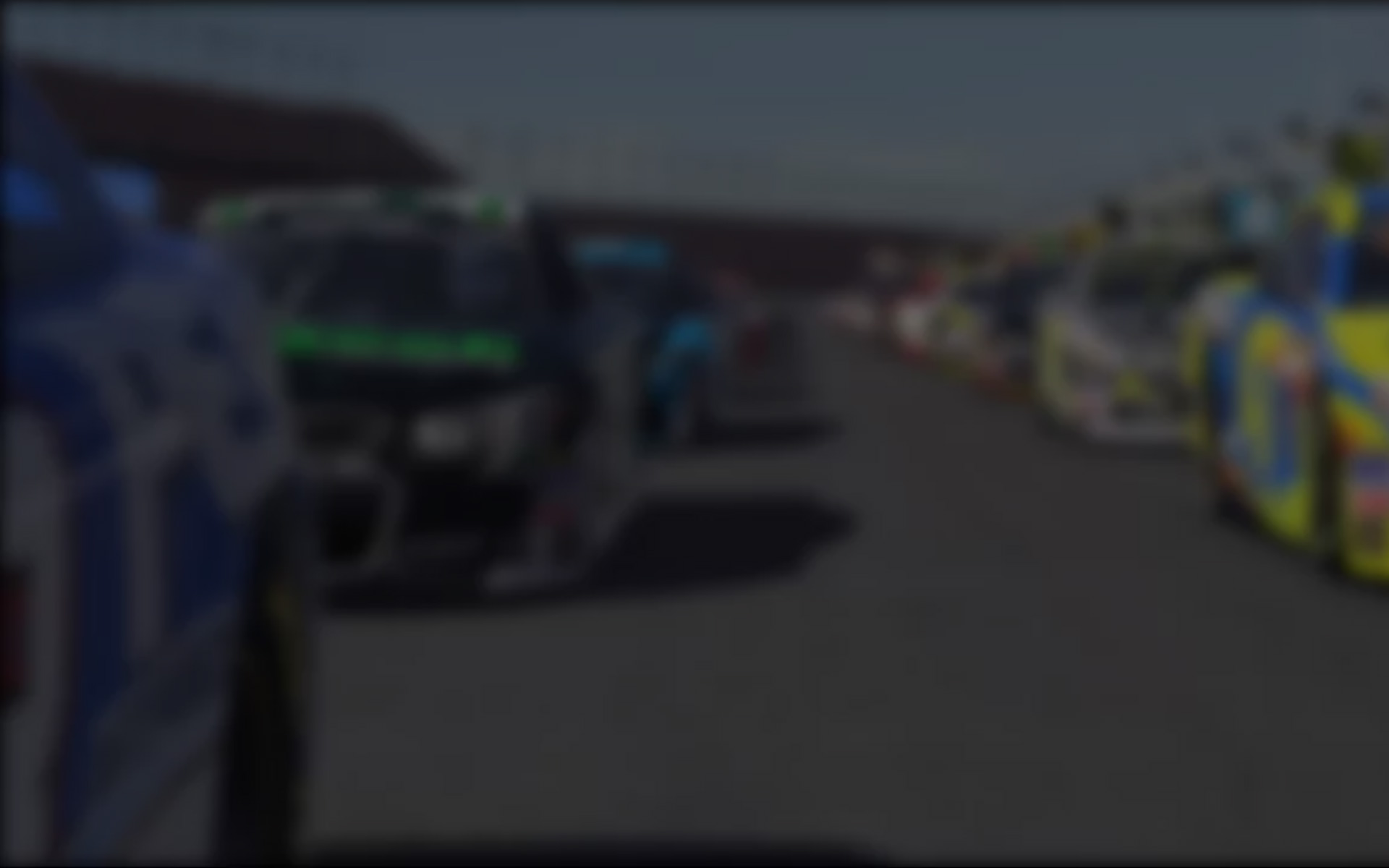 Round Five of the iRacing.com World Championship Series Road Racing (iWCSRR) paid a visit to the twisty and dusty turns of the Infineon Raceway, where Jesse Nieminen jumped his way to the front of the pack to claim his third victory of the season. The My3id Team sim-racer started from the second row of the grid in fourth position, and by the time the first round of pit-stops arrived, Nieminen was up to third position, after capitalising on an error by Ilkka Haapala. This is when the Finn launched his Williams-Toyota FW31 into the lead, as a hair-raisingly fast entry to pit lane and subsequent high-speed service brought him out alongside erstwhile leader Luca Masier and ahead of Greger Huttu, who'd over-shot his pit box.
"Everyone pitted on the same lap and I think Greger and Luca both missed their boxes slightly and with a solid stop I was able to get by Greger and just squeeze past Luca at the pit exit," Nieminen explained post race.
Once Nieminen had dispatched Team Redline's Masier, he carved his way through lapped traffic to establish a three second margin by the time the second round of scheduled pit-stops came around.  He would maintain his lead until the finish. "In the second stint I had some trouble with lapped cars," said the winner.  "Some guys seemed to be really reluctant to let me past but it seemed to be the same for the pack behind me so luckily that didn't cost me anything. I was able to pull away from Luca slightly before my second stop and maintained the lead quite comfortably. For the last stint I just took it easy and brought it home."
"Some guys seemed to be really reluctant to let me past but it seemed to be the same for the pack behind me so luckily that didn't cost me anything." – Jesse Nieminen
Although Masier missed his first ever iWCSRR victory, the Italian was delighted at grabbing his first finish of the season, following a recent run of bad luck.   After losing-out to Nieminen during the first round of pit-stops, Masier had to defend the relentless advances of team-mate Huttu and championship points leader Klaus Kivekäs all the way to the chequered flag. "I'm very happy to have finished my first race this season," Masier shared this weekend. "Honestly I was a little surprised to be able to fight for victory. Unfortunately my mistake at the first pit stop where I stopped too early and I had to move the car a bit forward to allow the mechanics to do their work cost me the first place."
For reigning champion Huttu, who has yet to score a iWCSRR win in 2011, the virtual Infineon proved to be a difficult circuit on which to pass. "We were nose-to-tail for the whole stint with Luca, Klaus and myself in the middle," offered the Team Redline principle. "It got a bit hectic at times with lappers in the mix. Somehow Luca seemed a bit slower on the second run and I almost ran over him a few times. I also got a good run into the hairpin after Luca's small mistake and I tried to out-brake him. It almost ended up in tears as we touched slightly, but both of us managed to continue without problems. I had another go in the slow right before the Esses but I didn't want to take any big risks with Luca being my team-mate and me having a bad result in the previous race."
"It almost ended up in tears as we touched slightly." – Greger Huttu
Also suffering from limited overtaking opportunities, Kivekäs had to 'make do' with a fourth place finish, his first placing off the podium since the opening round at Spa-Francorchamps. "I got a rather poor start but Ilkka had an even worse one so I managed to pass him in the first corners," said the current championship standings leader. "After that I just drove around behind Jesse waiting for the first pit-stops.
"With the Redline guys having trouble hitting their pit boxes Jesse managed to jump to the lead. Unfortunately I couldn't improve my position so I was now behind Luca and Greger. Passing being as impossible as it is with all the dirty air there wasn't really any chance for me to try and pass the guys in front. There were times when I got pretty close but I never got myself in a position where I could have tried something. So in the end I came home in fourth. It was possible to do better today, even fight for the win but I'm still pretty pleased with the result. My lead in the championship got narrowed by 18 points but it could have been worse, mistakes were very easy to make at this track so I'm happy to have finished the race."
Earning his second top five of the season, Luke McLean overcame a last minute strategy change and 're-learnt' how to drive a heavy iRacing Formula One car, to finish seven seconds ahead of Hugo Luis. "I decided to go for a longer fuel strategy so the car wasn't feeling great and I had not done more than a ten lap runs in practice so I was a bit unsure how the car was going to react over time and I was a little bit too cautious on the first stint," the Australian told inRacingNews. "After that first stint I struggled even more at the beginning of the second and Ilkka was right on my tail. We had a little kiss in the hairpin and for whatever reason my brain kicked into gear from that point and I started to find some really good pace and rhythm. I was banging in good laps and also got two laps extra on the pack ahead in the pit phase. I closed some four seconds but brushed the barrier with a few laps left which bent the suspension a little so I just settled for fifth. I'm delighted to get a nice top five finish after some tough breaks this year."
"We had a little kiss in the hairpin and for whatever reason my brain kicked into gear from that point." – Luke McLean.
Clawing his way up from fourteenth on the grid to seventh by the end of the 75 lap race, Aleksi Elomaa held-off a spirited comeback from Haapala to beat his Finnish countryman by two-tenths of a second at the chequered flag. For Haapala, it was a case of what might have been, following a rare mistake by the Orion Racing team driver in the opening laps, that saw him plough into the sand at Turn Ten. "Eighth place is definitely not what I was hoping for, but points are points," he confessed post-race. "I'm pretty happy the pace is looking better now, I just need to do a better job with the details in the race."
Whilst Ben Cornett had predicted woe ahead of Round Five at the virtual-Infineon, his prophecy failed to come to fruition. Not only did that bring a smile to the Australian's face, but a top ten finish ahead of Ray Alfalla from nineteenth on the grid was the perfect tonic for the Team Redline racer. "I finished ninth, and I'm pretty stoked with the comeback. I'm also stoked with the progress of the team. Race one we were miles behind, now we're hunting them and it's not going to take long before we see some victories," Cornett asserted.
"It's not going to take long before we see some victories." – Ben Cornett
The victory for Nieminen moves the championship rookie back up to second in the standings after five events, 26 marks away from his My3id team-mate Kivekas who has 194 points to his name. Luis and Huttu are hot on the heels of the leading pair, both holding 126 points, 15 more than Cornett who finds himself promoted into the iRacing.com World Championship Series Road Racing top five.
Round Six of the series heads to epic Virginia International Raceway, where Huttu dominated from start to finish en route to the 2010 championship. Will the title holder be able to get his mojo back and catch the likes of Kivekas and Nieminen?
---
You may also like...
---