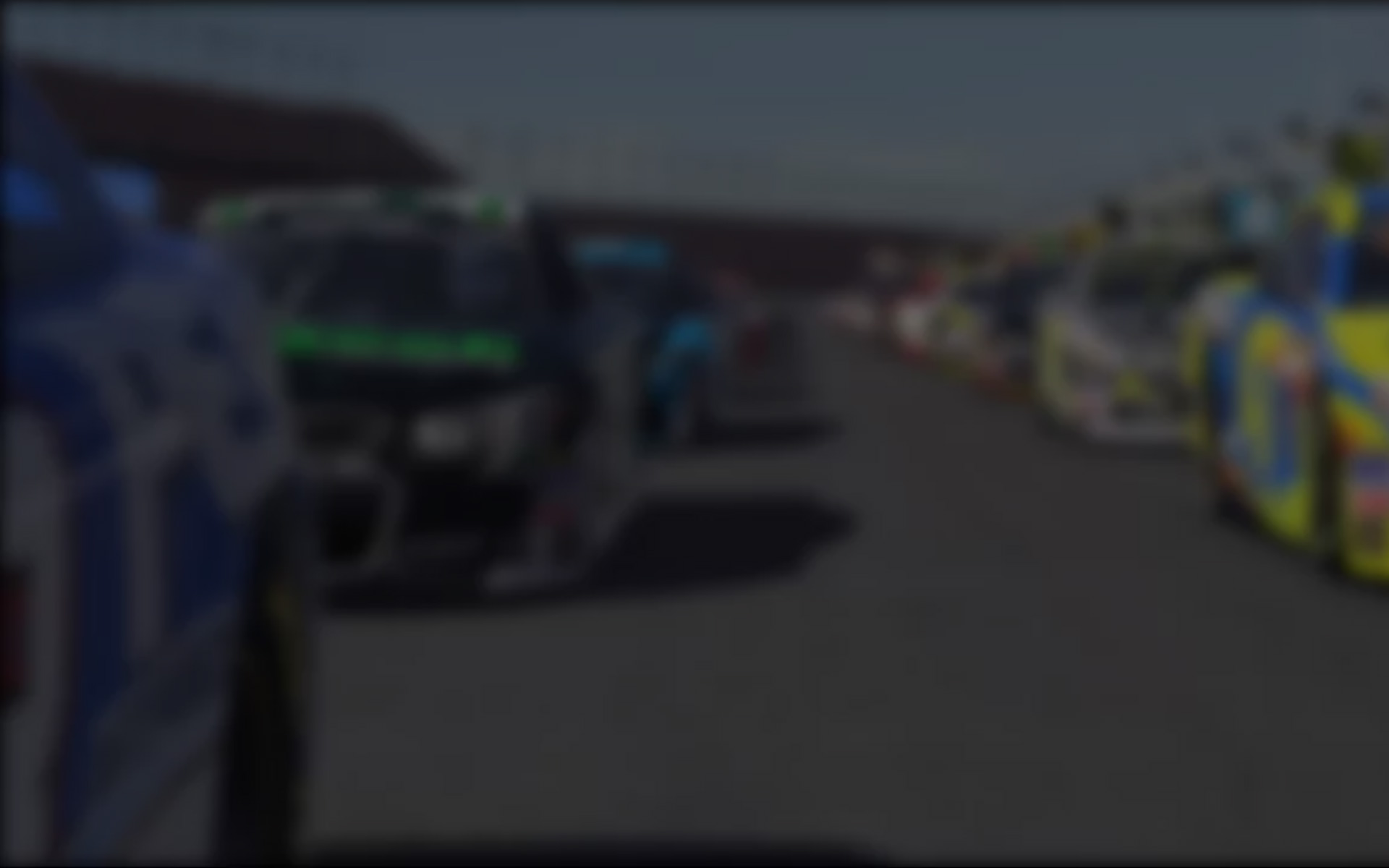 Unchanged in layout since it opened back in 1955 Elkhart Lake features many elevation changes, along with a very high speed front stretch and the famous Kink in the middle of the back stretch. In other words, an ideal venue for the Classic Teams Championship contenders to stretch their legs. It was also the site for four new drivers to join the circus this week making a total of 75 point scoring competitors in the first two weeks. This week saw 17 races gain official status with Sunday again providing the main race of the week with 44 starters. Drivers spent the week searching for the perfect balance between speed and grip, most running a much lower downforce setup than they did last week at The Glen.
Once again the man who found himself at the top of the qualifying sheet was Nixon (Lotus). This week the gap back to the flying Chevron of sensational debutante Hulbert was less than a tenth of a second over the 4 mile, 14 turn Road America circuit. Hulbert had pushed the series leader Ruokola (Williams) off the front row and back to third just ahead of Valentiejus (Ligier), the first man not a member of the 1.48 club. Behind these five there was a little gap back to Ventura in sixth on an impressive 1.49.572 just 3 one-thousandths ahead of Dobie's Tyrrell in seventh. Just over a tenth covered the next group of four cars. Herfjord (Ligier) eighth fastest on a 1.49.774, Maguire (Fittipaldi) ninth on 1.49.782, Schmidt (Lotus) tenth on 1.49.825, Schwecke (ATS) eleventh on 1.49.890. In twelfth was the first of the Interscopes, Roberts just .004 ahead of his team mate Nicol. Close behind was Beyer's Tyrrell on a 1.49.982, just ahead of the fastest of the Alfa's this week and last man in the 49's Garese in fifteenth. De Rooij was having another good run and was sixteenth, followed by another surprising debut from a Chevron,this one with Moreira at the wheel. Jeppesen (Ensign), Incledon (Fittipaldi) and Strang (Rizla) rounded out the top twenty qualifiers.
Nixon (Lotus) was undoubtedly the fastest man at Road America with three wins, including a 194 point win over Ruokola (Williams) in the biggest race of the round. But at the end of the week, once again his love of racing had compromised his points haul and let Ruokola steal the round with 184 points. Valentiejus (Ligier) had also grabbed second with a total of 175 points, whilst Nixon was left sitting back in equal third with a very happy Herfjord (Ligier). Herfjord jumped 8 spots up the leaderboard with one great drive and then put the car away. StAmans (Alfa) dropped four spots to sixth whilst Lavecchia (Renault) gained four to be right behind him in seventh. Eighth and ninth were Maguire (Fittipaldi) and Roberts (Interscope) going toe to toe in the point race but both dropping a spot to the Renault. Also in the fight is Dobie (Tyrrell), the last man in the top ten.
Nixon's three wins were unmatched in Round 2, nobody else winning more than once. Wednesday saw a win on debut go to Moreira's Chevron, as well as Nixon grab his first of the week. Friday Ventura took a hard fought one, Tincani posted his first, and Nixon grabbed another. Saturday Maguire (Fittipaldi) took a strong win, and De Rooij posted his second of the season. Sunday began with Jeppesen on the rostrum, followed by Nixon taking the biggest win of the week, Incledon grabbing another for Fittipaldi, and Ruokola taking the last win of the week. Hachez (Kauhsen) was once again relentless in his efforts making six starts and turning 145 laps. Relative newcomer Poole (Surtees) also made six starts and completed over 100 laps.
Third drivers performed well again at Road America, Fastest of the number threes was once again De Rooij (Shadow) but Jeppesen (Ensign) is shaping up to challenge. Incledon (Fittipaldi) is another coming man as is Taylor (Renault) and Sagmeister (ATS). Boscus did a great job for Alfa again as did Nye for Interscope and the unstoppable Hachez at Kauhsen. In the Aurora ranks Hulbert (Chevron) just blew everyone away. Although he had his moments on the way there having a huge accident in the main event when his cockpit disconnected. How long can it be before he finds himself in a championship team? His team mate Moreira also did a sterling job for Chevron, and should help push this team toward the front. A great performance was put in by Van Velsen (Surtees) who's quickly coming to grips with his new ride. Arnall put in a typically strong showing for Penthouse Rizla as he and his teammate Strang lead the Aurora runners points. Brättemark (Ram) currently sits in third just 20 points back.
Autodelta Alfa Romeo retained its lead in the Constructors Championship although the gap to second was cut drastically by the incredibly quick Ligiers. Renault drop to third just ahead of Fittipaldi and Interscope. Rebaque still sit sixth  but Williams have arrived with a rush at round 2 shooting 16 steps up the ladder to now sit seventh. Lotus followed their lead and leapt 15 places to tenth. Ensign and Arrows split them due to good runs from all 3 drivers at Elkhart. Big losers this week were Brabham, ATS and Samson. Let's hope they regroup for Brands Hatch.
Driver of the Week:
Nixon/Lotus – Everyone loves a racer. Three wins and a total disregard for championship points earns Erik this week's Driver of the Week.
---
You may also like...
---