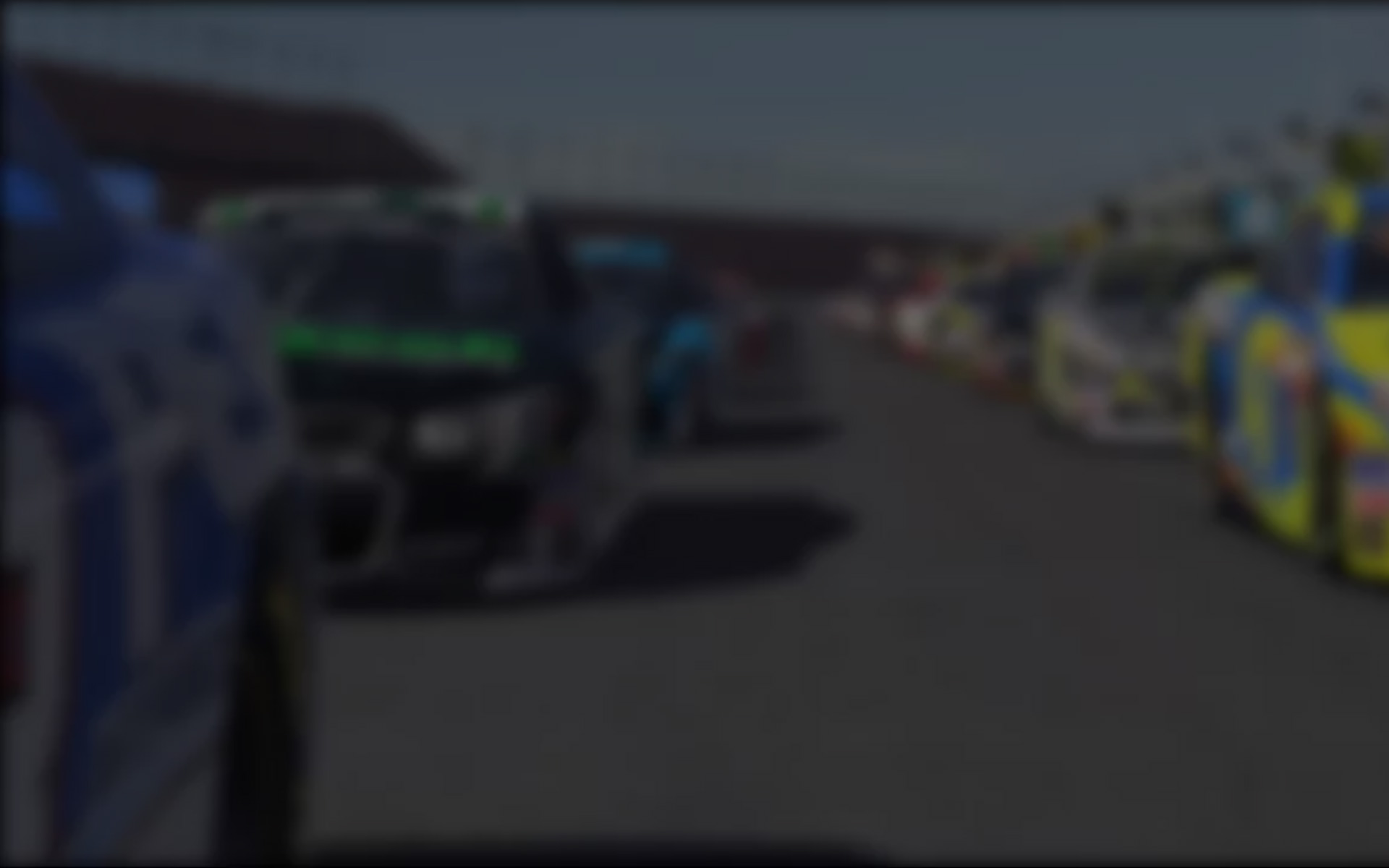 In a dramatic finish to Round Ten of the iRacing World Championship Series Road Racing, Greger Huttu sealed his third victory of the season at the virtual Indianapolis Motor Speedway, to move into the shadow of current series points leader Klaus Kivekäs.  Huttu, who is defending his title in 2011, played out a single pit-stop strategy to set-up a thrilling finale with fellow championship protagonist Jesse Nieminen, who was glued to the tail of Huttu's Team Redline Williams Toyota FW31 in a charge to the chequered flag.  But the smallest of errors in the closing stages sent the iWCSRR rookie tumbling down the order to an eventual finish position of twenty-eighth in the online race.
Starting from second on the grid, Huttu's one-stop-strategy was soon evident, as he struggled to get away from the line, subsequently dropping to fourth position with the heavy fuel load behind My3id's potent threesome of Nieminen, Kivekäs and Hugo Luis. However, once My3id trio of leading sim racers made their first of two pit-stops, the possibilities for Huttu began to emerge, as he stepped his way to the front of the pack. "It was hard to decide on strategy but I decided to go with one stop as I felt that could put me in a position to fight for the win at the end of the race," the 2010 World Champion explained.
"For a while I was thinking that one stop might not work because I was losing time battling for positions early on.  After that things settled down and I was able to focus on getting some clean laps in and my pace was pretty good. At that point I didn't really have an idea how things would shake-out after the pit stops but I knew from testing that one and two stops would be really close. I got the lead when the guys in front pitted for the first time and after I made my pit stop I was watching the gap to Hugo. His pace was quick so I thought he might have gone for a lower fuel load which turned out to be the case.
"I knew from testing that one and two stops would be really close." – Greger Huttu
"He came out a few seconds behind me after his second stop and I thought it will be an exciting race to the finish. Seems like he miscalculated his fuel so he couldn't make a challenge but Jesse pitted a few laps later and closed down the gap to me quickly. He was quite a bit faster in some spots, especially the slower turns in the end I think, but I just tried to focus on getting a good run out of the last turn.
With ten-laps remaining and Nieminen swarming all over his gearbox, Huttu was handed victory when the My3id driver collided with pit-wall while following the leader's draft along the front straight. "With about ten to go, Jesse got another run and as I went to cover the inside I suddenly saw his car bouncing off the wall and across the track. At first I wasn't sure what exactly happened, but exiting Turn One I saw him drop back and it was apparent that he had damage. That was an unfortunate finish to the race although definitely made my last laps easier," Huttu added.
For Nieminen, who had consistently been the quickest sim-racer at iRacing's rendition of the Indianapolis Motor Speedway's road course throughout the weekend, the incident was a tough lesson learned. "I got really close in the final sector and got my best run yet onto the main straight," hetold inRacingNews. "Greger did a nice fake while slipstreaming me though, going towards the wall at quite a steep angle and at the last minute straightening the car up. I completely misjudged how I was going to swing from his slipstream because of this, touched the well which bent the front right wheel a bit, and then hit the other wall as the car was squirming under braking. I think I was close enough to go around the outside of Turn One that time, but I guess we'll never know. I've never made a mistake like that so I'm pretty angry at myself at the moment, as my championship fight will be even more of an uphill battle now."
"I think I was close enough to go around the outside of Turn One that time, but I guess we'll never know." – Jesse Nieminen
Mirroring his Redline team-mate's one-stop strategy, Luke McLean secured a spot on the second step of the podium, after taking advantage of the demise of Nieminen and his fellow My3id racer Hugo Luis, who lost out during the pit-stops. The Australian had started on the fourth-row of the grid, and was soon up to sixth position with passes on David Williams and Marcus Saari, before moving into fourth spot by the time he'd completed his scheduled stop.
"After all the stops had happened I found myself in fourth with Klaus hot on my heels," McLean offered post race. "He caught me quite fast and I had no answer for his midfield speed, so I just had to keep it together and focus on getting the final turn right every lap. It worked out well for most of it, however I got sideways out of the last turn on the very final lap and he got a very good run at me. It seemed I had more top speed overall so I just held off."
"It seemed I had more top speed overall so I just held off." – Luke McLean
Although Kivekäs was the highest placed My3id sim-racer with a podium finish, the current championship points leader could find little happiness from his 73 laps around Indianapolis. "I'm probably more disappointed than I was after Sebring. What an abysmal race for me and the whole team. I hope it was at least exciting to watch," the Finn said. "I was driving poorly for the whole race but the second stint was particularly awful, I was way slower than I should have been. The time I lost behind Greger during the first bunch of laps proved to be invaluable as I came out behind Luke from my second stop. Having much fresher tires than him I should have been able to pass him but I couldn't manage to do that as I always ran early on the limiter on the front straight. I got a good run on Luke coming on to the oval for the final time on the last lap, I tried to force myself to the inside in the last corner but wasn't quite close enough and in the end lost out on second place by less than a tenth."
Following their team-mate to the chequered flag, Aleksi Elomaa and Hugo Luis made it a trio of My3id drivers in the top five, although the latter could be wondering what might have been, after leading the majority of race laps (39) and looking an early favourite for the win.
Securing sixth position at the end of the 73 lap event, Richard Towler matched his best finish of the season so far to bounce-back from a disastrous ending to his previous race at Sebring; a remarkable result within itself, considering the Englishman was battling it out for the 2010 iRacing Championship Series Road Racing title with Huttu this time last year. Making sure Towler had to work hard for his top-ten finish, Williams pushed his countryman all the way to the chequered flag, finishing just a couple of seconds behind in seventh position. For Williams, the finish proved to be a good result, as early in the race the My3id sim-racer had to head to the pits for an unscheduled stop to replace a nose-cone following contact with Brad Davies.
A titanic battle between  Alberto Baraldi, and Derek Wood saw the pair place eight and ninth respectively, ahead of Team Redline's Ben Cornett. Baraldi nominated a single-stop strategy for his Twister Racing FW31, whilst American Wood elected to make two trips to pit lane – decisions that would see them separated at the finish by eight-seconds. "Alberto ended up beating me by eight-seconds at the end on his one-stop strategy to my two-stop," Wood highlighted post race. "I feel like if I hadn't had so much trouble in the first stint that two-stops would have won out."
"If I hadn't had so much trouble in the first stint . . . two-stops would have won out." – Derek Wood
With ten of the the eighteen-round iRacing World Championship Series Road Racing now complete, Kivekäs(342) see his lead over Greger Huttu cut to just 15 points. The fifth place finish for Hugo Luis drops the Brazilian to six-points behind Huttu, with his My3id team-mate Nieminen and Redline's Luke McLean a further 62 and 67 back respectively.
Round  Eleven of the championship heads to UK shores for a visit to the Silverstone Grand Prix circuit. Will Huttu continue to reel-in Kivekas, and bring an end to My3id's domination at the top of the 2011 standings?  Will Kivekäs rally?  Can Luis rebound?  Or will Nieminen or McLean mix things up even further?
Check back in two weeks' time.
Images courtesy of Team Redline.
---
You may also like...
---