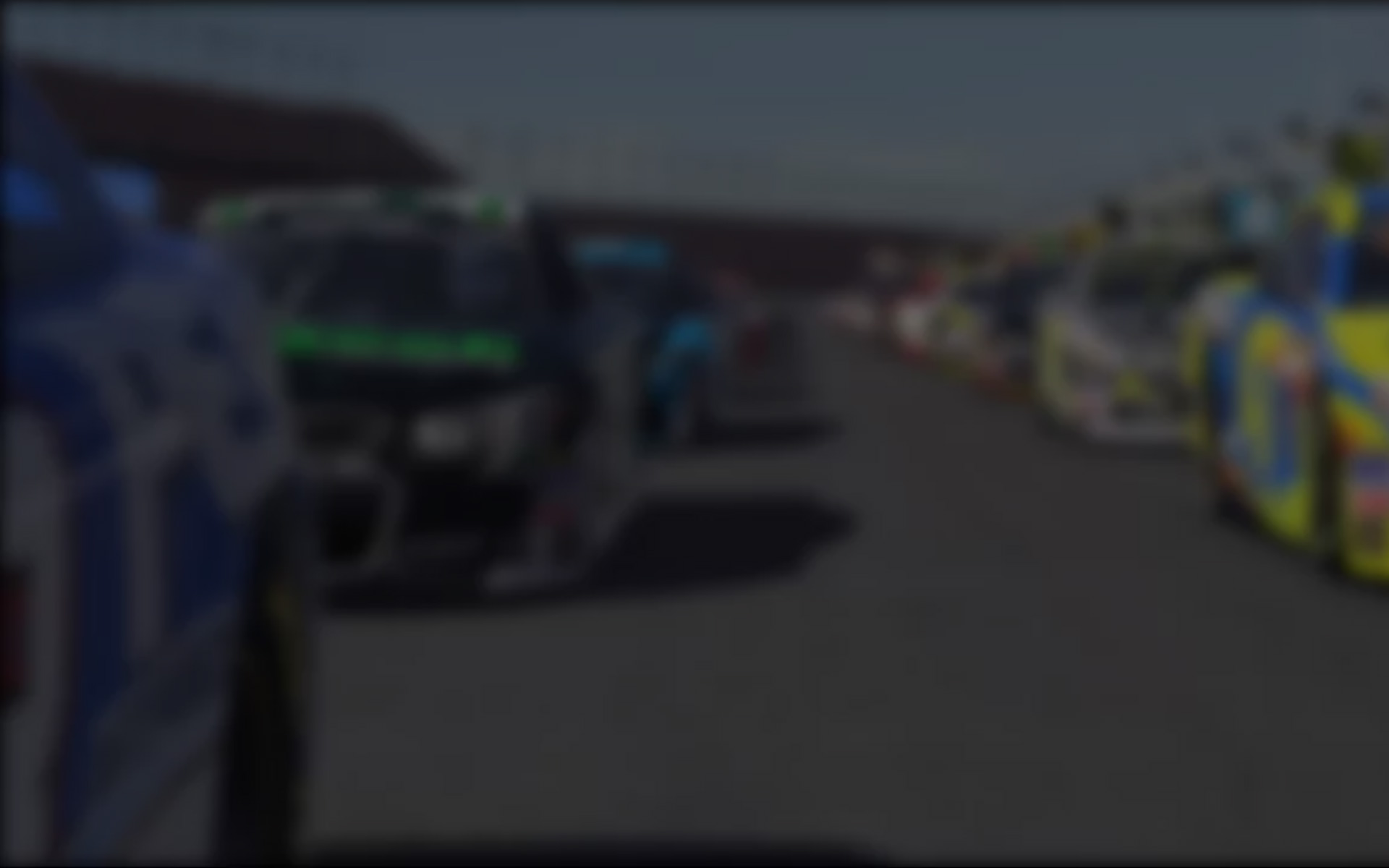 Week Six of the NASCAR iRacing.com Pro Series (NiPS) featured the second straight night race of the season, this time with Charlotte Motor Speedway taking center stage. Nick Ottinger, fresh-off a disappointing twentieth place finish last week at Richmond, came to Charlotte with one goal in mind: dominate the race. He did just that, winning the pole and the race, leading 131 of the 175 laps.
The two halves of the online race could almost be considered entirely different events. The first half was littered with wrecked cars, with seven caution flags flying in the first 75 laps of racing action. It was another case of cautions breeding cautions as the field was unable to get into a rhythm. The field did not even take the green flag before the first wreck unfolded. A stack-up of cars midway in the pack led to several drivers rear-ending the driver in front of them, sending cars scattering all over the front straightaway.
It did not get much better from there as even points leader Richie Davidowitz found trouble on two occasions, ending-up with a 41st place finish and his NiPS points lead severely eroded. As the yellows kept flying, a few drivers tried their hand with a two tire stop on pit road to gain track position. Kevin King was the first, grabbing the lead, but it was short-lived. Ottinger, Daniel Pope II and Marcus Lindsey all passed King shortly after the restart. Pope and Lindsey each took a turn at the front before Ottinger took the lead back. On what ended-up being the final yellow flag, Chris Overland and Jake Stergios tried two tires as well, but Ottinger made quick work of them as well.
The last 96 laps of the race were all green and included a round of green flag pit stops, during which Ottinger extended his lead even further. The battle for second was intense with Jon Adams, Michael Conti and Patrick Baldwin joining Lindsey and Pope, in putting-on a great show for the fans. In the end, Conti and Adams played their pit strategy a bit better by pitting earlier than the other three, giving them an extra couple seconds on the race track. Lindsey and Pope on the other hand waited a bit too long to pit for tires, and to make matters worse, got caught in some traffic, ending any hope of catching the top three.
It was clear after the round of pit stops that Ottinger was not going to be caught barring a caution or a huge mistake. Conti and Adams were left to battle for second with Conti getting the better of Adams the longer they ran. Ottinger took the checkers a comfortable three seconds ahead of Conti and nearly four seconds ahead of Adams for his first victory of the 2011 NiPS season. Baldwin came home fourth while Lindsey held-on for fifth in front of teammate Pope. Last week's winner Alex Warren finished tenth.
Davidowitz saw his comfortable point lead trimmed to a single point over Lindsey with Matt Whitten five points back in third following last night's 17th place finish. Chris Overland slipped to fourth after getting caught-up in Lap One trouble and finishing 25th, while Conti moved-up to fifth, a single point ahead of Ottinger, who has rallied to sixth in the standings at the season's halfway point.
Week Seven marks the beginning of the second half of the 2011 NiPS season, and kicks-off at New Hampshire Motor Speedway. Flat track specialist Kevin King will surely be on everyone's radar but Ottinger has been strong in recent weeks and is looking for two wins in a row. With only six weeks left until the 2012 NASCAR iRacing.com Series World Championship field is set, tensions are starting to rise in the battle for the top 25 in the standings. With NHMS being tight and flat, drivers on the bubble will need to drive more conservatively than normal or risk a bad finish, dealing a blow to their hopes of making the NiSWC. Who will rise to the challenge at the Magic Mile? Find out next week!
---
You may also like...
---