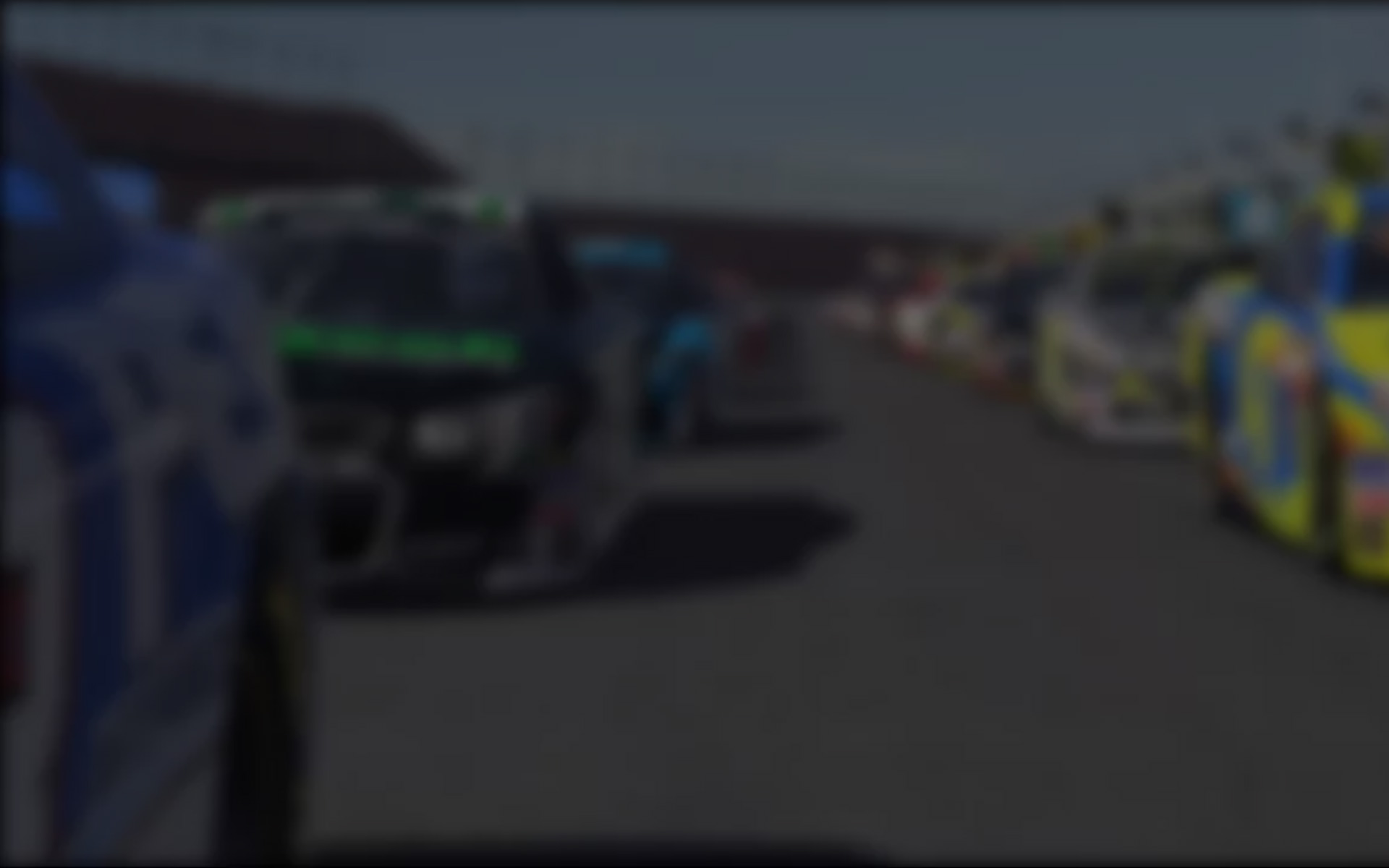 Nick Ottinger (Gale Force Racing) put on a show at Watkins Glen International on Tuesday night, leading every single one of the 50 laps en route to his second victory of the season in the 2015 NASCAR Peak Antifreeze Series Powered by iRacing. The TEAM's Kenny Humpe finished second, more than seven seconds adrift of Ottinger. Last year's winner Michael Conti (Drill Isle) was third, followed by Corey Vincent (Premere Motorsports Group) and PJ Stergios (Last Row Motorsports).
It only took a few laps after the drop of the green flag for the field to realize the fight would be for second unless Ottinger made a mistake. On fresh tires Ottinger was consistently two to three tenths a lap faster than every other driver in the field; quite the feat considering the competition.
Further back, the intervals between cars were closer but passing was not easy. Overcast conditions gave everyone's car plenty of grip and made getting a run on the car in front all but impossible. The closest battle near the front during the first half of the race was between Conti and Stergios with Ray Alfalla (Slip Angle Motorsports) also joining the action.
During the first half of the race Conti appeared to be struggling with his race car as Ottinger and Humpe disappeared into the distance all while Stergios filled his mirror. As the halfway point approached, Stergios was the first of the frontrunners to make his pit stop in hopes of making up time on fresh tires. This brought Conti and Alfalla to pit road one lap later as they did not want to lose time to Stergios on their old tires. Conti led Alfalla by two car lengths onto pit road but Alfalla's stop was faster and the two wound up side by side as they hit pit out. Neither Conti nor Alfalla wanted to give, and Alfalla ran wide on the access road and made hard contact with the wall.
Conti survived the pit road incident without any damage and set his sights on Stergios, who had passed him due to pitting a lap sooner. Conti's one lap fresher tires were too much for Stergios to handle and Conti got the best of him under braking entering Turn One. Unlike the first half the race Conti's car was running better and he began to pull away, comfortably in third. By pitting early, Stergios created another problem – a fuel shortage. In order to make it to the end he had to save fuel which allowed Vincent to take fourth near the end of the race.
Meanwhile, Alfalla was busy fighting his own battle with a damaged race car. Unable to keep pace with Conti due to the damage, Alfalla tried to salvage the best finish he could. Matt Bussa quickly caught Alfalla but could not complete the pass. Even with his damage Alfalla ran a smart, defensive line and came home sixth, just ahead of Bussa.
Back at the front it was clear sailing for both Ottinger and Humpe with little drama and lapped traffic. During the second half Ottinger continued his torrid pace even though he held a healthy margin while Humpe looked to maintain, knowing that with his points lead consistency is key at this point in the season.
Humpe's second place finish combined with Alfalla's minor trouble allowed the championship leader to further build his massive margin. With four races remaining Humpe's lead is now 135 points over Alfalla and the championship is all but wrapped up. Chris Overland is third but fell to 27 points back of Aflalla due to a mediocre seventeenth place finish. Stergios is another 15 points behind, two markers ahead of Bryan Blackford who struggled much like Overland did on his way to a twenty-first place result.
Week 13 of the NPAS takes the drivers back to an oval as the series visits Phoenix International Raceway, the final short track of the season. The last short, flat track was Week Five at Richmond so it is anyone's guess who will hit on the setup. Odds are Humpe will be quick, just as he has been all season. Can anyone challenge or will Humpe visit victory lane for the sixth time in 2015? Be turn to tune to iRacingLive and MRN.com in two weeks when the NPAS visits PIR!
---
You may also like...
---