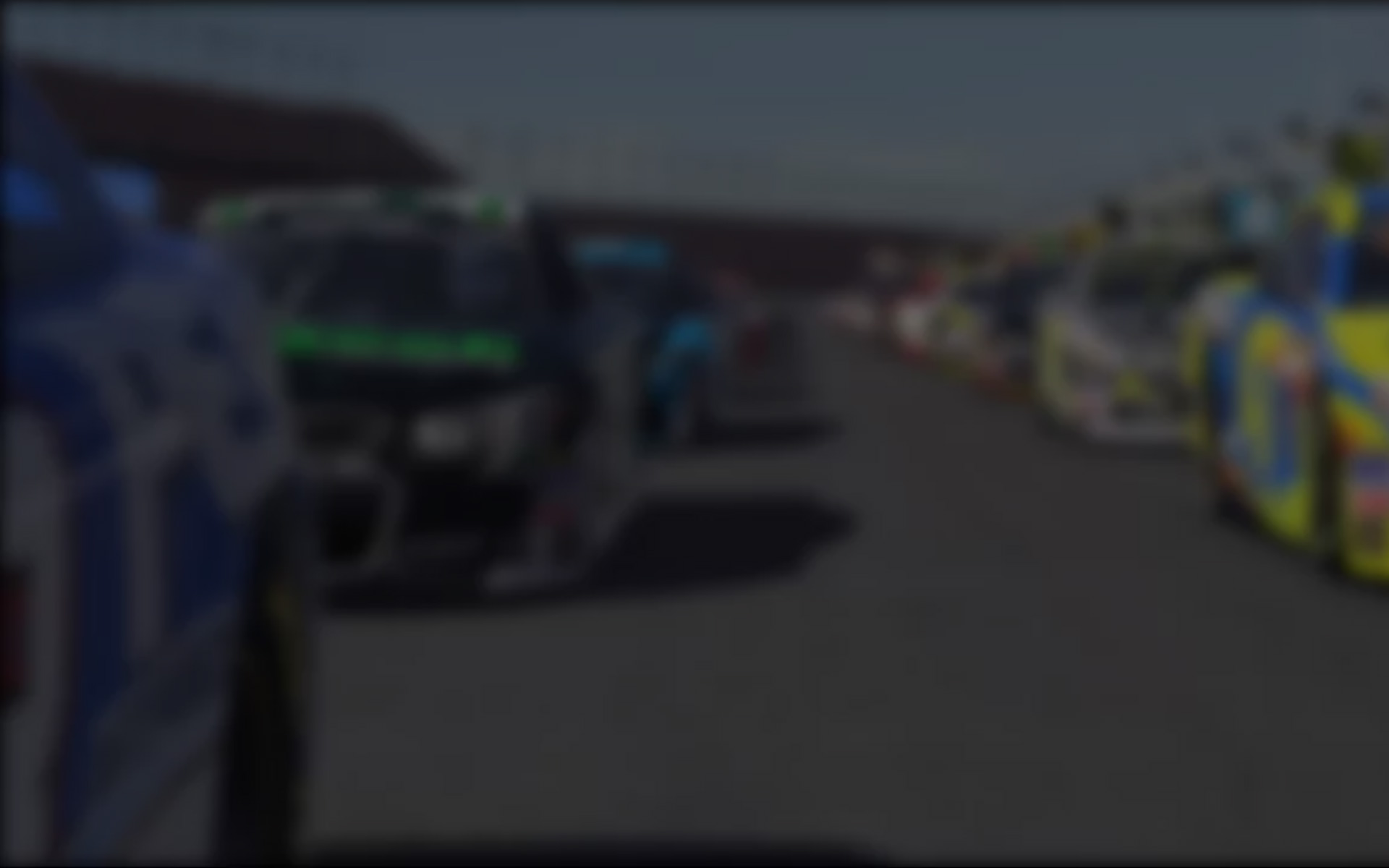 NASCAR iRacing Drivers World Championship Field Set
Brad Davies, Josh Parker, and Derek Wood all came into the final week of the iRacing Pro Series Oval season at Homestead-Miami Speedway with a legitimate shot at winning the online racing oval championship. Davies has led the points ever since the start of the iRacing Pro Series Oval, winning the first ever iPSO race at Daytona and setting sail ever since. Until now. Parker had been inching closer all season, but had never quite been able to take the points lead. Coming into Homestead, Parker trailed Davies by a mere nine points. The two got the same Wednesday night split; whoever finished ahead of the other would emerge with the points lead.  At the same time, Wood was in another split and needing a win to keep his chance alive for the championship.
Davies started from pole and controlled the race, but had Parker hot on his heals.  At that time, Wood was running top five in his race, but needed to make a charge to have a chance.
Davies led until he pitted on lap fifty-six, while Parker stayed-out and hoped for a caution. Only a few laps after Davies pitted for tires and fuel, David Osbourne lost control of his car in turn two and brought out the yellow, which left Davies out to dry for the race, and, seemingly, the championship.  Exactly what Davies didn't want to happen after the yellow, happened.  Parker took the lead and dominated the rest of the race, getting the win and the points he needed to take the championship lead for the first lead change ever in iPSO points, while Davies came home a lap down in twenfth spot.
Wood could not manage a win. He had a good run, finishing third, but nobody in his split had anything for Josh Berry, who started outside the top five, but picked them off one by one, found the lead, and was never really challenged.
That was all she wrote for the race for the championship. Josh Parker is your inaugural iRacing Pro Series Oval Champion, beating Brad Davies and Derek Wood. When asked about his amazing season, the champ had this to say;
"First off I want to applaud iRacing on a great inaugural Pro Road and Oval Series. Before Pro Oval began if you said I will be battling for the championship I would probably say 'Uh What?'  Especially with some of the best racing against me. After 24 weeks of racing, and it coming down to whoever wins the last race between Brad Davies, Derek Wood and myself is just incredible. I have won a few big races but this is by far the most accomplished series championship I've won. The list of thanks is pretty big, But I will try to cut it down.. iRacing is the first, without them none of this will be possible for any of us who made the DWC.   Jim Caudill, Jr. taught me a bunch of my setup knowledge, Chad Coleman a long time sim racing friend, and many more. I really want to give a big thanks to Derek (Wood) and Brad (Davies) for such an exciting season in the PRO Oval Series."
There were still a few more scores to settle on this final week, namely the race for the top 50 in points and berths in the inaugural NASCAR iRacing Drivers World Championship. Only 88 points separated 47th through 52nd in the points. This had all the bubble drivers needing stellar runs to have a chance. The big gainer of the week was  Derek Cash who had a great week and placed himself solidly in the top 50 at number 39. Also coming through in the clutch was the well-liked Kirk Hapke. Hapke is one of the nicest guys in the garage, and put a lot of time into testing, so lots of people are happy to see him make it.
Not so happy were Dustin McGrew, who is in the spot nobody wants to be in, the first man out. McGrew just couldn't get enough the final week at Homestead, and will miss the NASCAR iDWC by 22 points. Joining Dustin in the grandstands will be Rob Ackley, Justin Lowery, Daniel Willis, and Nelson Rivera, all of whom put in a huge effort, and gave their all to the iPSO, but fell just short of making the cut.
"I would've had to finish first or second today to make it, and I wrecked myself going for it," Rivera said. "My only regret is that I wrecked too early in the race (Lap 20). Wouldn't have minded wrecking with less that 10 to go while digging.
But while those drivers are thinking about what could have been, Justin Garrett, Martin Theimt, Robert Hall, Kirk Hapke and Jim Moore will be celebrating clinching the final spots of the NASCAR iDWC entry list. All those drivers have shown flashes of excellence over the course of the 29 week season, but they will have to take their game to the next level if they want to stand a chance among the best.
In addition to Parker and Berry (who also won on Saturday), this week's winners included Richard Towler and Ray Alfalla.   Parker tallied the most points (313), which was much needed, as it propelled him to the championship. Alfalla and Berry both also scored big, both earning 306 points to end their season strong.
Heading into the Driver's World Championship, it's any one's game.  Josh Parker is obviously going to be the favorite and Berry was Mr. Consistent over the course of the Pro series, but you also have drivers like Alfalla and Towler, both of which seem to either completely crush the field or to be nowhere. Or will Davies rebound from his crushing loss of the iPSO championship and rebound for a DWC title?  Also in the mix is NASCAR star Dale Earnhardt Jr., who finished sixth in the points.  He doesn't get as many wins as he would like, but he always seems to be in position at the end of the race, and hardly ever records an incident.
Or is it possible for a driver like Jim Moore or Justin Garrett to come from the bottom of the charts, to the top over the course of the NASCAR iDWC? Alex Horn, Tyler Hudson, Daniel Pope II, Theo Olson and Chris Main will also be drivers to keep an eye on, as they've all had flashes of brilliance over the iPSO season.
All these questions and more will be answered when the NASCAR iRacing Drivers World Championship kicks off on February 10th at Daytona International Speedway.
---
You may also like...
---