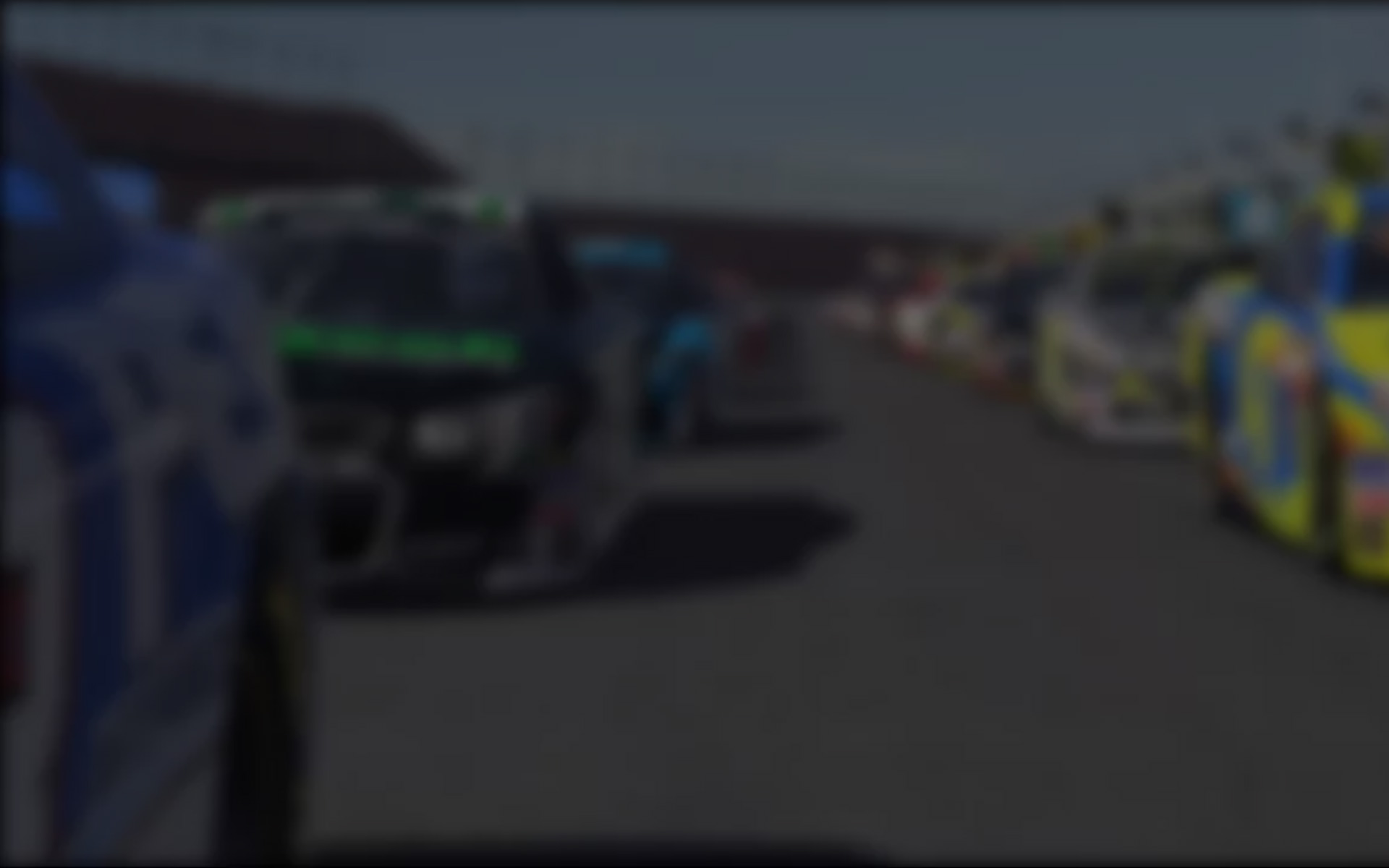 After more than 3,000 left turns to begin its tenth season, the ITSR Power Series finally made a few right-handers in the first road course stop of the season at Watkins Glen.
The sim racers were greeted by cool, cloudy weather, which made the 2.45-mile road course very grippy and ultra fast.  In qualifying, Season Eight champion Corey Davis won the pole with a lap of 1:09.511.  Series newcomer and road course ringer Dean Moll qualified his #51 Toyota in second, followed by Chad Dalton, Matt Delk, and John Higman Jr.
When the race went green, Davis darted ahead in Turn 1 while the field settled in single-file behind.  The best battle early in the race was between Dalton and Delk, who were separated by less than half a second for most of the first stint.
Green-flag pit stops began on Lap 18, with Davis holding an eight-second lead over Moll after the stops.  Delk stayed out a lap longer than Dalton to briefly take the lead, but a lap on fresh tires helped Dalton extend his gap over Delk to a full second.  However, as the field negotiated traffic, Delk closed back to Dalton's bumper as the race crossed the halfway point.
Their fight for third place wasn't the only good battle throughout the field.  David Boden and Stefan Marinak had a close race for sixth place, with Marinak pulling ahead during the final round of pit stops.  Behind them, Rich Jette, Adam Hallock, and John Hensley enjoyed a competitive battle for ninth, with Hallock prevailing in the final ten laps.
Up front, there was no stopping Davis, who opened a 16-second lead after the final round of pit stops and held that gap to the finish to take his third win at The Glen.  Moll finished in second place and Dalton held-off Delk by just 0.4s to secure the final podium position.  Championship leader Tim Johnston completed the top five, although his lead over Dalton shrank to four points.
The next week, the series headed back to the banking for 250 miles at the Texas Motor Speedway.  Dalton took the pole position with a lap of 28.941s, edging Higman, Delk, Davis, and Johnston in qualifying.
Dalton had a strong car in the early laps, but his chances were thrown into jeopardy on the race's first restart at Lap 17.  Leader John Wilcko, who stayed out under caution, spun his tires and ran through the infield grass when the green flag flew.  Dalton was black flagged for passing too soon and he went a lap down after serving his penalty.
However, Dalton was saved by a caution just four laps later, when he received the Lucky Dog and got back on the lead lap.  While he worked back through the field, Johnston took the top spot from Higman on Lap 29 and held it until the race's third and final caution came out on Lap 32.
A two-tire strategy put Stefan Marinak in the lead, but Johnston took it back on Lap 49.  In clean air, the defending series champion began to open the gap over Higman and Dalton, who moved into third place before a round of green-flag pit stops began.
Dalton emerged from the pits in second place, but he could barely dent Johnston's two-second lead, which grew to more than five seconds by the next round of stops just after Lap 100.
Johnston's lead continued to grow as the race stayed clean and green in the final laps, and he crossed the finish line six seconds ahead of Dalton to score his third win of the season.  Delk, Marinak, and Scott Simley rounded out the top five positions.
Thanks to a dominant performance leading 112 of 166 laps, Johnston saw his points lead grow to seven over Dalton.  Their see-saw battle now heads to Darlington, where the Lady in Black and her deceivingly narrow high banks await the Power Series competitors next week.
---
You may also like...
---