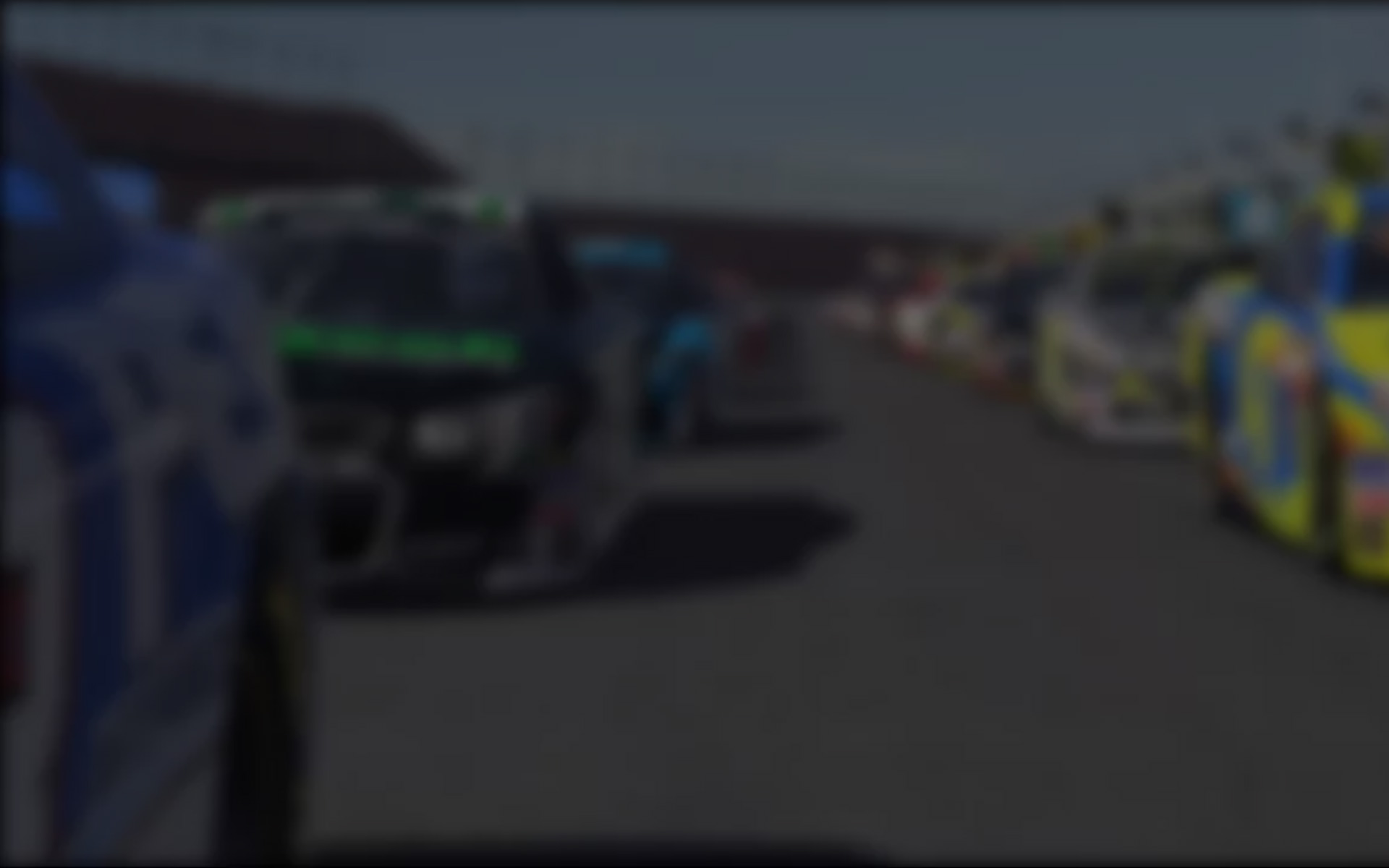 Through eight weeks of hard fought action in the NASCAR iRacing Class B Open Series, no driver had been able to claim a second weekly win during the 2014 Season 2 schedule.  That all changed at the 1.5-mile Kentucky Speedway as BRB Motorsport's Anthony Price broke the ice and became the first dual winner of the season.
Price earned his first weekly win of the season in Week 5 at the Dover International Speedway.  That win propelled Price into the championship mix and with other solid performances along with his Kentucky win, the Pembroke, VA Virginia native finds him locked in a tight battle with Lowline Racing's ace, Trent Ringler.
The feature race of the week took place on the very first night as the 10:00pm EST race boasted a 3337 strength of field with 24 cars taking the green flag for the 90-lap event.  The online race included four of the top five drivers in the points chase including Price, Ringler, RPM Race Team's Jonny Reed Foley, and Lowline Racing's Brian Ammerman.
Starting from the point, Price led the first 52 laps before surrendering the top spot under yellow flag pits stops to Ringler.  Ringler gave up the lead after eight laps to Donald Aholt, but regained it a few laps later as the field went under yellow flag conditions again.  Price grabbed the lead again coming out of pit stops on Lap 64 and would hold onto the lead for the remainder of the race earning a .313-second win over BRB teammate, Shannon Segler.  Galen Gidman with RPM Race Team, who holds a narrow pointslead in Division 2, took home third .673 seconds back.  Ammerman came home fourth while Lowline teammate, Matthew Davis, rounded-out the top five.  Aholt, who finished the race in 22nd, set the fastest lap in the race's early going with a time of 31.525s.
"Kentucky was a good week for me and my team." — Anthony Price
"Kentucky was a good week for me and my team," Price observed.  "An added bonus was getting a one/two finish with my teammate, Shannon Segler in a big race.  It may not be enough to capture our goal of a championship, but it was a good showing for BRB in what is our first season in this car."
Price's feature win netted him 212 points for a week that saw him start all three of his races from the pole and win two.  Segler's runner-up finish in the feature race earned him second place for the week as well with 202 points from two top fives in four starts.  Foley stayed in the championship hunt, finishing third for the week with 200 points with a win and two top fives in three starts.  Foley's teammate, Gidman, placed fourth with 193 points which were earned in his third place showing in the feature race.  Two top fives in three starts had Ammerman rounding out the top five for the week with 184 points.
Kenny Lopez turned 772 laps around Kentucky in nine starts earning one win and six top-five finishes.  Defending series champ, Fernado Bento, won all four races he started, good for 172 points for the week.  Bento also led the most laps for the week (298) and also earned the safe driver award, running 360 incident-free laps.
"I think Anthony (Price) is going to gain ground with these additional drop weeks.  It's going to be tough to beat him." — Trent Ringler
With the drop weeks now coming into play, Price's stay on top of the championship points was short lived as Ringler has returned to top spot.  With three races remaining, Ringler now stands with 1490 points, 36 ahead of Price.  Foley now finds himself 90 points back of the leader while Ammerman is back up to fourth, 113 points out of the lead.  BRB's Brian Lovingood drops back to fifth 286 back, just barely in the top five and one point ahead of Jeff Dukehart.
"I was really thinking we would have a few more big SOF races at Kentucky, but it didn't happen," said Ringler.  "It is going to be a really close points battle.  Even though I'm back in the lead with three to go, I think Anthony (Price) is going to gain ground with these additional drop weeks.  It's going to be tough to beat him."
Division winners from week 9 at Kentucky were:  1 – Anthony Price 212 (Virginias).  2 – Shannon Segler 202 (Mid-South).  3 – Nathan Sedlak 147 (Carolina).  4 – Danny McCune Jr. 109 (Virginias).  5 – Loren Arden 138 (Northwest).  6 – Justin Hirst 79 (Ohio).  7 – Peter Driscoll 94 (UK & I).  8 – Ervin Sweat 73 (West).  9 – Jackie Stovall 58 (Mid-South).  10 – Kelly Gilmore 15 (West).
Division leaders follow week 9 at Kentucky are:  1 – Trent Ringler 1490 (Indiana).  2 – Galen Gidman 1125 (Great Plains).  3 – Joshua D Baker 924 (Ohio).  4 – Danny McCune Jr. 750 (Virginias).  5 – Trey Wagner 708 (Great Plains).  6 – Justin Hirst 482 (Ohio).  7 – David Isaac  541 (Canada).  8 – James Hollern 270 (Australia/NZ).  9 – Noel Koewers 195 (Michigan).  10 – Scott Martin 159 (New York).
There should be plenty of opportunities to score those much needed points in Week 10 as the NASCAR iRacing Class B Open Series heads to Florida for a week of sim racing on the high banks of the Daytona International Speedway.  The traditional Independence Day weekend stop has been a staple in the NASCAR schedule and should provide fireworks both on and off the track.
---
You may also like...
---