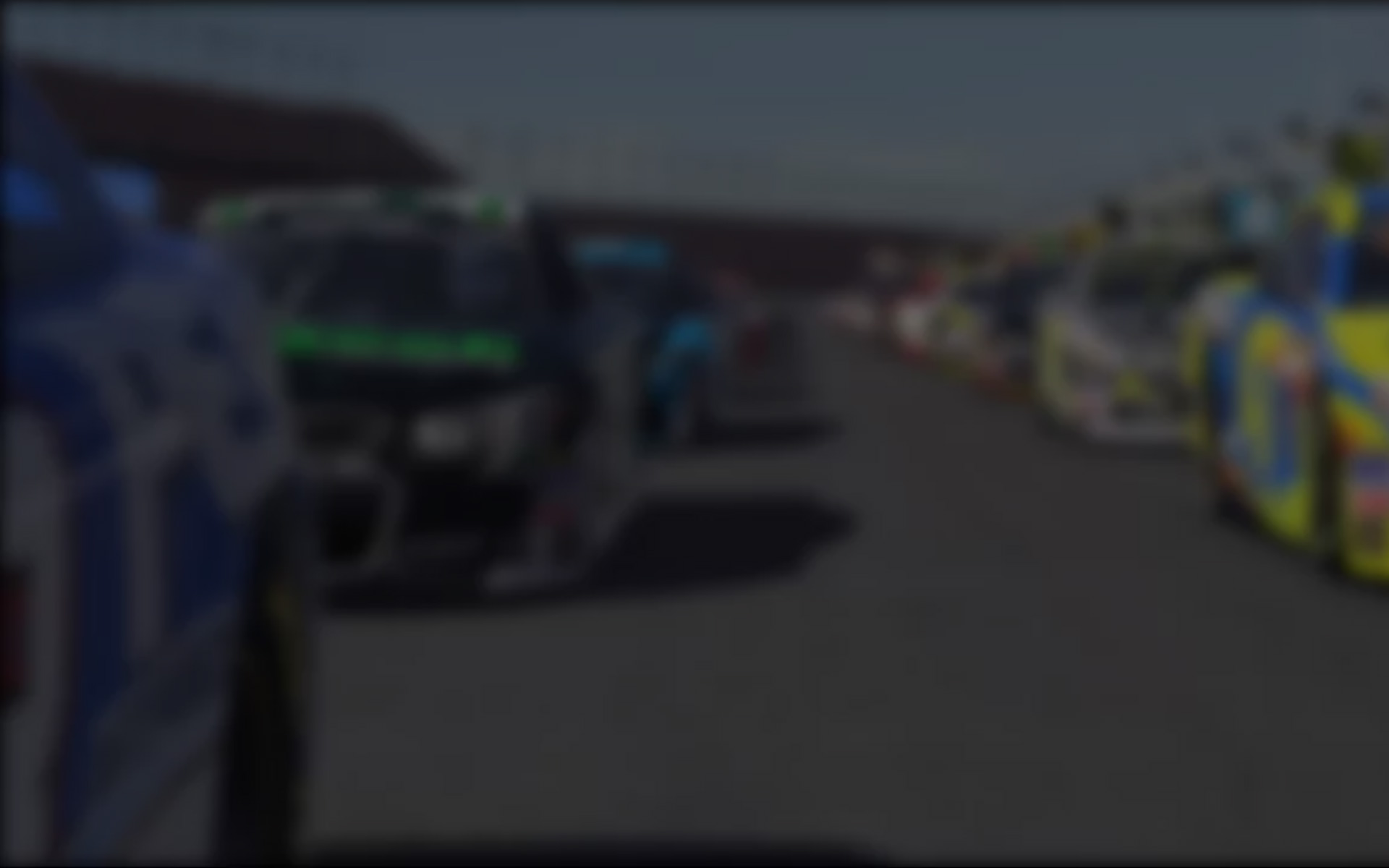 As the 2014 NASCAR Peak Antifreeze Series season enters its final four race stretch at Atlanta, Richmond, Darlington and Homestead, Michael Conti (407) is atop the standings ahead of former series champion Ray Alfalla (384), Nick Ottinger (381) and Chad J Laughton (378).  Conti heads to the virtual Atlanta Motor Speedway on the heels of his series-best third victory of the season at Watkins Glen.
Dylan Kapisky spoke with the New Jersey-based sim racer to discuss his season to date, along with a variety of other topics.
Q:    This first question is about the last race (Watkins Glen).  You wanted to lead every lap, and came very close (47/50).  Are you upset that you missed those three laps?
A:    No, not at all. Leading 99% of the laps is fine by me; it was a dominant performance nonetheless. If we would've stayed out longer than Danny (Hansen), we would've lost too much time to (Nick) Ottinger.
Q:    It's tough to imagine leading all but three (laps) is disappointing. Did not having cautions put pressure on you to not make a mistake?
A:    I actually felt less pressure without the fear of cautions. We had a plan going into the race and were able to stick to it because there were no cautions to fall at inopportune times.
Q:    In the late stages of the race, Nick Ottinger was closing quickly.  Did he make you nervous in the last laps?
A:    Absolutely. I couldn't believe how fast he was during the last stint. When he started to level off with me, I was relieved for sure.
"It's nice to have three wins . . . but four or five would be better!"
Q:    You had quite a time getting through the lapped traffic, especially in the last few laps when one car spun in front of you.  Were you nervous that they would help Ottinger catch you?
A:    Yeah, the lapped traffic was really heavy there at the end. When I finally got free of the traffic, I knew that they would then hold up Nick. So once that happened, I felt like I could hold him off from there.
Q:    Moving on, you are the only driver with multiple wins (three) in the  this season.  How good does that feel?"
A:    The three wins have definitely exceeded my expectations for the year. It's nice to have three wins . . . but four or five would be better!
Q:    You've been incredible this season, in all series, not just the NASCAR PEAK Antifreeze Series.  You even won a Class C (truck) race today at Bristol. It's as if no one can touch you on track. Does that give you a boost for the last few races towards the championship?
A:    It's always a confidence booster when you can go out and win in all types of disciplines. It sends a message to the competition. They know that this whole JScho Motorsports group is strong each and every week. Anything else to add to our image of competitiveness is a plus.
Q:    I want to talk about JScho.  How close are you, Danny (Hansen), and Brian (Schoenberg) off-track?"
A:    Very close. I would consider us all to be very close. We've all been together now for a few years and I couldn't imagine not being teammate on the track and good friends off.
Q:    You three have had a couple of bad moments with each other this year. For example Pocono: All running in the top three and first, Danny has problems with (Kenny) Humpe, and then you tag Schoenberg late for the lead (spinning him)! You did win but were they upset with you?
A:    No hard feelings after the Pocono race. We were all going for a win and understood that.
Q:    With the win last week (Watkins Glen), you opened up a 23 point lead over Ray Alfalla.  Do you believe that he can catch you these last four weeks?
A:    It's tough to answer that. We'll just have to see how things play out. If we run as well as we are capable, they'll have a tough time.
"To win this championship, we're going to have to go for it and be offensive, not defensive."
Q:    Ray has been in these scenarios before, racing for the championship late in the season.  Do his championships give him an advantage (in terms of knowing how to handle the pressure)?
A:    Ray definitely knows how to get it done. He's proven himself time and time again. That doesn't guarantee anything though.
Q:  Where did you get your start in sim racing?                                                                                                                                                                                                          A:    I began sim racing back in 2002 with NASCAR Racing Season 2002. I switched to console gaming for a few years, and then returned to the PC, with iRacing in 2009; ran Legend cars, late models, trucks, etc. In 2011, I made Pro and the rest is history.
Q:    What was your favorite moment this season?"
A:    Retaking the lead on the final restart at Dover. That is a race that I'll never forget.
Q:    Does having no more drop races affect the way you race the last four races? Will you be more cautious, or just do what you've been doing?
A:    We can't start being cautious now. To win this championship, we're going to have to go for it and be offensive, not defensive.
Q:    Last question: You, Alfalla, Ottinger, Laughton… Who wins the NASCAR Peak Antifreeze Series championship?
A:    Tough competition, but with the backing of JScho Motorsports and the most dedicated people in the series, the #5 will be P1 at year's end.
Q:      Alright thank you very much for doing this and good luck the rest of this season!"
A:    Thank you for the opportunity.
Follow the rest of this season with the @iRacingWCS and @NPAS_News twitter pages and see if Conti CAN hold off Alfalla and the others in these last four races. You can watch all four races on iRacing.com/live.
---
You may also like...
---