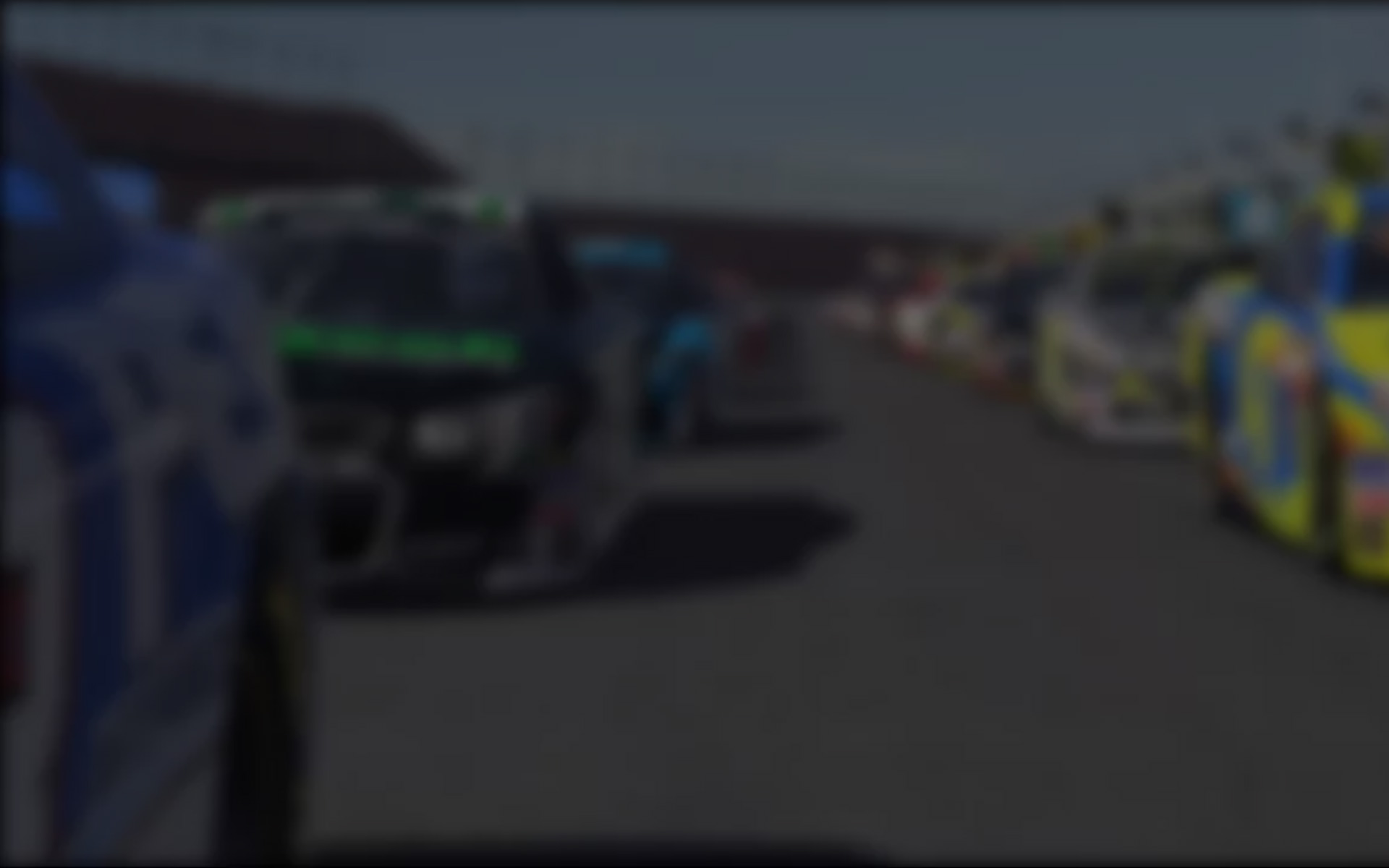 With seven wins to his credit, Nick Ottinger has been a more frequent visitor to Victory Lane than any other competitor in the NASCAR PEAK Antifreeze Series over the past two seasons.   Despite six wins, however, he finished behind Tyler Hudson and Ray Alfalla in the 2013 standings.  And with another win to his credit this year (along with four more top five finishes) the Claremont, NC-based sim racer finds himself in familiar territory heading into the final four rounds of the 2014 campaign.  With 381 championship points to his credit, Ottinger is currently in third place behind two-time champion Alfalla and series-leading Michael Conti as the NASCAR PEAK Antifreeze Series gears-up for tomorrow's event at Atlanta Motor Speedway.
Dylan Kapisky caught-up with Ottinger over the weekend to discuss his season so far, along with the prospects of overhauling Messrs Conti and Alfalla in the sprint to the finish of the 2014 NASCAR PEAK Antifreeze Series.
Q: First question is about last race. You had a solid run at the Glen, finishing second to Michael Conti. Did you think you had a car capable of winning, or was Conti just too strong that night?
A: I certainly think the Rheem Toyota Camry had the tools and strategy to go out and win the race, most certainly. Mike had a stellar performance that night and he really had a strong car. We fell behind on the first stint mainly due to being behind the #2 car for the whole run and just waiting to find a way by.
Q: Yeah it did seem like you were faster than Ray (Alfalla)  in the first stint, but in the second stint you were running down (Michael) Conti in open track,  But when you both approached lapped traffic, he was able to stretch out the lead a bit. How much did lapped cars, in the last five laps especially, hinder your progress?

A: I was most definitely trying my hardest to drive Michael down. I knew that I had lost some valuable time to him during the first stint. Lapped cars actually played a bigger part for myself at the very beginning of the second stint. My strongest section in the Rheem Camry was in the Bus Stop. I got held up quite a bit through the Bus Stop and the following corner. It was surely an intense last five laps. It surely cost us some time and it hindered us just to put a little more pressure on Michael in the closing laps.
Q: Had it just been you and (Michael) Conti (no lapped cars around) do you think the outcome would've been different?
A: That is really hard to say, really hard. As many people know this saying, "it is one thing to catch someone and another to pass him."
Q: As evidenced by how hard a time you had getting by (Ray) Alfalla. Moving on now to earlier this year, you won the first ever NASCAR PEAK Antifreeze Series event at Auto Club Speedway. How good did it feel to be the first winner at a track in your series?
A: It felt great. It was great for us to get a win that early in to the season. I always look forward to running new tracks in the NASCAR PEAK Antifreeze season. Auto Club provided great racing and I think as a whole, our Gale Force Racing team enjoyed that victory just as much as I did.
Q: Also, earlier this year, you made the switch from the Chevrolet SS to a Toyota Camry. What brought that change on?
A: It brought more opportunities to the Gale Force Racing team, avenues for potential sponsors for the whole GFR team. It has been a blast to run a Toyota Camry.
Q: Let's talk about GFR.  That's a big team, eight qualified drivers in the NASCAR PEAK Antifreeze Series. Are you good friends with most of them outside of iRacing?
A: One of the things that I'm happy to be able to say about our team, is that everyone gets along really well. We're actually having a meet-up in Charlotte for the Bank of America 500 weekend. We will attend the Cup race, hang-out around Concord, and have our own race at the GoPro Motorplex in Mooresville. Everyone is looking forward to it as it gives us a chance to get away from the real world for a while, relax, and just have fun hanging-out with our friends.
Q: Where in iRacing did you get your start. What series did you compete in as a rookie?
A: I started out like all the other iRacers. In the Legends series. Raced competitively in there for awhile until iRacing released the Street Stocks. I began racing that for four seasons and won the overall championship three out of the four seasons.
"This 05 team will get this 2014 NASCAR PEAK Antifreeze Series championship. We fully have the ability and work ethic to get it done."
Q: Let's talk about last year for a moment. You were so dominant, winning six races, with eight top-fives . . . but you came up short of the championship, third in the standings, 47 points back. How disappointing was it to not get the trophy after such a great season?
A: Not getting the first place trophy surely was felt. We ran strong time after time and lacked consistency. I was not disappointed though. It proved to me that I know that I and my team want a championship and we did everything we could last season to do so.
Q: Are you at all surprised that you only have one win this season, after such a strong, six win season? Obviously you are still running great, third in points now, second place last week, but do you miss the wins?
A: I certainly would always want to end up in victory lane as much as possible. I have had many chances to win this season and that is what makes the GFR team so fun to work with. I have had my fair share of throwing away a few races this year. We are still in this points battle because we always bounce back. I am focused to try my best at getting the 2014 championship.
Q: Now, as I mentioned, you're third place in the points with four races to go this season, 26 points out.  Do you feel that you and the 05 team are strong enough to catch Michael Conti, who shows no signs of slowing down?
A: This 05 team will get this 2014 NASCAR PEAK Antifreeze Series championship. We fully have the ability and work ethic to get it done.
Follow the rest of this season with the @iRacingWCS and @NPAS_News twitter pages and see if Nick Ottinger can pass Ray Alfalla and Michael Conti in these last four races. You can watch all four races on iRacing.com/live. Next race: Tuesday 8/26-9:00 pm ET at Atlanta Motor Speedway courtesy of PSRTV.
---
You may also like...
---