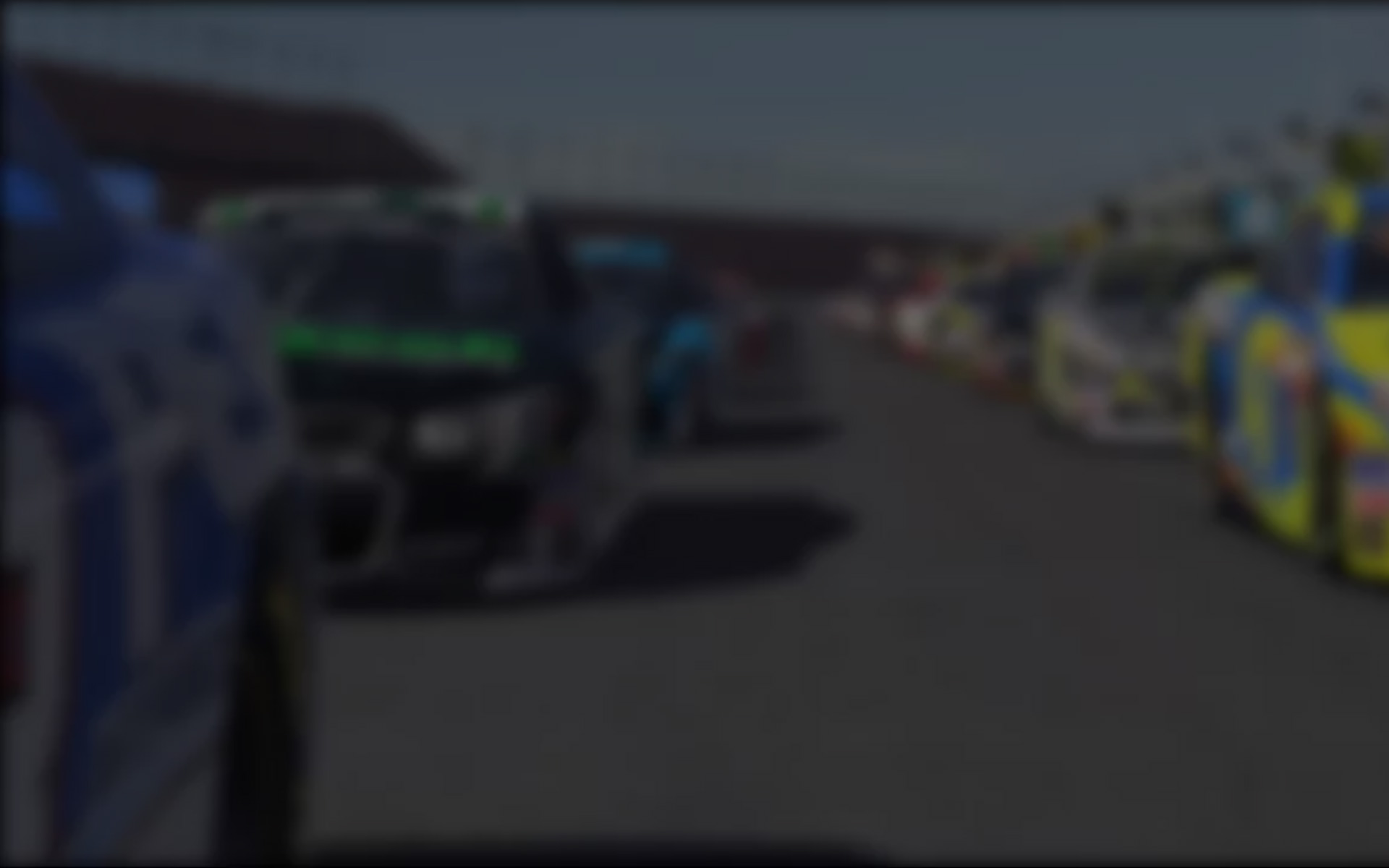 After 3 years, 361 days (Dover: August 30, 2011), Thomas Lewandowski made a return to victory lane in the NASCAR PEAK Antifreeze Series, followed quickly by a trip to a virtual gas station! He didn't have the fastest car, or the best track position (starting 16th). However, he did have the best fuel-mileage game, as his strategy ultimately won him the race. Lewandowski was one of only four lead-lap drivers who pit twice (the other seven pitted three times each), with his last stop coming on lap 109 of 163.
He went on to hold-off a charging Michael Conti, who had been the fastest car all night, and had much fresher right side tires after his third pit stop on Lap 138. Conti caught Lewandowski with two to go and they were side-by-side coming off of the last turn, on the last lap.  Throttle planted, Lewandowski slid up the track, forcing Conti into the wall and crossing the line to win.
Dylan Kapisky caught-up with Lewandowski to discuss the win, and to get the last few laps from his perspective.
Q: Coming in to the race last night, did you expect to contend for the win?
A: Last night I knew that our team had a really really good car and that we would probably have the cars to beat. I ended-up boning my qualifying lap and had to start in 16th, so I knew that I had some work cut out for me if I wanted to win.
Q: Was running until the end of each fuel run your idea, or did you have a crew chief that told you to do so?
A: The fuel strategy was my idea. I don't have a crew chief when I'm racing, so I make all of my own calls.
Q. How tough was it holding-off Michael Conti, who had much fresher tires, and had been the fastest car all night?
A: It was very hard holding Conti off. I had to balance saving fuel and pushing the car hard enough so that I didn't give up too much time. Conti was extremely fast but we both could run the same lap times when I didn't have to save fuel.
Q: What was going through your mind in that last lap?
A:On the last lap I knew that I had to just focus and do everything I could to try and hold him off. I was really focused on getting a good run off of Turn 2 so he wouldn't have a run on me going into Turn 3.
Q: How much fuel did you end the race with? What was left in the tank?
A: I'm not exactly sure how much fuel was left when I crossed the line . . . but it did run out going into Turn 1 on the cool down lap.
" . . . it did run out going into Turn 1 on the cool down lap."
Q: When Conti moved to the outside to try and make the pass, was forcing him to the wall your first instinct, or the only way to ensure a win?
A:My first instinct was to just make sure that I had a run coming off the corner. The funny thing is on my end I actually never made contact with him. I did run him up pretty high off the corner but I never planned to shove him into the wall.
Q: With the Atlanta win, even though you're pretty much out of championship contention, you moved up five spots (10th place) in the standings.  You now have a 40 point advantage over 21st place, which is the first driver who has to race their back in over the winter. Does that make you confident that you will be locked-in to next season's field?
A: Anything can happen in these last few races but I'm feeling pretty good that I will get to race in the NASCAR PEAK Antifreeze Series next year.
Q: This was your second win, your first coming three years ago this week (Saturday). Did you feel like you were due for another one soon, before you won this one?
A: I have had some really great cars in the past years and it just never worked out for me. I was in position to win a couple races this year but I had issues with my internet connection dropping me out of those races.
Q: Based on what you've seen this season, who do you think is going to be the 2014 NASCAR PEAK Antifreeze champion?
A: I think if we keep giving Conti cars as fast as the Atlanta one was that he will be the one to beat for the championship.
Follow the rest of this season with the @iRacingWCS and @NPAS_News twitter pages and on iRacing.com/live, with broadcasts by PSRTV.
---
You may also like...
---