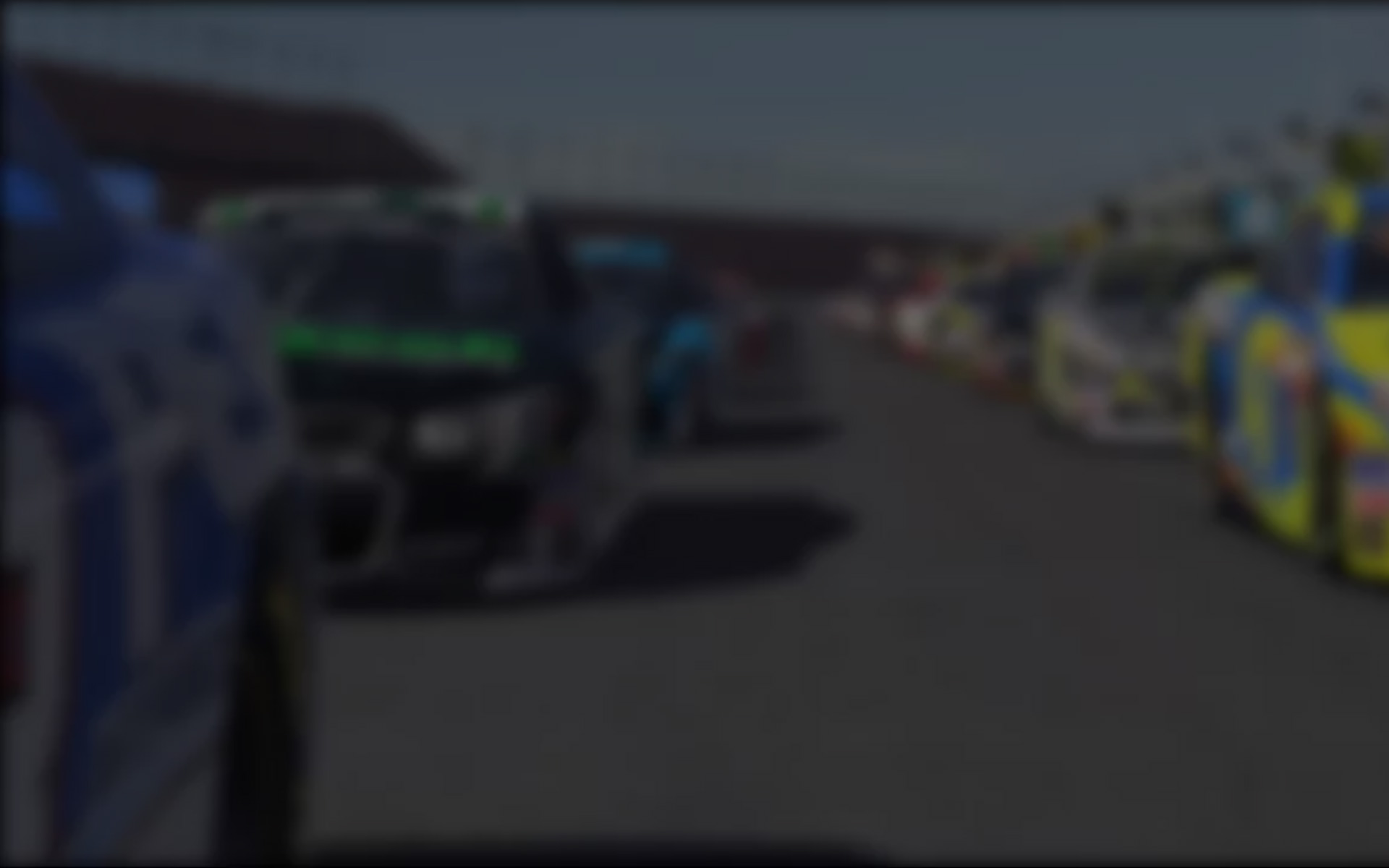 SEBRING, FLORIDA – From one classic American road racing venue to another, Red Sox Racing League's McLaren Turbo Challenge finishes its mid-season stretch of races in the U.S. leaving New York's Watkins Glen to race at Florida's Sebring International Raceway. Once a WWII United States Air Force training ground, Sebring has served as a racing battleground since 1950, highlighted by the annual 12 hours of Sebring endurance race. The bumpy surface combined a lack of reference points has tested both the construction of the cars and the concentration of the drivers inside for over 60 years. Adding to the difficulty, for Round 7 of the McLaren Turbo Challenge, the Red Sox Racing League drivers take to the track after dark, for the Fall Classic 30 at Sebring, where the darkness provides another new wrinkle to an already diverse schedule..
With the first half of the season in the rear view mirror, the only thing certain about this campaign is that the outcome isn't certain. Having faced everything from the flat-out high banks of Daytona, to the technical Mid-Ohio, and everything in between, none of the drivers at the sharp end of the driver's championship seem to have taken a firm grasp of the lead. Joseph Jordan clings to the top of the leaderboard, bolstered by podium finishes in five of the six races, but is closely followed by double defending champ Brad Vincent who earned five poles so far in second and Troy Harder in third with three wins to his name already. Another driver who has shown strong speed is Dustin McGrew. The only other driver to snatch a win besides Vincent or Harder, the Pennsylvanian won from a fourth position start at Road America and finished second in every other race he's shown up to. The only problem is showing up – missing races at Daytona, Phillip Island, and Watkins Glen due to obligations in other racing series has mired the speedy driver deep in the standings, forcing him into "victory lane or bust" approach.
Determined to take control of the remainder of the schedule, Brad Vincent earned yet another Wil-Trans Pole Position award. Alongside, Troy Hard qualified second with teammate Corey Wolf in third and Dean Moll starting fourth. Finally, Dustin McGrew and Joseph Jordan filled the third row, ensuring the season point leaders were well represented for the start of the race.
Starting Lineup
Row 1 – Inside Brad Vincent Outside Troy Harder
Row 2 – Inside Corey Wolf Outside Dean Moll
Row 3 – Inside Dustin McGrew Outside Joseph Jordan
Row 4 – Inside Brian Irby Outside Les Turner
Row 5 – Inside John Koscielniak Outside Terry Daul
Row 6 – Inside Tim Trayhan Outside Reed Rundell
Row 7 – Inside Andrew Gantman Outside Andrew Humphrey
Row 8 – Inside Kevin Kyle Outside Dennis Griffen
Row 9 – Inside Chris Weidner Outside Jeff Thomas
Row 10 – Inside Alan Hesebeck Outside Cyril Roberts
Row 11 – Inside Karl Mumbower Outside Ed Sutcliff
Row 12 – Inside James Prostell Jr. Outside Andrew Feldman
Row 13 – Inside William Kabela
Race
Outside of the brief auras of the trackside fireworks set off to signify the start of the race, the only sources of light to combat nightfall's darkness during the season's were found along the walls, under the bridges and from 25 pairs of headlights zipping along the pavement. The added challenge was no issue for polesitter Brad Vincent, who stormed off to an increasing lead over Troy Harder, who was the only competitor to even come close to keeping up with the leader in the early running. Perhaps aided by positions three through eight mixing it up a bit, which included contact between Joseph Jordan and Corey Wolf at the end of the first lap, the leading duo opened up a 13-second lead over third place by the fourth lap. The lead increased to nearly 20 seconds by the time they both pitted on the ninth lap, with the two even having to deal with lapped traffic, as they caught William Kabela who pitted off-sequence.
The start wasn't quite as bright for Storm Front Racing drivers John Koscielniak and Terry Daul. Despite a relatively strong start that saw him only lose one spot on the track, Koscielniak was surprised to receive an order from the team to pit at the end of lap one, with the same order given to his teammate to keep the cars together. Quick thinking by the crew saw Koscielniak's left rear tire run over an apex cone that was knocked onto the track, and telemetry readings pointed to a tire that was losing pressure pretty quickly. Rather than risk the race, the call was made for tires and fuel for both cars. A good call – after falling to 21st and 23rd, the Koscielniak and Daul worked their way up to fourth and 11th by the checkered flag.
While the Storm Front Racing cars were able to turn their bad luck around after an early pitstop, front runner Dustin McGrew only found himself going home early. Near the end of the fourth lap, McGrew made contact with the inside wall exiting the final right-hander, and the resulting suspension damage dropped him from third to 24th in the blink of an eye. The result was extra tough for McGrew's championship hopes – having already missed three races in a format that drops a competitors three worst races, McGrew couldn't afford the poor showing.
Things stayed pretty calm for the night until a lap 13 incident tripped up Kevin Kyle, Chris Weidner, Alan Hesebeck, and Dean Moll. Hoping to maximise his speed down the backstretch, Kyle spun in front of, and made contact with, the cars of Hesebeck and Moll, before heavier contact with the 57 car. Weidner, Hesebeck, and Kyle would run to the finish, finishing in 13th, 16th, and 21st respectively, but Moll's day was done. Running as high as third before pitting and surviving a spin of his own, Moll would limp to pitlane and retire, two laps down in 23rd.
Exiting the pits, the race for the win picked up right where it left off for Brad Vincent and Troy Harder. Excellent work by Harder' THM crew helped erase Vincent's lead, reducing the three second gap to merely a half second at the end of their outlap, giving Harder his best look at taking the lead away. That glimpse at victory quickly faded as the interval grew again, with Vincent cruising to lead all fifteen laps to victory. Harder finished second, and Brian Irby earned the third step on the podium.
John Koscielniak and Reed Rundell round out the top five, followed by Joseph Jordan, Corey Wolf, Les Turner, Andrew Humphrey and Andrew Gantman who finished sixth through tenth. Finishing 11th through 15th were Terry Daul, Tim Trayhan, Chris Weidner, Dennis Griffen and James Prostell Jr., with Alan Hesebeck, Jeff Thomas, Cyril Roberts, Ed Sutcliff and Andrew Feldman rounding out the top 20. Kevin Kyle and William Kabela finished 21st and 22nd, each one lap down. Dean Moll was classified 23rd, two laps down followed by Dustin McGrew 24th, each failing to finish. Karl Mumbower did not start, and was given 25th. Tim Trayhan was docked two championship points for a post-race infraction – his McLaren ran out of fuel and he was unable to return to pitlane under his own power.
After the flag-to-flag victory, Brad Vincent grabs the top spot in the drivers championship from Joseph Jordan, with his third win of the season giving him a four point lead. Troy Harder, with three wins of his own, resides third, 13 points back, followed by Les Turner and Reed Rundell for the season's top five. TeamDraft still holds the team championship, 77 points ahead of the THM team of Corey Wolf and Troy Harder.
Next week, the series flies south of the equator to Sao Paulo, Brazil for Round Eight, the Sao Paulo 30 at Interlagos. The race is the first trip for the McLaren Turbo Challenge to the well-known F1 Circuit.
Awards
Wil-Trans Pole Position Award Winner – Brad Vincent, 2:00.093
Michelin "Better Way Forward" Best Start Award (Most positions gained lap 1)
James Prostell Jr. gained six positions, from 23rd to 17th on the opening lap.
Amazon.com Incident-Free from A to Z Award (Incident Free Race)
Eight drivers were able finish the race without any incident points. Brad Vincent, Brian Irby, Reed Rundell, Corey Wolf, Dennis Griffen, James Prostell Jr., Ed Sutcliff, and William Kabela each earned a bonus championship point.
Bosch Spark Plugs Hard Charger Award (Most positions gained start to finish)
James Prostell Jr. gained eight spots through the race, starting 23rd and finishing 15th.
Competitor Post-Race Comments
James Prostell Jr., Spirit of McLaren Racing Team – "That was a tough race, but I'm glad we stuck with it. It took some extra concentration to run in the dark, but we kept our noses clean, and all things considered, we kept up pretty well pace-wise. Of course, we didn't have the leaders had, I mean, no one had that, but when we were in traffic, we were holding our own out there. I'm proud of what the guys and I were able to do out there, climbing to finish 15th. It'll be exciting to see what the next race brings us in Brazil!"
---
You may also like...
---