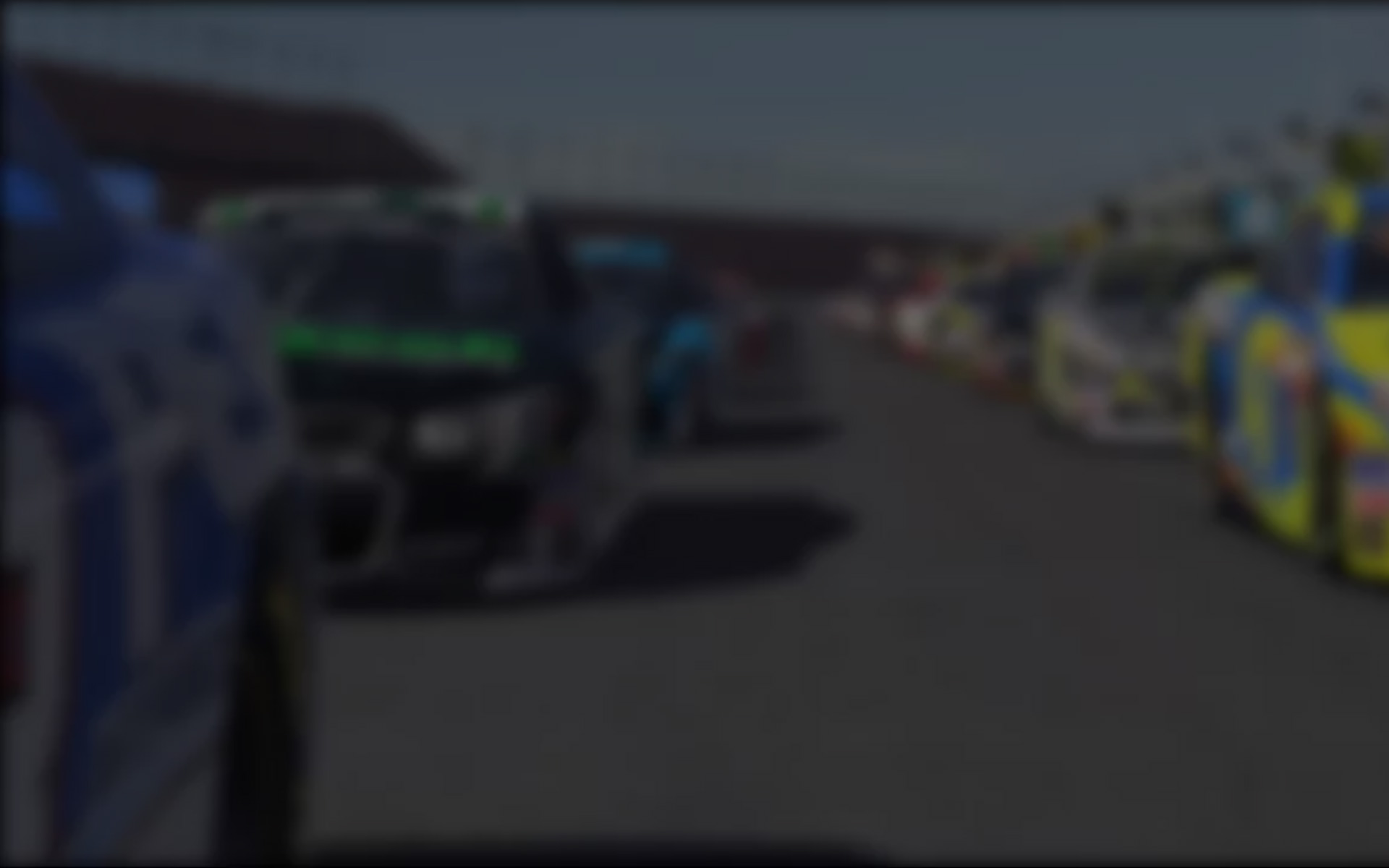 So it comes down to a mere 12 points for all the marbles!  That is all that currently separates the top three sim racers as Season 3 of the 2010 Red Sox Racing League schedule comes to a close at Sebring International Raceway next week.  Tommy Rhyne led the point race for most of the season, but Terry McCuin took the top spot with just two races remaining.  As if their battle for the championship wasn't exciting enough, Rhyne and McCuin both had to remember that two-time defending league champion Les Turner was still within striking distance as they arrived at the Pocono Raceway road course this week for the "Pennsylvania Grand Prix."
Rhyne did everything he could to get back into the top spot, including starting on the pole and winning the thirty lap online race at Pocono.  Unfortunately for him, Turner led the most laps and crossed the line in second place to earn enough points to leapfrog past McCuin and Rhyne in the championship.  Turner's effort means he enters the final race of the season with an 11 point lead over Rhyne, and a 12 point lead over McCuin.
"We are not giving up without a fight," said the defending champ after the race. "We had a couple of bad results in the first few weeks that knocked us out of contention through the middle of the season. While Tommy and Terry were contemplating where to place the trophy, they seemed to have forgotten all about us.
I think we got their attention at Pocono!"
Despite horrible weather conditions leading up to the race, fans and family of the RSR drivers showed their dedication as they watched pre-race practice and qualifying sessions.  Turner was the fastest driver in practice, but Rhyne turned up the heat as he earned the pole with a blistering qualifying lap time of 1:25:243.
"I didn't get to practice much because my mother had surgery this week", said Rhyne after the race.  "The Northern Tool + Equipment team has been going strong all season though, so there was no way I was going to miss this race if I could help it.  My mom will be coming home from the hospital on Saturday, so this race was for her!"
Turner earned the second starting position with a lap time of 1:25.256.  Reed Rundell (1:25.727), Bill Hadden (1:25.728), Terry McCuin (1:25.820), Scott Husted (1:26.174), Ed Sutcliff (1:26.704), Jim Albertson (1:27.053), Jeff Thomas (1:27.422), Andrew Feldman (1:29.437), Kevin Kyle (1:27.941), Bill Pawluckie (1:29.311), William Kabela (1:30.542), Robert Magee (no time), and Dennis Heaney (no time), completed the starting grid.  RSR member Divina Galica participated in pre-race practice sessions, but failed to make the race due to previous obligations to race in Bobby Rahal's "Legends of Motorsports" event at Sebring International Raceway.
The International road course configuration at Pocono is a wickedly tough ten corner, 2.5 mile layout which requires total concentration to navigate.  Several of the hairpin corners have little or no entry markers, and most of the course is flat enough to ensure the tiniest mistake results in cars going off course.  In addition, drivers traverse the course in a counter-clockwise direction.  Many teams spent significant portions of their practice time just trying to learn the proper braking points.
Rundell was one of the drivers who began the race with serious reservations about his abilities at the track.  "I knew this was going to be a tough week," he said.  "The first part of practice went as expected; we were way off the pace and still trying to figure out how to find more speed.  Once again, Les Turner and his team offered their help.  I've been able to utilize Les' setups several times this season; tonight was no exception.  I can't thank Les enough for helping out."
His thoughts were shared by many of the drivers.  Husted shared his opinion after the race.  "I wasn't overly comfortable, because I don't have a lot of laps here.  My team did a lot of work to get the setup to where I needed it for race trim."
As is often the case in RSR events, drivers gave each other a lot of room as they took the green flag.  Everyone was nervous as they saw Reed and Husted sliding off of the left edge of the track as they entered Turn One, but most of the field passed without incident.  Turner inherited the lead when Rhyne followed suit with a similar mistake on Lap Two.  Despite their gaffes, Reed and Rhyne would both claw their way back through the field as the race continued.
Turner looked to be unbeatable as he slowly built a comfortable lead throughout the first half of the race.  Contact with a disabled car on Lap 13 exiting the chicane almost ruined his race however, as the resulting damage slowed his car significantly.  "We were in cruise mode at that point," said Turner.  "As I approached the chicane I realized the car in front was struggling. We took a cautious approach and slowed up on entry. Once I had cleared the apex I nailed the throttle expecting a clear run past the lap car on the exit, but he didn't go and the contact was quite hard."
Turner's lost momentum and reduced speed after the contact allowed Hadden to work his way towards the lead spot, but his dreams of overtaking Turner ended when the hard-charging Rundell got past him on Lap 18.  Reed looked as though he would coast to his second win of the season once he finally caught and passed the wounded Turner, until Rhyne showed-up like an un-invited guest and ruined Rundell's party.
Rhyne's climb back into contention was nothing short of stunning.  Having dropped from first place to seventh place on Lap Two, the Northern Tool + Equipment Transportation Supervisor kept fans on their feet as he slowly climbed back through the field.  The gap between Rhyne and the leaders appeared to be too large to overcome, but Rhyne did not let that bother him.  "I knew I had a fast car tonight," he said.  "The car was way too loose for the first two laps, but felt great once the tires heated up.
Pocono is pretty slippery at places, so I ran a setup from Indy with not much wing so I could again use all the horses the car had on the long straights."
His strategy worked.  The Northern Tools + Equipment Star Mazda looked like it was strapped to a rocket on the long straights.  Rhyne made quick work of passing Albertson and Sutcliff, and then set his sights on McCuin.  McCuin did not give up his spot without a battle, but Rhyne eventually got by him on Lap 23.  He didn't have to wait long for the next spot as he made his way past Hadden on the next lap.  Rhyne's climb back to the top appeared to have reached its climax when he commandeered the third position, but he got past Rundell when he bobbled on Lap 26 and then drafted past Turner into Turn One on Lap 27 to re-take the lead.
Turner and Rundell continued to swap positions as Rhyne tried to put distance between his car and theirs as the final laps wound down.  Rundell's efforts to stay on the podium came to an end when his last lap mistake allowed Turner and McCuin to pass him once again. At that point, Reed found himself in a tight battle with Bill Hadden for fourth place.
Rhyne crossed the line a full two seconds ahead of Turner with McCuin was three seconds behind in third place.  Rundell recovered quickly enough to maintain fourth place, while Hadden crossed the line in fifth place.  Albertson, Sutcliff, and Husted battled all night before crossing the line in sixth, seventh and eighth places respectively. Pawluckie finished one lap down in ninth place while Thomas was also a lap down in 10th place.  They were the last two cars still running when the race ended.
Kabela experienced electrical problems during the race which twice forced him to pit for repairs.  He eventually finished nine laps down in 12th place.  Kyle (13th place) was forced to retire after Lap 17.  Magee (14th place) retired on Lap 11, while Heaney (15th place), retired after only five laps.
Rhyne was ecstatic after the race.  "Wow what a season for Northern Tool + Equipment!  The point battle this season was as good as it gets. I am looking forward to the final race next Thursday to see who will take home the hardware."
Turner was also happy with his race.  "It has been an awesome season!  Congrats to Terry for picking it up, and to Tommy for being right there too in his first season.  Hadden and Rundell have also been strong as well.  It has been a great championship race all the way.  See ya at Sebring next week. And may the best Mazda win!"
McCuin was too shaken from being knocked off of the podium to speak after the race.  His pit crew offered this comment on behalf of their driver "Terry isn't going to let Les or Tommy take the championship folks.  Watch out for him at Sebring."
Rundell could not believe how his race ended.  "I was pushing way too hard in qualifying, but it paid off when we earned a top-three spot on the grid," he said. " I knew the track was tricky, but I was too cautious on the start.  I fell all the way back to seventh place with that mistake.  Once I got my rhythm back, I started working my way through the field.  I thought the race was mine to lose once I got past Les on Lap 23.  Then my spotter told me Tommy was charging up through the field with a vengeance, so I was like 'Can I hold him off?'"
It turns out Tommy wasn't the one he should have been worrying about.
"By Lap 27, Les was right back on my heels, damaged car and all!" Rundell continued.  "I tried to maintain position through Turns One and Two, but my entry was wrong for Turn Three, so they both got past me.  I got back into second when I followed Tommy past Les going into Turn One with three laps to go.  I was able to catch Tommy in the infield section of the course, but his top-end speed on the straights was too much for us to make up.  Unfortunately, I ruined my chance for a podium when I slid off the track on the last lap!"
Albertson was the only driver to complete the event without an incident.  The elder statesman of the RSR league was satisfied with his effort at the challenging track.
"This was another great race," he said. " The POW/MIA car came through the Turn One chaos without a scratch!  Kudos go out to Ed Sutcliff and Andy Feldman as they expertly negotiated the first few turns.  Ed slowly pulled away from us as Andy nipped at our rear wing.  Once the tires heated up, I got into a groove and began feeling more and more confident.  I picked up the pace as the fuel burned off and was right on Ed's heels when he bobbled.  His mistake was exactly what I needed to make the pass.  I have to thank the Red Head Racing crew chief for another great setup!"
"I knew Jim would be all over me if I made a mistake here tonight," said Sutcliff after the race.  "He was much faster than we were on the straights, so I had to be perfect to stay in front of him.  Unfortunately, I overdrove the entry into the chicane and had to check-up pretty hard to stay on the track surface.  Jim passed me with ease, so then I had to focus on keeping Scott Husted behind me because he was also much faster than I was.  This was probably the hardest I've ever driven to earn a seventh place finish!  Congrats to Tommy for the win."
Most observers agreed Husted had a top-five car.  "I slid off the track on Lap One while trying to be too careful in the traffic," he explained, "but was able to work my way back pretty easily.  By the midpoint of the race, I was within a few seconds of the fifth and sixth place cars.  Unfortunately, I made a few too many aggressive entries into the turns trying to gain time, and ended-up spinning late in the race.  I didn't lose any positions in the end, but it prevented me from getting that top-five out of the race."
Bill Pawluckie earned the "Hard Charger" award by climbing three spots for a top-10 finish from his 12th place starting position on the grid.
Turner's finish vaulted him past McCuin and Rhyne and into the number one spot in the championship point race with one race left on the schedule.  Turner has a slim eleven point lead over Rhyne, and a cushion of a dozen markers over McCuin going into the Sebring event.  Hadden (fourth) and Sutcliff (fifth) are too far back in the standings to have any impact on the season podium.
RSR drivers will make their final journey of the season to Sebring, Florida for the last event that will crown a season champion, the "The 24 Laps of Sebring."
Standings: http://www.danlisa.com/scoring/season_standings.php?series_id=105
RSR YouTube channel: http://www.youtube.com/user/draftin11?feature=mhum
---
You may also like...
---