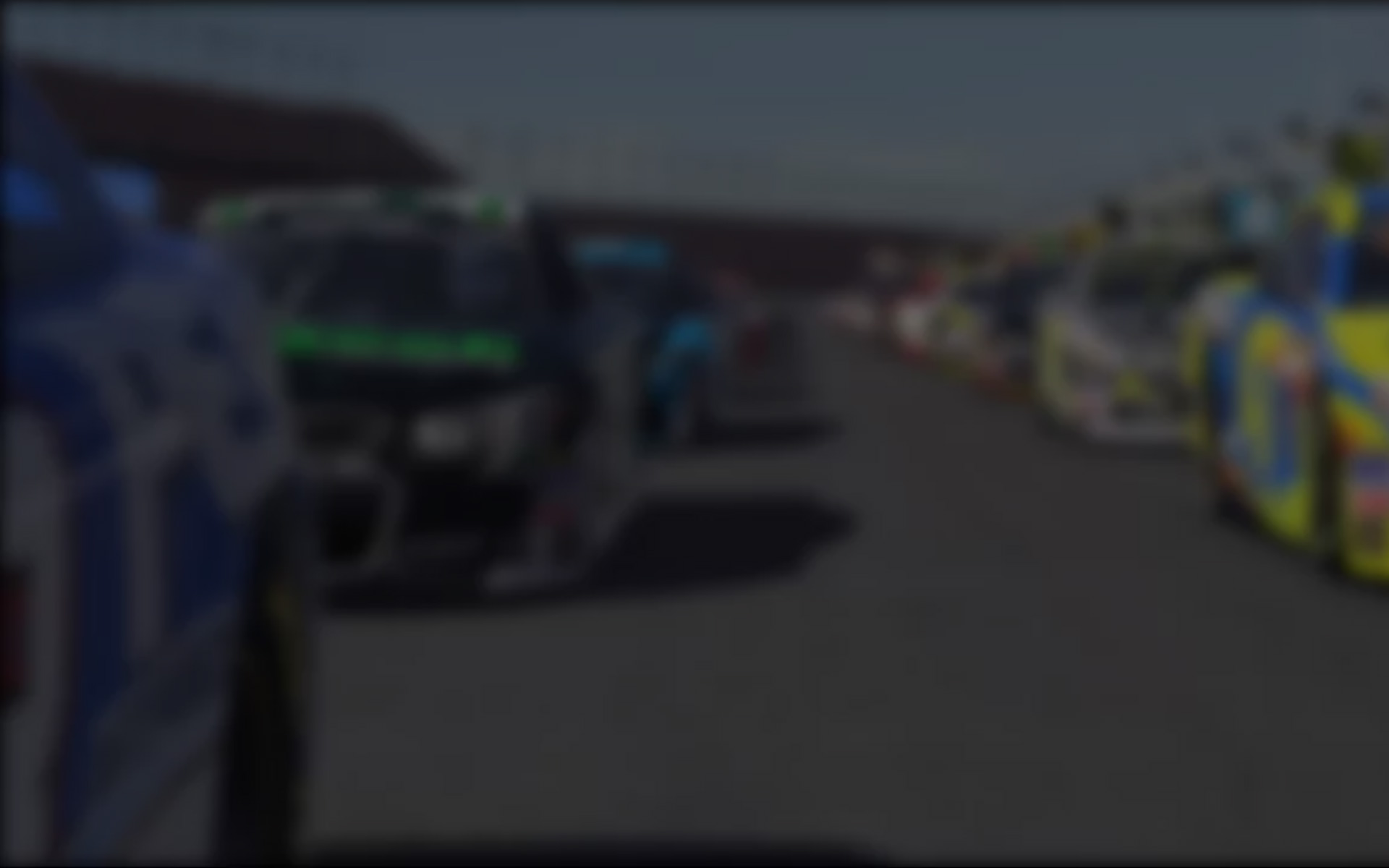 The defending iRacing NASCAR Class B Series champ laid claim to his throne right off the bat slapping down 231 points on the first night of Phoenix week.  Lowline Racing's Trent Ringler, who is coming off his first Class B title last season, took over the lead from BRB Motorsports' Jeff Dukehart in a caution-filled second week of action in the shortened and final season of 2014.
It was the first action for the Chevrolet Camaros and Ford Mustangs at the redesigned 1-mile layout of the Phoenix International Raceway.  The unique oval in the Valley of the Sun posed what might be described as a too tough of a challenge for many a driver as some of the large field races spent more time under yellow flag conditions than green.  The slippery exits to Turns One and Four along with the new back straight dogleg wreaked havoc throughout Week 2.
After a popular season opening week at Texas where 64 races went official, the new layout at Phoenix put a damper on participation with only 27 official races by the end of Week 2.  Only one race split and that is where Ringler made his move, picking-up a key win in his championship defense.
The only split field event at PIR came on the first night of the week in Monday's 9:00pm est. race where 16 cars took the field in each split.  The SOF for the top split showed a whopping 3709.  The next highest SOF came later in the week at 2881.
Yellow flags were the story at many races during Week 2, and the feature race was no different, with no less than 10 cautions lasting for 39 of the 100 scheduled laps.  Ringler started from the pole and led 69 laps while setting the fastest lap of the event at 27.251 seconds.  BRB Motorsports' Shannon Segler and Larry Scott Jr. (Gale Force Racing) swapped the lead several times during the mid section of the race with Segler leading 24 laps and Scott seven before Segler's race was derailed by an incident midway through the race, dropping him to a 15th place showing.
A restart with two to go set-up a dogfight for the finish.  Ringler broke away as the pack fought for every position, leading to a terrific scrap for second place in Turn Four between Jeff Baki Jr.,  BRB's Randall Faulks, Lowline's John Mycka, and Larry Scott Jr.  While Ringler got a clear run on the final lap, the second group of drivers went through Turns Three and Four four-wide with Baki Jr. coming out on top in the battle for runner-up.  Ringler won by .471s over Baki Jr. with third-placed Scott Jr. finishing  .122s behind Baki and Faulks in fourth .655s adrift of the winner.  A few cars lengths further back, Billy Weeks slipped past Mycka in Turn Fourh to grab fifth, .865s back of Ringler.
With the win, Ringler took the top points at Phoenix (231) while racking up a total of two wins, three top-fives and four poles.  Baki Jr's lone start of the week was the runner-up showing in the feature race and that was good enough for second place with 215 points.  Scott Jr. had one win and three top-fives to take third for the week at 200, while Faulks earned one win in two starts with two top fives for fourth place at 184.  David Lam grabbed five win in six starts to round-out the top five with 161 points.
Chris Jennings with TruSpeed Motorsports continues to put-in laps in the iRacing NASCAR Class B Open series, starting 11 races at Phoenix and completing a total of 1064 laps while posting one win and seven top-five finishes.  Lam's five wins were the most for the Phoenix week, while Ringler and Brian Vieira topped the week with four poles apiece.  And in a week when the yellow flag flew early and often, six drivers posted two incident free races: Yannick Van Broeck, Allen Provenzano, Brett Osborn, Mike R. Johnson, Brian Sandoval and Ivan Jones.
With the strong Phoenix week, Trent Ringler takes over the points lead with four weeks remaining in the truncated season.  After two races, Ringler stands at 435 points, 33 ahead of second place Larry Scott Jr.  Randall Faulks (387) sits in third with Lowline Racing's Brian Ammerman nine points back of him.  Week 1 leader, Jeff Dukehart, dropped to fifth at 368 points.
Division winners for Week 2 at Phoenix were: 1 – Trent Ringler 231 (Indiana).  2 – Jeff Baki Jr. 215 (Carolina).  3 – Yannick Van Broeck 158 (Benelux).  4 – Hunter Lowe 112 (Virginias).  5 – Brian Hanasky  131 (Ohio).  6 – Jerry Favorito 105 (New York).  7 – Daniel Knight 91 (Carolina).  8 – Mike B Logsdon 61 (Mid-South).  9 – Jeffrey Pettit 54 (Texas).  10 – Don Runkle 8 (California).
Division leaders after two weeks are: 1 – Trent Ringler 435 (Indiana).  2 – Jeff Baki Jr. 333 (Carolina).  3 – Yannick Van Broeck 266 (Benelux).  4 – Hunter Lowe 209 (Virginias).  5 – Brian Hanasky 205 (Ohio).  6 – Jerry Favorito 182 (New York).  7 – John A Schulte 152 (Indiana).  8 – Mike B. Logsdon 121 (Mid-South).  9 – Tim Lempe 72 (California).  10 – – Don Runkle 8 (California).
Week 3 will marks the half-way point of this abbreviated Season four with the iRacing NASCAR Class B Series drivers taking to Homestead Miami Speedway.  After an incident filled week of sim racing at Phoenix, the 1.5-mile oval in Homestead, Florida should be a welcome sight to those looking to recover some of that lost safety rating.  The track selection should also see a good jump in participation as, with only one drop week in a shortened, every race will be critical in determining the final champion of 2014.
---
You may also like...
---