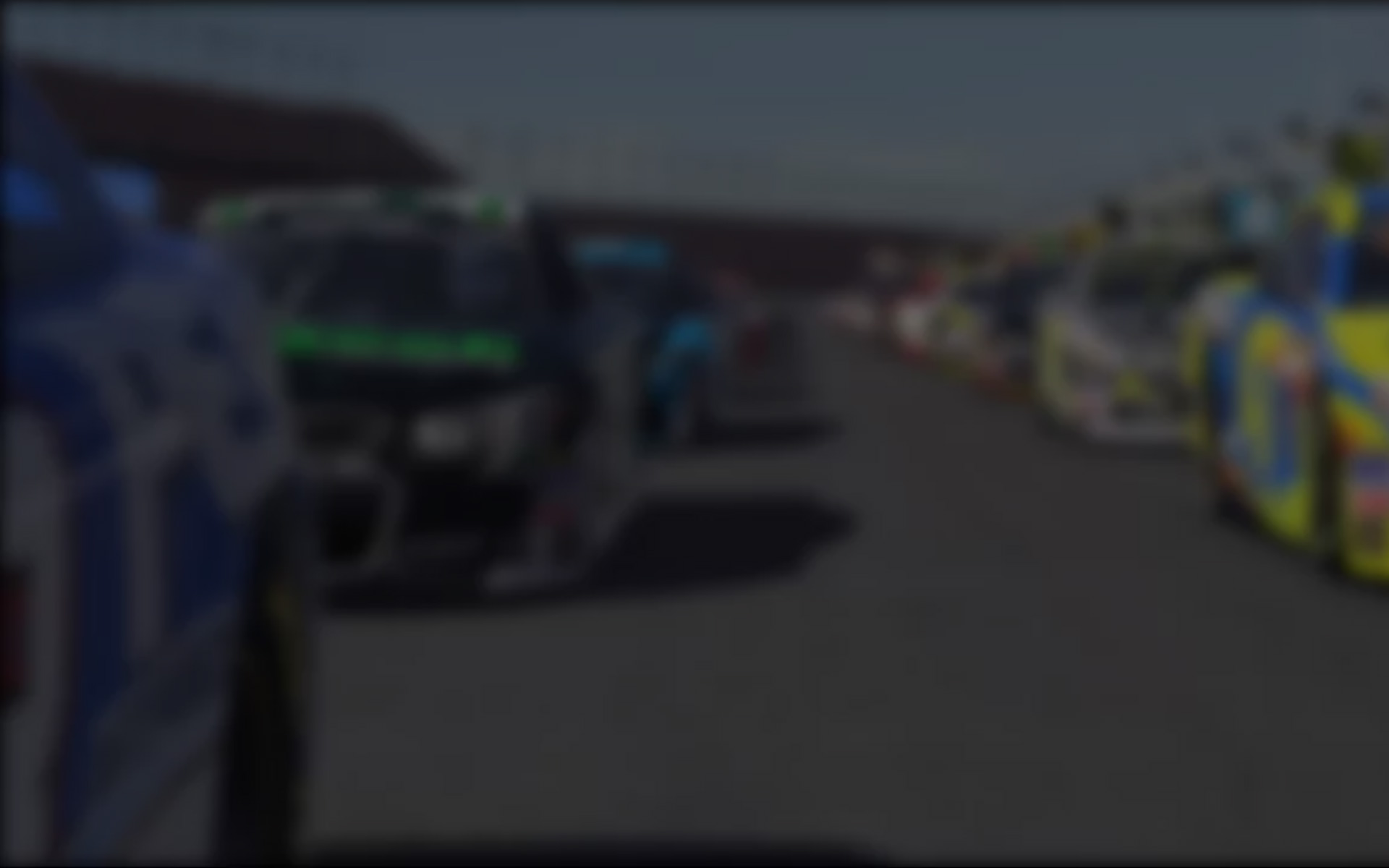 A batch of new faces showed up at the top of the standings for Week 8 of the NASCAR iRacing Class B Open Championship as the schedule put the cars on a road course for the first and only time this season.  This led to a host of road racing "specialists" to jump into an Impala or Mustang and mix it up with series regulars who may — or may not – have spent much time turning left.
The scenic 4.048-mile road course at Road America in Elkhart Lake, WI was the site for Week 8 and the final race on the schedule before the drop weeks started to come into play in the championship standings.  Through seven races, there had been no repeat winner during the 2014 Season 2 schedule and that held true through another week as Alex Monteferrante edged series regular, Matthew Davis, for a 12 point win.
Monteferrante, who hails from New Jersey, was able to capture 169 points in Tuesday night's 6:00pm EST race which boasted a Strength of Field of 2753.  Nick DelCampo started from the pole in the 25-lap feature event and quickly set the fastest time of the race on Lap 2 with a time of 2:12.889 while leading the first 12 laps.  On lap 13, Monteferrante, who was running third, got past defending series champion, Fernando Bento, and DelCampo.  Although Bento kept the pressure on, Monteferrante went on to lead the final 13 laps for 1.457-second victory.  DelCampo wound-up third in the race 30.122 seconds back.  Alexandre Caetano and Corey Deuser rounded out the top five.
"Road America was a blast and I can't wait for this series to come back here." — Alex Monteferrante
"Overall my week was really good," said Monteferrante.  "Road America and the B car is definitely one of my all time favorite car/track combinations, so I had to take advantage of having it on the schedule.  Although I usually only run this series at road course and super speedways, my crew chief, Aaron Grosskopf, always builds fast setups and this was no exception.  My worst finish of the week was third and I was able to pick up a win where I lead the entire second half of the race.  Road America was a blast and I can't wait for this series to come back here."
Although beating Monteferrante head-to-head in another race, Matthew Davis could not earn enough points to overtake the top spot for the week with his win coming on a SOF at 2456.  Davis, a series regular, felt like he had a solid shot for the weekly win had the cards fallen right.
"Although I beat Alex in a 26-car field, he got me in the points by winning a higher SOF race which had a much smaller field," said Davis.  "I wished more people showed up to race later in the week because I couldn't get into an official race after the first three that I ran, so I had no shot of getting to the top.
"I might be a regular in this series," Davis continued, "however the two wins that I got this week are the first ever in the B car.  I have a lot of road experience on iRacing, which gives me an advantage over most other regulars in this series.  The last time I ran stock cars on a road course was the trucks at Mosport.  Each race there I walked away from the likes of Price and Ringler.  However, this week I had some tough competition against some of the 'ringers.'  Every race I spent most of it in a group with them pulling away from the rest of the field.  Whoever didn't make mistakes seemed to determine who won."
"I might be a regular in this series; however the two wins that I got this week are the first ever in the B car." — Matthew Davis
Of the top 10 drivers in points at Road America, only four of them were regulars to the series.
Monteferrante's 169 points led the week while getting three top fives and one win.  12 points back was Davis who won two of his three starts and got a top five in the other.  Bento and Canada's Olivier Sackhouse tied for third place for the week 15 points back.  Bento earned his points with his second place feature race finish while Sackhouse grabbed wins in both the races he ran.  Sean Scott rounded out the top five for the week, 19 points back after earning one win in two starts.
DelCampo was the "road warrior" for the week, running five races and completing every lap for a total of 125.  He also led the most laps with 85 and tied Davis with poles with three.
Several of the top drivers of the series elected to sit-out the road course week, which jumbled up the standings heading into Week 9 where drop weeks begin to factor into the equation.  Lowline Racing's Trent Ringler, who has held the points lead since Week 2, elected to use Road America as a drop week and gave up the points lead.  Likewise, Ringler's teammate, Brian Ammerman, did the same and dropped a spot in the points.
Two-time defending Class C Truck Champion, Anthony Price, grabbed a seventh place finish for the week and took over the points lead with a total of 1371 points.  RPM Race Team's Johnny Reed Foley moved up to second overall with 18th place showing at Road America and trails Price by 50 points.  Ringler dropped to third trailing by 59.  BRB Motorsports Brian Lovingood moved up to fourth overall 167 points back while Ammerman drops to fifth trailing by 178.
"This was going to be a learning season for all of us at BRB Motorsports, but we feel like we are hitting our stride here at the right time." — Anthony Price
Price, who had the best week of all the championship contenders at Road America, knows it is going to be a very close battle over the final four weeks.
"I knew Road America would be a drop week for most of us oval guys, but I considered the possibility of scoring higher points than a pervious week," he said.  "Fortunately, I was able to improve over a low weekly score I suffered at the beginning of the season before we started to get a handle of the B car setups.  We have some guys at BRB that road race too and knew Road America pretty well so they got me up to speed pretty quickly and I got the kind of result I was looking for.  This was going to be a learning season for all of us at BRB Motorsports, but we feel like we are hitting our stride here at the right time."
Division winners for week 8 at Road America were: 1 – Matthew Davis 157 (Mid-South).  2 – Alex Monteferrante 169 (New Jersey).  3 – Alex Caetano 126 (Iberia).  4 – Brian Kemerait 135 (Carolina).  5 – Greg Dukowitz 77 (Midwest).  6 – Darren Keartland 72 (Australia/NZ).  7 – Richard Hamilton 71 (Brazil).  8 – Joseph Grijalva 43 (Texas).  9 – Marco Micheli 37 (Italy).  10 – Nicholas Winzurk 0 (Georgia).
Division leaders following week 8 are:  1 – Anthony Price 1371 (Virginias).  2 – Stacy Adams 1049 (West).  3 – Joshua D Baker 801 (Ohio).  4 – Danny McCune Jr 641 (Virginias).  5 – Trey Wagner 620 (Plains).  6 – Justin Hirst 403 (Ohio).  7 – Jeremy Gannon 459 (Mid-South).  8 – James Hollern 270 (Australia.NZ).  9 – Noel Koewers 169 (Michigan).  10 – Scott Martin 159 (New York).
Week 9 of the NASCAR iRacing Class B Open Series is back on the ovals with a night time visit to the Kentucky Speedway in Sparta, Kentucky.  The race for the points championship should tighten up as all the drivers start dropping their four worst results of the season.  The 1.5-mile oval should provide some great sim racing as the chase starts to make its way down the home stretch.
Note:  Technical problems delayed the posting of Brian Tate's report on Week 8 of the NASCAR iRacing Class B Series racing at Road America.  We regret any incovenience – Ed.

---
You may also like...
---