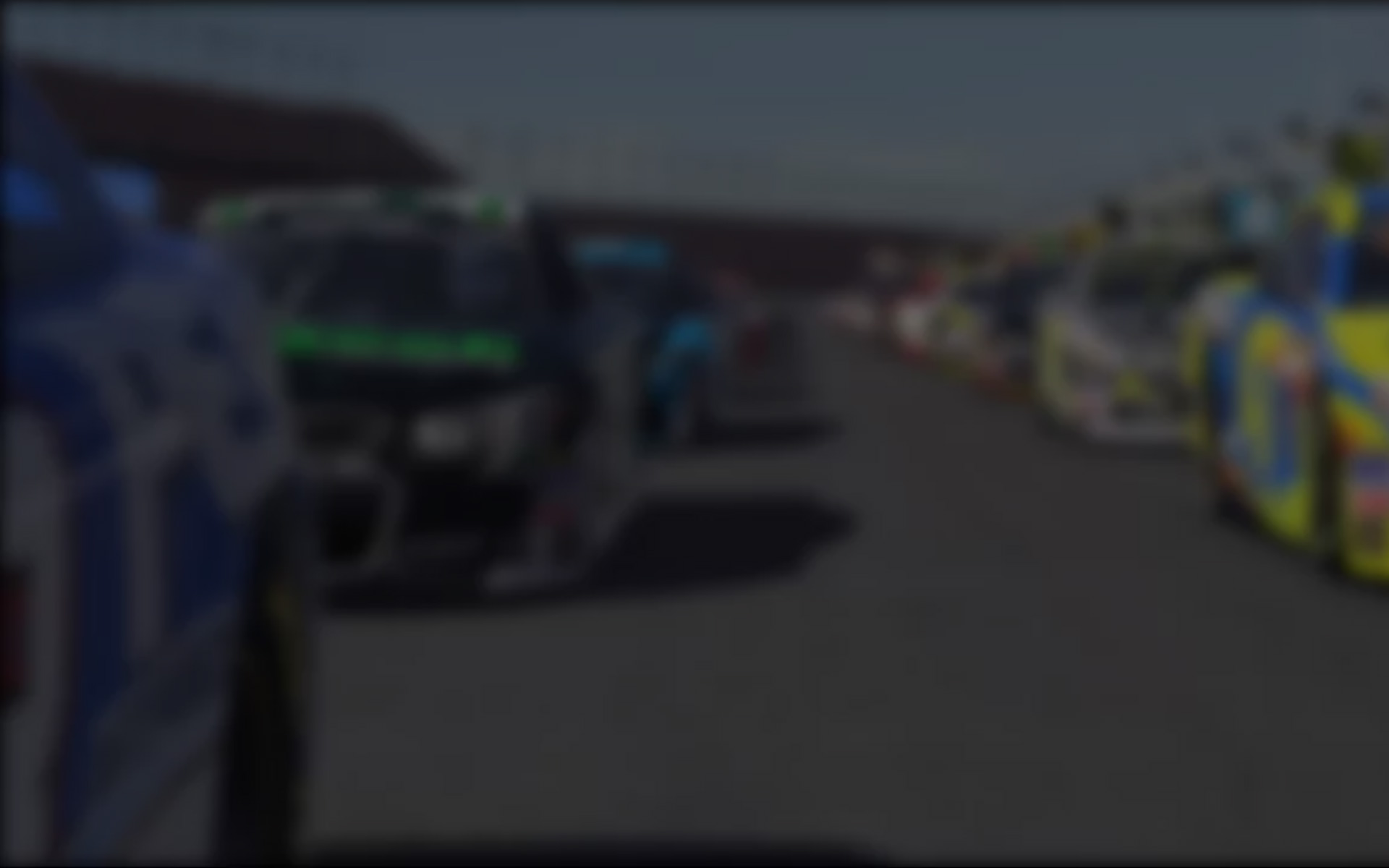 The NASCAR iRacing.com Class A Series headed west from Dover for their debut at Iowa Speedway, a short track with the personality of a big track and bumps that will eat-up even the best of drivers.  Iowa's vastly different corners made setups a pain and crew chiefs' lives miserable.  However, Iowa's challenges rewarded the lucky few sim racers who got their rides dialed-in and made it out of the pack into clean air.
With all that said, it was a case of the same story, different week for the points battle as Nick Ottinger once again ate-up his competition. Ottinger dropped a 326 on the heads of anyone with the slightest thought of running him down in this points battle. Once again Ottinger made two starts on the week and came away with two poles and two wins after leading 195 of his 280 completed laps. Ottinger and Harrison Donovan went back and forth up front in the high split of the week before Ottinger eventually took the win.  It wasn't all bad news for Donovan, though, as his 312 points for second place was enough to score him second overall on the week.
Pro hopefuls were out in abundance Sunday night.  While some came-up huge in the clutch, others failed when they needed it most in their efforts to qualify for the upcoming NASCAR iRacing.com Pro Series. Jon Adams put in a big third place effort to propel him forward in the points. The big 298 points are exactly what Adams needed to all but lock in his spot at the next level. Del Mears also came up big with a solid forth place finish, while Matt Bussa rounded-out the top five.  It was a different story for Chase Paduano, Alex Warren,  Phillip Diaz and Paul Kusheba as they did not have the runs they were looking for. Kusheba and Warren were able to bounce back in the later race, while bubble drivers Chase Paduano and Phillip Diaz each took an ill-timed DNF.
Gabriel Solis led the way in starts this week, taking the green flag half a dozen times and earning three top fives in a solid week. Josh Laughton had five starts with one win while Jamie Privette and Alex Kan started four races. Kan did pretty well for himself in Iowa, scoring three wins in those four starts, while leading 419 of his 560 laps.
Ottinger has set sail in the overall points standings and now leads Warren by 350 points.  On the other hand, Donovan is closing on Warren — only five points out of second — while fourth place Jake Stergios is 174 points out of the runner-up spot. With some bubble drivers having a rough time at Iowa, the gaps from drivers "in" to drivers "out" has widened. Mitchell Hunt sits in the twelfth and final transfer spot to the NiPS with 1682 points, while Joel Putty jumped up to thirteenth with his 1568 points. All drivers have eight weeks counted, and are now into trying to better their drop point totals.
Next week is the second to last week of the season for the NiCAS competitors, and it comes at a familiar site: Charlotte Motor Speedway.   Charlotte is a circuit all oval drivers at the top level are very familiar with. Ottinger will be trying to put his name in the top two in weekly standing for an unprecedented eighth straight week as he runs away with the series championship.  Everyone else will be gunning for him, so we will see if Ottinger can hold off the charge in Charlotte.
---
You may also like...
---