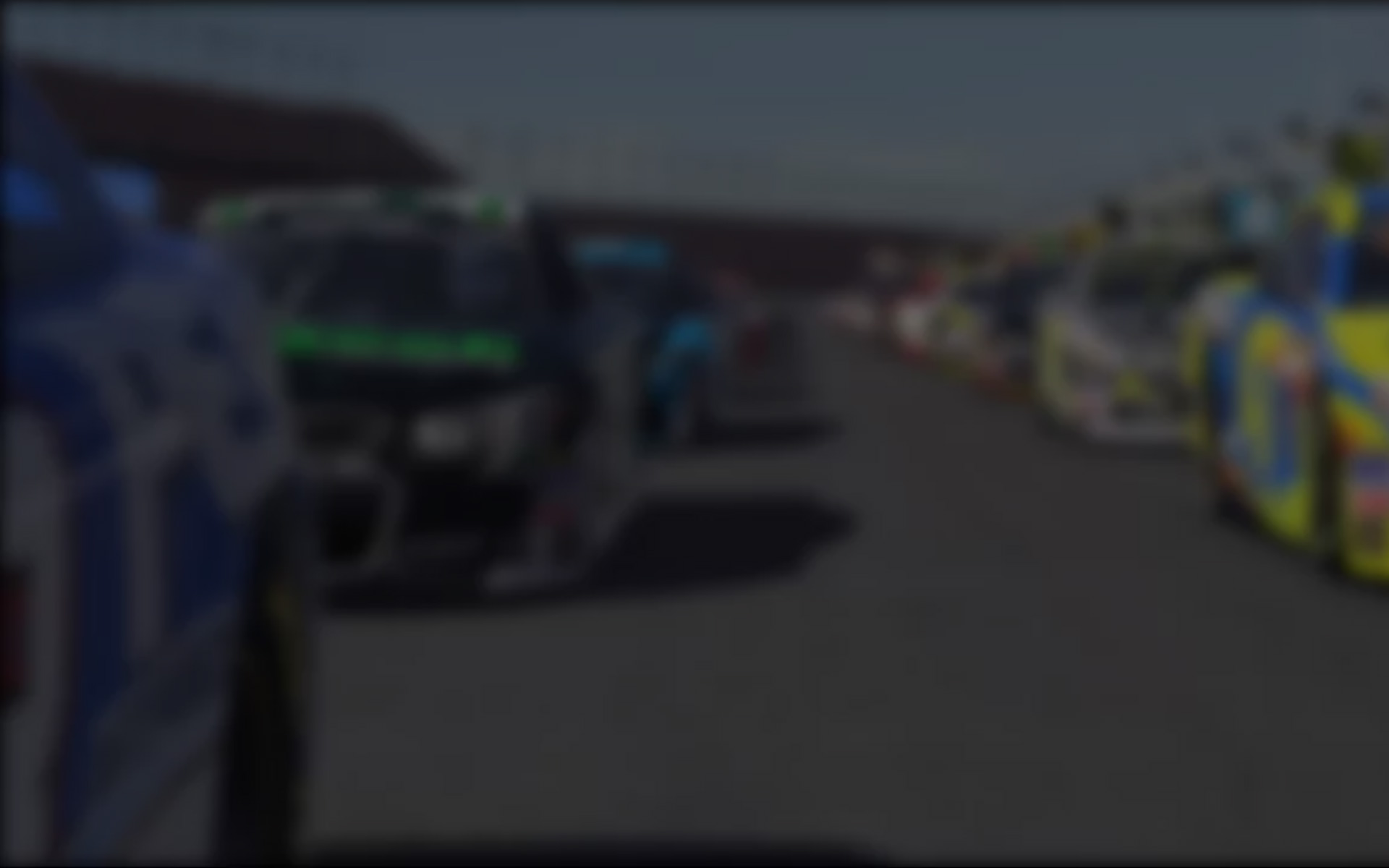 New Hampshire Motor Speedway, located in Loudon, NH laid host to Round 10 of the 2012 iRacing.com IZOD IndyCar Series.  Considered by many as being the toughest track on the circuit in terms of driving, many drivers chose not to participate, resulting in the second race of the season to not split (Dover the other), but having nearly a full field of cars with 25 showing up.  Loudon is a one mile oval with progressive banking in the turns with multiple lines to choose from with the high line the preferred groove to run.  Running in the lower lane is possible, albeit tricky and catches many a drivers out, resulting in drivers losing control.
Picking up his third pole of the season with a 22.321s lap was Chris Cahoe.  Second spot went to Randy Crossno (22.334s), third was Tim Doyle (22.350s), with brothers Chris Manifold fourth (22.401s) and Scott Manifold fifth with a 22.429s.
From the drop of the green flag, third-starting Doyle wasted no time trying to get to the front of the field.  Going into turn one on the opening lap, Doyle went low, making the pass on Crossno for second and then attempted the same move on Cahoe in turns three and four.  While Cahoe would lead the first lap, Doyle would secure the top spot with a pass and near contact in turns three and four on the next lap and set sail.
Before the race's first yellow on lap nine for the spinning car of Albert Soler in turn two, Doyle had built a 1.087s lead over Cahoe.  The battle for second was tight between Cahoe, Crossno, Joe Branch, C. Manifold and Cary Bettenhausen, all running within a car length or two of each other.  The ensuing restart however resulted in many cars being involved and yet another DNF for driver Neffry Aawg who always seems to be in the wrong place at the wrong time.  In all, a total of seven cars suffered some form of contact or damage from the restart mishap.
When the race restarted on lap 18, the field was able to get some laps under green with Doyle once again pulling away from the second place car of Cahoe and the remainder of the field.  The second caution period was for the car of John Gilbert, making only his second ever IndyCar start.  Exiting turn four, Gilbert made contact with the outside wall before coming back across the track and making hard contact with the inside front stretch wall.
The race would continue on with various self spins bringing out a yellow every 10-15 laps.  Each time Doyle would pull away leaving the battle for second place.    A frustrating day for many of the drivers who enjoy running here.  In the end though Doyle would score a convincing win over Branch, who ran as low as eighth position at one point in the race.  Cahoe held onto third over an impressive fourth place run for Crossno.  Al Nagy picked up his first top 5 of the season, finishing in fifth.
Race Stats-
Laps–  130
Pole–  Chris Cahoe
Lead changes–  7
Cautions–  10
Caution laps–  39
Lap leaders–  Cahoe 1; Doyle 2-34; S. Manifold 35-36; Doyle 37-57; Cahoe 58-68; Doyle 69-81; Todd Bettenhausen 82; Doyle 83-130.
Margin of victory–  -00.316
Hard charger–  Fabio Pierotti (13 spots)
Biggest loser–  Scott Manifold (14 spots)
Laps lead–  Doyle (115)
Fastest lap–  Doyle, 22.547 lap 116
Top 5–
1-  Tim Doyle
2-  Joe Branch
3-  Chris Cahoe
4-  Randy Crossno
5-  Al Nagy
Cars finishing–  11
DNF–  David Wright, Albert Soler, Guy Vandiver, Aawg, Gilbert, John Ahles, S. Manifold, David Ogden, Eric Vanek, David B Jackson, Sebastian Taylor, Michael Peters, C. Manifold, Robert Bohanek.
---
You may also like...
---