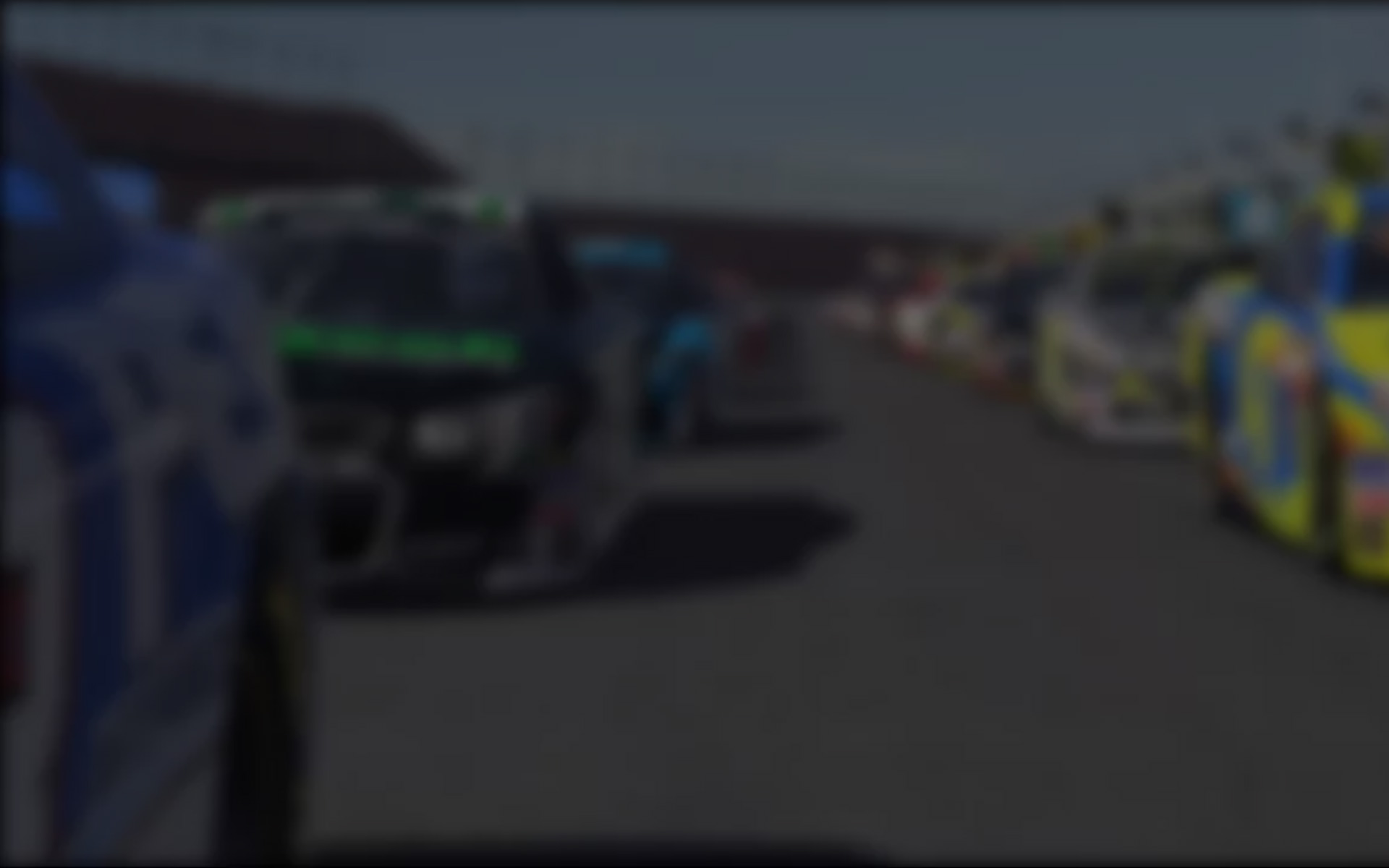 Heading to Darlington Raceway on Tuesday, the 2013 NASCAR iRacing.com Series World Championship is off to a hectic start.  Series leaders Tyler D Hudson and Brian Schoenburg are still looking for their first wins; likewise two-time defending champion Ray Alfalla, who has clawed his way back into the reckoning after opening the campaign with 42nd and 36th place finishes in two of the first three events.  Meanwhile, Daytona winner Adam Gilliland finds himself P8 . . . three better than Phoenix winner (and 2012 championship runner-up) Michael Conti, who failed to qualify for the season opener.
All the more remarkable, then, that just five races into the young season Nick Ottinger already has a pair of wins to his credit, with back-to-back triumphs at Texas Motor Speedway and Richmond International Raceway for Gale Force Racing in his Rheem/Chevy SS.  Even with two wins, though, the Claremont, NC resident is just third in the standings thanks to sub-par finishes in the opening races at Daytona and Las Vegas . . . not entirely by accident.
"We had a couple of issues at Daytona," Ottinger says, "plus, with it being the first race with the Gen6 cars, we didn't want to show what we had.  So we held back a little.  Then we started at the back at Las Vegas, but we got a good finish at Phoenix (P7) and the car was really good at Texas."
Indeed it was.  Ottinger not only started on pole, he led 128 of 167 laps and took the flag more than three seconds clear of Alfalla.  A fortnight later, he took a different route the Winner's Circle at Richmond, steadily working his way to the front from P22, grabbing the lead on a late restart and leading the final 18 laps.
"We could've pulled away more at Texas, but we didn't want to show what we had."
"We could've pulled away more at Texas, but we didn't want to show what we had," he says, echoing a familiar refrain.  "At Richmond we started at the back but I knew we had a good car on the long runs.  There was no reason to run hard at first; after 10-15 laps it really came-in, and I knew we'd be in good shape at the end of the race."
If past experience is any indication, Ottinger ought to be in good shape at the end of the Darlington race as well, given the fact that he scored a third place finish there last year – much the same as he did at Richmond in 2012.  Of course, this season finds him and the other NiSWC competitors racing the new Gen6 Chevy SS and Ford Fusion that replaced the Class A COT Impala.  Still, Ottinger is confident he will be a contender at Darlington – and most other races – this season.
"We've got to find a good balance with the car, same as we did at Richmond," he says.  "Last year the car was good but we've stepped-up the whole program this year to the point that I don't have to worry about the car; I just drive it."
2012 was Ottinger's first NiSWC campaign, and he had an outstanding showing with a couple of wins and fourth place in the standings that would almost certainly have been better yet but for a couple races where connection issues blunted his effort.  Now, in his second NiSWC season, Ottinger is taking more of a lead role in the development of the cars for the Gale Force team he co-founded in 2011 with Del Mears and NASCAR regular Cale Gale.
"Last year, we had Cale around more and I learned a lot from him," says the 19 year old sim-racer.  "Of course with Cale around you're bound to learn a lot!  We've got some really good chemistry this year with (teammates) Michael Johnson and Josh Berry, along with my crew chief Matt Holden and spotters Peter Fisher and Del (Mears).  It really helps when you don't have a good car that you can turn to someone for back-up."
"With Cale around you're bound to learn a lot!"
Not that Ottinger needs much in the way of back-up.  From his first days on iRacing in 2010 he's been, if not a force of nature, then a force to be reckoned with.  After finishing runner-up in the 2010 S4 iRacing.com Street Stock Series, Ottinger reeled-off three consecutive Street Stock titles, pairing the last with the 2011 S3 NASCAR iRacing.com Class A Series title and setting a NiCAS point record in the bargain.
"Street Stocks are just fun, tough racing," he says.  "I love short track racing.  Then I got involved with Cale when I moved up to the bigger cars and he's been a big part of my success.  That's what happens when you work with good people."
Although Ottinger freely admits he remains partial to short track racing, he is quick to add he likes winning most of all, regardless of the venue.
"My personal preference is short tracks," he says.  "They're all about good, hard, aggressive racing.  But it varies; it has a lot to do with how you're running.  Short track, speedway or superspeedway, it doesn't matter; if I'm running well, I like it."
If he continues showing what he can do, odds are Ottinger will find lots to like about the 2013 NASCAR iRacing.com Series World Championship.
Be sure and catch all the NiSWC action from Darlington this Tuesday on iRacing/live and the Mutual Radio Network live streaming starting at 8:45 pm (00:45 GMT Wednesday).
---
You may also like...
---