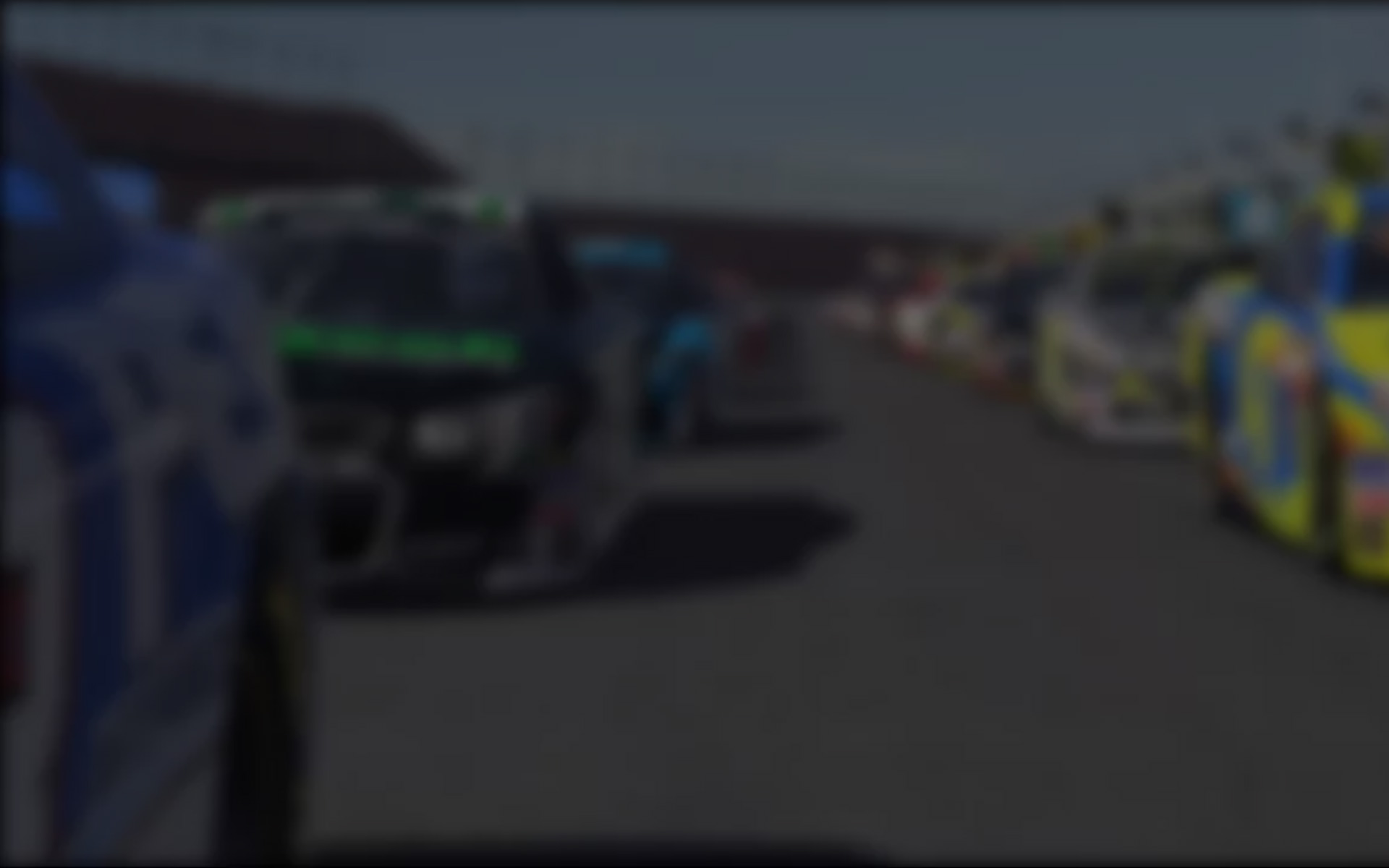 While attention on tomorrow's 2014 NASCAR PEAK Antifreeze Series season finale naturally focuses on the championship battle between Michael Conti, Ray Alfalla and Nick Ottinger, series mainstay Bryan Blackford is already well on the way to winning a battle of his own.  The veteran sim racer is making a remarkable recovery from an accident in August that left him with third degree burns and a severely broken elbow.  (You can see pictures and follow his progress at crowdrise.com/bb33)
Initially expected to be hospitalized for months, Blackford returned to his Florida home just days after a rental go-kart he was driving exploded and erupted into flames. He managed to participate in a NASCAR PEAK Antifreeze Series event the following week. He followed that up by taking a season-best fourth place in the recent Darlington race.
In addition to the emergency responders, medical and home care professionals, Blackford credits much of his extraordinary progress to the online research that he and his friend Lisa Pineda conducted on burn treatment and recovery, research that led to them to the website of Shriners Hospitals for Children.  In recognition of the hospital's role in his recuperation, Blackford will carry the hospital's insignia on his Slip Angle Motorsports Ford Fusion in Tuesday night's race.
"Lisa was doing research on burns and Shriners Hospitals kept popping up" says Blackford.  "We got in touch with their marketing people, told them about the series and they were excited and wanted to be involved.  I painted up a car and they loved it."
In what is becoming a two way street between Boston and his home near Tampa, Blackford, plans a journey to Massachusetts in the coming months to "give back."
"We're going up to Boston and visiting children at the Shriners Hospital," he explains.  "We'll have some hero cards to hand out, and I'm looking forward to meeting other burn victims and offering them some encouragement."
By a happy coincidence, of course, iRacing's headquarters are located in Bedford, a Boston suburb.  Blackford hopes to temporarily set-up some simulators at the hospital to give the young burn patients a taste of sim racing.
Blackford well knows the enthusiasm youngsters can show with sim racing.   Blackford and Pineda collaborated to incorporate sim racing into a new educational non-profit they've started – STEM Sim Ex.
"Lisa pointed out there's so much science and mathematics in the iRacing software that we should develop a curriculum  for summer camps," says Blackford.  "The more I thought about it, the more I realized it was a brilliant idea.  That made my job a lot of fun – coming to work every day and teaching kids about motorsports and iRacing!"
The children Blackford introduces to iRacing are learning from one of the best.  Blackford has qualified for iRacing's NASCAR World Championship every season since its inception in 2010.  This year has been his best yet, with a slew of top ten performances — including the fourth place finish at Darlington a little more than a month after his accident.  That performance put him within striking distance of a top ten finish in the overall standings.
"To finish fourth at Darlington after getting the burns, that was an incredible experience."
"I put down a lot of this year's success to being with a great team and my Slip Angle Motorsports teammates Ray Alfalla and Byron Daley," says Blackford, who nowadays runs his own digital media production company (Snowcone Productions).  "As a team owner, Lisa has been instrumental.  She's really motivated us to better ourselves and each other.  A lot drivers switch teams pretty regularly, but we're all committed to each other.
"To finish fourth at Darlington after getting the burns, that was an incredible experience to be able to come back like that; nobody expected it.  My goal is a top ten finish in the points, but we're happy to be locked-in for next year's season."
(To sample Blackford's digital media work, click here for his preview of tomorrow's race.)
Currently positioned P11 and P10, respectively, Blackford and Daley both have a legitimate shot of finishing in the top ten of the overall standings.  Of course, their 'other' teammate long ago clinched a top ten finish in the standings for fifth straight time.  In fact, Alfalla will be gunning for his third NASCAR PEAK Antifreeze Series title on Tuesday night.  13 points behind series leader Michael Conti, Alfalla will need lots of speed – and the right circumstances – to make that happen.
Blackford is more than willing to help… up to a point.  Told the best case scenario would be an Alfalla win with the other two Slip Angle drivers finishing on the podium – and thus taking points away from Conti – Blackford begged to disagree.
"Ideally I would win, Ray and Byron would finish second and third, and Ray would win the championship!" he laughs.  "In all seriousness though, I can't thank Ray and his family enough for everything they've done.  The accident happened the Saturday before the Atlanta race, and Ray refused to go back to his home in Cape Coral until I was out of surgery and back in the recovery room.  After I was released from the hospital, he and his family visited several times and helped take care of me.  His mom made some of the best organic soups I've ever had.
"As for Tuesday's race, Conti is a good driver, he has a good team and, obviously, he has a really good shot.  But he doesn't have it wrapped-up by any means.  All we can do is make sure we have fast cars.  Hopefully one of us can win!"
Regardless of how he fares at Homestead – or in the 2014 NASCAR PEAK Antifreeze Series standings – it's pretty clear that Bryan Blackford has already won.
Be sure to catch all the action at Homestead Tuesday at 9:00 pm EDT (01:00 GMT Wednesday) on iRacing.com/live.
---
You may also like...
---