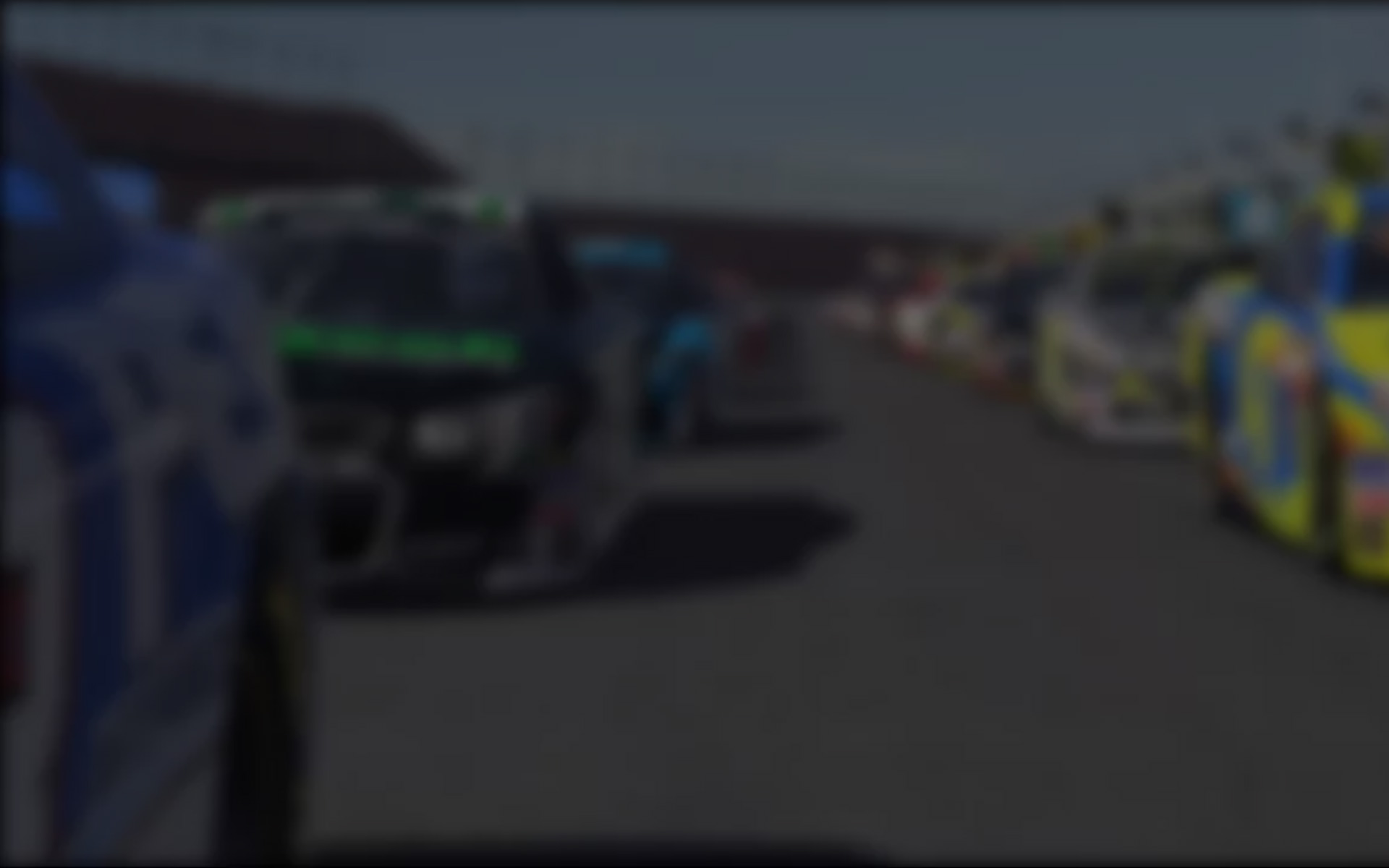 MONTREAL, QUEBEC, CANADA – Last time out, Dave Hoffman took the overall win in his RUF, John Koscielniak won the BMW's class, and Joseph Jordan took top honors in the McLaren MP4 race at the majestic Circuit de Spa-Francorchamps. This time around, the trio hopes to do more of the same at another famed Formula One venue, Circuit Gilles-Villeneuve, situated on Montreal's man-made Ile Notre-Dame. The 13-turn, 2.71-mile circuit has a unique blend of high speed curves and tight chicanes, urging drivers aim to push the limit on the wall-lined track. "There is very little run-off room here, at least not where you'd need it," commented Caribbean Food Delights BMW driver James Prostell Jr. in a pre-race interview. "You've got no room for error, and I've been bitten here before, especially since when people spin here, the walls keep those cars 'in play.' Before you know it, one person's problem becomes five or six other people's problem!"
Again sharing the paddock with iRacing's GT3 Championship, the Red Sox Racing League brought another 18 competitors to the paddock for Round 5 of the RSR GT Battle – the Notre Dame 45 at Montreal. The crowd got an early glimpse of what was to follow, with blistering laps from the McLaren MP4-12C's of Joseph Jordan, Brian Irby, and Brad Vincent taking the top qualifying times, with Jordan's time of 1:35.199 fast enough to take the Wil-Trans Pole Position Award by .252 over Irby. Nearly seven tenths of a second back, fourth-placed overall qualifier Dave Hoffman leads a trio of RUF Rt-12R's, including himself, Reed Rundell and Corey Wolf. Hometown favorite Les Turner qualified seventh, driving a McLaren MP4-12C that turned some heads in the crowd and the paddock. Trading in the iRacing-sponsored BMW Z4 he's campaigned so far this season, the Toronto native's black-and-yellow "Batmobile" was an instant crowd favorite. "We looked at some of the low participation in the McLaren class, and we thought this would be a great time to boost the numbers there and show that this car can compete too," said Turner. "Plus, it's just a great looking car – you can't keep a car like this penned up in the garage!"
Perhaps the biggest qualifying surprise came from the BMW class, where Caribbean Food Delights driver James Prostell Jr. out-qualified the Storm Front Racing duo of Terry Daul and John Koscielniak by the slimmest of margins. Less than a tenth of a second separated the eighth- and ninth-placed overall starters. "I had hoped the confused looks on people's faces in the crowd would be because we changed our paint scheme late, and the new colors and sponsors don't reflect what's in the programs sold at the race, but I know people don't recognize us at the front because, well, we're just not there all that often" commented Prostell Jr. "But, you know, I'm excited for what we've been able to accomplish so far, the team is pumped for the opportunity and I cannot wait for the green flag to drop."
It wasn't long before the green flag did drop, and once it did, Jordan took off with Irby and Vincent in tow. The field quickly fell into a single-file line, snaking through the course's mix of permanent racing surface and public roads. Brian Irby matched Jordan turn-for-turn, shaving the gap to under half a second until a lap a lap 7 spin derailed Irby's run for the overall win. With Irby fighting to reclaim his momentum, Vincent moved from third to second, with sights set on the coveted top spot. Vincent remained a constant, threatening image in Jordan's mirrors until a slip up on late lap 13 proved unlucky for the Pennsylvanian, causing a half second lead to balloon to almost three seconds at the midpoint of the race. Jordan would pit soon after, having lead the first 14 tours around the circuit.
Normally, those in the racing world would do nearly anything to add themselves to a list that includes World Champions Damon Hill, Michael Schumacher and Jacques Villeneuve, especially a "Wall of Champions." Sadly, on a circuit this notoriously hard on brakes, this Wall of Champions refers to the concrete retaining wall exiting the final chicane where these champions, and countless others, have had their races come to an abrupt end. In today's race, Sam Dobie, Karl Mumbower, and Ronnie Potts were all bitten by the diabolical stretch of wall, with Potts' #15 RUF claimed in particularly spectacular fashion. Losing control over the curbing, Potts corrected his slide but ran out of room, colliding with, and virtually climbing, the wall! Kevin Kyle would also spin near the Wall of Champions, but would escape its wrath, spinning in the opposite direction. Unfortunately, locked tires and a meeting with high curbing would result in an uncooperative transmission, ending his day just one lap in.
The Wall of Champions would not be the only part of the track to bite competitors today. In fact, attrition was the word of the day, as only ten drivers of the 18-car field finished the race at all, nine on the lead lap. Trouble brewed early for Dave Hoffman, clipping the wall on the opening lap to plummet to the back of the field before fighting to finish eighth overall.
In what might be considered a hard-luck year, Reed Rundell found himself once again hoping things might have been a little different. Having had a lap on his tires after a trip to pitlane, Rundell pushed to stay ahead of Les Turner to maintain sixth position, and lost control of his RUF exiting turn two, clouting the wall. The resulting crash ended Rundell's day in 13th spot overall. "We are second in the points right now, so I can't be too mad at that," said Rundell when interviewed after retiring from the race. "And yet I can't help but feel frustrated that we've shown so much speed and can fight competitively on a weekly basis, only to have one or two things go wrong and throw a good chunk of what we fight for away. I just really feel it for the boys in the shop. Our Harley-Davidson team is made up of some of the best folks you'll ever meet, and they work so hard that letting them down is the last thing I want to do. Best part of it all, they're already over it and working towards the next race – you can't keep these guys down for nothin'!"
What started as a close call for Andrew Feldman became anything but shortly after. A spin for Sam Dobie on Lap 10 left the RUF driver in no-man's land, trying to turn himself around knowing the oncoming field would be flying around a blind corner. Feldman approached Dobie's recovering car and barely squeaked by unharmed at that point, but Feldman's unsettled car pitched into a spin and careened violently into the wall. Dobie and Feldman would finish 15th and 16th respectively.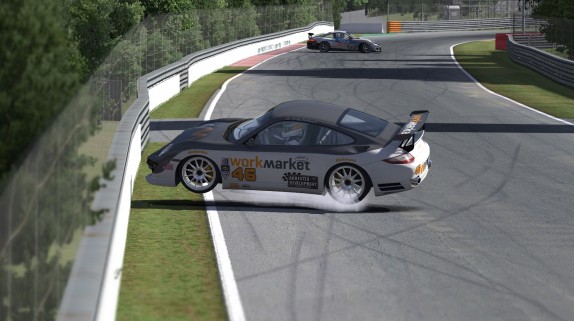 After the pit cycles, Joseph Jordan re-assumed his lead on lap 17, and between his own pace and the misfortunes of some key players, simply didn't look back for the next eleven laps. Frontrunners Irby and Vincent both found themselves having trouble pushing with cold tires after visiting pitlane, and each found the wall, ruining their chances for the overall victory. Irby wouldn't make it to the checkered flag, classified 14th, while Vincent would claim a sixth place finish after stopping again for repairs. Jordan wins, finishing 21 seconds ahead of runner-up Les Turner. Post-race, perhaps the only thing to go wrong for Jordan was a perfectly-functioning traction control system that spoiled what could have been a satisfying set of donuts for the winner!
Finishing seventh overall, RUF class winner Corey Wolf found himself nearly caught by fellow RUF driver Dave Hoffman, who was on a tear trying to play catch up after an early incident. Wolf spun with five laps to go, turning a 12-second gap to a two-second lead with three to go. Wolf was able to hold on to the slim advantage, however, taking top honors in the process.
Last, but not least, was the BMW race, which by many accounts stole the show. BMW class polesitter James Prostell Jr. lead the division early on, but lost the lead to John Kosielniak after clipping the wall on lap two, mixing it up with the Storm Front Racing duo of Koscielniak and Terry Daul practically from start to finish. "You could have thrown a blanket over us, but I'm not a fan of blinding tapestry at 140 miles an hour," joked Prostell Jr. after the race. "But seriously, that had to have been the best, most nerve-wracking race I have ever had the pleasure to be a part of. The Storm Front Racing guys are a class act – we raced hard, but the whole time it was clean. I know for a fact I pushed a little too hard here and there, but there was give and take between John and Terry and I, and I think it made for a great show for the fans out here. And to think – it almost didn't happen. I got into the wall at three different occasions during the race, all smaller scrapes, could have easily been much worse, but it held up, and we fought lap after lap. I didn't have anything for John by the end of the race, but Terry and I swapped spots a few times, and we were all in for a drag race to the checkered flag! What a great run for us – class pole, fourth overall, second in class, and just a tick away from a class win! Couldn't be prouder of the guys, congrats to John, and thanks to all involved!" The trio claimed spots three through five overall, and were separated by less than a second at the line!
Class Results
McLaren MP4-12C GT3
1. Joseph Jordan
2. Les Turner
3. Brad Vincent
4. Karl Mumbower
5. Brian Irby
BMW Z4 GT3
1. John Koscielniak
2. James Prostell Jr.
3. Terry Daul
4. Greg Harris
5. Kevin Kyle
RUF Rt-12R
1. Corey Wolf
2. Dave Hoffman
3. Scott Husted
4. Ed Sutcliff
5. Ronnie Potts
6. Reed Rundell
7. Sam Dobie
8. Andrew Feldman
Next up, the Red Sox Racing League returns to the States to visit another (former) Formula One circuit, as the Indianapolis Motor Speedway hosts the Kiss The Bricks 45.
---
You may also like...
---