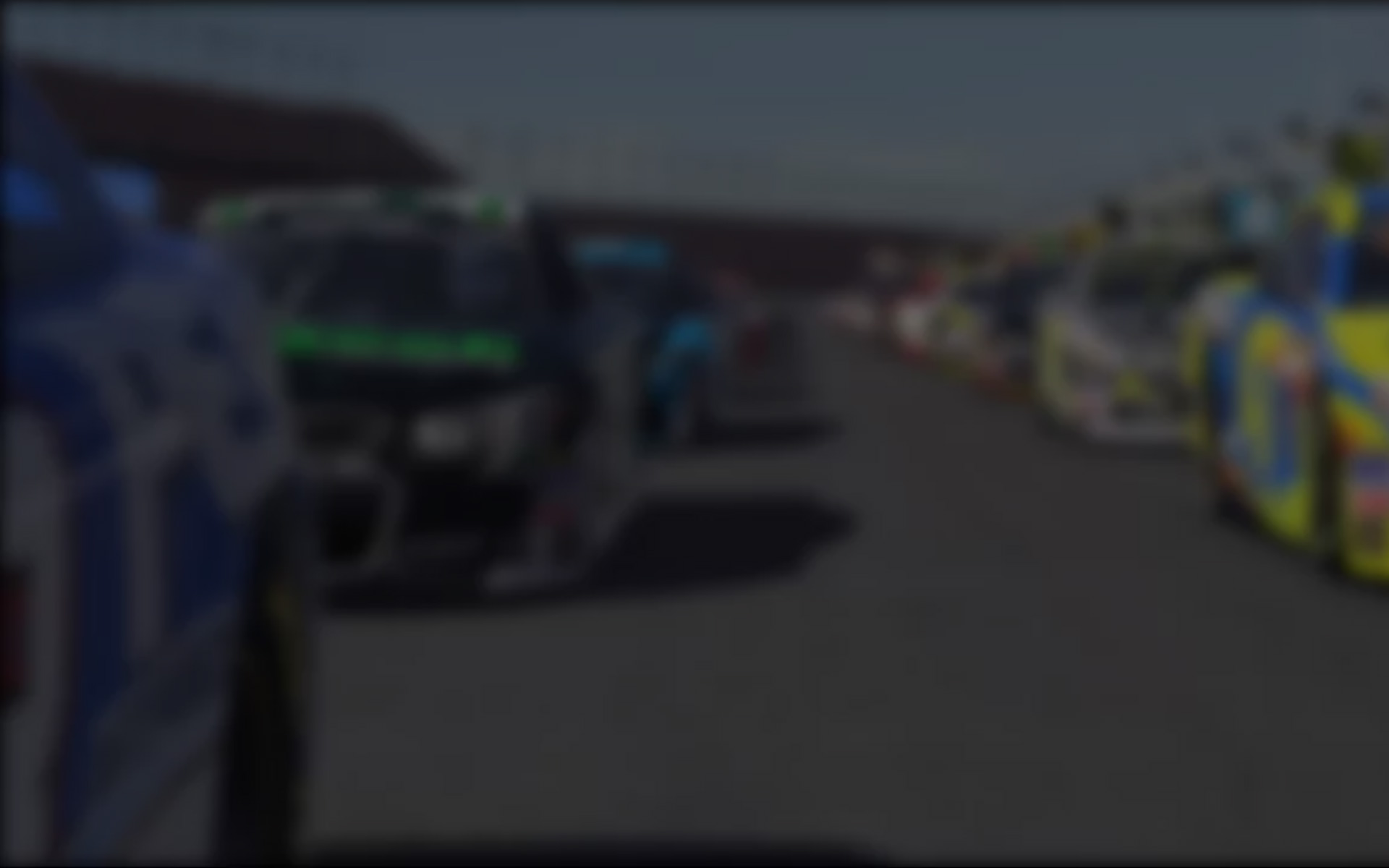 Oxford Plains Speedway is one of iRacing's most popular short tracks in its service. With no retaining walls save for the front stretch around this .375 mile oval, sprint car racers are hard-pressed to concentrate and hit their marks as they churn laps averaging 14 seconds. With the low groove the quickest yet most treacherous way around Maine's popular speedway, victors would have to not only be consistent with their lines, but stay off of the infamous curbs that line the bottom of the turns that love to ruin a drivers' night. Week 2 of Season 3 2013 would prove to be anything but boring for iRacing's Sprint Car Series.
Leading the qualifying time charts for Week 2 was Steve Linder, who was the only driver to break the 13 second barrier with his fast time of 13.983s. Close behind him was 8-time iSCS champion Alan Binder, who etched a time of 14.009s. Binder did not race during the week, but Linder would race in two of the five times that went official during the week, with two splits held on Tuesday and Thursday. Participation was high as 96 entries were divided between the seven races held.
The action started on Monday as Matthew Pilus led an 11-car field to the green flag to kick off Week 2. Only one yellow was displayed during the event, which saw rookie Tary Roundtree and Ronald Williams tangle. A long green flag stretch to the checkers was seen, and Pilus was able to lead all 50 laps to take home the win. Jon Watson was the runner-up, only .672s behind Pilus. Nicholas Howard collected another podium finish with his third place result. Jared McFarland and Dayton Gank rounded out the top five.
Pilus continued his reign on Wednesday, collecting another victory for the season. This time, Pilus was hard-pressed to hold off not only Watson once more, but front-runner Fred Lampela as well. With three caution periods spread across 15 laps, getting a good restart was key, but Pilus was able to lead every lap once more to take the win under yellow-flag conditions. Lampela finished second, with Watson in earning another podium finish in third. Series promoter Eddie Walczyk brought his sprint car home in fourth, and Bradley Haveard came from eighth place to finish fifth.
The standout nights were once again Tuesday and Thursday, with each night seeing a split between the field of entrants. On Tuesday, Steve Linder led the highest SOF of the week (3114) to the green flag. Hard racing was seen throughout the field, and only one yellow was displayed during this time. While defending his position in the closing laps, Steve Linder bobbled on the curb in T3 and while recovering, was tapped by Matthew Pilus and spun around. This set up a last lap dash to the finish, with Vinnie Sansone launching himself away from the field on the restart. Sansone would take the win, beating Michael Linder to the line by over a second margin. With a damaged car, Pilus was scored in third after the checkered flag fell. David Cumbo Jr. and Coon Landry completed the top five respectively.
Another 3000+ SOF field reconvened on Thursday, and Steve Linder was on a mission to erase the bad memories of Tuesday's run. On Lap 3, the first yellow was displayed after Matt Orr got loose on the backstretch and merged down into Pro/WC drive PJ Stergios. Stergios was able to continue, but Orr took it behind the wall for intensive repairs. Lap 22 saw the second yellow flag waved after a close call involving the machine of James Tabler as he got loose on the curbs of T1 and was almost turned around by Michael Lampela. He was able to save it from further harm after his car bottomed-out on the curbs for a good portion of T2. At the end of the 50 lap feature, Steve Linder successfully fended off the challenges of Sansone to take home his first win of the season. Christopher Kurdziel completed the podium with his third place result. Fred Lampela finished fourth, and Matthew Pilus collected yet another top five for the week by finishing fifth.
The 2nd split races weren't short on excitement either. Marking his return to the series, Doug Berryman led the field to the green flag on Tuesday. Three yellow flag conditions were displayed, two for the rookie of Brandon Schulhof as he lost control of his sprint twice, collecting Chet Wheeler Jr. and Paul Mepyans on separate incidents. The last wreck of the night centered around the battle for second, with Scott Kelly, Ronald Williams, and Eddie Walczyk all vying for the position. With a little over ten to go, Kelly's left front hit the curb in T4, and he quickly found himself spinning around onto the front stretch. With nowhere to go, Williams collided into Kelly and was hit by Walczyk soon afterwards. Without the fastest contenders behind him, Berryman was able to soar away with the win after leading all 50 laps of the event. Wheeler fought back hard after his earlier incident for a second place finish, and Kyle Coppola came from a 10th place start to finish third. Shawn Russell and Fritz Kletke finished fourth and fifth respectively.
In a manner similar to Steve Linder, Kelly was looking for redemption on Thursday, as he led the 18-car field to the green flag. Kelly was able to pull away early on, but after a long green flag run, Watson was able to catch up to Kelly as he worked his way through lapped traffic. A late caution set up an exciting one-lap dash to the finish, giving one last chance for the win to Watson. Kelly was able to stick to his lane, however, and beat Watson to the line by just .257s, earning his second consecutive 2nd split win of the season. Walczyk was also close behind in third, as his margin to the leader was only .444s. Edwin Jones and Mark Hephner rounded out the top five respectively.
Fred Lampela wouldn't let the week go by without a trip to victory lane, however, as he was able to park it on Friday's official event. Another race with the flagman hard at work, Lampela was able to stay ahead of second-place runner Landry before the last yellow flag was waved. David Cumbo Jr. posted a third place finish, with Eric Nordhoff in fourth. Walczyk was scored in fifth position.
The famous orange and blue colors of Sansone, seen in victory lane during Week 2, were also seen at the top of the standings after the week was complete. Still stretching out his margin over Fred Lampela, will Sansone be able to continue his hot streak after the iSCS makes its way to Bristol Motor Speedway for Week 3? Find out later this week on iRN!
**2013 S3 iSCS POINTS STANDINGS**
(As of Week 2)
1. Vinnie Sansone (399)
2. Fred Lampela (-64)
3. Matthew Pilus (-84)
4. PJ Stergios (-96)
5. Leila Wilson (-117)
---
You may also like...
---