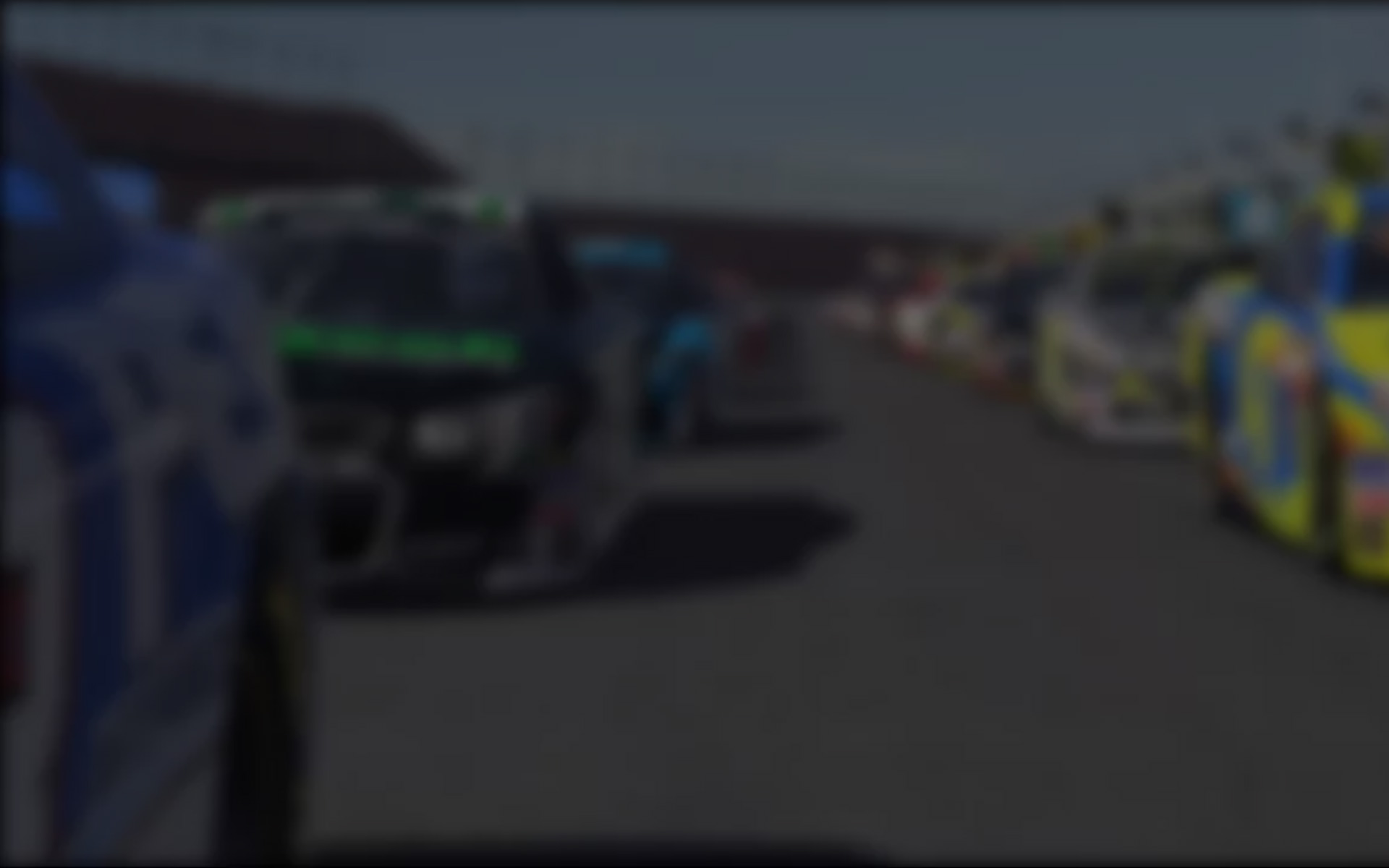 June 29th, 2016 by Jason Lofing (Translation by Renaud Lacroix)
PJ Stergios (ineX Racing) won his third NASCAR PEAK Antifreeze Series race of the 2016 season, beating Slip Angle Motorsports' driver Ray Alfalla at Chicagoland Speedway. The two were the class of the field in the series' first race after the summer break, but Stergios pulled-off the victory with better long-run speed and a superior pit strategy.
Alfalla settled for second, 2.2 seconds behind the winner after starting from the pole and leading a race-high 90 of 167 laps. Chris Overland was third, more than seven seconds behind Stergios. Taylor Hurst and Justin Bolton rounded out the top five.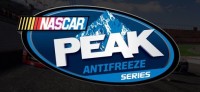 On the short runs Alfalla was in a class of his own, but the race came down to long-run speed with only one caution being thrown for Timmy Hill's (Aftermath) spin entering pit road during the first round of stops. Alfalla, who was the leader at the time of the caution, led the field down pit road but lost the lead to Dylan Duval (The TEAM) on the pit exchange.
On the ensuing restart Duval held-off Alfalla for six laps before finally giving way as he simply could not match the speed of two time champion's Ford Fusion. However, as the run wore on Stergios began to reel Alfalla in. By the time green-flag pit stops were imminent, Stergios' Ford was right on Alfalla's bumper and inherited the lead when Alfalla was the first to pit.
Due to pitting a lap sooner than Stergios, Alfalla returned with a sizable margin over his nearest competitor. Stergios almost immediately started cutting into the margin and by the time 25 laps had elapsed in the run he was within striking distance of the lead again. On Lap 98 Stergios made his move to the bottom in Turn Three in an attempt to take the lead but Alfalla hung tough on the outside to keep Stergios at bay.
Unable to clear Alfalla, Stergios devised a new plan to take the lead. On this run Stergios pitted a lap before Alfalla; this allowed him to take the lead and build a gap of nearly three seconds. With only one more pit stop needed before the finish, Alfalla was now chasing the lead for the first time all race.
On this run Alfalla had more speed and began to reel Stergios in despite a near disaster with Overland that saw Alfalla on the receiving end of an inadvertent tap from behind entering Turn One. The contact sent Alfalla into a slide but he masterfully recovered and continued his pursuit of Stergios.
Alfalla was only a couple car lengths behind Stergios when the final pit window opened and once again it was Stergios getting the jump on Alfalla on pit road. By pitting a lap earlier for the second run in a row, Stergios saw his lead grow to over four seconds. Alfalla started to close the gap again but stalled-out midway through the run and was unable to mount a challenge.
The win could prove critical for Stergios' championship hopes as he cut into Alfalla's points lead. Alfalla now leads by just 11 points as the top two continue pulling away from the rest of the field. Kenny Humpe retained third place in the standings but lost ground after a twenty-eighth place finish due to a blend line violation while leaving pit road. Humpe's poor result allowed Jake Stergios to move into a tie for third in the standings despite finishing P14 in the Windy City.  However, Humpe and Jake now sit a distant 85 points behind Alfalla. Overland bookends the top five, jumping in front of Corey Vincent and making for three ineX Racing drivers in the first five positions.
Week 10 of the 2016 NASCAR PEAK Antifreeze season takes the sim racers to another 1.5-mile track: Kentucky Speedway. While Chicagoland and Kentucky are equal in length, the similarities end there. Kentucky's surface is very rough, flat, and wide making it a challenge to create an optimal setup. Will Stergios and Alfalla continue to duel for the victory or can Humpe or another driver spoil the party at the front? Be sure and catch all the sim racing action in two weeks on iRacingLive when the NASCAR PEAK Antifreeze Series drivers take on Kentucky!
Troisième victoire en NASCAR PEAK Antifreeze Series à Chicagoland pour Stergios
Traduction par Renaud LACROIX
PJ Stergios (ineX Racing) a remporté sa troisième victoire de la saison 2016 en NASCAR PEAK Antifreeze après avoir battu Ray Alfalla, le pilote de la Slip Angle Motorsport, sur le Chicagoland Speedway. Les deux hommes ont dominé la compétition pour la reprise du championnat, après les vacances d'été, mais Stergios a surclassé son adversaire grâce un rythme plus soutenu sur les longs relais et une meilleure stratégie de ravitaillements.
Alfalla s'est contenté de la deuxième place, 2,2 secondes derrière le vainqueur, alors qu'il était parti de la pole position et avait mené 90 des 167 tours. Chris Overland terminait troisième, plus de sept secondes derrière Stergios. Taylor Hurst et Justin Bolton complétaient le top 5.
Sur les short runs, Alfalla écrasait la concurrence, mais la course se décidait sur les longs relais, avec un seul drapeau jaune causé par le tête-à-queue de Timmy Hill (Aftermath) à l'entrée des stands lors de la première salve d'arrêts. Alfalla, en tête au moment de ravitailler, perdait la première place au profit de Dylan Duval (The TEAM) dans les stands.
Duval contenait Alfalla pendant six tours après le restart avant d'abdiquer, incapable de rivaliser avec la Ford Fusion du double champion. Cependant, à mesure que le relais se prolongeait, Stergios commençait à remonter sur Alfalla. Au moment de ravitailler sous drapeau vert, Stergios se trouvait dans le pare-chocs arrière d'Alfalla et il héritait de la première place quand celui-ci rentrait.
En s'arrêtant un tour plus tôt que Stergios, Alfalla revenait en piste avec une confortable avance sur son plus proche adversaire. Stergios grignotait immédiatement cet écart et, 25 tours plus tard, il se retrouvait de nouveau en position de porter une attaque. Au 98è tour, Stergios plongeait à l'intérieur du virage 3 pour tenter de prendre la tête, mais Alfalla tenait bon à l'extérieur et repoussait Stergios.
Incapable de se débarrasser d'Alfalla, Stergios mettait au point un nouveau plan pour prendre la première place. Il s'arrêtait un tour avant Alfalla, ce qui lui permettait de s'adjuger la tête et de creuser un écart de presque trois secondes. Avec seulement un arrêt restant à effectuer, Alfalla se retrouvait pour la première fois dans la position du chasseur.
Sur ce relais, Alfalla se montrait plus rapide et commençait à remonter sur Stergios, malgré une touchette involontaire d'Overland dans le virage 1. Alfalla évitait le désastre grâce à une superbe maitrise de la glisse et repartait à la poursuite de Stergios.
Alfalla n'était plus qu'à deux longueurs derrière Stergios quand la dernière fenêtre de ravitaillement s'ouvrait. Pour la deuxième fois consécutive, Stergios prenait les devants sur Alfalla en s'arrêtant un tour avant, ce qui lui permettait de reprendre un relais avec plus de quatre secondes d'avance. Alfalla recommençait à se rapprocher, mais son rythme diminuait ensuite et sa remontée s'achevait.
Cette victoire se révélait capitale pour les chances de titre de Stergios qui comblait un peu l'écart le séparant d'Alfalla. Celui-ci mène maintenant de 11 points tandis que les deux hommes continuent de se détacher du peloton. Kenny Humpe conserve la troisième place au général, mais perd du terrain après une 28è place due à une pénalité pour avoir coupé la ligne de sortie des stands. Ce mauvais résultat permet à Jake Stergios de revenir à égalité en troisième place, bien qu'il ait fini 14è à Chicagoland. Néanmoins, 85 points séparent Humpe et Jake d'Alfalla. Overland passe Corey Vincent pour la dernière position du top 5, ce qui fait trois pilotes d'ineX dans les cinq premiers.
La dixième épreuve de la saison 2016 de NASACR PEAK Antifreeze emmènera les pilotes sur un autre circuit d'1,5 mile : le Kentucky Speedway. Même s'ils font la même longueur, les similarités s'arrêtent là. Le revêtement du Kentucky est très abrasif, plat et large, ce qui ne facilite pas la mise au point des voitures. Stergios et Alfalla vont-ils continuer à se disputer la victoire ? Ou alors Humpe ou un autre pilote pourra-t-il leur gâcher la fête ? Ne manquez rien de l'action virtuelle dans deux semaines, sur iRacingLive, quand les pilotes de la NASCAR PEAK Antifreeze Series s'attaqueront à l'ovale du Kentucky.
---
You may also like...
---