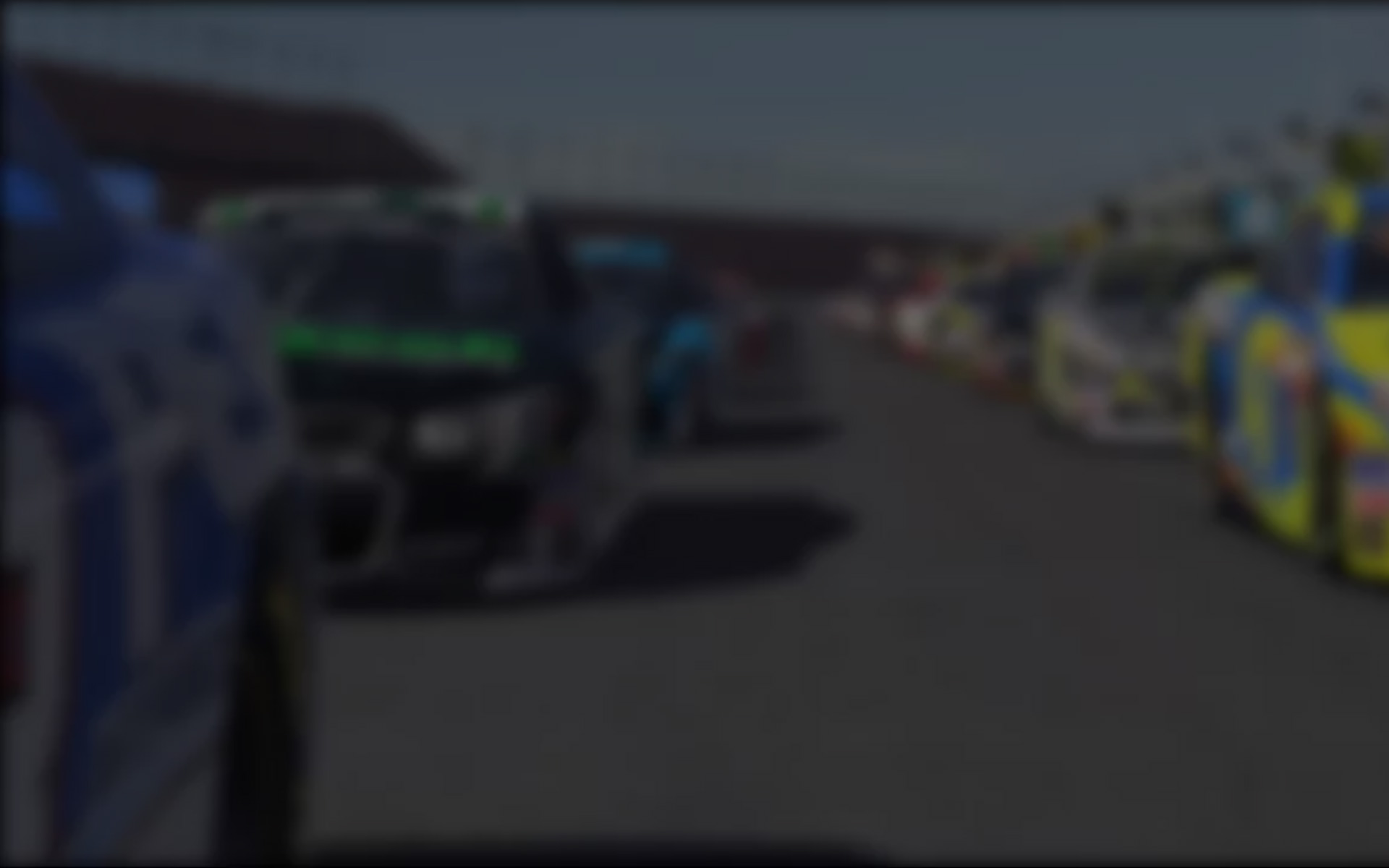 Round 12 of the iRacing.com V8 Supercar Series headed home to Oran Park. With the championship all but over it was time to sort out the minor placings, particularly the battle between second and third as Justin Ruggier tried to retain his grip on the runner-up spot and Josh Muggleton trying to slot-in behind presumptive champion Madison Down to make it a Tatts/TT-R 1-2 this promised to be a cracking race.
Qualifying king Madison Down would take pole position with a 1:05.944, with Ruggier starting alongside ahead of Muggleton and Brad Ryan on the second row. John Emerson and Jon Latham grabbed Row Three ahead of Richie Stanaway and Shaun Kelly with Leighton Fine and Matthew Nethercote rounding-out the top ten on Row Five.
When the lights went green it was Muggleton getting the jump to make it three wide with Down and Ruggier down the main straight and, in fact, clearing them both before the first turn. Ruggier was able to also hold the inside line into Turn One and keep in second, relegating Down to third place. Although everyone managed to get through One and Two cleanly, it didn't take long for an accident to unfold.  Marlon McMullen changed lanes under braking and hit the back of Tobias Czerny who, in turn, spun after the contact and clipped Mitchell Abrahall sending both Ford Falcons off the track.
Muggleton's race would become a lot easier when Ruggier got a slow down penalty but failed to clear it and receive a drive-through penalty for his indiscretion(s).   Things would become easier still when team mate Down went off at Turn One and re-joined a distant P10.  Down's bobble elevated Brad Ryan into second, momentarily as it turned out, as he went off two turns later after touching the grass on the exit of Turn 3.
Latham was the first driver to enter pit lane at the end of Lap 12 with Ryan in on the next lap. Latham exited the pits ahead of his team mate as Emerson reacted straight away only to lose out when he rejoined alongside Ryan and contact was made into Turn 3, costing Emerson a second or two in his pursuit of the leaders.
As the laps cycled through Muggleton was able to pit and rejoin on Lap 23 without giving-up his healthy lead.  The following lap saw Emerson try an optimistic move on Ryan into Turn 2, but Emerson wasn't far enough up and contact was made, pitching Ryan into a spin. On Lap 33 Ellis did it right, with a strong move into Turn 3 on James McKnight to take over fifth in the race and now try to close the gap to Emerson.
Down decided to come into pit lane on Lap 41 and whilst he was lapping in clean air he managed to move ahead of the battle between Latham and Emerson. When Down exited the pits he had a good gap to the guys behind and now the battle for the final podium position.  An error from McKnight on Lap 46 saw him throw away a chance of a top 10 when he touched the grass on entry to Turn 9. When McKnight tried to re-join he did so right in front of Nethercote, resulting in huge damage to both cars as the result of the inevitable contact, forcing both cars out of the race.
Muggleton came home a convincing winner to end the championship with back-to-back wins.  Unfortunately for Muggo and the Tatts.com team, however, the points in the race weren't high enough for Muggleton to move ahead of Ruggier to take second in the standings.  On the plus side for the Tatts team, Down claimed his seventh career iRacing V8 Supercar Series crown while Jon Latham was able to hold off John Emerson and Leigh Ellis to finish-off the season with a podium!
Emerson took fourth place in the race and also in the championship edging-out team mate Vail Riches while Leigh Ellis ended a strong season with a fifth place and a championship win in Division 2. Leighton Fine had a strong run and a good battle with Chris Stone as they ended up in sixth and seventh while Simon Black and Matthew Barron moved up from 19th and 21st  to eighth and ninth, respectively, Ruggier rounded out the top 10 finishers on the day, mounting a good fight back after his early drive-through penalty to hold-on to second in the championship.
Top Five Drivers – Championship Points – Overall
1. Madison Down – 2150
2. Justin Ruggier – 2040
3. Josh Muggleton – 2027
4. John Emerson – 1745
5. Vail Riches – 1680
Split Two Winner: Tim Faltusz
Split Three Winner: Sanjin Delalic
Split Four Winner:  Corey Preston
Broadcast done by the crew at www.v8sonline.com.au
---
You may also like...
---