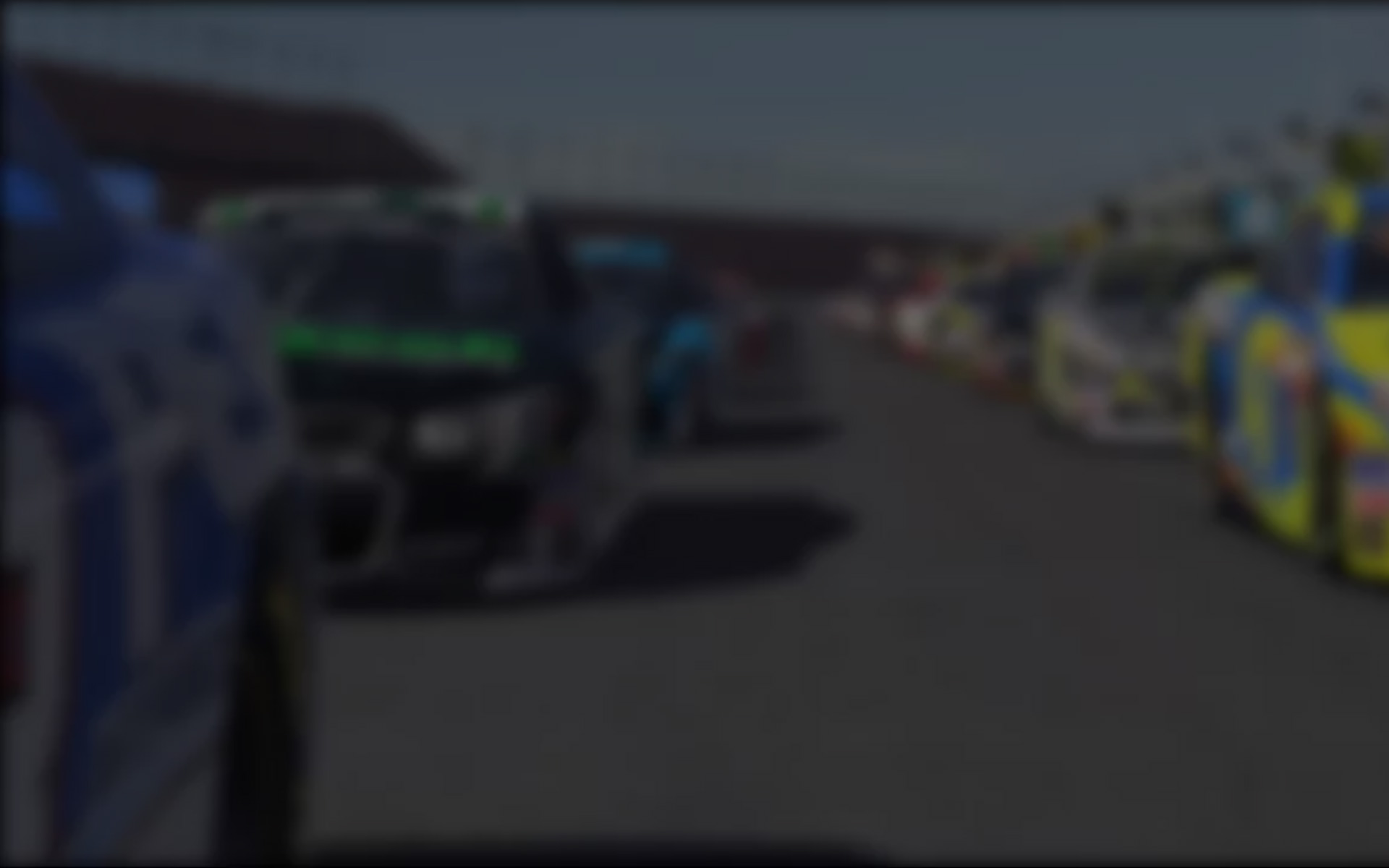 Irwindale, home of this year's X-Games Global Rally Cross events, was the destination for Week Two of the NASCAR iRacing.com Late Model Tour. For sim-racers this track was a unique challenge, one with a very different racing groove than many anticipated. Late Models would prefer to stay above the dotted white line on the track on entry while dipping just below in the center to give themselves ample room to set-up their exit of the corner, also above the white line. With overtaking on the bottom exceptionally difficult, if you wanted to make a move you either had to force a slide job and hope you carried the speed to maintain the top into the next corner or you needed to lay down the bumper and pass with force.
The 3796 Strength of Field saw a score of high ranking Late Model drivers took to the track to battle for victory. At the drop of the flag Kevin J Myers jumped to an early lead after quickly getting to the preferred high side. However, by Lap 12 Kevin Burris had managed to close the gap a little at a time. Approaching the twenty laps mark, Burris started to look under Myers, but to no avail. Then in Turn One on Lap Twenty-One, Burris forced his way by Myers in a controversial pass that saw him lay his bumper to the left rear quarter panel and door area of the lead car. This sent Myers into a long slide seemingly destined to end in the wall.   Remarkably, Myers got up on the wheel and drove out of the slide, losing only two positions in the incident.
Myers would lose another position to Robert ONeal due to a tire rub on his left rear tire, as well as a slow leaking puncture on his right rear where the bead of the tire had partially melted away.  Meanwhile, Burris came across the line just a second and a half ahead of Nick Zautner with ONeal three and a half back.  Myers salvaged his run, and despite being the fastest car on track, finished fourth ahead of Daniel Williamson with Alan Tardiff sixth, followed by Brian Holman in seventh, both eleven seconds back.
Josh Brimecombe was the last car on the lead lap at fourteen seconds behind the leader. Tyler Lester finished ninth a lap down followed by Kenneth Smith in tenth and Stephen Johns in eleventh. Cory Bowks also finished a lap down in the twelfth position. Then Josh Crunkelton finished three laps down in thirteenth followed by David Lam twenty two laps down. Lewis Crisp Jr. suffered some early misfortunes on lap eleven and would clock in at fifteenth, the last position.
As the NASCAR iRacing.com Late Model Tour heads to Week Three and the high banks of Bristol here's how the championship stands: In first is Nick Zautner with 571 points followed by Heath Smith at 540. Peter Fisher (504) sits third, just ahead of Chad Detillier (501). Daniel Mabry has 497 points to his name and places fifth while Myers is trying to make up for quite a few races that were ruined by over aggressive drivers in the early portion of the season. He currently sits sixth with 478 points. Nathan Hammock (477) is seventh ahead of  points and is followed by Kris Marlow (471) and Colin Allman (462) with Brandon Atkinson at 455 rounding out the top ten. It is also important to mention that pro drivers Kevin Burris and Paul Kusheba are yet to run a race this week and still sit in the thirteenth and fiftheenth position.
Week Three heralds the only big-track on our calendar as series regulars have pushed for an all short track schedule. Even still, Bristol Motor Speedway provides a lot of spectacular racing with both the top and the bottom groove equally fast. The question is, will the series regulars tolerate even one concession to the big track mentality? Even when it is a track where tire (and throttle!) management is essential? Tune in next week to find out!
---
You may also like...
---