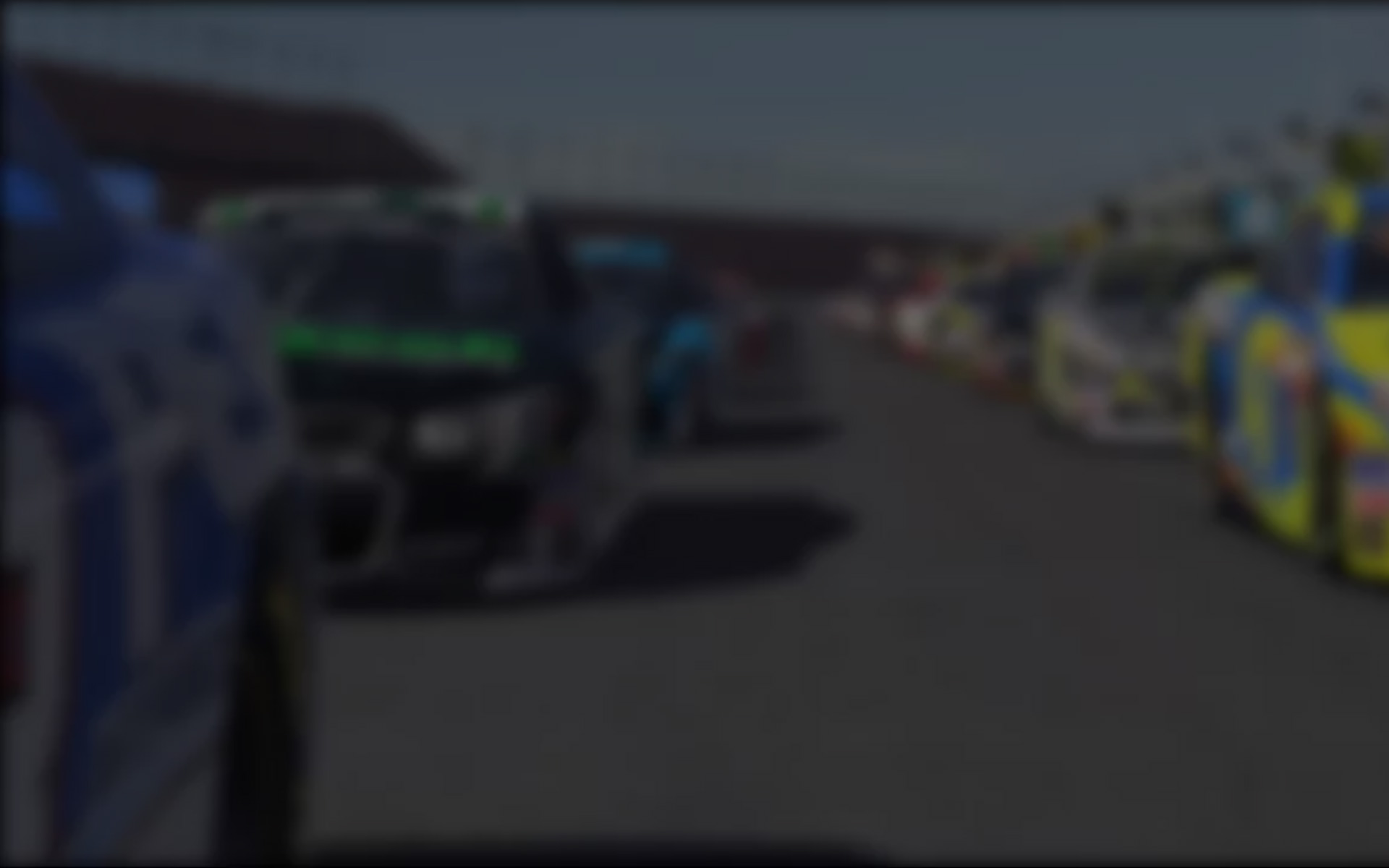 The iRacing.com Street Stock Series, one of iRacing's few fixed set-up series, made its way south to Charlotte Motor Speedway this past week. Top sim racers looked to tackle the 1.5 mile track which is known to create pack racing with these low horsepower cars, which also means "The Big One" was on everyone's mind.  While there was plenty of bent, folded and mutilated virtual sheet metal to go around during the week, NASCAR iRacing.com Series World Championship driver Tyler Hudson (Mid-South) made his presence known in a big way.
"I've been hearing how fun the street stock class was at the big Charlotte oval . . ." – Tyler Hudson
Weekly High Strength of Field
Hudson, who also races an iRacing.com-sponsored Super Truck at Hickory Motor Speedway, won the week's highest Stength of Field (SoF) race, which paid 201 points for the victory. Hudson started second in the 20 lap race but quickly took the lead on Lap Five and never looked back. When it was all said and done, Hudson would lead 15 laps in route to a 0.192 win over his club mate, Korey Henry (Mid-South). Henry earned 182 points of his own for his second place finish while third place finisher Connor Cross (Ohio) netted 164. Ryan Carwile (Virginias) finished 6.356 seconds behind, in the fourth and received 146 points for his effort. Rounding out the Top Five was pole sitter Michael Smith (Virginias), who lead the first five laps before contact sent him backwards.
Weekly Standings
Finishing second in the weekly standings for Week Three was Justin Brooks (Carolina). Brooks ran four races, with two wins and three Top Fives for a total of 190 points. Eugene Mozgunov (Central-Eastern Europe) finished the week in the third spot, winning his only attempted race of the week which netted the Russian 181 points. Rounding-out the Top Five this week was Tucker Wingo (Mid-South). Wingo ran six races this week, winning two of those six while having five Top Five finishes and finishing the week with 177 points.
With his win in the highest SoF race of the week, Hudson stood atop the weekly standings with 201 points. Hudson ran two races, winning both while leading 28 of 40 total laps.
"I've been hearing how fun the street stock class was at the big Charlotte oval through friends," he said, "so I decided I would give it a shot. Turned out to be quite the experience and tons of fun."
Season Standings
After three weeks of the 12 week season, Elmar Erlekotte (DE-AT-CH) still sits in the first overall position. Erlekotte participated in two races this past week, finishing second and fourth. For his efforts, Erlekotte increased his point total 171 points to 486. Only six points back with 480 points is Ryan Field (Massachusetts). Field chose to run only one race at Charlotte, but made the most of it, leading every lap en route to a victory worth 175 points. Stevie Minson (Virginias) still maintains the third overall position after running three races where he finished second, third and eleventh. Minson added 147 points, bringing his total up to 448. Michael Vaughn (West) moved his way into the Top Five after running four races during Week 3. Vaughn had a pair of second place finishes as well as a seventh and a ninth, netting 156 points for the week and bringing his season total to 447. Kyle Hayden (Michigan), points leader after Week 1, drops one spot to the fifth position. Hayden attempted four races at Charlotte, finishing second, fourth, fourth and sixth while netting 130 points for the week which brought his season total to 429.
Weekly Qualifying
The qualifying charts saw many new names at the top this week at CMS, with Smith topping the time sheets with a lap of 36.565 seconds. Second belonged to Hudson with a 36.595s lap. Wingo, the only other driver to run a sub 36.6, found himself in the third spot on the charts with a lap of 36.598s. Jeremy Crandall (Carolina) was fourth on the charts, getting around CMS in 36.601s with Cross a mere one thousandth of a second slower in fifth.
Next week the iRacing.com Street Stock Series will travel even further south, to the Peach State where drivers will attempt to tame the 3/8 mile Lanier National Speedway, which is known for close quarters racing.
---
You may also like...
---