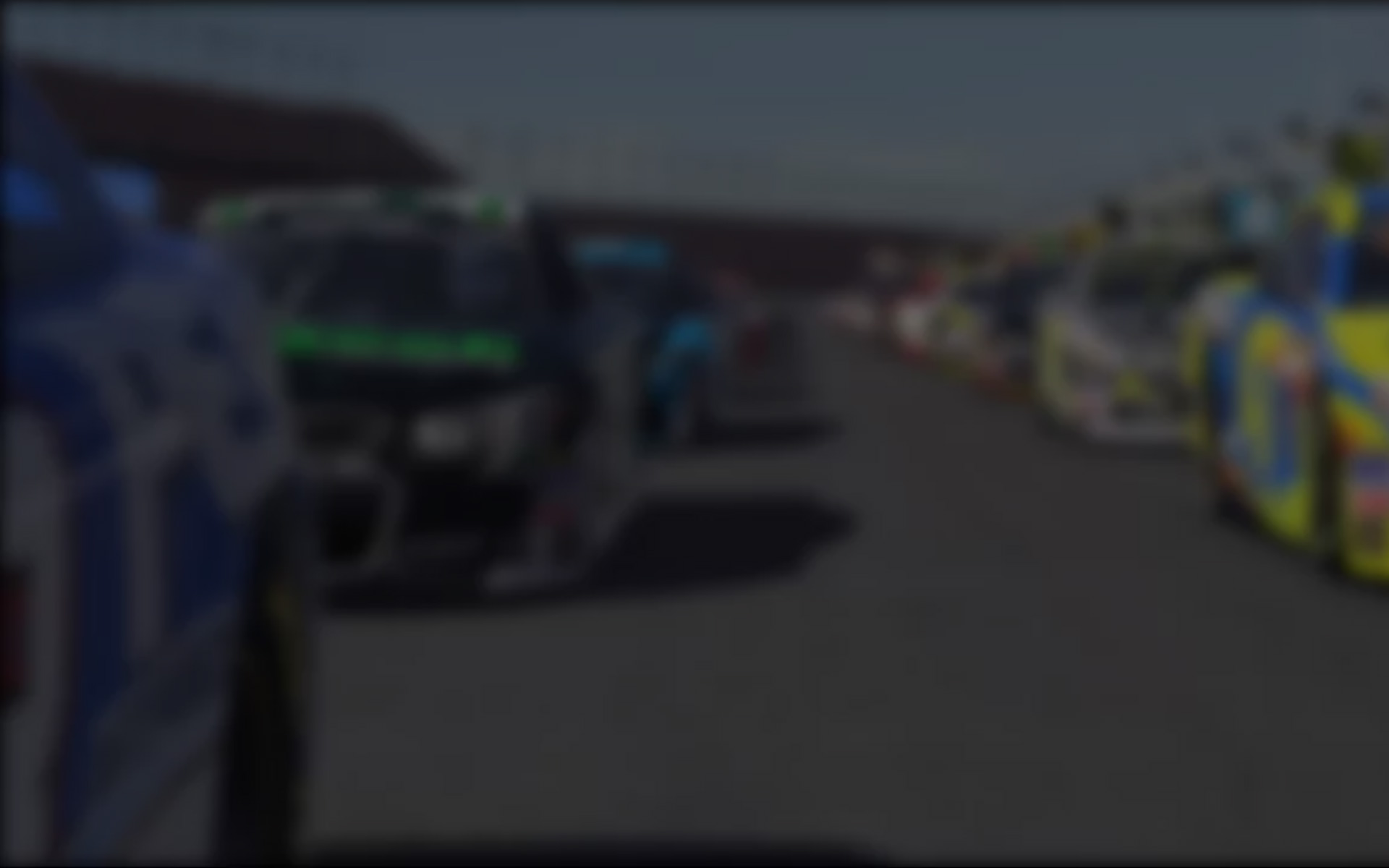 Circuit Gilles-Villeneuve, Montreal, Canada; the circuit that week 10 of the iRacing Grand Prix Series will be tackling. The drivers had 42 laps awaiting them where concentration needed to be incredibly high. With the concrete walls in close proximity of each of the 13 turns, over the 4.361km distance, a small misjudgement could prove costly and, ultimately, lead to a retirement.  Quickly.
GTRos' Alvaro Ramiro took pole position ahead of the man who has been on a late season charge: Mack Bakkum. Only .004s separated their qualifying times, and if this followed in to the race it was going to be a closely-fought contest. On the other hand, for some sim racers further back in the grid their only contest would be with the wall . . .
Vincenzo Amico and Oscar Mangan both got caught up in a start line scuffle, albeit it wasn't these two who came together initially. Mangan's TNT Racing teammate Daniel Bida experienced some wheelspin as he powered through the gears, catching Amico out as he went for a gap which suddenly closed when Bida's rear wiggled out of shape. Amico and Mangan tangled and ended up in the wall as the race's first retirees. The remainder of the opening lap was tight with drivers almost running over each other but, other than that, it ended pleasantly.
On Lap Six Renan Azeredo had a moment through Turn Nine which sent him spinning in the middle of the track, leaving him a sitting duck for contact, which was ultimately the case.  Trying to squeeze through a gap, Juan Luis Alfaro but tagged the Brazilian and sent him into a flying spin, thus ending his race.
Whilst Cam Stark was trying to cling on to the pack of seventh upwards he made a mistake which proved costly as he lost touch with the pack ahead. Slightly too greedy on the apex of Turn One, he went sliding over the grass and incurred a slowdown penalty. losing a position to Bida in the process. Although that was a small hindrance for Stark, Balazs Remenyik lost out even more. Up until the last corner of Lap Eight he was having a smooth and faultless race; that was until he spun his Vortex Williams-Toyota FW31 which demoted him behind Bida and Stark.
It wouldn't be long until the final chicane was once again a place of incident. This time it was Bida and Stark making contact. The Apex Racing Academy driver pulled up alongside TNT Racing's Bida after getting a good enough run off of The Hairpin to challenge. As the pair headed towards the braking zone for the Wall of Champions chicane there was no yielding in sight from either driver, and knowing two into one at that specific corner could easily end ugly . . . and to an extent it did. There was a bang of wheels and a sideways moment, but it was more a loss of time than anything terminal for either driver.
In a total reversal of Stark's move on Bida at the final chicane, Bakkum overtook Ramiro for the lead . . . interesting enough Bakkum was on the inside and Ramiro thought sensibly enough to yield as he realized two was one too many for the available tarmac. Nonetheless, Bakkum would be looking to make a move and escape from Ramiro who had kept him at bay for 10 laps with Pablo Lopez hot on their heels. What happened next to Ramiro – albeit another 10 laps later – was incredibly weird. The Spaniard had escaped with no damage in his first stint and pulled-in for seemingly a routine pit stop at the halfway point on Lap 20; although as he pitted it looked as though he encountered a speeding penalty and –  then — to make matters worse his Williams-Toyota FW31 ground to a halt only a few metres short of his pit box! I can only surmise think he ran out of fuel and then had to take a tow to his pit box, either way whatever happened caused him to lose a lap!
Lopez was the first of the leaders to blink, pitting in on Lap 23.  Fortunately for him he exited pit road in clean air and was not hampered in his efforts to catch Bakkum. For his part, Bakkum didn't stay out for much longer, pitting the Radicals Online entry on schedule just a lap later; effectively covering Lopez and meaning only a huge mistake would deny him the win. Stark's day got a whole lot worse on Lap 25 when he binned it coming out of The Hairpin. A lack of judgement on the throttle sent him spiralling in to the inside barrier, giving him left rear suspension damage which was apparently beyond repair — although it felt driveable! Bakkum and Lopez sailed on past as they went on their way to duel for the win.
After the pit stops had panned-out the driver to keep an eye on would be the hard charging Remenyik. Whilst the top three were all but set in stone, fourth down to sixth was as open as you could like  The Vortex driver was lapping quicker than the two directly ahead – and almost on par with the leaders for that matter – and his fellow Vortex teammate Ricardo Torres may have to watch his back as they came towards the end of the race. Valkeejarvi was the first too fall into Remenyik's clutches.  Ater having the Finn on the back foot throughout the majority of Lap 36 the Hungarian had a run down the Casino Straight and in to the Wall of Champions chicane . . . somehow two into one paid-off and worked without any noticeable contact! Torres was next up and it was hard to think that his teammate wouldn't be able to get past.
It didn't take long for Remenyik to catch Torres, not with the Hungarian pushing as hard as he dared! It may have been a harder task to overtake his teammate had he not misjudged his line through the final corner which set the Remenyik right on his tail for an overtake on the penultimate lap. He made quick work of it taking, Torres around the outside of Turn One 1, making sure he was on the inside of Virage Senna to seal the move as they headed towards the first chicane of the lap. Torres did all he could to fight back, but his teammate was having none of it and consolidated the position to move back into fourth place.
Once again Bakkum had dominated the race; although not from start to finish as he had the task to pass Ramiro. Either way it was a solid result once again; he brought home a week's high 272 points for winning the 4399 SOF by 10 seconds from Pablo Lopez whilst Joni Backman – who drove a quiet race  – finished third and took home a valuable 230 points. This result jumped Backman up to sixth overall and fifth in the road to pro standings, jumping Stark by four points. The latter end of the top 15 in A class drivers is certainly spicing up, Valkeejarvi did his chances a world of good by taking in 213 points in another race to promote himself to P12 whilst Bakkum is all but certain to knock someone down come the final week of the season. It's getting to crunch time now and the fast, flowing circuit of Phillip Island is up next!
---
You may also like...
---