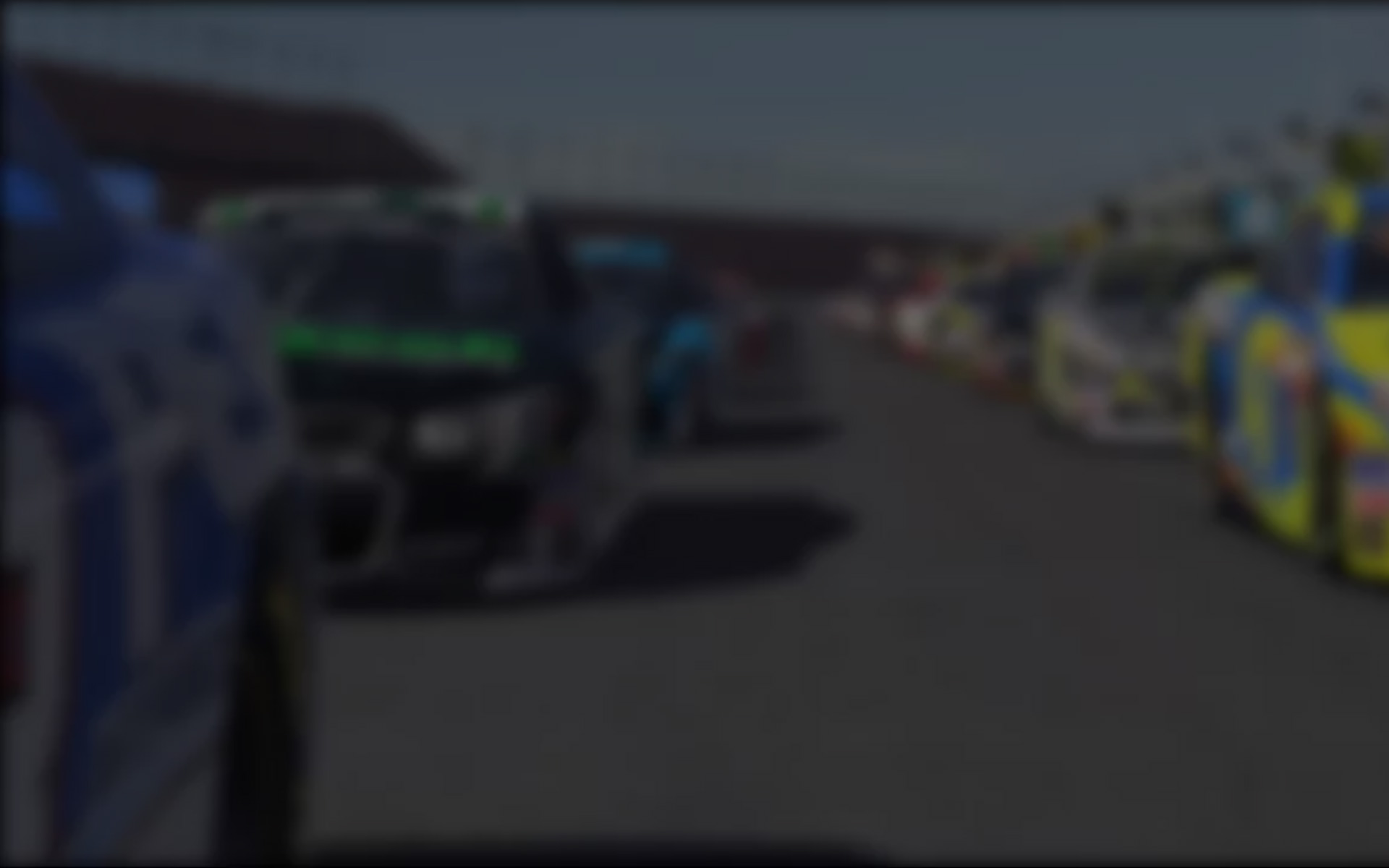 Dukehart Takes Season Opener at Texas; Ringler Posts Strong Start in Title Defense
Jeff Dukehart has been near the top of championship standings throughout all of the three previous seasons in 2014 in the iRacing NASCAR Class B Open Oval Series, but for at least one week, he stands alone at the top following his Season 4-opening win at Texas Motor Speedway.  It was a strong start for the Nashville, Tennessee native and with the final season of 2014 being half as long as past campaigns, Dukehart only has five races to fend off a talented group of pursuers including the 2014 Season 3 champion, Trent Ringler.
Like many of the bigger tracks on iRacing, the 1.5-mile tri-oval in Fort Worth, Texas saw a huge turnout to kick- off the season with 64 sim races going official.
Ringler started 2014 with a seventh place showing in the Season 1 championship which was won by Fernado Bento.  In Season 2, Ringler led most of the season, but missed the title by just a half point to Anthony Price in the final week.  Ringler finally broke down the door in Season 3 to claim his championship and for the first time in this series, opens the season as defending champion.
"To finally get the championship in Season 3 was a bit of relief," said Ringler.  "I was really wanting to get that done.  Coming into the last few weeks was fairly intense even though it looked like I had it wrapped-up.  In Season 2, Anthony (Price) made a big run at the end of the season to tie the points and take the championship.  I wanted to make sure that didn't happen again."
Ringler got off to a quick start in that defense on opening night of Texas week, scoring 204 points in a runner-up finish to his Lowline Racing teammate, Brian Ammerman, who took away 215 points from the 3407 strength of field race.  Incidentally, Ammerman entered the season a 2014 Season 3 iRacing NASCAR C Open Oval Truck Champion.
"The team has come together and I feel like this was a great start coming off of a good Season 3." – Jeff Dukehart
Ringer continued. "We were pretty good this week at Texas, but so were several other guys.  I feel I got fairly lucky to get the 204 points that I did on Monday.  Several of the fastest guys this week were not in the field that race.  I only ran a few races this week so I really didn't get to race against them to see just how good we were.  I'm looking forward to Phoenix as that is a much better track for me."
It looked like the Lowline pair would open the season at the top, but two nights later, the 8:00pm EST event boasted a 3452 SOF and with it, a top spot in the series standings to its winner.
BRB Motorsports' Jeff Dukehart started eighth in the 18-car field that featured eight drivers from Division One with the remaining 10 drivers coming from Division Two.
Michael Vanosdol with TruSpeed Motorsports opened the race from point with Banshee Autosports' Donovan Johnson starting shotgun.  Vanosdol, Johnson and Allen Lewis would swap the lead several times during the first half of the 90 lap event.  After the final of three yellow flags on Lap 49, Dukehart took the lead on the restart.  Johnson and Lewis came back to the front a few laps later and continued to swap the lead.  On the race's final lap, Dukehart's strategy to conserve tires paid off with a last lap pass coming out of Turn 2 on the way to a .301-second win over Johnson.
Lewis finished third 2.899 seconds back while Dukehart's BRB Motorsports teammates, Brian Lovingood and Brian Tate rounded out the top five 4.311 and 5.615 seconds back respectively.
Johnson led the most laps for the race with 58 while also turning the event's fastest lap of 28.913 seconds.
"BRB gave me a great long run car and I was just biding my time," said the 49 year-old Dukehart.  "I knew if we had more than a 10-lap run at the end, I could get Donovan (Johnson) and I did on the final lap.  The team has come together and I feel like this was a great start coming off of a good Season 3."
The win earned Dukehart 217 points which narrowly edged Ammerman whose earlier win netted him 215 markers.  Dukehart picked-up top fives in his other two finishes while Ammerman also gained a top five in his other start.  Ringler's runner-up finish to Ammerman got him third place points with 204.  Randall Faulks (BRB Motorsports) grabbed two wins and a top five in three starts placing him fourth for the week with 203 points.  Tony Scalpelli and Larry Scott Jr. both picked up a win for the week and finished in a dead heat in the standings, rounding out the top five with 202 points.
The "What's This Thing Called a Job? Award" goes to Chris R Jennings who started 39 races at Texas turning 3295 laps, barely edging out Donovan Johnson with 38 starts and 3130 laps.  Of those 38 starts, Johnson grabbed the checkered flag 15 times along with 30 top fives.  Johnson also led the most laps, racking up 1161 from the point.  Michael Vanosdol started from the pole in 11 of his 17 starts.  The "Safe/Lucky Driver Award" goes to Brian Tate, who went incident-free over 349 laps of sim racing in four starts (while tapping-out this report during cautions – Ed).
Division winners for Week 1 at Texas were: 1 – Jeff Dukehart 217 (Mid-South).  2 – Tony Scalpelli 202 (Illinois).  3 – Arthur Pelchat 127 (Florida).  4 – Shane Mabe 115 (Florida).  5 – Chad Schaefer 100 (Pennsylvania).  6 – Damien Pignataro 84 (Florida).  7 – John A. Schulte 87 (Indiana).  8 – Vinicius Drey 99 (Brazil).  9 – David Allen 72 (Carolina).  10 – Roberto Ody 5 (Brazil).
Week 2 will put the iRacing NASCAR Class B Open Series on the new layout of Phoenix International Raceway.  The redesigned 1-mile oval in Phoenix, Arizona with its unique open dogleg in Turn 2, will pose an interesting challenge for the second race of the schedule.  This, coupled with slippery exits to the corners at Phoenix, should heat things up in what figures to be a frantic run for the final championship of 2014.
---
You may also like...
---