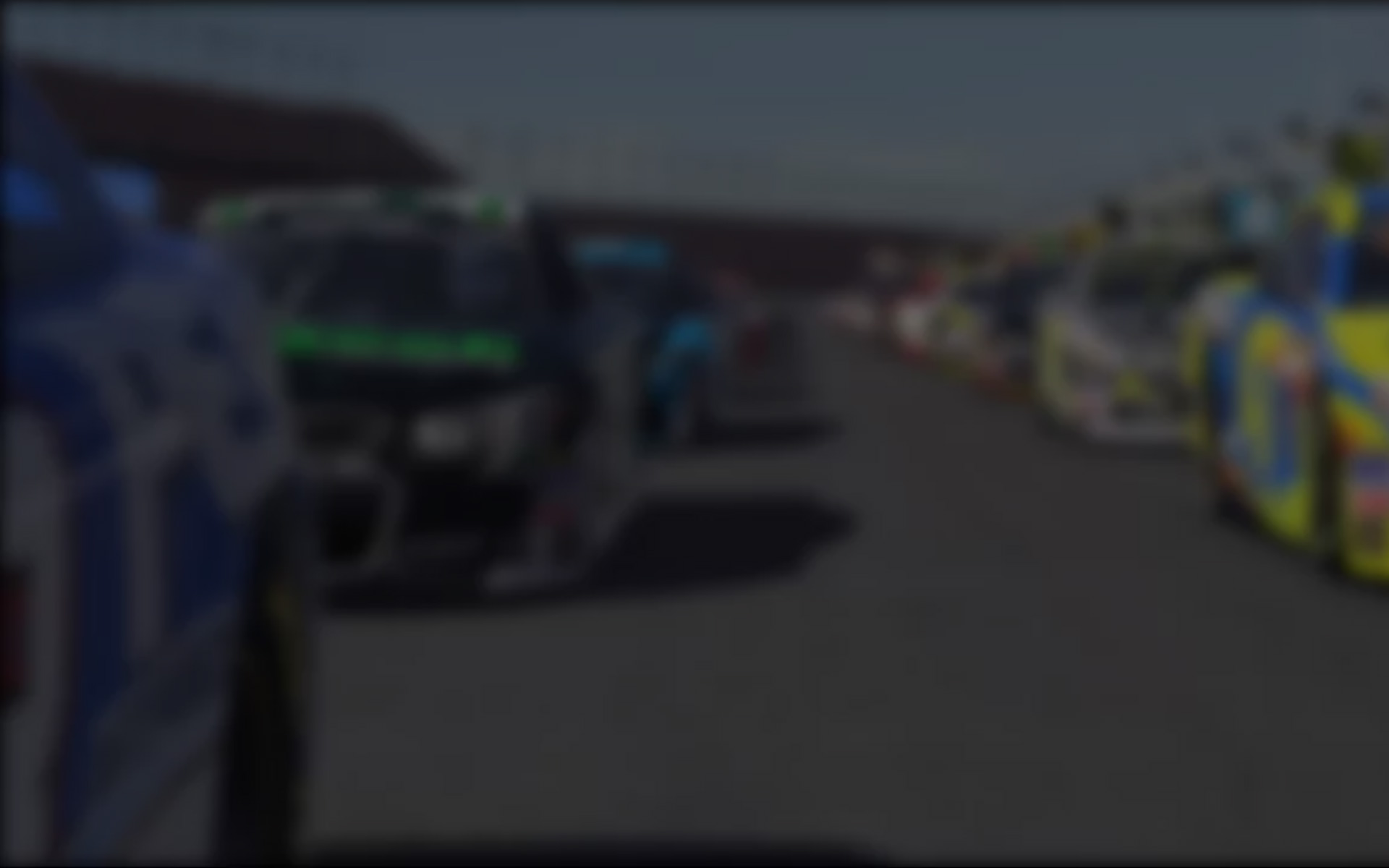 Brad Davies passed JR Motorsports teammate John Gorlinsky for the lead with nine laps to go to win the NASCAR iRacing.com Series World Championship (NiSWC) race at Chicagoland Speedway. The 2010 NiSWC runner-up survived a run-in with Josh Parker on pit entry in the closing stages of the race to claim a series-best third win of 2011 while also improving his position in the championship standings.
Coming into Chicagoland, all the sim racers knew a good qualifying position would be critical to their chances of success as passing has proven to be extremely challenging once the new tires recently introduced by iRacing have a few laps on them.  Parker put himself in the best position possible by taking pole position with a blistering lap that was half a tenth faster than anyone else could muster.  And when the green flag flew, he quickly built a big lead which he would keep until the first round of pit stops. When the yellow waved on Lap 46, Parker and most of the field opted to take four tires while Gorlinsky gambled and only took fresh right side rubber. The move put Gorlinsky in the lead, and he hoped his two tire call would pay off.
Gorlinsky kept Parker and the rest of the field at bay when the race went back to green, but the pace was quickly slowed by a massive crash off of Turn Four triggered by contact between Brian Schoenburg and Patrick Fogel, which Fogel sent into the wall. The cars behind them piled in, taking-out many potential contenders and bringing-out the third caution of the race.
With one more pit stop needed, Gorlinsky had his work cut out for him.  However, his earlier decision to take-on just two tires ended up being the right call as he quickly built a comfortable lead over Parker and Davies. Still, Parker clearly had the car to beat; he just needed to find a way around Gorlinsky.
As the final round of pit stops approached, all three drivers knew the race could be won or lost on pit road. The leaders all headed to pit road on Lap 101. Parker got on the brakes a bit too hard on pit entry, locking his rear tires and spinning across the nose of Davies' Chevrolet and into the wall, damaging both cars. Parker got the worst of it and struggled the remaining 33 laps in route to a disappointing tenth place finish. On the other hand, Davies only suffered minor fender damage while Gorlinsky escaped the incident altogether and won the race off pit road after, again, taking-on just two tires.
Gorlinsky may have retained the lead, but Davies was close behind and enjoyed a slight advantage with his newer left sides. Although Gorlinsky did an admirable job holding-off Davies lap-after-lap, inevitably the Floridian found a way past with just nine laps remaining.   Gorlinsky had little chance to relax as another hard-charging teammate — Derek Wood — loomed in his mirrors.  Wood duly slipped into second place just as Nolan Scott's right rear tire blew with four laps remaining, bringing-out the fourth yellow flag of the night and ending the race under caution.
Davies thus came across the line to take the win, leading a JRM sweep of the top four finishing positions with Wood second, Gorlinsky third, and Thomas Lewandowski grabbing fourth after a solid effort.  Series points leader Ray Alfalla rounded out the top five while Thomas Hazard, his closest pursuer in the quest for 2011 NASCAR iRacing.com Series World Championship crown (and the accompanying $10,500), crossed the line in eighth position behind inRacingNews' own Jordan Hightower and Josh Berry.
As a result, Alfalla slightly stretches his advantage over Hazard and now leads the championship by 35 points. With a maximum of 48 points available in any one race, Alfalla enjoys what amounts to nearly a full race lead with only four events remaining in the season. Brad Wright sits third, 40 points off the lead and only five points behind Hazard.  Davies moved up to fourth in the standings with his win while Gorlinsky occupies the fifth spot, although both drivers are more than one full race worth of points behind Alfalla.
With only four events remaining in the 2011 NASCAR iRacing.com Series World Championship, it is now or never for any driver still thinking about catching Alfalla.   The next chance to close the gap comes at Dover International Speedway in two weeks.  With time running-out on the points race, tempers are going to be wearing thin at the Monster Mile which is known for its tight racing and multi-car incidents.  Will this be the week that Alfalla finds trouble or will he yet again extend his growing championship lead? Tune-in to the PSRTV broadcast on www.iRacing.com on Tuesday, August 30 at 9 pm EDT (Wednesday, August 31 at 01:00 GMT) to catch all the action at Dover!
---
You may also like...
---