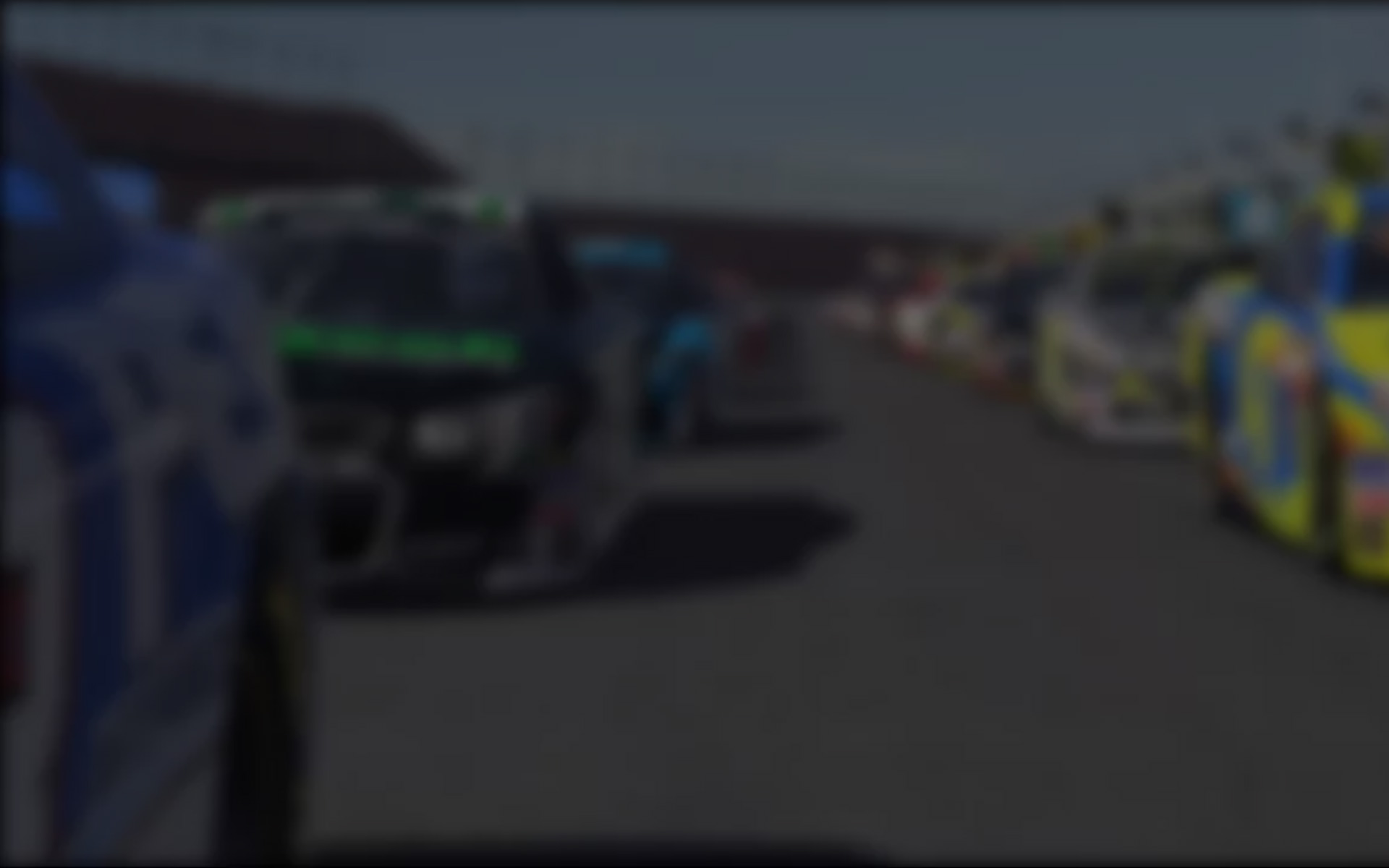 I felt very, very confident heading into the iRacing.com Brickyard 400 Benefiting LIVESTRONG. I had done very little testing but felt comfortable with the iRacing Advanced setup almost immediately. I knew I could keep the car on the track and also knew that if I needed to push I could put out some decent lap times. I ran a single qualifying session and amusingly set exactly the same lap time (down to the thousandth) as someone I had been communicating with about the event on Twitter. I felt I probably could have done a faster time, but my qualifying time felt comfortable and I really wanted to not drive over the limits of my skill or the setup during the race. My time of 43.690s was enough to put me fifth on the grid anyway.
Starting on the inside was a definite advantage and I saw that quickly when I managed to start fifth and be third before the end of lap one. I stayed third until Lap Ten when Dwight Plesh got a little sideways and then eventually pitted under the next caution, allowing me to take second.
I ran in the top-three until Lap 39 when I pitted out of the lead. This put me off sequence with just about everyone else and for the rest of the race I would have to fight my way forward with fresh tires and then try to hold track position on worn tires when others had pitted.   I restarted 18th on Lap 44 and by Lap 62 had worked my way back into the top-five, leading Lap 66 due to drivers ahead of me fighting too hard for position and all losing out. I decided to pit on Lap 68 and this put me 17th for another restart and back on-sequence with the leaders. I decided to pit again on Lap 76, figuring that my off-sequence pitting and quick pace going through the field on previous runs meant I could win the race that way if I stuck with it.
The Lap 76 restart from 16th-place was good and I quickly moved my way back to the front, leading by Lap 91. I led until Lap 100 when drivers with fresher tires started to come up behind me, and just like I had in the entire race I let them by as soon as they were close enough to do so. I comfortably ran in the top-five again though and eventually pitted on Lap 104.
Restarting in eighth-place on Lap 106 with fresher tires than those ahead of me, I now knew I had just one more pit stop to make to finish the race and that I should have fresher tires then everyone else for the finish. I battled with the leaders for the entire run, taking advantage of those who were racing too hard and making contact with each other. I even led on very old tires by Lap 138, eventually pitting on Lap 146 for my fresh tires.
For the restart on Lap 148 I ran in sixth-place and this is where the impatience of some of the drivers in the event became annoying… We had three restarts between Laps 148 and the finish because people wrecked in the first turn on each green flag. I managed to pass two cars around the outside on the Lap 148 restart (yes, on the outside), but never got a chance to get up to speed for either of the other two restarts, so remained stuck in fourth.
It became a terribly disappointing finish. I really hoped the race would not end that way, especially ending under a yellow flag.
Had you told me before the event that I would finish fourth, I would have been delighted. I never pushed my car the entire race, I never fought anybody for a position when being passed and I only really passed those ahead who gifted me the position by making a mistake. I had a lot in my pocket and even though I should be pleased with fourth, I am not. I never got the chance to take my hand out of my pocket and show what I had.
Still, I suppose that's racing… You win some, you lose some, and I can't really say I am upset Michael Kundakcioglu got the win… He seemed like a really decent guy and was really pleased.
I am pleased, of course, to have had no incidents. Yes, that is right, I battled through the entire field multiple times and I fought for the lead, yet I emerged with no incidents and a massive gain of 1.02 on my safety rating. My fastest lap, on Lap 116, was a 53.914s.
---
You may also like...
---