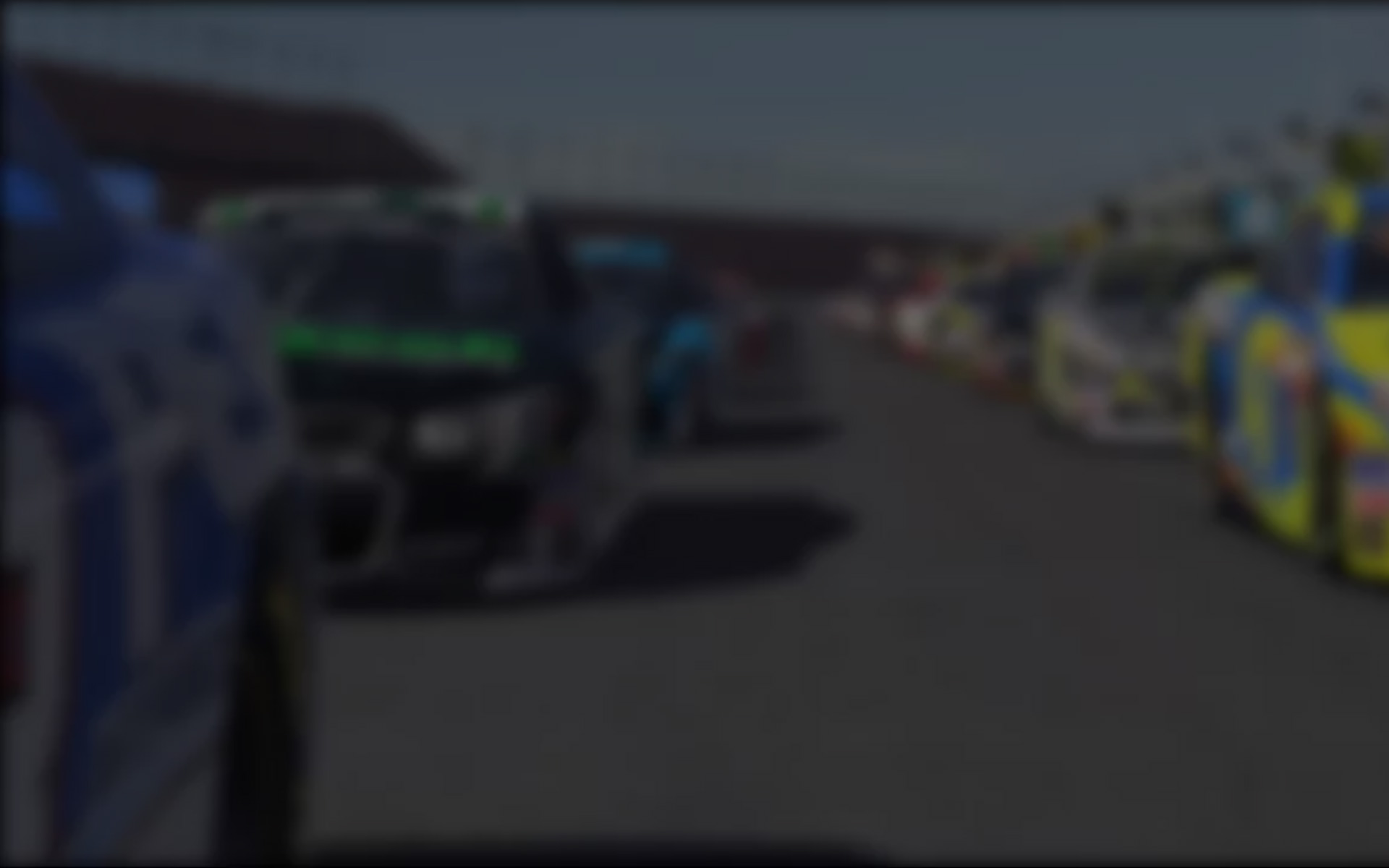 BRB Motorsports' Brian Lovingood has shown in the past that fast tracks with low banking are right in his wheel house.  It was more of the same in Week 6 of the NASCAR iRacing.com Class B Series Open as the Southport, NC native had a dominant week of sim racing at the one mile Phoenix International Raceway.
Lovingood entered the week lying third in the overall championship and with an earlier season win at Twin Ring Motegi where he was in a class by himself. However, with the second half of the 2015 Season 1 schedule leaning toward the larger high-banked tracks, it was important that he take advantage of an oval suiting his skill set.
Participation for the oddly-shaped desert oval was much like Week 5 at Iowa, with 25 races going official and 177 drivers making the trip to the virtual Valley of the Sun.
Randall Faulks entered the week with an 86-point lead over BRB Motorsports teammate, Jeff Baki Jr. with Lovingood a distant third, 157 points back.  All three drivers would be in the week's feature race which took place at 9:00pm EST on opening night.
The 20 car field boasted a strong 3998 strength of field.  Two-time series champ, Trent Ringler with Lowline Racing, started the race from an uncommon position as he lined up shotgun on the field to Lovingood.  Ringler's attempt at a three-peat championship had gotten off to a rough start and stood 11th in the point standings heading into PIR.
Although eight caution periods slowed the pace and kept the field close during the 100-lap race, the outcome was rarely in doubt as Lovingood led the first lap and never let go, leading flag-to-flag.  GaleForce Racing's Larry Scott Jr. gave the leader a challenge during the final 10 lap green flag dash, but could not muster a pass as Lovingood held on for a .407s victory.  BRB Motorsports, Shannon Segler took home third 1.086 seconds back while Ringler earned a strong fourth place.  Faulks grabbed fifth to preserve his points lead 1.551 seconds behind Lovingood.
"Getting that win on opening night was huge." – Brian Lovingood
Not surprisingly, given his dominance, Lovingood set the fastest lap of the race (27.208s) while earning 252 championship points.
"This was a pretty strong week for me, but getting that win on opening night was huge," he said.  "The yellow flags helped me control the pace and stay out front.  It would have been interesting to see how things would have played-out with some longer green flag runs, but I think I had the car to beat either way."
The top five from the feature race proved to be the top five for the week as well.  Lovingood won three of the four races he entered and added a top five in the other while leading 354 of 400 laps.  Scott Jr. earned 238 points with two wins in three starts while Segler netted 225 points getting two top fives.  Ringler grabbed a win and three more top fives in four starts on his way to 212 points while Faulks rounded-out the top five for the week with 198 points thanks to a pair of top five showings.
Robert Ingleman and Gregory Bryant got the most out of Phoenix week, each starting nine races turning 796 and 795 laps respectively.  John Mycka earned four wins in six starts while Brian Vieira snagged five poles in seven starts.  Scott Jr. was the safe driver of the week with 300 incident-free laps at Phoenix.
Although Faulks increased his championship points lead to 103 points heading toward the second half of the season, Lovingood cut into his deficit to Faulks and now holds second overall.  Segler moves up to third 148 points back while Baki Jr. dropped to fourth 152 behind.  Division Two leader, Jason Lupo, moved up to the top five overall and trails Faulks by 324 points.
"Our team chat should be pretty entertaining for the next month or so." – Randall Faulks
"Unless something crazy happens over the second half of the season, it looks like I'm slugging it out with my BRB teammates for this championship," said Faulks.  "None of us have won before and I know those guys want it just as much as I do, so our team chat should be pretty entertaining for the next month or so."
Division winners for the Week 6 at Phoenix were:  1 – Brian Lovingood 252 (Carolina).  2 – Shane Parish 185 (Texas).  3 – Robert Dillow 147 (Virginias).  4 – Alan White 156 (Canada).  5 – Bennie Holloway 92 (Carolina).  6 – Paul Krumrei 112 (Midwest).  7 – Ervin Sweat 69 (West).  8 – James Sweat 33 (West).  9 – N/A.  10 – Ryan Broderick 6 (Pennsylvania).
Division leaders at the half-way point of the season are:  1 – Randall Faulks 1244 (Carolina).  2 – Jason Lupo 920 (Mid-South).  3 – Robert Dillow 677 (Virginias).  4 – David Spencer 538 (California).  5 – Eric Welch 420 (New England).  6 – Brian Bennett 299 (Carolina).  7 – Christopher Hunter 269 (Mid-South).  8 – Philip De Nardo 178 (Pennsylvania).  9 – Jimmy Bridgland 75 (Pennsylvania).  10 – Mack Jones 64 (Virginias).
It's time to go faster as the second half of the season picks-up speed.  Week 7 of the NASCAR iRacing.com Class B Series Open heads to 1.5-mile Chicagoland Speedway in Joliet, Illinois.  The bigger tracks by themselves seem to bring out more drivers, but participation could get an even bigger boost with A-Class series at a far less popular track.  Not only should there be more drivers for Week 7, but expect to see some of iRacing's top oval drivers make an appearance during Chicagoland week.
---
You may also like...
---