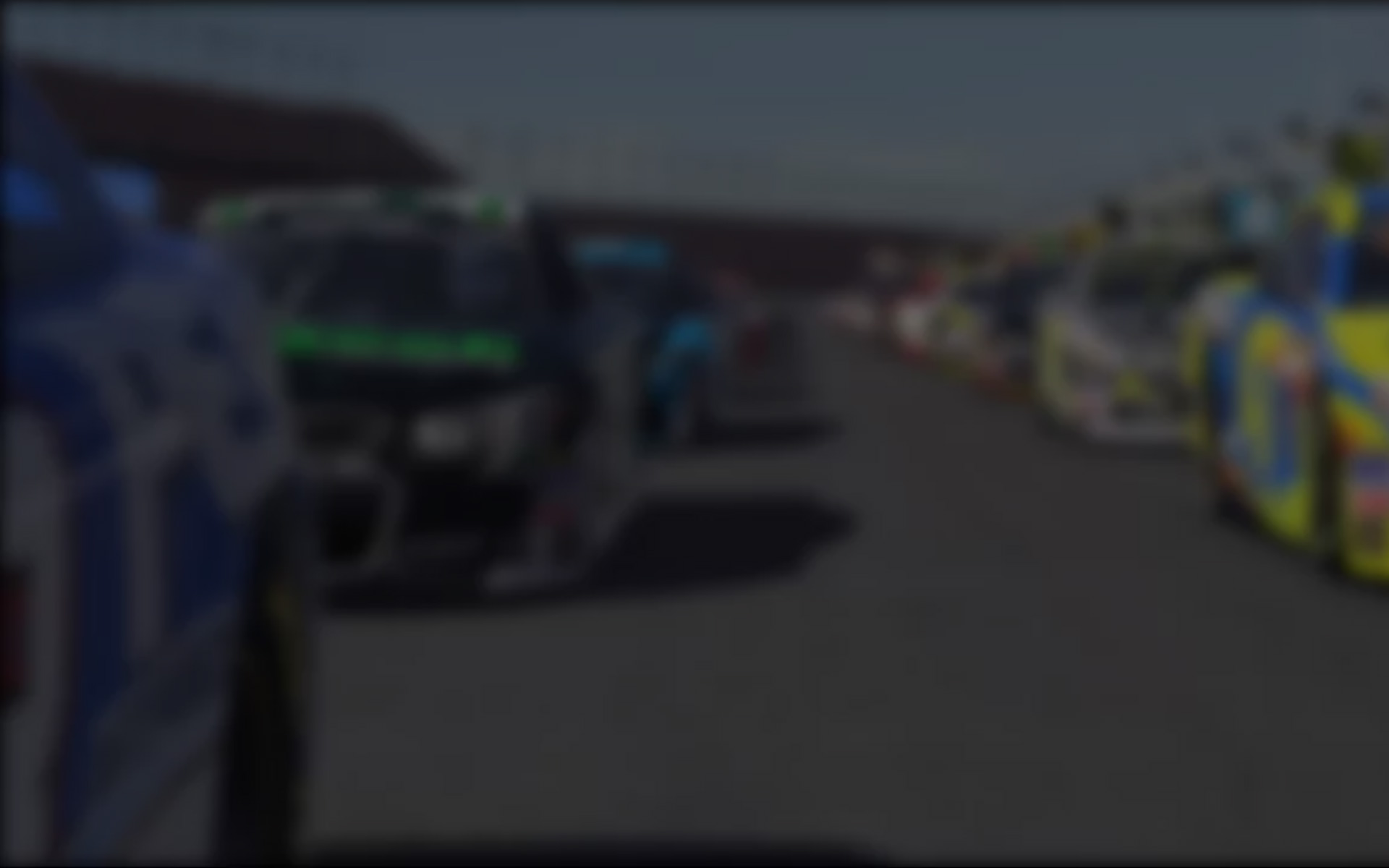 Week Eight of Season One of the Red Sox Racing League's 2011 schedule saw league members basking in the warmth of sunny south Florida for the 29 lap "Hurricane Hunters Grand Prix" at Homestead Miami Speedway's Road Course B.  The track's high speed 2.3 mile layout includes enough of the speedway section to lull the sim racers into a false sense of security as they reach speeds of 190+ mph before they dive into the infield to begin the eleven challenging corners.
Returning to the winning form which helped him secure the 2010 league championship, Les Turner took no prisoners in Florida.  The Canadian driver was eager to show fans and competitors alike that his poor showing in Indianapolis was not a sign of weakness.
As if they were reading his mind, most RSR members showed up early to ensure they could get enough practice to challenge Turner for the pole and win.  Despite some of the closest qualifying times of the season, Turner somehow managed to secure his seventh pole.  His qualifying lap time of 1:01.013 just beat out second place qualifier Reed Rundell's lap of 1:01.033.
The rest of the field demonstrated their eagerness to knock Turner off the podium as nine other drivers bested the 1:02 mark during qualifying.  Rows Two through Five were filled by Andrew Gantman (1:01.238), Terry McCuin (1:01.277), Jim Albertson (1:01.349), Robinson Shields (1:01.405), Bill Hadden (1:01.427), Jeff Sharp (1:01.430), Greg Harris (1:01.497), and Andrew Feldman (1:01.813).  The remaining grid spots were occupied by Kevin Kyle, Mike Grandy, Ed Sutcliff, Jeff Thomas, Chuck Johnson, William Kabela, Mark Plank, and Bill Pawluckie.
The banked front stretch made the standing start a bit tricky, but RSR members did another great job of giving room as they got up to speed.  Several drivers suffered off-track mishaps as they misjudged the distance needed to brake for corners on Lap One, but overall the first few laps of the race were clean and fast.
Grandy was looking strong early in the race, but his car suffered significant damage after it was struck as he spun out between Turns Six and Seven on Lap Five.  Pawluckie never had a chance to avoid the collision with Grandy because his view of the track was blinded as he followed Sutcliff through the double-corners.  One minute Pawluckie was seeing the rear wing of Sutcliff's car, the next he was reading the small print of the sponsor decals on the right side of Grandy's Williams-Toyota FW31.
Thomas was caught up in an early incident on Lap Six when Gantman hit the wall coming out of Turn Six and his car shot back across the track into oncoming traffic.  Jeff had taken evasive action and thought he had cleared the wreckage.  Instead, he just barely clipped Gantman's car rolling backwards, sending him hard into the tire barrier and into the pits for extensive repairs.
Hadden and Albertson both avoided sure disaster on Lap Six when Hadden made a dangerous pass on the RSR elder statesman entering Turn Eight.  Albertson's quick thinking and sharp reflexes saved both drivers from watching the rest of the race from their pit boxes.  Jim must have felt like his world was under attack, as he had just barely avoided another disaster two laps earlier in the same corner when Rundell came back on track right in front of him after a spin. As if Alberston needed any more stress . . .
"Our car stopped shifting into gear right at the end of our last practice," he explained.  "It was too late at night to work on the car, so the crew had to wait until the next day to begin tracing the problem.  It turned out the Williams was not the culprit. It was a broken wire at the shifter."
Rumors that someone at TeamDraft had electronically altered an online order Albertson's team had placed for spare parts could not be confirmed, but an investigation has been ordered to determine if the broken wire was part of that that shipment.  Albertson kept mum about his suspicions, but felt lucky the incident had reared its head prior to the race. "We caught it just in time," he explained, "but couldn't test the fix until race time, so I was very nervous."
"We caught it just in time, but couldn't test the fix until race time, so I was very nervous." – Jim Albertson
Lap Seven was the unlucky lap for Shields.  An early favorite to earn a podium finish, Shields was forced to retire after missing Turn Six and burying the front end of his car into the tire barrier.  Shields had been in fourth place when he retired.  Sharp nearly followed Shields into the tires as he lost focus watching the incident unfold in front of him.  He recovered quickly enough to avoid damage, but lost three positions as he tried to get back on the track and regain speed.
Forced pit stops in the RSR 2011 season have impacted each of the races on the schedule.  Homestead would not be different.  Harris began the pit cycle when he entered quite early on Lap 12.  Terry (just call me 'Mr. Short Pit') McCuin followed suit on Lap 17 when he gave up second place to Rundell in an attempt to make-up time on the leader.
Rundell's hopes for a podium finish looked solid despite that Lap Four spin which saw him lose a position to McCuin, but his luck would run out during the pit cycle.  Reed fell from second to eighth place after officials issued a black flag for an unsafe pit exit when he crossed the blend line early in Turn One.  The mistake was Rundell's second costly error in two weeks.  Undeterred by the penalty, Rundell eventually worked his way back into fifth place with a brilliant pass on Sharp with one lap to go.
Turner waited until Lap Twenty to make his stop.  His pit road entry was anything but normal as he drove in way too deep and slid to the entry cones sideways, but the Canadian managed to avoid penalty or damage as he expertly recovered in time to complete a safe pit stop without losing any time due to the blunder.
Turner's crew had studied the fuel issue during several practice sessions and assured their nervous driver he could make it on the small amount added during his pit stop.  "I had to save a bit of fuel on the last couple of laps as it was going to be close," said Turner.  As it was, his car ran out of gas and he had to coast around to the finish line for his post race photo.
"We almost threw it away on that pit lane entry tonight.  I knew exactly where I had to start braking to get down to speed for the perfect entry, but when I looked for the marker, it was behind me, so I just locked 'em down and slid my way to the cones where I released the brakes and corrected the slide.  The pit lane official dropped the radar gun and dove for cover as we approached, so I doubt I would have got busted for speeding anyway," Turner joked afterwards.
"The pit lane official dropped the radar gun and dove for cover as we approached, so I doubt I would have got busted for speeding anyway." – Les Turner
Harris took advantage of his early pit stop to enjoy clear sailing during the middle portions of the race.  He had climbed all the way to fourth place before a mistake on Lap 27 dropped him back down to 12th place.
Despite some of the closest racing of the 2011 season, 17 of the 18 drivers who began the race were still on track to take the checkered flag.  Concession owners throughout the stadium complained of low sales because fans didn't leave their seats for fear of missing the incredible racing action on display at Homestead.   Amazingly, nine of the eighteen drivers in the race managed to complete the event without an incident with Johnson and Kabela in particular using their clean racing styles to climb seven positions and share the "Hard Charger" award.
Turner's pit road gamble paid off as he was able to finish the race with a comfortable four second lead over McCuin who, in turn, enjoyed a ten second lead over Albertson when he crossed the line in second place.  "I'm so glad that I finally had a clean race from start to finish," Terry said.  "We started fourth and finished second.  We had nothing for Les today, congrats to him on yet another win.   We are looking forward to next week's race."
Albertson was happy with his third place finish.  "I am going to need a complete body massage after this one!"  he said.  "I lost two positions when Reed looped it coming out of the last hairpin early in the race.  Once I got back into fifth place, I had a hard battle with Greg for a while.  A super fast pit crew gave me the advantage I needed, as I moved into third place once everyone cycled through their pits.
"I managed to open the gap on the fourth and fifth place cars after getting past some traffic, but once Greg got through, he started closing in on us pretty fast.  He got to within about three tenths of a second before losing it late in the race.  Congratulations to Les on his win, and Terry for second place."
Hadden ran a clean race to bring it home fourth place in his first outing of the 2011 season in the UM Williams-Toyota FW31 and, while  Rundell wasn't exactly thrilled with his fifth place finish, he was proud of having restrained his emotions well enough to recover from the second costly pit road penalty in as many weeks.
"We are going to take a look at the replay of our last two races to see why our car is being flagged while others are not," said Rundell's crew chief.  "Reed is an excellent driver, so we suspect someone over at TD Racing has started a little rumor in the ears of the track officials in an attempt to slow him down.  It ain't going to work, because we are going to be back in victory lane soon!"
"We suspect someone over at TD Racing has started a little rumor in the ears of the track officials in an attempt to slow him down.  It ain't going to work, because we are going to be back in victory lane soon!" — Reed Rundell's crew chief.
Sharp (sixth), Feldman (seventh), Johnson (eighth), Kabela (ninth), and Sutcliff (10th), all completed the race on the lead lap.  Kyle (11th) led a group of six drivers who finished one lap down.  That group included Harris (12th), Grandy (13th), Plank (14th), Gantman (15th), and Thomas (16th).  Pawluckie was two laps down when he finished in 17th place.  Robinson Shields retired early and was scored 23 laps down in 18th place.
The F1 Challenge Series heads to Road Atlanta's Full Course for next week's "Oh I wish I was in Dixie, Away… away" race.
In other official RSR league action, Rundell won his first race in the Street Stock Tuesday Night Thunder Series race at Richmond International Raceway. Rundell began the race on the pole and led all but one lap of the 35 lap "Beware of things that go bump in the night" event.  Turner was glued to Rundell's rear bumper when crossed the line in 2nd place.  Kyle finished four seconds back in third place.  Pawluckie and Feldman rounded out the top five.
Turner maintains a slim eleven point lead in the overall championship race.
The TNT Series heads to the New Hampshire Motor Speedway for next week's 25 lap event.
RSR F1 Series Standings after seven races:
http://www.danlisa.com/scoring/season_standings.php?season_id=639

RSR TNT Series Standings after seven races:
http://www.danlisa.com/scoring/season_standings.php?season_id=657
RSR YouTube Video Channel:
http://www.youtube.com/user/draftin11?feature=mhum
---
You may also like...
---