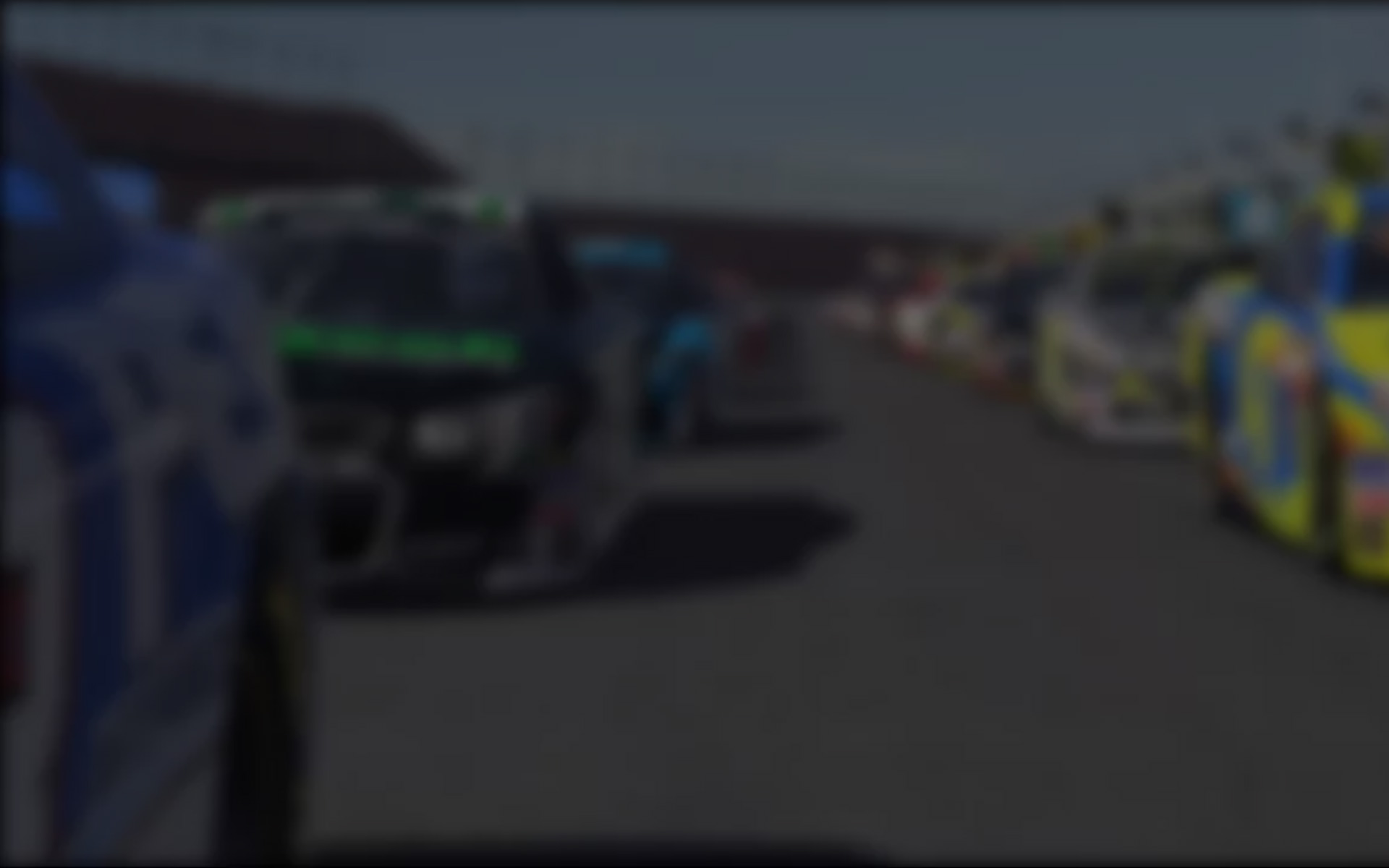 Fifteen members of the Red Sox Racing League traveled to Bowmanville, Ontario for this week's race at the Mosport International Raceway.  Race number ten on the RSRL 2011 Season One schedule was the 29 lap, "Polar Bear Grand Prix." Canadian Les Turner entered the race with a virtually insurmountable lead in the championship point race, and a string of strong finishes at recent Mosport events.  He sounded confident in pre-race interviews, but knew from past experience not to count his chickens before they hatched.
Turner's hesitation to declare himself the favorite to win the race was based in the knowledge that many a talented driver has failed to survive the incredibly fast 2.459 mile, 10 corner track layout.  If last week's track, Road Atlanta, is accurately compared to a roller coaster, then Mosport is equally respected for being a faster and more dangerous sort of thrill ride.
RSR drivers are a safe bunch.  But they are also thrill seekers.  Mosport's high speed corners and constant elevation changes create some of the scariest moments in modern road course racing.  The result is an event where the drivers have to work almost as hard to complete a clean lap as they do trying to catch and pass the competition.
Turner led all drivers in practice with a lap time of 58.971 (the only sub 59 lap).  He followed it up with a qualifying effort of 59.163, a full half second faster than the next competitor.  Track and speed figured out, Turner looked to be unbeatable as he led the field off the grid.
Jeff Thomas earned the outside position on row one when he clocked a lap time of 59.736 near the end of the session.  His effort was just fast enough to knock Jim Albertson into the third starting position.  Terry McCuin (fourth), Reed Rundell (fifth), Darren Kersey (sixth), Ed Sutcliff (seventh), Divina Galica (eighth), Greg Harris (ninth), Jeff Sharp (10th), William Kabela (11th), Andrew Feldman (12th), Bill Hadden (13th), Bill Pawluckie (14th), and Andrew Gantman (15th), completed the starting grid.
The start of the race was clean, but several drivers had to make significant changes to their race lines to avoid accidents as the field struggled to sort itself out in the opening laps.  Turner rocketed off the line and held his lead while Albertson got past Thomas to move into second place.
Turner's grip on the lead almost evaporated on Lap Two when he got out of shape in the final corner.  Albertson was close enough to have capitalized had Turner's mistake been any worse, but the Canadian maintained his composure and retained the lead by calmly reacting to the mistake and maintaining his car's momentum towards the start line.  Not so fortunate was McCuin, whose hopes for a podium finish were dashed on Lap Two when he gave up eleven positions after going off track in Moss Corner, dropping him from third place to the back of the field.  Likewise, Harris followed him off and fell from seventh to 12th place.
"I almost blew the race in the last corner on Lap Two." – Les Turner
Moss corner has a history of prematurely ending the nights (and days) of promising drivers and tonight's race was no exception.  Sutcliff blew a six second lead over Galica and Sharp when he nearly spun at there on Lap Thirteen.  The FBI Glock team adjusted their pit strategy once it became apparent he would not be able to retake the positions from Galica or Sharp on the track.
Kersey began the pit cycle extremely early when he surrendered sixth place to Galica on Lap Eleven.  It was anything but a routine stop as he tagged the wall on entry, and then was almost caught for speeding when he released the pit limiter a bit too early on exit.  Rumor had it that the radar gun official was over at the hotdog stand when Darren left the pits five mph over the speed limit.  Sutcliff was the next to pit on Lap Fifteen.
McCuin had fought his way back to ninth place by Lap Twelve before his night ended with a brutal collision in the Clayton Corner tire barrier. Terry had just completed a pass on Hadden on the Andretti Straight and was setting his sights on Feldman and eighth place when the incident occurred.  Kabela was next to experience the dangers of Moss Corner when he spun there on Lap Seventeen.  His incident nearly collected Galica and Sharp, but both cars were able to continue past Kabela after taking evasive actions.
Moss Corner bit Kersey once again when he went off track there on Lap Nineteen.  His collision with the concrete wall ended his night and the hard-charge he had been making towards the front pack.  Hadden saw his climb into the top-five take a hard hit when he spun out in Moss on Lap Twenty under heavy pressure from Albertson.  He never recovered from the mistake and ended the race in 11th place.
"I was smiling so much during the race that spectators must have thought my crew was telling me jokes during the race." – Jim Albertson
Fans had plenty of racing action to watch as drivers sorted themselves out after the pit cycles.  Albertson continued to hound Turner, while several other drivers worked hard to maintain their track positions as the race wound down.  Feldman drove a fantastic race and put himself into position to earn a top-five finish before a mistake at Whites Corner ended his night on Lap Twenty.  Andy was on his out lap on cold tires after making his fuel stop and got in the throttle a bit early in the bumpy final corner.
After watching Harris get past Sutcliff on Lap 23, Sharp tried to do the same for several laps before finally running out of luck with two laps to go.  Sharp's mistake between the Esses and Whites Corner allowed Galica to get past him as Sutcliff took a deep breath of relief watching the events unfold in his rearview mirror.
Apart from his early bobble, Turner never put a wheel wrong and crossed the line 1.5 seconds ahead of Albertson to earn his seventh win of the season.  The win secured his championship for the season.  "We are having a huge party at the TeamDraft tent tonight," said Turner afterwards.  "Jim never let me rest tonight.  I almost blew the race in the last corner on Lap Two, but was lucky enough to survive that scare without losing the lead.  It did however let Jim get back to my rear wing and made me push harder than I really wanted to the rest of the way. It was not until the last lap that I could back it down a bit and coast to the checkers."
"It was not until the last lap that I could back it down a bit and coast to the checkers." Les Turner
Turner's pit crew helped their driver maintain the lead by executing a flawless pit stop.  Albertson had pitted two laps earlier, but he lost almost a second to the leader despite a brilliantly executed stop.  The competition between Turner and Albertson at Mosport produced some of the best racing action seen in an RSR event this year.
"It was cold up here in Canada tonight", said Albertson.  "We southern boys aren't used to this type of weather!  We spent a lot of time thawing out in the trailer between sessions this week, but our strategy was to set up the car for a warmer track because we figured the weather would change before race time.  We were right!  The race setup was perfect tonight."
Albertson knew his chances to pass Turner would be few and far between, so he was understandably disappointed about not being able to capitalize on Turner's Lap Two mistake.  "We moved into second place on the opening lap due to a gracious move by Thomas, but we just couldn't close the gap quickly enough to get past Turner.  He played a game of cat and mouse with us all night.  I was smiling so much during the race that spectators must have thought my crew was telling me jokes during the race.  They weren't, I was just having so much fun I couldn't stop smiling!"
Albertson was happy with his effort to dethrone Turner on his home circuit.  "I got caught up in some slower traffic, but managed to get back to Les before our fuel gauge started warning me I might not have enough to finish the race.  I had to back off a bit to ensure I could finish.  Congrats to everyone for a great race tonight."
Rundell crossed the line 15 seconds after the leader to claim 3rd place in the race.  He was followed closely by the fourth place car of Thomas.  Harris was slowed by lapped traffic on his last lap, but he kept fifth place and crossed the line just ahead of Sutcliff's sixth place car.  Galica finished in seventh place with Sharp (8th place) the final driver to finish on the lead lap.  Ninth place Pawluckie, 10th place Kabela and 11th place Hadden all finished one lap down.
Feldman was scored 10 laps down in 12th place, while Kersey was scored 11 laps down in 13th place.  McCuin's early exit earned him a 14th place finish.  Gantman missed the start of the race and was not credited with having completed a lap.
Although Turner wrapped-up the RSRL championship on his home ground, he and the other F1 Challenge Series regulars will head across Lake Ontario to Watkins Glen for next week's 21 lap "New York Grand Prix" event.
In other Red Sox Racing League sanctioned events this week, The Tuesday Night Thunder Series, (RSR TNT), ran their 10th race at Phoenix International Raceway in the Street Stocks.
Terry McCuin, who has had some tough luck in the past several races, put the TeamDraft "Tank" Street Stock on the pole and led all 25 laps for his first win since Week Four at Concord.  Turner chased McCuin to the line to finish second, just a half second off the pace.  Rundell who won the previous two events at Richmond and New Hampshire fought an ill-handling car to a seventh place finish. Gildersleeve Jr. (third), Pawluckie (fourth) and Kyle (fifth), rounded out the top-five.  Although the point scoring system is down and the "official results" are not available, McCuin should have taken the championship lead back from Turner by a very slim margin.
The RSR Street Stock Thunder Series heads to Bristol Motor Speedway under the lights for next week's 50 lap "Bathtub of Destruction 50" event.
RSR YouTube Video Channel:
http://www.youtube.com/user/draftin11?feature=mhum
---
You may also like...
---