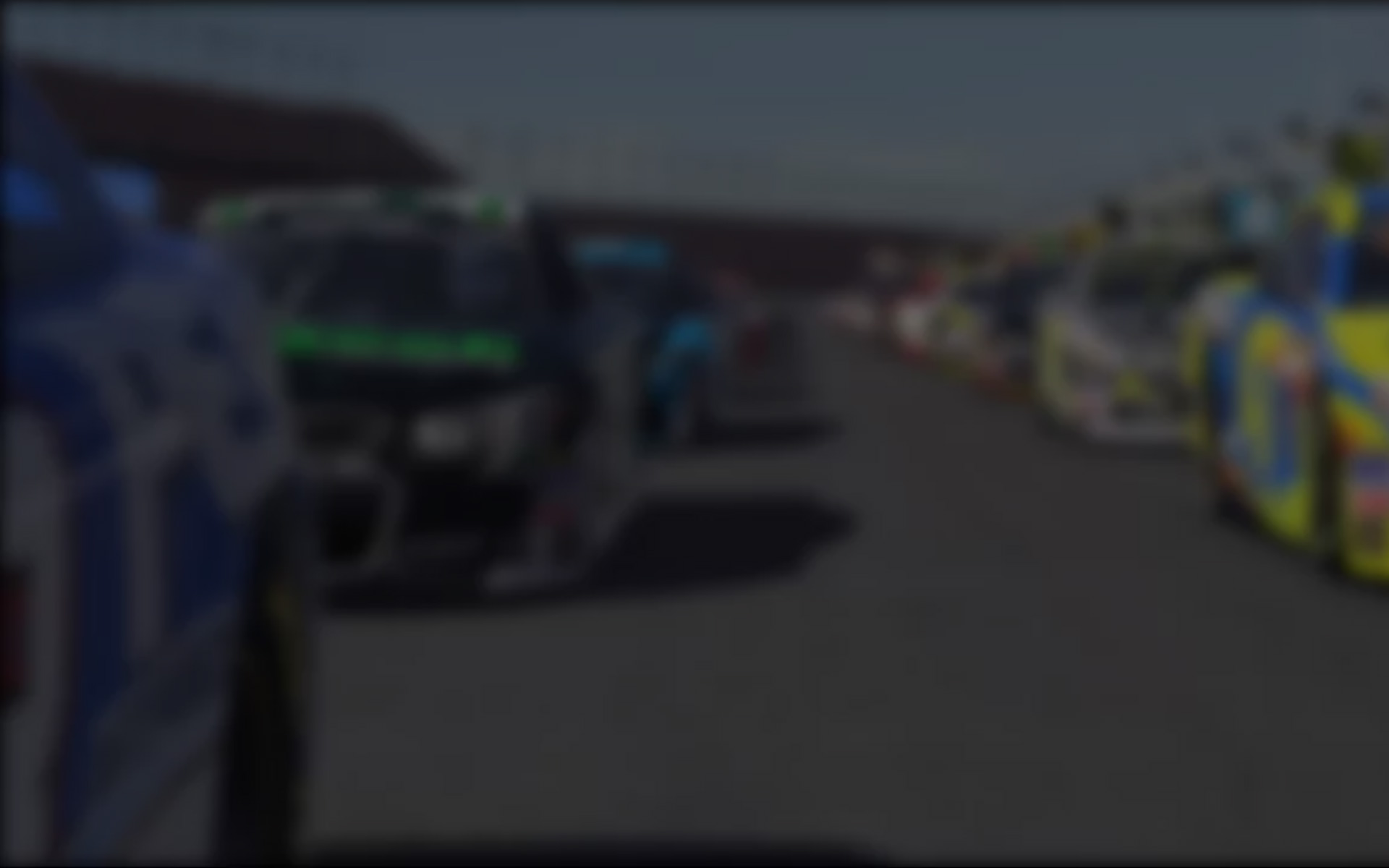 INDIANAPOLIS, INDIANA – The Red Sox Racing League's Season 3 GT Class Battle has reached its halfway point, and the sixth round of the 12-race series takes place at one of the racing world's most revered grounds. For over a century, The Indianapolis Motor Speedway has inspired, challenged, and championed generation after generation of racers and race fans alike, all eyes annual running of the Indianapolis 500. In recent history, though, stock car, motorcycle, sportscar, and even Formula One teams have all taken their shots at motorsports glory, thanks to an infield section that winds through the venue's expansive lot before joining the traditional oval's turn 1 and frontstretch. Where Indycar and NASCAR fans would normally watch their favorites run nearly flat-out and make four left turns a lap, Red Sox Racing League fans get to cheer on a 16-car field make four lefts (and nine rights) in this season's Kiss The Bricks 45.
This week, the competitors will have to compete in what has been one of the most evenly-matched races to date between the marques. In early practices, the BMW Z4, RUF Rt-12R, and McLaren MP4 all showed they could compete for the win, and that trend continued with a representative of each car within two-hundredths of the top spot in qualifying. Taking the Wil-Trans Pole Position award, an elated Reed Rundell. "I couldn't be happier with the team," said RUF driver Rundell after his time of 1:25.197 beat Les Turner's BMW by only .082. "You know that's the same chassis I crashed last week in Montreal? I didn't believe it myself, but the guys worked like crazy just to get here, let alone get it to drive just like new – maybe even better than new!" Brad Vincent grabbed the third spot in his McLaren, followed by Dave Hoffman, Brian Irby, and Joseph Jordan to fill the first three rows. With long straights bringing drafting into play, this could be anyone's race.
The green flag waved, and it was apparent from the start that no lead was safe. Wasting no time, Vincent and Turner fanned out from behind Rundell, jostling for position into turn one. Rundell found himself in third early, but kept up while Vincent led the first five laps. Turner and Rundell would both get by, giving Toronto's Les Turner the lead for a lap before Rundell grabbed the lead himself a lap later. The trio had an amazing battle upfront until trouble struck for third-placed Vincent. Reminiscent of an issue at Sebring a few weeks ago, a failing battery on lap eight called an early end to the race for his McLaren. Rundell had an issue of his own – a quick off put Turner in the lead and brought a hard-charging Dave Hoffman into play. The race may be half over at this point, but no one has a firm grip just yet.
Compared to the wall-lined streets of Montreal, the relatively wide-open spaces of the Indianapolis Motor Speedway's road course were a welcome sight for those who found themselves a little dinged up last week. With plenty of run-off room, and space between competitors, attrition was kept to a minimum. Only three failed to reach the finish line – the aforementioned Vincent, Karl Mumbower exiting lap three with fuel pickup issues, and Tony Duffey, whose Monster/DC Shoes McLaren suffered from a seized transmission after a lap 12 spin.
On a lighter note, a special mention must be made for the traffic cones lining the apex of turn one. These were intended to ensure the racers respected the course boundaries, but quite a few orange cones found themselves on track after being bounced onto the racing surface. Some went a little further. "The white flag was out, and I was in a tight race with Sam," recalled Caribbean Food Delights BMW driver James Prostell Jr. about a late-race bout with RUF driver Sam Dobie. "I had a good run into turn one, then all of a sudden it felt like the front tires just went away. I had to let Sam go, and after we finished the race, I really wanted to park the car and see how bad the fronts were. Turns out I hit a cone and it got lodged under the front splitter! No wonder I couldn't turn – the fronts were barely touching the ground!"
Back up front, the race to the finish was on for Rundell and Turner. Dave Hoffman looked like he would have played into the proceedings as well, but a pitlane speeding penalty all but dashed his hopes. "I question the accuracy of radar guns," joked Hoffman after being caught nearly 15 MPH over the limit entering pitlane. "I never meant to pitlane that far over the limit, or over the limit at all, but this is a very competitive series, and you have to push all the time to stay up front." Pushing his way to the front, Turner grabbed the lead from Rundell on lap 25, and didn't look back from there, with another slide off track from Rundell cementing Turner's run to the checkered flag. "I'll take it, for sure, but this really was Reed's race to win," said Turner while in victory lane. "He recovered from on off pretty quickly and almost did it again, but thankfully for me he ran out of time!"
Class Results
BMW Z4 GT3
1. Les Turner
2. John Koscielniak
3. Terry Daul
4. Kevin Kyle
5. James Prostell Jr.
6. Karl Mumbower
RUF RT-12R Track
1. Reed Rundell
2. Dave Hoffman
3. Sam Dobie
4. Andrew Feldman
5. Andrew Gantman
6. Ed Sutcliff
McLaren MP4-12C GT3
1. Brian Irby
2. Joseph Jordan
3. Tony Duffey
4. Brad Vincent
Next week, the Red Sox Racing League takes on the Texas Longhorn 45 on the current home of the U.S. Grand Prix, the Circuit of the Americas.
---
You may also like...
---