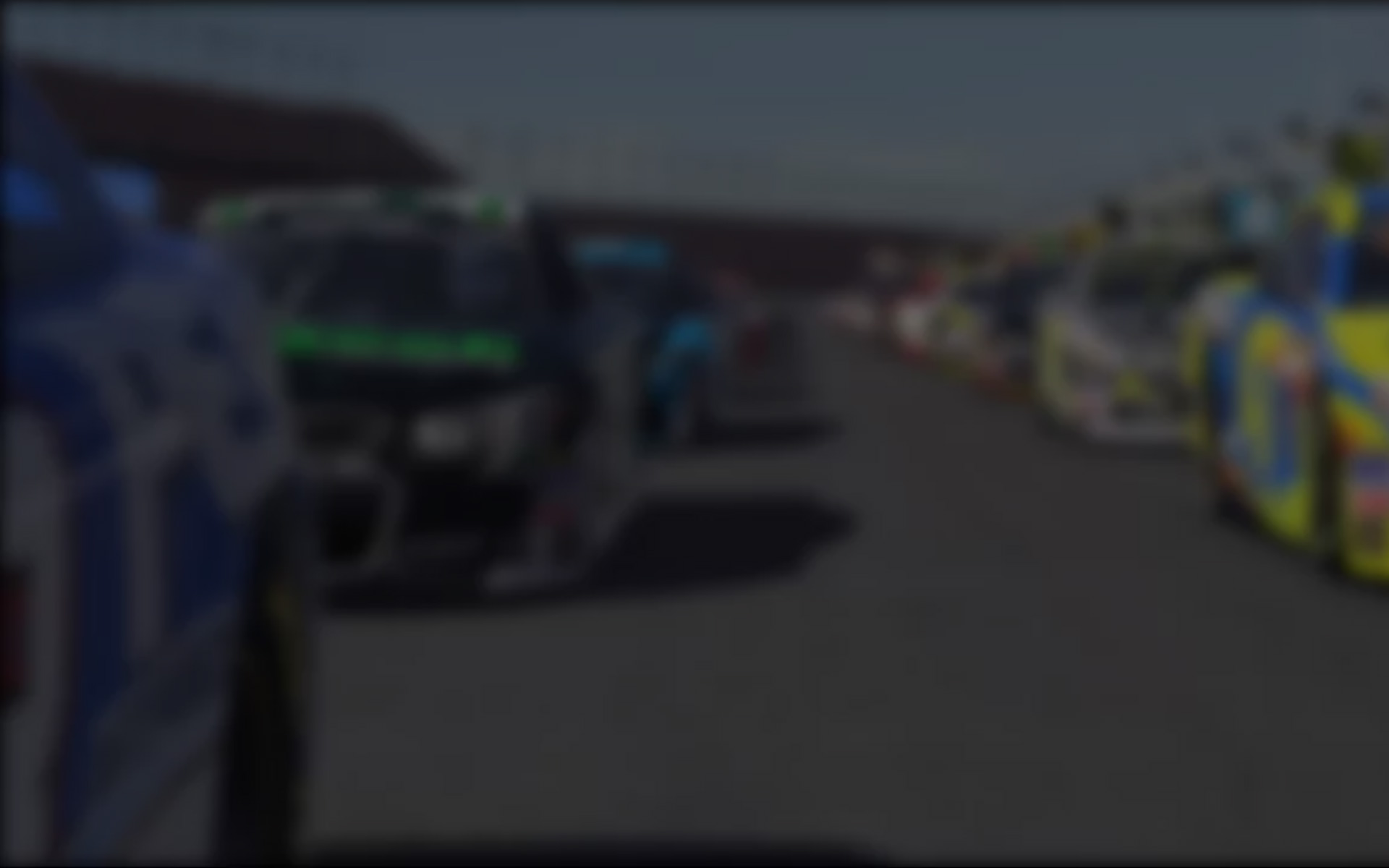 You'll have to look long and hard on the oval side of iRacing to find a series in which Tyler D Hudson's name is not writ large on the roster of past champions and race winners.   That's hardly surprising for an iRacer with more than 1100 wins to his credit and some three dozen top five certificates in overall and divisional championships from NASCAR iRacing.com Class A, B and C to SK Modifieds, Late Models and Advanced Legends.
So it's something of a surprise Hudson's name does not figure quite so prominently in the annals of the NASCAR iRacing.com Series World Championship.   To be sure, he's made his presence known, competing in every NiSWC since its inception in 2010 and collecting nearly twenty top ten finishes.   But his name is conspicuously absent from the roll of race winners and although he has twice finished in the top ten in points (P7 in 2011 and P9 in 2010), Hudson has never really been in the mix for the season title and the accompanying trip to the NASCAR Sprint Cup season finale at Homestead-Miami Speedway.
Until now.
A third of the way through the 2013 season, Hudson stands atop the point race ahead of Nick Ottinger, Brian Schoenburg, Marcus Lindsey and two-time NiSWC champion Ray Alfalla.   True, he is still in search of his first win; fact is he only has one top five finish to his credit as the series heads to Tuesday's date with Charlotte Motor Speedway.  But, in keeping with his vast font of sim-racing experience, Hudson has collected valuable points every time out, with a trio of top tens and only one finish – a rough and tumble P19 at Richmond — outside the top twelve.
"It's been a really good season compared to other seasons I've run but – honestly – we probably don't deserve to be leading at this point, because we've been a just a little bit off," he says.  "The biggest thing is I've stayed out of trouble and missed the big wrecks.  We've just been solid but not great."
In some ways, the 2013 season to date has mirrored Hudson's NiSWC career – running up front week-in and week-out, lots of top tens, very few wrecks . . . and no wins.  So far.
"The first season we ran DWC we ran I think 20 races and I crashed out of more than half of them," he laughs.  "I just made myself figure it out how not to crash – and I think in some ways that hurts me.  I'm not saying that keeps me from winning races. There's a lot of other good guys who haven't won a race or have maybe only won one race just by things being in the right place – but who are capable of knocking off five or six wins at a time.  It's hard to explain the competition level to people who just race regularly on iRacing, but it is really, really tough.
"I just pride myself on finishing races and running clean, but I'm confident we can win a race.  Actually, I won the unofficial season opener at Daytona in the Shootout; that was the first time I'd won against the NiSWC competition.  So it doesn't count as a win but for me it's win, if that makes any sense."
Hudson realizes it will take more than a steady stream of top tens to stay on top of the series over the long run to the NiWC finale at Miami-Homestead Speedway in October.
"The competition – Nick (Ottinger) has clicked off three wins in a row and he's still only second in points, just from having some back luck," he observes.  "In the real NASCAR Sprint Cup Series clicking-off top tens isn't good enough and it's just like that in iRacing: You've got to be winning races and, if you're not winning, finishing in the top five as much as possible.  That's evident by Ray Alfalla.  If he doesn't win, he's in the top five.  That's what you need to do to win a championship, especially with the season being 18 races instead of 36 in the real NASCAR Cup Series.
"I just pride myself on finishing races and running clean, but I'm confident we can win."
"I'm confident in myself.  I feel like I can go run a fixed setup as quick as any of these guys; where I struggle is when it comes to making setups.  We just have to work at it to get better.
"We started-off Daytona, I was second coming to the line, got turned and finished sixth.  The next week we finished fourth at Vegas, so we started-off really strong and then I think everybody else just caught-up.  Now we're missing something that other people have figured out that we haven't quite got our finger on it yet.  But we're close.  It's just a tenth – not even a tenth, a couple hundredths of a second difference, so just need to find a little bit more."
For the past couple of weeks, Hudson has been working on things from a slightly different perspective.  A stalwart with the Wheelmen Racing team, he recently branched-out with former teammate Dustin Montgomery to establish OneUp Motorsport.  Theirs promises to be a good partnership in that they bring complimentary strengths to bear on the challenges of competing for the NiSWC title.
"Dustin is really, really smart with set-ups, telemetry and everything like that," Hudson says.  "Although I'm not that great at that, I can go out and run some really hard laps consistently and give Dustin some feedback, and maybe tweak on it a little bit myself."
Perhaps most promising of all is the fact that Hudson has taken to the new Gen6 car – in his case, the Ford Fusion – far better than the COT Impala.  The fact that he runs the new NASCAR iRacing Series – and with 10 wins in 21 starts enjoys a substantial lead over Kevin West and Landon Harrison in the standings – is also a huge benefit.
"The Gen6 is a lot different for me than the COT," he says.  "I have a much better feel for it.  On entry/exit and through the center I pretty much know what the car is doing.  I can get up on the wheel and be aggressive, where I never felt that way with the COT where I've always felt that way with the trucks – and I've always been pretty good with the trucks.
"If you're not careful it becomes more of a job than a hobby.  I just kind of have fun; a little laid-back but still working hard."
"This car's a lot better for my style and that NASCAR iRacing series . . . I'm really glad iRacing did that.  I run the NASCAR series for laps and seat time.   Nearly every week we race at a track where we're going in the DWC the next week, and then it's fixed set-up so you can run 15 minutes of practice, jump in the race and just go at it.  No matter how good your setup is, you have to have a certain level of repetition at the track going into the race – at least I do."
It's no surprise that Hudson regularly – some might say compulsively – competes in more than just the NASCAR iRacing.com Series World Championship.  This is, after all, a man with more than 2200 races to his credit on iRacing – not to mention a win rate of nearly 52% on ovals.  Paradoxically, perhaps, one of iRacing's most prolific drivers has avoided burning-out by keeping things in perspective.
"I just love it," he says.   "The ability to just go home after work and run a race, that's awesome to a racer at heart and to a guy who would have loved to have made it his profession.  It's neat that iRacing gave us that opportunity.
"(But) if you're not careful it becomes more of a job than a hobby.  I just kind of have fun; a little laid-back but still working hard at it and hopefully things will work out.   A lot of people, it doesn't have to be the DWC, are laser-focused and just pour everything into it and it's very, very easy to get burned out.  You just have to step back and just have fun with it and don't get too wrapped-up in the wrecking or putting too much effort in the set-up, and then you don't get the result you want.
"For me, since 2008 I think I've run 300-400 races over the course of every year, and I've never been burned-out.  And a lot of that is becauseI just have fun with it if I win or crash, then go on to the next race."
Also keeping things in perspective is that fact that Hudson leads a full life outside of sim-racing.  He and his wife of four years Lisa live on what he somewhat jokingly refers to as "the farm" near ? Mississippi where he runs his own freight company, TDH Delivery.
"That takes up a lot of time," he says, "and keeping up with what I call the farm.  Outside of that we try to have a date night every weekend, movies and go out to eat – or go play some iRacing."
If Tyler and Lisa have their way, the playing iRacing component may be in for some changes in the years ahead.  They don't yet have any children yet, but are hoping to start a family in the next year or two.
"I know everything is going to change then," he laughs, "definitely not 300-400 iRaces a year!"
Which should give Tyler D Hudson even more incentive to win that first NiSWC championship in 2013.
Tune-in to www.iracing.com/live/ tonight at 9 pm (01:00 GMT) to catch Hudson and all the NiSWC regulars in action at Charlotte Motor Speedway.
---
You may also like...
---