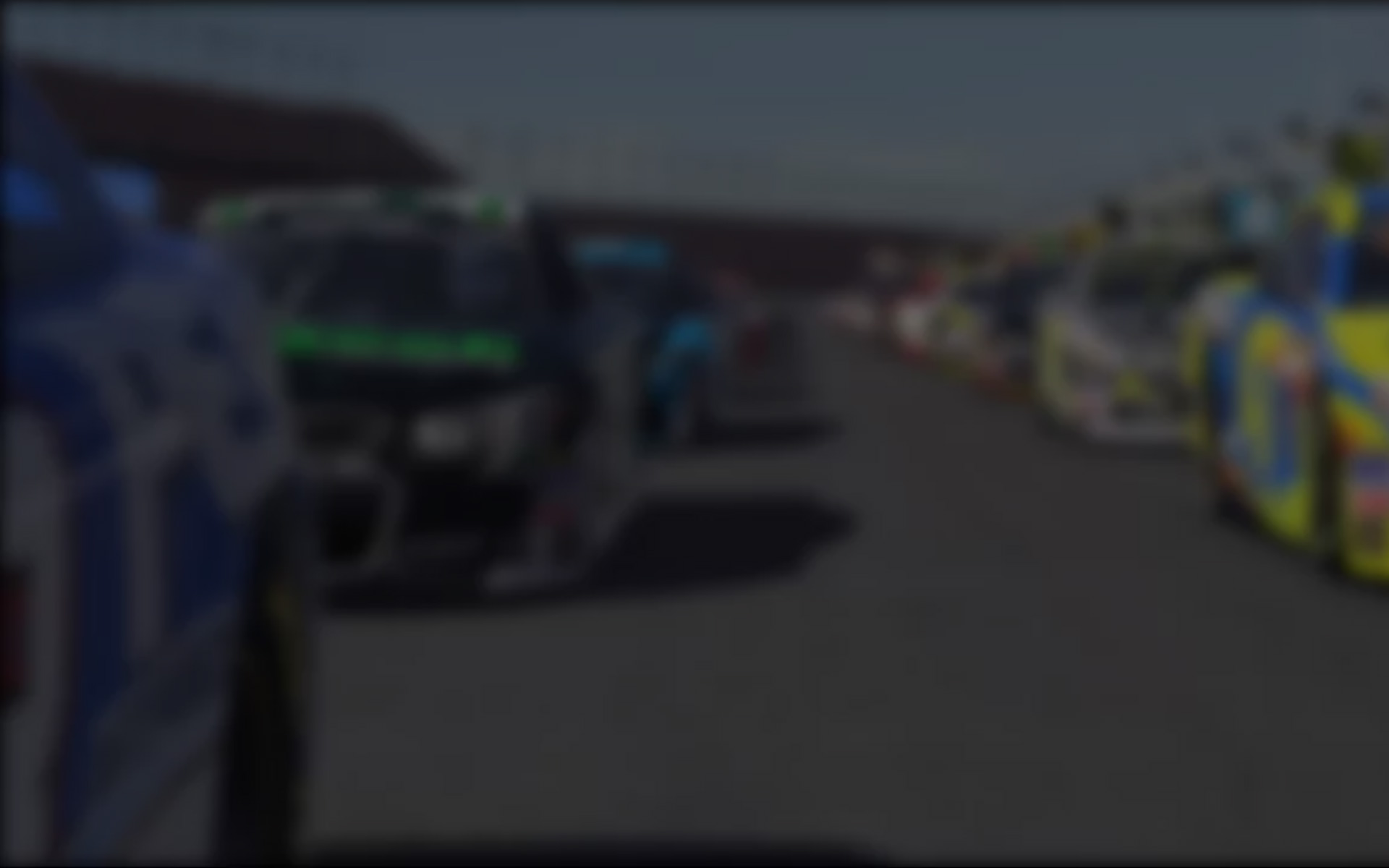 As if Race One in the iRacing.com V8 Series' visit to Sebring was not eventful enough, the sharp end of the Race Two field was joined by the heavy hitters of Trans-Tasman Racing's Madison Down and Michael McCabe. The two sim racers lined up second and third on the grid behind polesitter and Race One winner Scott Andrews. Shay Griffith was fourth with XSG Motorsport's Andrew Le again showing some form with fifth slot. Sadly for Le, a wheel hiccup caused him to miss the start.
The green light and the claustrophobic run down to Turn One saw McCabe lead from Down and Andrews, while further back Michael Schreyer hit Vern Norrgard who punted Matthew Nethercote into a spin. Already the confines of the Sebring Club layout wereproducing some heated racing, virtual paint swapping and frayed nerves.
On Lap Three Down had a look under brakes into the hairpin but McCabe shut the door and preserved the lead. Andrews then lined-up Down into Turn Two and took second place. Despite being a little apologetic about the move, Andrews put his head down and took McCabe for the lead under braking into the notorious Turn Ten hairpin.
Andrews then eked-out a gap from McCabe and Down. Back in fourth was Griffth was followed by Simon Ripper, giving XSG Motorsport a good showing following Andrew Le's misfortune. Next were Wayne Harris and Darrin Vouch having their own race for sixth, a tense battle which stayed for the duration. Duncan Smith, Vern Norrgard and George Fullerton rounded-out the top ten, a few tenths apart.
Even more than Race One, as if that was possible, the drama was relentless. Race leader Andrews found disaster on Lap 14, clashing with the lapped Jonathan Butel into Turn Five, allowing McCabe into the lead. This didn't put McCabe out of the woods, as he still had Downs' menacing red Trans-Tasman Ford Falcon filling his mirrors.
Likewise Andrews, rejoining in fifth, found a whole new world of pain as ahead of him, Griffith and the aptly-named Ripper were going hard at it for third. When Andrews joined the fight they all went three abreast into Turn One on lap 16, resulting in Andrews and Ripper becoming t-bone twins on the exit. Both hobbled off with damage although Andrews was in better shape. He eventually rounded-up Vouch and Harris to re-take fourth.  All the while, Down was hounding McCabe, looking for an opening.  It came at the outset of Lap 19, when Down making his move into Turn One to take the lead.
Although Down dispatched McCabe cleanly, the mayhem was far from over, as Norrgard and Smith got together in the Turn Seven and Eight Esses complex. Norrgard, suffering from severe lag, tapped Smith into a graceful spin. Smith could not arrest the backwards roll and was collected heavily by Fullerton, whose engine went pop in protest. It was a sad irony to see Fullerton finally foiled by something other than a dodgy internet connection! "Too much biff and not enough patience, I ended up getting involved in someone else's accident," said Fullerton who must have been suffering a severe humour failure at that point.
Back at the front, Down was rather typically stamping his authority on this race, with a gap of almost three seconds from McCabe. Griffith was no sure bet for third, however, as a resurgent Andrews and a haze of red mist was coming at him like an Aussie cyclone.  Once pulled up to the bumper, Andrews wasted no time and snuck under Griffith into Turn One with six laps to go.
"Too much biff and not enough patience." – George Fullerton
Down dominated yet again, stretching his margin to McCabe by over four seconds at the finish, with Andrews' stout recovery earning him third place from Griffith. Harris and Vouch finished as they had begun – close together in fifth and sixth respectively.  Bigpond's Vern Norrgard was seventh, Mark Rayner had a relatively uneventful race to eighth, with Justin Strickland and Steven Griffis rounding out the top ten.
Again, many spectators gathered on iRacing's spectator session service. They witnessed a standard of driving, racing and strategy you will only see mirrored in the highest level of real-world competition.
---
You may also like...
---