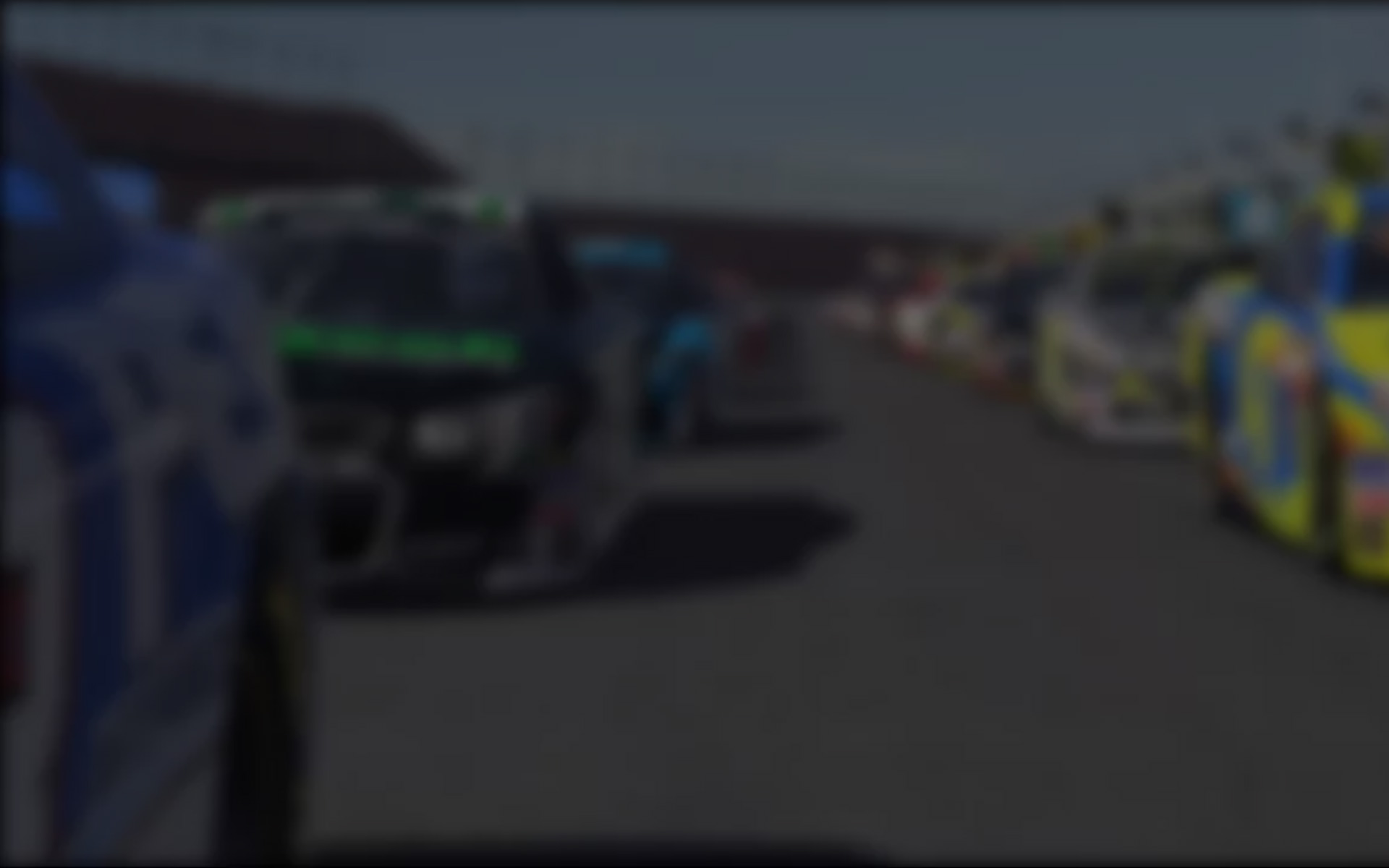 Round Eleven of the iRacing.com V8 Supercars Series presented by BigPond saw the V8 drivers and teams head to Canada for the first time to tackle the 3.9km/10 turn Mosport International Raceway (aka Canadian Tire Motorsport Park).
Madison Down posted the fastest qualifying time of the week with a 1:19.027, fractionally ahead of championship rival Justin Ruggier on a 1:19.095.  Joshua Muggleton garnered a spot on the second row of the grid with Vail Riches while Lazy Man Racing drivers Josh Smith and Shaun Kelly monopolized the third row of the grid. Petteri Kotovaara and John Emerson started from the fourth row while Row Five's Troy Cox and Brad Ryan rounded- out the top ten starters.
As the lights went green it was Down getting a good jump and Ruggier getting . . . wheel spin.  Muggleton got the best start of the front runners but as he was about to follow Down through Turn One, Ruggier tried to cover him and hold onto second spot.  As Ruggier tried to close the gap he found it was already filled by Muggleton's Hyper Stimulator Falcon.  Contact ensued, sending Muggleton into the wall and breaking his steering, forcing him to pit for repairs.
Not to be outdone, a number of sim-racers in the middle of the field did their best to make the opening laps similarly interesting. Curtis Chippeway would have a few corners to forget when he got into the back of Tony Autridge and, unfortunately, Christopher Osborne got caught-up in the accident as well.  Chippeway's race wouldn't get much better as the biggest wreck of the season unfolded on Lap Three when the field backed-up braking for Moss Corner.  With everyone ahead checking-up, Chippeway came into Moss a little hot and got into the back Brad Ryan's Lazy Man entry.  The contact turned Ryan around and led to Thomas Guerrini taking evasive action to miss Chippeway . . . to no avail.  Guerrini made contact with Chippeway and everyone else piled into the back of Guerrini, with a total of 11 cars suffering panel damage of one sort or another.
Business for the panel beaters continued picking-up, as Muggleton pitted on Lap Five after losing control and making contact with team mate McLeod.  Kotovaara, meanwhile, made his own race that more interesting when he understeered wide through Moss and lost a handful of positions.
Up front, meanwhile, Ruggier got a good run through Turn Nine on Lap Ten and made a move on Down for the lead into the final corner.   The two rivals ran side- by-side down the pit straight and into Turn One, where Ruggier took the lead . . . never to look back.  Next time 'round lap Cal Whatmore, would put a wheel off into Turn Eight and spun into Samuel Collins. Luckily for Collins, he was able to continue on and not lose out.  Not so Whatmore, whose race ended when he hit the wall and rolled-over.
Ruggier would have no such dramas and sailed to the win, closing the points gap to Down in the bargain. Down held-off a hard charging Riches for second in what would be the latter's first podium finish in the main race since returning to the series!  Smith backed-up his fine top five qualifying performance with a fourth place finish fourth with Lazy Man team mate Kelly just behind. Similarly, Emerson underlined his qualifying effort with a sixth place finish ahead of Kotovaara who had an eventful race and still managed to finish seventh.  Collins rebounded from his contretemps with Whatmore by holding- off Carywn May for eighth with May  the biggest mover of the race, up 12 positions from his 21st place qualifying effort.
Osborne rounded-out the top ten while Guy Leach also moved-up a dozen positions with Simon Black (just behind in 12th) moving up 10 positions. Martin Turner and Chris Stone both advanced 11 positions and finished off the lead lap finishers, with Muggleton, Scott Fountain and Richard Stamenkovic the last three finishers. A total of eight cars suffered DNFs, the most retirements in a single race this season.
Top Five Drivers – Championship Points – Overall
1.    Madison Down – 2050
2.    Justin V Ruggier – 2036
3.    Joshua Muggleton – 1839
4.    Mitchell McLeod – 1795
5.    Vail Riches – 1713
Split Two Winner: Jon Latham
Split Three Winner: Sebastian Murray-Wessberg
Split Four Winner: Billy Raymont
The Broadcast was back this week! You can watch all the main race action in HD here.
---
You may also like...
---