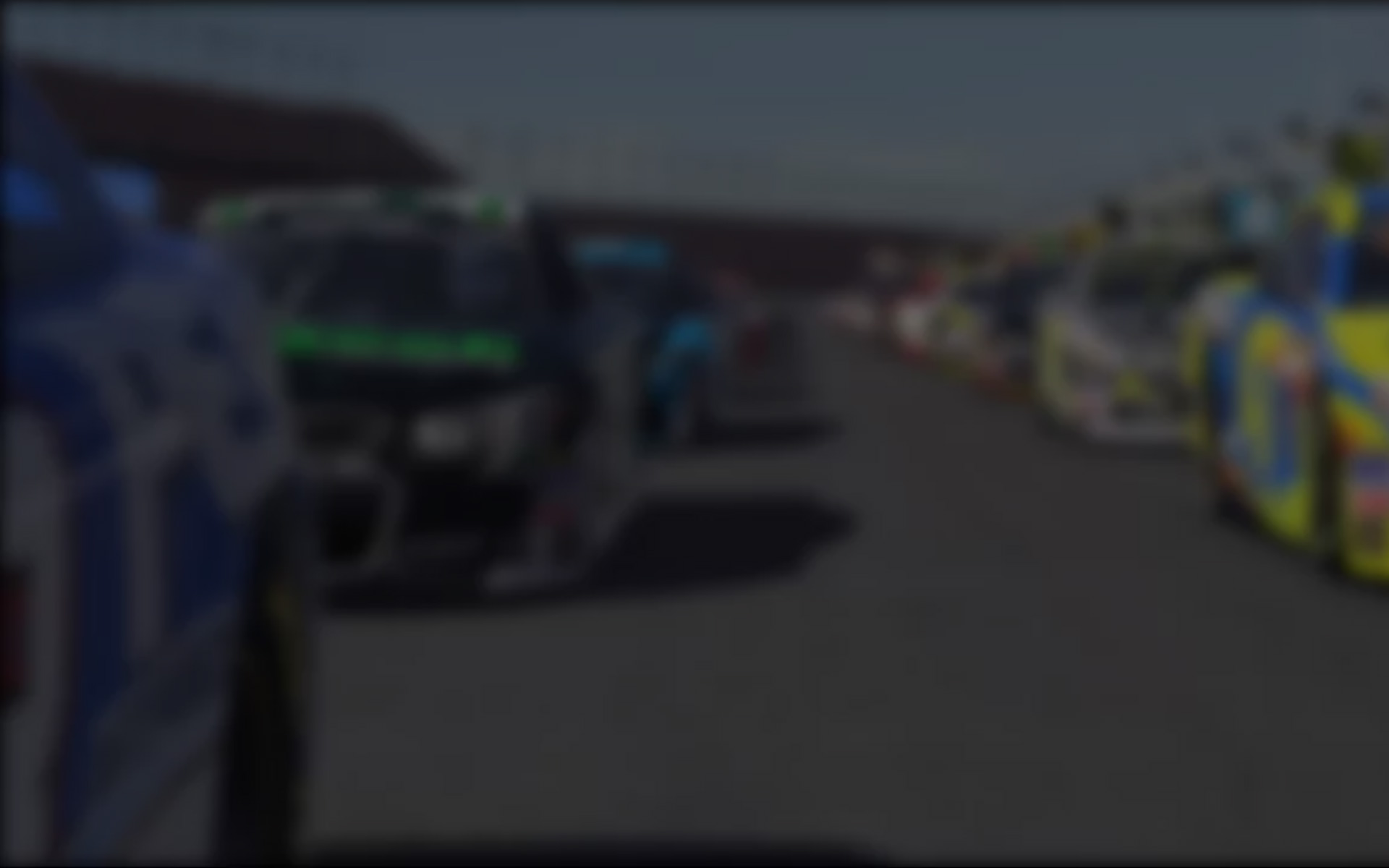 Classic Teams Championship Round 9: Oulton Park
The Classic Teams Championship continues to go from strength to strength. This week saw the roster of drivers grow to 86. And what better place to celebrate than Oulton Park. Regarded by many as a spiritual home to the series, everyone had a smile on their face being back at the picturesque layout. As a circuit that is notoriously hard to pass on, qualifying was once again of utmost importance and was extremely close right throughout the field.
Qualifying
Qualifying was possibly as close as it has ever been in a CTC round, the top three cars being covered by just 0.043s, the top ten by 0.6s. At the front Valantiejus (Ligier) bested Fritsche (Ferrari) around the sweeping English countryside, his pole time of 1.11.300s just pipping Fritsche by 0.039s. A further 0.004 back was Nixon (Lotus), loving his week at Oulton and right back on song as we head toward the end of the series. Fourth, showing potential that would go untapped was Ruokola (Williams)on 1.11.504s just ahead of Hulbert who seems to have finally settled down at Ferrari, on 1.11.574s. Close behind on a 1.11.591 was the second Williams of Jaques himself just ahead of  the fast improving Moreira (Eden Chevron) with a 1.11.627s lap. Ventura, a bit of a master of the flying lap, again had his Renault well up the grid, eighth on a 1.11.755. Whilst M.Schmidt was having a great run and put himself ninth fastest for Lotus. Rounding out the top ten qualifiers was Nicol's Interscope. Nicol finding form and easily outpacing his team mates at home in the UK. Others to impress in qualifying were Moric (Arrows) and Jeppesen (Ensign) 13 and 14th respectively. St.Peter well inside the top twenty for Fittipaldi was fatsest of the division 3 qualifiers outpacing his traditionally fast team mate Maguire. Third team member Incledon was gain fastest of the Div 4. runners, while Nye commanded Div 5. for Interscope.
Raceweek
During the week at Oulton Park seventeen online races would go official and 69 drivers would take the start. At the end of the week nobody would win more than one race and Valantiejus would again have pushed his Ligier to the top of the podium. His 217 point haul leaving him just 10 points clear of a resurgent Nixon (Lotus) and more importantly seventeen points clear of reigning Champion Fritsche (Ferrari). Fourth place after a great recovery drive was Ferrari number two, Hulbert just ahead of Jaques (Williams) again right up there. He must be on for a round win soon. Sixth was the first of the Aurora drivers, Moreira (Eden Chevron) who is getting closer to the front every week. Seventh was Lavecchia, a little lucky but more than happy to take the points and bank them. Ninth and the second Aurora runner inside the top ten was relative newcomer Stammel (Melchester) just 5 points ahead of Aurora debutante Fernandez (Madom F1). Both drivers are worth watching over the final rounds and it will be interesting to see where they end up next season. Last man in the top ten was Papenbrock (McLaren) with 134 points to his name.
Herfjord (Ligier) finished the week eleventh, Roberts (Interscope) 12th, Strang 13th and the second Interscope of Nicol 14th. 15th  was M.schmidt in the number two Lotus.Stamm was impressive snaring 16th place and 117 points. Schwecke faster than his points indicate was 17th, just ahead of Ruokola (Williams) who was to be found back in an unfamiliar eighteenth. Next up was De Rooij again figuring well in the results. Jeppesen stuck his Ensign in the top twenty and is looking and sounding like a man on a mission. Among those to go missing during the week at Oulton Park were Ventura (Renault) down in a lowly 28th, and Garese (Alfa Romeo) 30th. Having a better week was Van Hoorn 25th on debut for LEC Grand Prix. Joining the usual suspects of Fritsche and crew with race wins at Oulton Park were Ventura (Renault), Hackett (Ensign), Azevedo (Arrows), Schwecke (ATS), Schmidt, Strang (Penthouse Rizla), Patriksson (Ram Tit-Bits),  Fernandez (Madom F1), and Nicol & Roberts taking one each for Interscope. Busiest drivers of the week with eight starts each, but Fernandez took the crown completing 156 racing lasp to Patrikssons 110.
Drivers Championship
Round 9 is the first of the drop weeks and duly turned up some big changes in the Championship running. Fritsche (Ferrari) has finally wrestled the lead from his challengers and looks to be heading to put another trophy on the mantlepiece. Second, and currently only 9 points adrift is Valantiejus (Ligier), but the reigning Champ has a drop round in hand. Last weeks leader Ruokola (Williams)drops two positions to third on the table and looks to be under threat from the second Ferrari of Hulbert now sitting fourth, just ahead of Nixon's Lotus. Jaques lies sixth in the second Williams, but he has an extra zero drop round up his sleeve and could spring a surprise or two over the last three races. Seventh, and leader of the 'mere mortal' class is Beyer (Tyrrell) dropping three spots after last weeks great result. Moving up to challenge Beyer is Lavecchia's Renault as a result of his great result this week.  Ninth is now Moreira, up five places and pushing Roberts (Interscope) down to tenth. Roberts leads a battle of five which includes De Rooij (Samson Shadow), Schmidt's Lotus, Ventura's Renault and Herfjord's Ligier. All five covered by just 59 points although Herfjord has a couple of drop rounds up on the others. Biggest improvers of the round were Stammel (Melchester) and Jeppesen (Ensign) both up 9 places, while Tincani (Wolf) and St. Peter (Fittipaldi) made up 8 spots each. Turner (Merzario) also impressed moving up 7 positions.
Constructors Championship
On the constructors front Williams still lead the Championship but Ligier have closed the gap to just 5 points. Renault lie third still well within reach of the title. Fourth is a charging Ferrari 34 points behind the leader but having made up 6 points this round, must still be considered a mathematical chance for the title. Fifth is Lotus, while quickly sliding down the table is Alfa Romeo. Ready to steal their spot is Interscope (7th) after a great result in the UK and now having pulled a fair gap on challengers Fittipaldi (8th) and Tyrrell (9th). Taking the final spot in the top ten is Samson Shadow, just holding Aurora runner Chevron out of it.
Driver of the Round:
St.Peter (Fittipaldi).
Results:
Aurora Series
Moreira (Eden Chevron) again was fastest of the Aurora cars. This time the surprise came from Stammel (Melchester) who finished the week with a 141 points next to his name, and Fernandez (Madom F1) who had 136 points next to his.Moreira has now taken the lead of the Aurora Series from Strang (Penthouse Rizla), but the Englishman still has a significant lead over third placed Patriksson (Ram Tit-Bits) and his team mate Arnall battling it out for third. Lonely in Fifh is Brattemark (Ram Tit-Bits) having over 100 points in hand on sixth placed Warmington. The Surtees driver could have been a real contender had he joined the series earlier and not missed the first four rounds.
---
You may also like...
---